Winter Storm Thor Spreads Icy Conditions; Kills At Least 8 By Sean Breslin and Annie Hauser Published Mar 4 2015 11:04 PM EST weather.com Thor Heads Towards Midwest And East Winter Storm Thor is moving through the West this weekend, but will bring problems to the Midwest and East into the middle of the week. Winter Storm Thor pushed into the Ohio Valley and South Wednesday. Heavy rain caused severe flooding in areas of Kentucky and West Virginia has broad swaths of the country prepared for more snow Wednesday night into Thursday.Earlier in the week, in the Rockies and Midwest, the storm killed at least seven. An eighth death was reported in Dallas Wednesday night. At least 199 people have been reportedly injured, including 148 people hospitalized in the Omaha, Nebraska, area after slipping and falling on ice.More than 88 million people – were under some kind of watch, warning, or advisory for winter weather related to Winter Storm Thor as of Wednesday afternoon. Of those, 60 million were under winter storm warnings stretching from Austin, Texas, to New York City and Long Island."We are seeing cold air bleed farther and farther south into a broad zone of precipitation," said weather.com senior meteorologist Nick Wiltgen. "This is causing rain to change to freezing rain and sleet and eventually snow, and this sequence could turn roads into skating rinks for many areas."(FORECAST: Winter Storm Thor)Here are the latest impacts from Thor:
Seven deaths confirmed so far: three in Wyoming, one in Michigan, one in Nebraska, one in Wisconsin and one in Minnesota; an eighth has been reported in Dallas, Texas
Severe flooding reported in West Virginia and parts of Kentucky; homes in West Virginia's Monongalia County evacuated
Hundreds of schools in dozens of districts canceled, from the Plains to the Ohio Valley
Hundreds of flights have been canceled, including more than 600 from Dallas-Fort Worth alone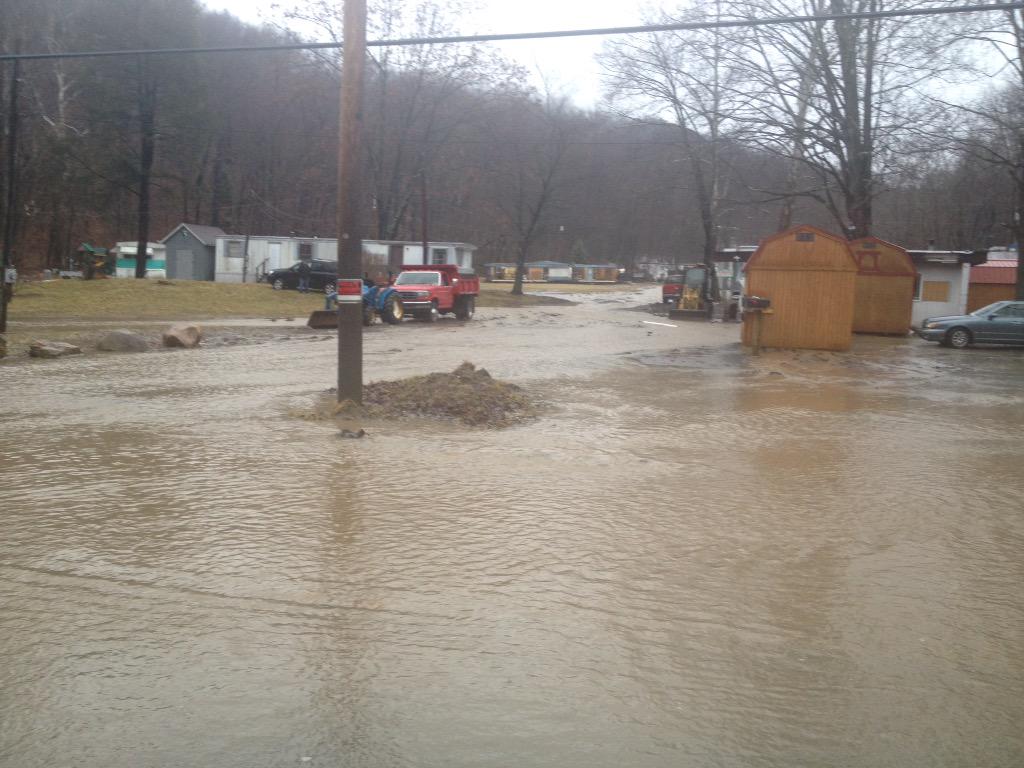 Alex Wiederspiel @wspiel5newsFollowFlooding all along trailer parks on Tyrone Road in Cheat Lake. Residents upset. Pics to come.Arizona Rain and snow hit parts of Arizona early in the week; flash flood warnings and winter storm warnings were in effect. Flooding kept residents who live along Oak Creek Canyon from departing or returning to their homes, KSAZ-TV said.A car lost control and was struck by a freight train crossing tracks at Route 66 in Flagstaff, Arizona, leaving one person injured, The Arizona Daily Sun reports.CaliforniaA mudslide shut down a stretch of the Pacific Coast Highway in both directions early Sunday morning, The Los Angeles Times reports.Officials reopened the road Monday.(MORE: Winter Storm Sparta Creates Nightmare on Roads)Bay Area residents were baffled Saturday when a storm dropped so much hail, people confused it for snow. The local NWS office confirmed although it looked "deceptively similar to snow, no snow fell below 4,000 feet" elevation.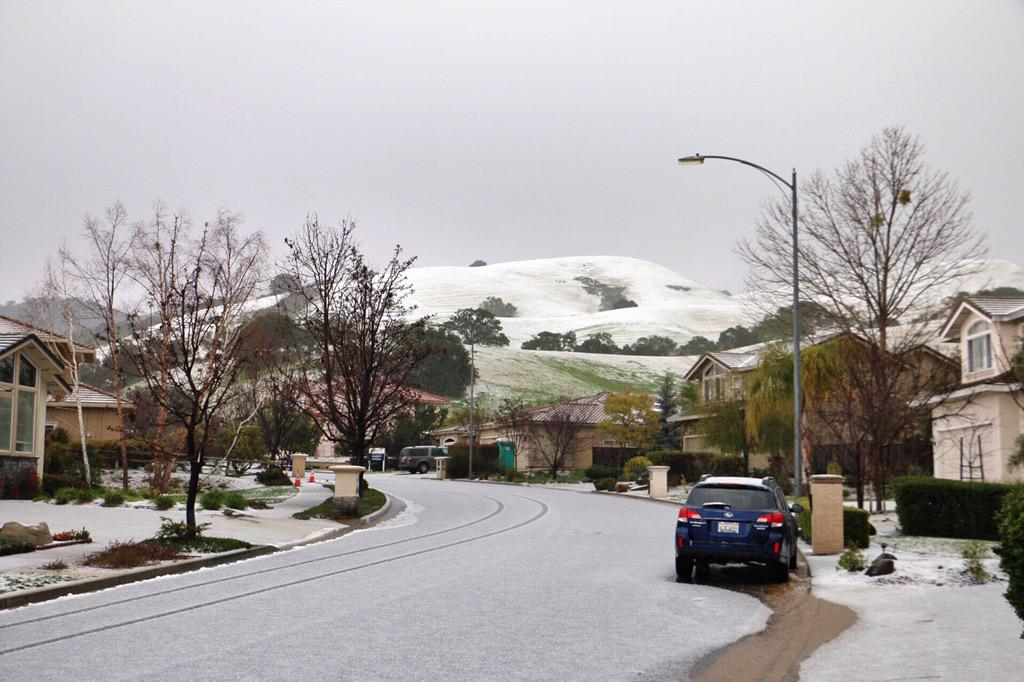 Steve Baker @sbakerFollowFoothills east of San Jose are covered in white! cawxIt began snowing in those higher elevations of the Sierra Nevada late Friday, and the ski resorts reported receiving upwards of a foot of snow."We are thrilled," Melissa Matheney, a spokeswoman for Squaw Valley and Alpine Meadows ski resorts, told The San Francisco Chronicle. "We couldn't be happier with this storm. It exceeded expectations, which is fantastic."ColoradoMultiple non-injury wrecks led to the partial closure of northbound I-25 Monday, Colorado State Patrol says. Around 9 a.m. local time, the highway was completely reopened.Thor's new layer of snow is on top of piles of snow left by previous storms across the state in the last few weeks.Illinois The Illinois Department of Transportation reported wet, icy conditions on major roadways Tuesday. The ice caused problems, including slide-offs and accidents, which briefly closed a stretch of I-57 Tuesday, according to The Chicago Tribune. State police say there were at least four injury-causing accidents on I-74.At Chicago O'Hare International Airport, nearly 400 flights were canceled, according to FlightAware. Chicago Midway reported more than 60 flights canceled.The Chicago Transit Authority's green, pink and yellow lines experienced major delays after ice and snow packed onto the tracks, but resumed normal operations later in the day Tuesday.IndianaIndiana is expected to see snow Wednesday night into Thursday after the state struggled with ice earlier in the week. Icy roads snarled morning traffic in northwest Indianapolis Tuesday. WTHR reports that at least six accidents involving semi-trucks shuttered travel on I-65 and I-465. With overturned and jack-knifed semis on the road, closures began to pop up. Fox 59 reports that a salt truck was involved in one of the crashes on I-65 and I-465. On westbound I-70, Indiana State Police report slide-offs.IowaThe Montgomery County Sheriff's Office told Omaha.com a Carson, Iowa, woman was seriously injured Tuesday morning when her 2004 Ford Expedition rolled on an icy road.KentuckyIn advance of the snow that hit Wednesday afternoon, central and eastern Kentucky experienced flooding, as a result of rain and snow melt."There are reports of high water and minor flooding all over," Monica French, a spokeswoman for the Kentucky Division of Emergency Services, told The Lexington News Herald Wednesday evening.Water covered several roads and bridges, making travel difficult, but homes were not threatened, local officials reported. Gov. Steve Beshear said Wednesday evening he was watching the situation to decide whether a statewide emergency declaration is needed, the paper reported.Louisville emergency plans are in place with warming shelters open 24 hours until the weather turns warmer. As rain turned to snow Wednesday, city officials in Louisville urged residents to stay off the roads if possible to allow city crews to spread salt and plow the roads."We're in good shape salt-wise for this event," Floyd County Emergency Management Agency director Terry Herthel said, according to The Courier Journal. "Other than that, we're just checking all the flood-prone places. Basically just waiting it out."The city has 1,500 tons of salt available with another 600 tons on the way, he added.As a result of the weather, scores of schools and businesses will be closed Thursday, WKYT reported.MichiganA fatal three-car accident that occurred Tuesday afternoon is being blamed on roads made slick by Thor's snow and ice, The Associated Press reported.The crash occurred near Caro, about 80 miles north of Detroit, the report added. Authorities had not yet released the name of the person killed.Several other accidents were reported in Genesee, Ingham and Washtenaw counties, officials told the AP.MinnesotaI-94 closed for three hours in both directions Tuesday after a series of crashes clogged roads. State Patrol spokesperson Lt. Tiffani Nielson told KARE-TV a person was killed in one of the incidents after a semi hit a car being retrieved from a ditch.The interstate reopened late Tuesday evening.State Patrol spokesperson Lt. Tiffani Nielson provided updates on state highways throughout the day, citing numerous crashes and a rolled semi. On I-494 near Concord Street in South St. Paul, Minnesota, a state trooper's car was struck, and the officer was transported to an area hospital.Nebraska Omaha was on the edge of Thor's precipitation Tuesday morning and saw freezing drizzle, leading to a glaze of ice across the Omaha-Council Bluffs area. KETV anchor Alex Hoffman, citing updated reports from local hospitals Wednesday, told weather.com that 148 people were hospitalized in the Omaha area after they slipped and fell on ice. Injuries ranged from sprains to broken legs and arms to head injuries.A motorist also died early Tuesday morning in Omaha when his vehicle veered off icy roads and crashed into a tree, Omaha.com reported. Patrick Dubas, 44, was unresponsive when rescue personnel arrived on the scene. Three other motorists were seriously injured in separate incidents.New JerseyNearly 60 schools, mostly in the northern portion of the state, announced delayed openings Wednesday because of icy roads. As rain and ice is expected to turn to snow overnight Wednesday, some schools have announced closures for Thursday as well. As a result of ice Tuesday night, thousands of households in the state were without power. NJ.com reported some1,900 Jersey Central Power & Light customers in Morris were still in the dark Wednesday morning, though most homes had restored power Wednesday afternoon. Slick, dangerous roads also prompted the implementation of 35 mph speed restrictions on the Garden State Parkway and New Jersey Turnpike, News 12 said. Snow and ice also caused the delay and cancelation of multiple flights at Newark International Liberty Airport.New YorkAlthough the worst of the impacts will hit the Northeast later Wednesday, the first waves of Thor left slick roads and poor visibility in Orange County. The conditions were blamed for a 23-vehicle pileup along I-84 Wednesday morning. Ten people were hurt, but state police said the injuries were minor.OklahomaWintry mix began entering the state Wednesday morning, with snow reported across the Oklahoma City metro area and surrounding region later in the afternoon Wednesday. Delays on the evening commute should be expected, NewsOK.com reported.Hundreds of schools and businesses announced closures Wednesday, including Oklahoma City Schools, according to NewsOK.com. More closures were announced for Thursday. For a complete list, click here. PennsylvaniaIcy conditions Tuesday night prompted Penn State officials to cancel classes Wednesday for the first time in 8 years, the AP reported. Dining halls remained open Wednesday and a 6 p.m. men's basketball game against Ohio State went on as scheduled.Abington Township near Philadelphia and others declared states of emergency Wednesday ahead of the area's switch from rain to snow. The Philadelphia Zoo will be closed Thursday, as will some schools in the region, NBC Philadelphia reported.Slick road conditions caused multiple cars to lose control on I-95 northbound Tuesday night, NBC Philadelphia reported.Ice jams along Loyalhanna Creek in Ligonier Township forced about a half-dozen residents to evacuate when the waterway overflowed its banks early Wednesday morning, according to a separate AP report.TennesseeMetro Schools in Nashville will be closed Thursday, as the state prepares for an ice event from Winter Storm Thor. A few school districts announced closures Wednesday, and several others will be sending students home early, according to MyFoxMemphis.com.In the Memphis area, Shelby County Mayor Mark H. Luttrell, Jr. said he would sign an emergency declaration if needed to help the local response to the storm. In advance of Thor, city officials were on high alert. Memphis also opened a warming shelter set to remain available until Saturday, LocalMemphis.com reported."The winter weather will linger for the next few days. People need to keep a close watch on people who live alone, especially the elderly and disabled," said Dale Lane, Shelby County Office of Preparedness Director, in the LocalMemphis.com report.TexasIcy roads conditions have been reported throughout the Dallas-Fort Worth metro area, as north Texas took a hit from Thor. Wednesday night, NBC DFW reported a weather-related vehicular accident that resulted in one fatality on Highway 380 near Little Elm. More details had not been released. Scores of schools across the city and surrounding region have canceled classes for Wednesday or announced delayed starts. For a complete list, see NBCDFW.com.The Dallas Area Rapid Transit announced a modified schedule beginning at 8:30 p.m. Wednesday in response to the weather. Shuttle buses are operating in place of trains in several locations. For updates, visit DART.org.West Virginia Severe flooding occurred Wednesday across large swaths of northern and central West Virginia. A local state of emergency was declared for Monongalia County, West Virginia, because of flooding in the region, as several homes in the county were evacuated.Heavy rain is expected to turn to snow overnight Wednesday into Thursday. Schools in at least 18 counties sent students home early Wednesday due to weather-related issues, WDTV reported. A rock slide closed one lane of southbound I-77 near the Jackson-Wood county line, north of Charleston, the station also said.WisconsinThe AP reports that one person died after a crash on Highway 41 in Brown County, Wisconsin. Behind the crash, a line of buses got stuck. Officials closed the just-opened Apostle Island ice caves Tuesday because of high winds and blowing snow, Channel 3000 reports.Wyoming Three adults died Monday evening when two sedans collided about 40 miles north of Casper near the town of Midwest. One of the drivers was thrown from his vehicle and hit by an oncoming pickup truck, according to The Casper Star-Tribune. The driver and a passenger in the other vehicle also died, but a two-year-old child survived without major injuries.MORE: Winter Storm Thor in Photos Snow in Cincinnati, Ohio, on Wednesday, March 4. (Twitter/AndyGurley) 
American Bison Slams Into Parked SUV in Yellowstone National Park By ABC NEWS8 hours agoGood Morning America
American Bison Slams Into Parked SUV in Yellowstone National Park (ABC News)An American bison being trailed by cars inside Yellowstone National Park took its anger out on a parked SUV in its path, ramming into the car that had two passengers inside.Tom Carter, a 60-year-old attorney from Texas, was sitting inside a Nissan Xterra with his friend, Suzie Hollingsworth, a Yellowstone tour guide, when they saw a group of bison approaching them head-on.Carter pulled out his phone just in time to record a video of the bison veering off on its own and ramming their SUV."We did everything we could think of to do to avoid problems," Carter told ABC News. "I figured that they would just keep running right by us at a full gallop but at the last minute it intended to hit us.""It was mad," he said. "It pretty clearly intended to hit us."Carter, who spent six summers as a Yosemite tour guide in the 1970s, says the bison were being followed by, "essentially a line of cars that was chasing them into us." The incident occurred in an area of the park known as Lamar Valley.
(Tom Carter/YouTube)Carter says the bison's angry outburst is likely attributed to the agitation of the cars as well as the mild winter the area of Wyoming in which Yosemite is located has received."It's been a really light winter and the animals are a lot more feisty this winter," he said. "Normally the winters are so harsh they don't want to expend any outside fuel."The bison caused nearly $2,800 in damages to the SUV, which belongs to Carter's friend, Hollingsworth. Neither she nor Carter was injured inside the vehicle."We turned the engine off which was a good thing because the air bags probably would have deployed," said Carter, who estimated the bison weighed around 2,000 pounds."We were never concerned about safety," he said. "The buffalo picked on something about its own size. We were laughing about it because it was kind of crazy."Carter's video of the mid-February event has received nearly 400,000 views on YouTube. He laterposted a video showing the damage to Hollingsworth's car.He says the bison walked away unscathed. "It sort of shook its head and continued along the road," Carter said.
Los inesperados polizones del tsunami de Japón De Javier Peláez | Ciencia curiosa – mar, 3 mar 2015
Redacción – Tsunami provocado por el terremoto en Japón en marzo de 2011 Dentro de unos días se cumplirá el 4º aniversario de uno de los desastres naturales más dramáticos que se han registrado en la Historia: el terremoto y posterior tsunami de Japón. El 11 de marzo de 2011 la tierra temblaba con gran fuerza bajo las aguas del Pacífico a tan solo 130 kilómetros de la costa de Honshu provocando un sismo de magnitud 9 en la escala de Richter y un posterior maremoto con olas de hasta 40 metros de altura.Las impresionantes imágenes de aquel suceso aún resuenan en nuestra memoria, sin embargo, además de la gran cantidad de daños humanos y materiales, aquel poderoso tsunami provocó numerosos efectos colaterales inesperados, entre ellos una especie de "isla artificial" formada conmás de un millón de toneladas de escombros arrastradas por las corrientes oceánicas.Desde que se produjera el terremoto hasta nuestros días, la costa oeste de Estados Unidos, Hawaii así como numerosas islas de la polinesia pacífica, han visto arribar a sus playas los más insólitos objetos procedentes de Japón… boyas, contenedores, pelotas, puertas, pequeñas embarcaciones (y no tan pequeñas), incluso una moto Harley Davidson encontrada en las costas de Canadá en 2012.
Modelo computerizado de las rutas oceanográficas de los escombros del tsunami de JapónPero sin duda los náufragos más sorprendentes de esta gran masa de escombros que ha cruzado el océano pacífico fueron unos peces de rayas capaces de aguantar la larga travesía oceánica entre los restos de una pequeña barca.La embarcación se llamaba Saisho-Maru, tiene apenas seis metros de eslora y ha conseguido atravesar el océano Pacífico empujada por las corrientes hasta llegar a las playas de Long Beach en Washington.En su interior, en un pequeño compartimento situado a su popa, alojaba a cinco peces que muy pronto llamaron la atención de los investigadores marinos que jamás habían encontrado seres vivos entre todos los escombros que habían llegado procedentes del tsunami.
Compartimento de la barca donde se encontraron los pecesEn iWonder de BBC presentan este viaje como si fuese algo parecido a un Arca de Noé, y aunque el símil bíblico no me gusta demasiado, lo cierto es que otro de los aspectos curiosos de este insólito viaje es que, no solo tenía como tripulantes a estos cinco peces, sino que los biólogos del acuario de Oregón que examinaron la barca llegaron a encontrar hasta 30 clases diferentes de organismos vivos en ese bote… Un pequeño ecosistema encerrado en una barca y viajando a la deriva durante años.
La barca encontrada en costas estadounidenses. En la popa se puede ver el compartimento.Después de la curiosa sorpresa y el estudio del caso tuvieron que tomar algunas decisiones puesto que la liberación de estos peces en aguas estadounidenses podría suponer un alto riesgo de que se convirtiesen en especies invasoras. Se eutanasió a cuatro de estos peces pero se decidió que uno de ellos se trasladara al acuario donde ya se ha convertido en una de las atracciones del lugar.
Uno de los polizones exhibido en el Acuario Seaside de Oregon¿Qué nos dice esta sorprendente aventura de los peces japoneses? ¿Qué conclusiones podemos extraer aparte de la curiosa travesía oceánica?En primer lugar podríamos destacar algo que ya hemos comprobado en numerosas ocasiones: La vida es muy resistente. Incluso en los hábitats más difíciles y extremos los organismos vivos se abren paso y sobreviven. En apenas unos centímetros cúbicos de espacio, rodeados del mar y a merced de las inclemencias del tiempo y las mareas del Pacífico, la vida ha sido capaz de formar un entorno de supervivencia durante años.También podemos sacar ideas sobre las especies invasoras. Las cuestiones sobre cómo han llegado algunas especies a colonizar hasta los más remotos lugares del planeta, incluidas islas que se encuentran a miles de kilómetros de donde son originarias las especies que las alcanzaron, tiene una clara respuesta en este viaje.Incluso si somos arriesgados y miramos al futuro podríamos ver en esta travesía de casi seis mil kilómetros un paralelismo con los futuros viajes espaciales del ser humano. Los biólogos que estudiaron el caso de la barca japonesa comprobaron que uno de los cinco peces apenas tenía un año de vida con lo que probablemente o se incorporó en una isla intermedia al viaje o bien nació durante la misma travesía. Algo similar a lo que algunos escritores de ciencia ficción ya planeaban para la conquista del espacio: Viajes intergeneracionales en los que aquellos que llegaban al destino no eran quienes lo iniciaron sino sus descendientes.[Si te ha interesado este artículo también puedes leer: "Cinco increíbles características del pez que está revolucionando la Medicina"](FOTOS) Los objetos perdidos de las víctimas del …Se cumplen10 años del terrible terremoto marino del índico, que tuvo su epicentro en la costa del oeste de Sumatra y que provocó varios tsunamis devastadoresque golpearon con fuerza casi todas las regiones costerasdel sur y sureste de Asia. Se cobrómás de 200.000 víctimasentre fallecidos y desaparecidos y los daños materiales fueron muy importantes. Una década después, miles de bolsitas de plásticoguardan sus objetos personales, aquellos que nunca se llegaron a reclamar y que las autoridades tailandesas han decidido enseñar ahora.Relacionado:Las mismas fotos del tsunami del Índico, diez años después/Las zonas dañadas por el Huracán Sandy, dos años después
Teléfonos móviles, colgantes y demás pertenencias que la policía ha dejado fotografiar.Reuters | Foto por DAMIR SAGOLJ / Reuters
33 miners feared dead after pit blast in east Ukraine
 By Maria Tsvetkova9 hours ago WSJ Live Eastern Ukraine Mine Hit by Explosion
WSJ Video News Eastern Ukraine Mine Hit by Explosion By Maria Tsvetkova Related Stories
DONETSK, Ukraine (Reuters) – Seventeen miners were confirmed dead and rescuers held out little hope for another 16 still missing after a blast at a coal mine in the rebel-held city of Donetsk near the battle front in eastern Ukraine on Wednesday.Mine officials said the explosion was most likely caused by gas and not linked to fighting in the war between Moscow-backed rebels and Ukraine government forces. Nevertheless, Kiev suggested the war had made the disaster worse, accusing the separatists of holding up a rescue effort by restricting access.Outside the gates of the Zasyadko mine, about 30 relatives clamored for information about any survivors. Sergei Baldayev, a miner injured in the blast, mingled with the crowd, his face covered in scratches and one arm hanging motionless by his side, the result of a broken collarbone.The sister of one miner who was in the pit at the time of the explosion, Alexei Novoselsky, stood in tears."Tell me, are there survivors? Why are you concealing the truth," she said as a rescue worker tried to calm her.
Miners arrive to help with the rescue effort in Zasyadko coal mine in Donetsk March 4, 2015. A blast …The Donetsk regional administration said 16 injured people were in hospital.Emergency services said that of the 32 people who were in the mine, the bodies 16 had been found, the RIA news agency reported. Earlier in the day, the body of one miner was recovered.Eduard Dmitrenko, a miner who went down the affected shaft after the blast, said it was unlikely any of the missing miners would be found alive. "But they will of course find bodies," said Dmitrenko, his face covered with coal dust.Trucks and buses were driven to the mine in preparation for transporting the bodies to local morgues.Asked what were the chances of trapped miners surviving, a medical worker said: "It's getting smaller and smaller all the time, because of the methane, the hot air, burns to the airways."
Ukrainian coal miners wait in a room before going underground to help search for bodies of colleague …HEAVY FIGHTING Donetsk has been the scene of heavy fighting between Moscow-backed separatist rebels, who control the area, and forces loyal to the government in Kiev. A ceasefire has sharply reduced the violence in the past week.The neighborhood around the mine has come under artillery fire, with fragments from Grad rockets visible on surrounding roads, but mine officials said the explosion was unrelated to the fighting and most likely caused by gas.In Kiev, Ukrainian Prime Minister Arseny Yatseniuk said rescue workers had been dispatched by the central authorities, "but the Russian terrorists did not let them reach the scene of the accident," he said, using a term commonly used by Kiev to describe the separatists.The mine, now owned by a private firm, has a history of fatal accidents in the 57 years it has been operating. An explosion at Zasyadko in 2007 killed 106 people. A cemetery next to the pit holds the graves of many miners killed in the past."When there's an accident, we bury them all here," said the head of security at the shaft where Tuesday's blast happened, who did not give his name. "Coal is a costly business."A welder at the mine, who gave his name as Oleg, said outside the entrance: "I've been down the pit for 23 years, and this is the fourth explosion that I can recall. If they didn't get them out straight away, then later they will only retrieve bodies. An explosion is a terrible thing."The Zasyadko coal mine produced 1.4 million tonnes of coal in 2013. The mine is in the center of a Donbass region which is Ukraine's industrial and coal-producing heartland.Ukrainian coal production fell 22 percent in 2014 to 65 million tonnes as the conflict disrupted mining operations, leading to some shortages of coal at power plants.(Additional reporting by Lina Kushch in Donetsk, Pavel Polityuk in Kiev and Polina Devitt, Damir Khalmetov and Lidia Kelly in Moscow; Writing by Christian Lowe; Editing by Peter Graff and Giles Elgood)
Beijing residents gasp for fresh air in the city of smog
 By Natalie Thomas and Kim Kyung-Hoon19 hours ago
Kong Ning wears a wedding dress decorated with 999 face masks for her performance art work 'Marry …By Natalie Thomas and Kim Kyung-Hoon BEIJING (Reuters) – For years, Liu Ruiqiang put up with chronic smog in China's capital of Beijing, but he didn't want to take any chances when his daughter was born.The salesman now carries a handheld pollution sensor everywhere. On days when air pollution reaches hazardous levels, his toddler daughter is confined to their home, where a pair of constantly whirring air purifiers make it safer to breathe.Liu, who says he's a lower-middle class Beijinger, estimates he has spent more than 40,000 yuan ($6,375) in the past couple of years to counter the effects of pollution on little Yunshu."If we don't think of a way to balance it out or find some basic ways to help us recover, eventually our health will be destroyed," the 37-year-old told Reuters.Like millions of Chinese, Liu and his family are paying the price for decades of red-hot economic growth that have lifted hundreds of millions out of poverty, but have taken a toll on the environment due to rapid industrialization.
A heating station chimney is seen through a hole in a steel wall at a construction site in Beijing D …Over the past seven years, levels of particulate matter in Beijing's air smaller than 2.5 micrometers in diameter (PM2.5) averaged nearly five times the recommended daily level set by the World Health Organization, according to data from a monitoring station at the U.S. embassy.The medical implications of sustained exposure are sobering. A study by Greenpeace and scientists at Peking University based on 2013 data attributed more than 257,000 premature deaths in 31 Chinese cities to PM2.5, making it a bigger killer than smoking.Awareness of the dangers of Beijing's skies is on the rise, thanks to growing data on its air quality. Anyone can monitor pollution using apps providing hourly updates of PM2.5 levels, based on government or U.S. embassy readings.Sales of air purifiers are expected to see annual growth of 33 percent over the next five years, according to TechSci Research, but they don't come cheap. High-end models can cost much more than 3,600 yuan ($574), the average monthly salary in Beijing.
Liu Ruiqiang measures the air quality with his particle counter on a balcony at his house, as his da …Some expatriates are considering leaving China for good.J. Kim, a Korean who has worked there for more than 10 years, said he developed rhinitis and asthma during his most recent stint in Beijing, as a result of breathing its polluted air.When pollution levels reached a record in January 2013, a phenomenon dubbed the "airpocalypse", Kim decided to leave. He sent his children to South Korea last year and will join them as soon as his company, a maker of electric vehicles, finds him a suitable post back home."For Chinese there's nothing they can do, but as a foreigner I have the choice to live here or somewhere else," he said.Rising public discontent over the state of the environment has proved a powerful catalyst for change amid signs the government is starting to take the environment seriously.
Wang Yan wears a mask as he stretches after jogging in a park on a hazy day in Beijing January 14, 2 …China will "declare war on pollution," Premier Li Keqiang told parliament in an opening address in 2014. A tougher environmental law took effect on Jan. 1, while a new environment minister took charge on Friday.But citizens must push harder to ensure environmental measures triumph over business interests, one expert said."In China, what we need is wide participation from society, and monitoring from the public to make sure the laws are implemented," said Ma Jun, founder of the Institute of Public and Environmental Affairs.For now, Liu sees no silver lining in Beijing's toxic cloud."It's very unlikely we'll see the pollution issue being solved in the next 10 years," he said. "It's not realistic."(Editing by Tony Tharakan and Clarence Fernandez)