There's 'a major, multi-front escalation' happening in Ukraine 
 By Jeremy Bender12 hours ago
(Igor Tkachenko/REUTERS) Pro-Russian rebels drive tanks during a rehearsal for the Victory Day military parade in Donetsk, Ukraine May 5, 2015. War has once again erupted in Ukraine.A series of separatist offenses throughout the east of the country has rattled the Minsk II accords and promises another bloody summer in the country, Michael Weiss writes for The Daily Beast. The surprise assault by the Russian-backed Ukrainian separatists targeted two major Ukrainian towns outside of the rebel stronghold of Donetsk. In addition, heavy shelling also hit Ukrainian military positions to the north of the city as well as the south along a major tactical highway currently in Kiev's hands. "Although we're still assessing details, this is clearly a major, multi-front escalation that reflects continued non-compliance with Minsk by the combined Russian-separatist forces," an anonymous Western diplomat told the Beast. The majority of the shelling hit the towns of Marinka and Krasnogorovka to the west of Donetsk. However, one of the most ominous targets of the separatist offensive was the targeting of Ukrainian troops in Beryozovoye along the Donetsk-Mariupol highway as well as separatist incursions further south towards Mariupol. These combined offensives, according to Weiss, could play into a larger tactical strategy on the part of Russia to surround Mariupol. Mariupol is a major Ukrainian port that, if taken by the separatists, could function as a land-bridge connecting Russia proper to Crimea. 
(Reuters) Map locating recent clashes between pro-Russian separatists and Ukrainian forces. Includes February's ceasefire line and ceasefire withdrawal zones."Should Marinka fall and the Russians succeed in pushing the Ukrainians back from the northern stretch of the Donetsk-Mariupol highway, they'd likely next make a push for Volnovakha, a town that Kiev's army needs to keep if it wants to maintain control of Mariupol," Weiss notes.This sudden uptick in fighting is threatening to reignite a wider war throughout eastern Ukraine. Ukrainian President Petro Poroshenko has warned that the hostilities pose a "colossal threat" and could lead back to "large-scale" fighting. The EU has likewise warned that the rebel attacks could cause "new spiral of violence and suffering." Ukraine claims that five soldiers died and an additional 39 were wounded in the fighting, with the majority of the casualties occuring around Marinka.NOW WATCH: Why Putin is the most powerful man in the world
VOA Witnesses Movement of Troops in Eastern Ukraine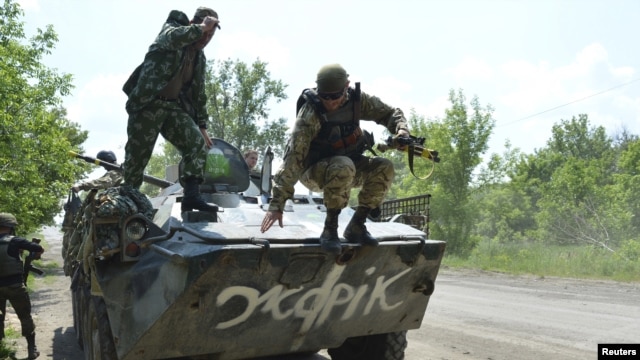 A Ukrainian serviceman jumps from an armoured personnel carrier (APC) in Avdeyevka near Donetsk, Ukraine, June 4, 2015. (REUTERS/Oleksandr Klymenko)06/04/2015 In the News 06-04-15 Ukrainian President Petro Poroshenko said Thursday that 9,000 Russiantroops are in the rebel-controlled area of eastern Ukraine. He said there is ahuge threat of new attacks on Ukrainian forces.VOA reporters in the area saw a number of Ukrainian soldiers arriving at thetrain station in the eastern city of Kramatorsk. The reporters also sawUkrainian troop carriers on the move in the town.Ukrainian officials say the fighting this week began near Donetsk. They sayabout 1,000 pro-Russian rebel fighters launched an early morning attack justwest of the city.Russia denies having any troops in Ukraine, and says any Russian citizensthere are volunteers.Islamic State redirects water in IraqIslamic State militants have closed a dam on the Euphrates River in westernIraq. The move has reduced the water flow to government-held areas of Anbarprovince,an official said Thursday.The militants have redirected the flow of water tothe battlefield around the cityof Ramadi. They captured the town last month.The move also threatens tocreate extremely dry conditions in Iraq's southern provinces.Egyptian court orders retrial for Mubarak An Egyptian appeals court ruled that former President Hosni Mubarak mustface a retrial on murder charges. The case involves the killing of protestersduring the 2011 uprising that forced Mr. Mubarak from power.The court action cancelled an earlier ruling that had removed the murdercharges. The judge said the second and final trial will begin November 5.The 87-year-old former leader has been in prison since his arrest in 2011. Mr.Mubarak ruled Egypt for 29 years.Questions remain about Yangtze River ship sinkingThe number of dead continues to increase three days after a ship capsized in China's Yangtze River. Questions about what happened also remainunanswered.Government media says the official number of dead is 75.  The ship wascarrying 456 people. Fourteen have been rescued. Most of the passengerswere tourists over the age of 60.The Chinese government is increasing its efforts to limit damage to itsreputation from what could be the country's worst maritime disaster inyears.Words in the Newsdam n. a structure that is built across a river or stream to stop water fromflowing capsize – v. to turn over : to turn so that the bottom is on top reputation – n. the common opinion that people have about someone orsomething : the way in which people think of someone or somethingtourist – n. a person who travels to a place for pleasuremaritime– adj. of or relating to sailing on the sea or doing business (such astrading) by sea
Ukraine's President Tells Military To Prepare For 'Full-Scale' Russian Invasion Reuters Posted: Updated: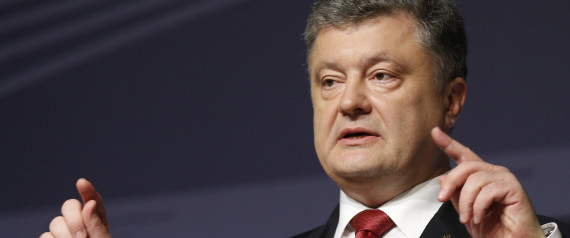 By Richard Balmforth and Pavel Polityuk KIEV, June 4 (Reuters) – Ukraine's president told his military on Thursday to prepare for a possible "full-scale invasion" by Russia all along their joint border, a day after the worst fighting with Russian-backed separatists in months.His address in parliament was one of the first times Petro Poroshenko has used the word "invasion" to refer to Russia's behavior since the start of a separatist rebellion in the east in which the United Nations says more than 6,400 people have been killed. Referring to a 12-hour firefight involving artillery on both sides on Wednesday when Ukraine says the rebels tried to take the town of Maryinka, Poroshenko said: "There is a colossal threat of a renewal of large-scale military operations from the side of the Russian-terrorist groups.""The military must be ready as much for a renewal of an offensive by the enemy in the Donbass as they are for a full-scale invasion along the whole length of the border with Russia. We must be truly ready for this."In Washington, State Department spokeswoman Marie Harf would not comment on whether the United States sees signs of a pending invasion but warned Russia to refrain from further aggressive actions in the region.The United Nations Security Council is due to meet on Ukraine on Friday, diplomats said.Ukraine and its NATO allies have long accused Russia of sending weapons and troops to fight on behalf of separatists who control part of two provinces in its east. Moscow, which seized and annexed Ukraine's Crimea peninsula last year, denies its troops are participating in the fighting in the east.A ceasefire has mostly held for the past four months, after the separatists spurned an earlier truce to launch an advance and seize more territory for their self-proclaimed state in what Russian President Vladimir Putin calls "New Russia."The joint border stretches for more than 2,200 km (1,375 miles), most of it far from the area where there has been fighting.Earlier, Ukrainian military officials said that five Ukrainian servicemen had been killed and 39 wounded in the fighting around Maryinka, which lies 23 km (14 miles) to the west of the rebel stronghold of Donetsk.The rebels updated their own casualty toll to 21 dead – five civilians and 16 fighters – and blamed Ukrainian forces for indiscriminate shelling of populated areas.The fighting went far beyond regular low-level skirmishing that has occasionally flared since the shaky ceasefire was brokered in February by the leaders of Ukraine, Russia, Germany and France.The West and Kiev say Russia has failed to fulfill the terms of the peace deal worked out in Minsk, Belarus and say it must pull out its forces and stop arms deliveries to the separatists.Moscow takes the side of the separatists, accusing Kiev's forces of ceasefire violations.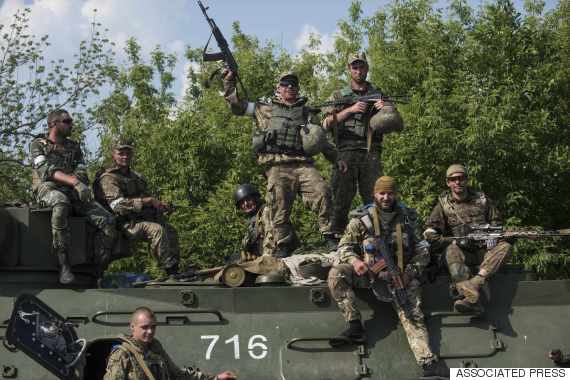 Ukrainian soldiers from the 25th airborne brigade stand atop an APC on the outskirts of Marinka, Donetsk region, eastern Ukraine, Thursday, June 4, 2015. (AP Photo/Evgeniy Maloletka)TAKING SIDES The Kremlin on Thursday accused Kiev of provoking new fighting with the aim of putting pressure on the European Union, which is due to decide on whether to extend economic sanctions on Russia soon."The Ukrainian side has taken steps to aggravate tensions many times in the past in the run-up to some major international events. This used to happen and we are seriously concerned now over the most recent manifestation of such activity," Kremlin spokesman Dmitry Peskov told journalists.The European Union described the fighting as the worst since the ceasefire and said it risked creating "a new spiral of violence and suffering." It noted not only that European leaders were prepared to extend existing sanctions on Russia but said they were also willing to tighten them further.In Washington, the U.S. State Department said Moscow had a responsibility to lean on the rebels to halt the fighting.Concern over the military escalation in Ukraine caused Russia's rouble to weaken 1.2 percent against the dollar following a 3 percent fall on Wednesday.Poroshenko, delivering his state of the nation speech, said 9,000 Russian servicemen were deployed on Ukrainian territory."The concentration of Russian troops near the state border is one and a half times greater than a year ago," he declared.Russia's defense ministry denied Poroshenko's assertion that Russian servicemen were fighting on Ukrainian territory."There are no regular Russian troops, let alone tactical combat groups in Ukraine," Russian news agency RIA quoted ministry spokesman Igor Konashenkov as saying.Reuters journalists have reported a Russian military buildup on the frontier in recent weeks, with thousands of troops and heavy weapons.Poroshenko said Ukraine would increase military expenditure next year from its present unprecedentedly high level of 5 percent of GDP, he said.A Ukrainian military spokesman said the situation near Maryinka remained "tense but stable" on Thursday morning."On three occasions the (separatist) fighters shelled our positions during the night. At the moment there is an operation going on to find sabotage and diversionary groups," he said.Separately, the Ukrainian military said rebels had fired overnight at government troop positions outside the south-eastern port city of Mariupol, as well as on villages near Luhansk city in the northern part of rebel-controlled territory.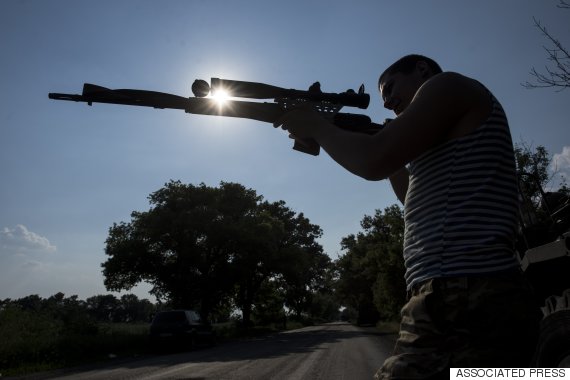 A Ukrainian soldier from the 25th airborne brigade looks through the optical sight of a sniper rifle on the outskirts of Marinka, Donetsk region, eastern Ukraine, Thursday, June 4, 2015. (AP Photo/Evgeniy Maloletka)(Additional reporting by Alessandra Prentice and Gabriela Baczynska and Polina Devitt in Moscow; Lesley Wroughton in Washingtonn; Editing by Doina Chiacu and Christian Plumb)ALSO ON THE HUFFINGTON POSTUkraine's Volatile East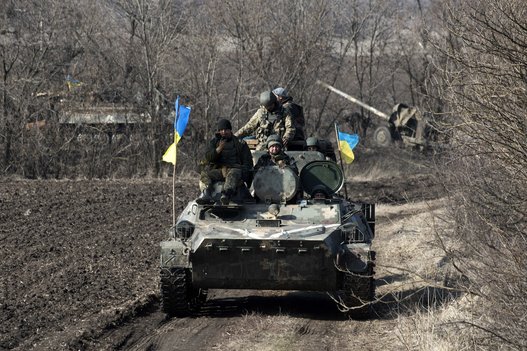 ASSOCIATED PRESS







Pentagon chief gathers diplomats, brass for Russia strategy talk
 By David Alexander9 hours ago
U.S. Defense Secretary Ash Carter speaks during a joint news conference with Vietnam's Defence Minister …By David Alexander STUTTGART (Reuters) – U.S. Defense Secretary Ash Carter said on Thursday the situation with Russia had taken a "sad turn" and he was gathering U.S. military leaders and diplomats to assess the effectiveness of NATO strategy toward Moscow in response to the Ukraine crisis.The gathering of two dozen U.S. military leaders and ambassadors based in Europe will take place on Friday in Stuttgart at the headquarters of U.S. European Command, which is responsible for U.S. forces in the region, U.S. defense officials said."We have something that has taken a sad turn recently, which is Russia," Carter told troops at U.S. Africa Command, which is also based in Stuttgart, in southern Germany."We were absolutely hoping for something different, but it appears that (Russian President) Vladimir Putin is taking his country in a different direction.""I don't think that's a good way for Russia and at some point the Russian people will wake up to that, but they are not showing much sign of that now," he added. "The situation here (in Europe) is not as rosy as it might have seemed in the past."Carter said that's why he had traveled to Stuttgart, "to take another look at what we are doing here."The session will gather U.S. military leaders and ambassadors based in Europe to discuss how effective Western sanctions and military actions have been in deterring Russia and reassuring NATO allies, U.S. defense officials said."This meeting is intended to inform the secretary's thinking as he heads into his first NATO ministerial in late June," said Brent Colburn, a Pentagon spokesman. "One of the areas of focus will be Russia's actions over the past 18 months, including their operations in Ukraine."The Western allies have imposed asset freezes and travel bans on a number of Russians. The United States launched Operation Atlantic Resolve to step up military exercises with NATO members in eastern Europe. The United States approved $1 billion to support efforts to reassure European allies."The … primary purpose is to assess and strategize on how the United States and key allies should think about heightened tensions with Russia over the past year," said a U.S. defense official on Carter's plane to Stuttgart.Asked if the session would discuss providing lethal weapons to Ukraine, the official said Carter was still open to the idea and the issue could come up. The United States so far has resisted providing lethal arms to avoid escalating the conflict.(Reporting by David Alexander; Editing by Tom Heneghan and Dominic Evans)
US might deploy missiles in Europe to counter Russia
 By ROBERT BURNS8 hours ago
FILE – In this Dec. 24, 1997 file photo, soldiers prepare to destroy a ballistic SS-19 missile in the yard of the largest former Soviet military rocket base in Vakulenchuk, Ukraine. The Obama administration is weighing a range of aggressive responses to Russia's alleged violation of a Cold War-era nuclear missile treaty, including deploying land-based missiles in Europe that could pre-emptively destroy the Russian weapons. This "counterforce" option is among possibilities the administration is discussing as it reviews its entire policy toward Russia in light of Moscow's military intervention in Ukraine, its annexation of Crimea and other confrontational actions in Europe and beyond. The options go so far as one implied — but not stated explicitly — that would improve the ability of U.S. nuclear weapons to destroy military targets on Russian territory. (AP Photo, File)WASHINGTON (AP) — The Obama administration is weighing a range of aggressive responses to Russia's alleged violation of a Cold War-era nuclear treaty, including deploying land-based missiles in Europe that could pre-emptively destroy the Russian weapons.This "counterforce" option is among possibilities the administration is considering as it reviews its entire policy toward Russia in light of Moscow's military intervention in Ukraine, its annexation of Crimea and other actions the U.S. deems confrontational in Europe and beyond.The options go so far as one implied — but not stated explicitly — that would improve the ability of U.S. nuclear weapons to destroy military targets on Russian territory.It all has a certain Cold War ring, even if the White House ultimately decides to continue tolerating Russia's alleged flight-testing of a ground-launched cruise missile with a range prohibited by the treaty.Russia denies violating the treaty and has, in turn, claimed violations by the United States in erecting missile defenses.It is unclear whether Russia has actually deployed the suspect missile or whether Washington would make any military move if the Russians stopped short of deployment. For now, administration officials say they prefer to continue trying to talk Moscow into treaty compliance.In public, administration officials have used obscure terms like "counterforce" and "countervailing strike capabilities" to describe two of its military response options, apparently hoping to buy time for diplomacy.The Pentagon declined to make a senior defense policy official available to discuss the issue. A spokesman, Lt. Col. Joe Sowers, said, "All the options under consideration are designed to ensure that Russia gains no significant military advantage from their violation."At his Senate confirmation hearing in February, Defense Secretary Ash Carter noted his concern about Russia's alleged violation of the 1987 Intermediate-range Nuclear Forces, or INF, treaty. He said disregard for treaty limitations was a "two-way street" opening the way for the U.S. to respond in kind.The standoff speaks volumes about the depths to which U.S.-Russia relations have fallen. And that poses problems not only for the Obama administration but also for the NATO alliance, whose members in eastern Europe are especially leery of allowing Russian provocations to go unanswered.Western leaders are meeting Sunday and Monday for a G-7 summit — from which Russian President Vladimir Putin has been excluded — where Russian aggression will be a key topic. On Friday, Carter plans to meet in Germany with American defense and diplomatic officials to map out a counterstrategy to Russia's military intervention in Ukraine and to reassure allies worried about Moscow.The U.S. and its Western partners have tried to use economic and diplomatic leverage against Putin on a range of conflicts, including Ukraine. But they also recognize that Moscow still plays an important role in international affairs, including the nuclear talks with Iran that are among President Barack Obama's highest foreign policy priorities.The administration is considering three options for responding militarily to Russian missile treaty violations: defenses to stop a treaty-violating missile, the "counterforce" option to attack a missile preemptively and the "countervailing strike capabilities" option that implies the potential use of nuclear forces.One of Carter's nuclear policy aides, Robert Scher, testified in April that "counterforce" means "we could go about and actually attack that missile where it is in Russia." Another Pentagon official, Brian McKeon, testified in December that this option involved potential deployment in Europe of ground-launched cruise missiles.Scher said another option would involve "not simply attacking" the Russian missile but seeing "what things we can hold at risk within Russia itself." Hans Kristensen, a nuclear weapons expert at the Federation of American Scientists, said this could mean further improving the ability of U.S. nuclear or conventional forces to destroy Russian military targets in addition to missiles deemed to violate the INF treaty.Kristensen said the public discussion of these options amounts to "one hell of a gamble" that Putin will back down on INF.The Obama administration has been relatively gentle in poking Moscow publicly on the INF issue. The State Department's top arms control official, Rose Gottemoeller, has called the alleged Russian violations a "very grave concern." In December she argued against declaring the treaty dead, saying America's allies also are opposed to that approach._Associated Press writer Deb Riechmann contributed to this report.
Mourners pay respects to US vice president's son
 By RANDALL CHASE3 hours ago
DOVER, Del. (AP) — Delaware residents gathered at the state Capitol on Thursday to pay their respects to former Attorney General Beau Biden.Related Stories
Biden, eldest son of Vice President Joe Biden, died of brain cancer Saturday at age 46.Beau Biden lay in honor in the state Senate chamber following a procession from Wilmington to Dover. Behind his flag-draped casket was a Senate dais draped with black bunting and decorated with white flowers. The casket was flanked by a black-and-white photo of Biden with his wife and children and a Conspicuous Service Cross, presented to him posthumously Thursday for his service in the Delaware National Guard.Gov. Jack Markell led the tributes for Biden in a 25-minute service attended by state officials, lawmakers and other dignitaries. Beau Biden's son, Hunter, and daughter, Natalie, clung to their mother, Hallie, and grandmother, Jill Biden, during the service.The Biden family, led by Joe Biden, then stood in a receiving line, warmly greeting well-wishers with hugs and handshakes, punctuated by both smiles and tears, as recorded harp music played softly in the background.The doors were then opened to members of the public gathered at Legislative Hall, the Capitol.
Vice President Joe Biden, center, pauses alongside his family as they to enter a visitation for his  …"Beau made Delaware a better place for us all," said Markell, describing Biden as a dedicated public servant and a model husband and father.Col. Ed Brandt, a Delaware National Guard chaplain, said Biden's life was marked by many accomplishments between "bookends of tragedy."Biden was 3 years old when he and his younger brother, also named Hunter, were injured in a 1972 car crash that killed their mother and infant sister. The crash occurred just weeks after Joe Biden was elected to the U.S. Senate. Beau Biden's life and political career were cut short by cancer, which first appeared in the form of a lesion discovered by doctors in 2013, three years after he had suffered a minor stroke."In my eyes, he proved to be a public servant, not a politician," said former Delaware Chief Justice Myron Steele, who twice gave Biden the oath of office for attorney general.President Barack Obama will deliver a eulogy Saturday at Biden's funeral in Wilmington.By early Thursday evening, the vice president and his family were back in Washington to attend the middle school graduation of Maisy Biden, Hunter Biden's daughter. President Barack Obama and the first lady joined the Bidens for the ceremony at Sidwell Friends School, where Obama's daughter Sasha was also graduating from middle school.The White House said Hunter Biden, Joe Biden and Jill Biden were all attending the graduation.
China-based hackers suspected in massive breach of federal personnel data
By Ken Dilanian and Ricardo Alonso-Zaldivar, Associated Press55 minutes ago
CBS TV Videos China suspected in massive U.S. government data breach Related Stories
WASHINGTON (AP) — China-based hackers are suspected of breaking into the computer networks of the U.S. government personnel office and stealing identifying information of at least 4 million federal workers, American officials said Thursday.The Department of Homeland Security said in a statement that data from the Office of Personnel Management and the Interior Department had been compromised."The FBI is conducting an investigation to identify how and why this occurred," the statement said.The hackers were believed to be based in China, said Sen. Susan Collins, a Maine Republican.Collins, a member of the Senate intelligence committee, said the breach was "yet another indication of a foreign power probing successfully and focusing on what appears to be data that would identify people with security clearances."A spokesman for the Chinese Embassy in Washington called such accusations "not responsible and counterproductive.""Cyberattacks conducted across countries are hard to track and therefore the source of attacks is difficult to identify," spokesman Zhu Haiquan said Thursday night. He added that hacking can "only be addressed by international cooperation based on mutual trust and mutual respect."A U.S. official, who declined to be named because he was not authorized to publicly discuss the data breach, said it could potentially affect every federal agency. One key question is whether intelligence agency employee information was stolen. Former government employees are affected as well."This is an attack against the nation," said Ken Ammon, chief strategy officer of Xceedium, who said the attack fit the pattern of those carried out by nation states for the purpose of espionage. The information stolen could be used to impersonate or blackmail federal employees with access to sensitive information, he said.The Office of Personnel Management is the human resources department for the federal government, and it conducts background checks for security clearances. The OPM conducts more than 90 percent of federal background investigations, according to its website.The agency said it is offering credit monitoring and identity theft insurance for 18 months to individuals potentially affected. The National Treasury Employees Union, which represents workers in 31 federal agencies, said it is encouraging members to sign up for the monitoring as soon as possible.In November, a former DHS contractor disclosed another cyberbreach that compromised the private files of more than 25,000 DHS workers and thousands of other federal employees.Cyber-security experts also noted that the OPM was targeted a year ago in a cyber-attack that was suspected of originating in China. In that case, authorities reported no personal information was stolen.One expert said it's possible that hackers could use information from government personnel files for financial gain. In a recent case disclosed by the IRS, hackers appear to have obtained tax return information by posing as taxpayers, using personal information gleaned from previous commercial breaches, said Rick Holland, an information security analyst at Forrester Research."Given what OPM does around security clearances, and the level of detail they acquire when doing these investigations, both on the subjects of the investigations and their contacts and references, it would be a vast amount of information," Holland added.DHS said its intrusion detection system, known as EINSTEIN, which screens federal Internet traffic to identify potential cyber threats, identified the hack of OPM's systems and the Interior Department's data center, which is shared by other federal agencies.It was unclear why the EINSTEIN system didn't detect the breach until after so many records had been copied and removed."DHS is continuing to monitor federal networks for any suspicious activity and is working aggressively with the affected agencies to conduct investigative analysis to assess the extent of this alleged intrusion," the statement said.Cybersecurity expert Morgan Wright of the Center for Digital Government, an advisory institute, said EINSTEIN "certainly appears to be a failure at this point. The government would be better off outsourcing their security to the private sector where's there at least some accountability."Rep. Adam Schiff, ranking Democrat on the House intelligence committee, called the hack "shocking, because Americans may expect that federal computer networks are maintained with state of the art defenses."Ammon said federal agencies are rushing to install two-factor authentication with smart cards, a system designed to make it harder for intruders to access networks. But implementing that technology takes time.Senate Intelligence Committee Chairman Richard Burr, R-N.C., said the government must overhaul its cybersecurity defenses. "Our response to these attacks can no longer simply be notifying people after their personal information has been stolen," he said. "We must start to prevent these breaches in the first place."_Associated Press writers Donna Cassata, Alicia A. Caldwell and Kevin Freking in Washington and Brandon Bailey in San Francisco contributed to this report._Follow Ken Dilanian on Twitter at https://twitter.com/KenDilanianAP
IS jihadists in fierce battle for key Syrian city
 By Maya Gebeily3 hours ago
Beirut (AFP) – Islamic State group jihadists, emboldened by a string of battlefield victories, advanced Thursday to the gates of the Syrian city of Hasakeh after intense fighting with regime troops.Related Stories
In neighbouring Iraq, security forces foiled IS car bomb attacks on two military bases west of Baghdad, a day after US-led coalition warplanes destroyed a massive jihadist bomb-making factory.Despite nine months of US-led air strikes, the militants have made new territorial gains recently, including the ancient Syrian city of Palmyra and Ramadi, capital of Iraq's vast Anbar province.Now they are "500 metres (550 yards) away from the entrance of Hasakeh, after fierce clashes against regime forces south of the city," said Rami Abdel Rahman, director of the Syrian Observatory for Human Rights.He said IS had seized all military posts in that area of northeastern Syria, including an unfinished prison building and a power plant, after at least six suicide bombers struck on Wednesday.IS set off a car bomb near an army position on the edges of Hasakeh late Thursday, the Observatory said, but there was no immediate word on casualties.Control of Hasakeh is split between regime and Kurdish forces, who have fought IS elsewhere in the province.
The Al-Watan newspaper, which is close to the government, said IS had begun a "violent attack o …If IS seizes Hasakeh it would be the second Syrian provincial capital to fall under its control, after Raqa, the group's bastion in northern Syria.It would also be the third provincial capital lost by the regime. The northwestern city of Idlib was seized by rebels in March.On Thursday, 17 civilians were killed in regime air raids on the Silqin area in Idlib province, the Observatory said.Iran and Iraq have deployed thousands of fighters in Syria to help the regime defend the Damascus area, a security source told AFP on Wednesday."Around 7,000 Iranian and Iraqi fighters have arrived in Syria over the past few weeks and their first priority is the defence of the capital," the source said on condition of anonymity.Iran, a key Damascus ally, has provided it with financial and military support.
Syrian men help an injured person after a reported barrel bomb attack by government forces in the no …But in recent months, the Syrian government has lost territory in several parts of the country to both IS and rebel groups including Al-Qaeda affiliate Al-Nusra Front.- 'Violent attack' -Fighting on Wednesday around Hasakeh killed 27 regime fighters and 26 jihadists, according to the Britain-based Observatory, which relies on a network of sources on the ground.All electricity and communications in Hasakeh have been cut off, said activist Arin Shekhmos, citing residents who had fled.Other residents have moved to the northern and western Kurdish-controlled parts of the city following IS mortar fire, he told AFP.IS began its assault on Hasakeh on Saturday and launched a simultaneous offensive against rebels in northern province of Aleppo.
Fighters from Al-Qaeda's Syrian affiliate Al-Nusra Front drive in the northern Syrian city of Al …The attacks follow the jihadists' capture last month of Palmyra and its 2,000-year-old UNESCO World Heritage site in central Syria.The group has also expanded its control along the Syrian-Iraqi frontier.In Iraq lst month, IS used an unprecedented wave of suicide truck bomb attacks to seize Ramadi, capital of the country's largest province.A White House aide said Thursday that US President Barack Obama will meet Iraqi Prime Minister Haider al-Abadi on the sidelines of a weekend Group of Seven summit in Germany to discuss the "situation on the ground and our effort to support Iraqi forces".On Thursday, the Iraqi army said it had used anti-tank missiles to repel suicide bombers driving explosives-rigged vehicles towards two military bases west of Baghdad.The foiled attacks came a day after an air raid by the US-led coalition levelled one of the jihadists' largest car bomb factories in Iraq, which was packed with tanks, Humvees, and explosives, officials said.US Deputy Security of State Antony Blinken said Wednesday that 10,000 IS members had been killed since the start of the US-led air campaign in Iraq and Syria.The coalition said it had conducted 17 air strikes against IS positions in Iraq and Syria over a 24-hour period through Thursday morning.More than 220,000 people have been killed in Syria since anti-government protests broke out in March 2011 and escalated into a full-blown civil war that brought jihadists streaming into the country.At least 14 civilians, including seven children, were killed Thursday when Syrian regime helicopters dropped barrel bombs on northern Aleppo province, the Observatory said.In Turkey, Syria's opposition National Coalition met UN peace envoy Staffan de Mistura. A coalition statement said its chief, Khaled Khoja, called on the UN to pressure Assad's regime to return to the negotiating table.
Why Assad's air force is now a force multiplier for ISIS
 By Pamela Engel9 hours ago
(Umit Bekas/Reuters) Smoke rises after an U.S.-led air strike in the Syrian town of Kobani October 8, 2014. The Islamic State terror group is pushing toward Aleppo in Syria. And the jihadists are seemingly aided by air strikes from the regime of dictator Bashar Assad.This might seem counterintuitive since the Islamic State (also known as ISIS, ISIL, and Daesh) is a major threat to Assad's regime.But Assad has something to gain from allowing ISIS to operate in certain areas. He's portrayed those who are opposed to his regime as "terrorists," and ISIS' presence in Syria bolsters Assad's argument. And assisting ISIS in its fight against rebel forces helps get rid of the more moderate opposition fighters who threaten Assad's power. While the rebels focus mostly on taking down the Assad regime, ISIS fights both the rebels and regime forces."Assad sees the defeat of ISIS in the long term and prioritizes in the more short- and medium-term, trying to cripple the more mainline Syrian opposition," Christopher Kozak, a Syria Analyst at the Institute for the Study of War, explained to Business Insider. "ISIS is a threat that lots of people can rally around and even if the regime trades … territory that was in rebel hands over to ISIS control, that weakens the opposition, which has more legitimacy. There's no risk of ISIS gaining international legitimacy, while there is more risk that … an opposition could actually form a challenge of [Assad's] legitimacy."
(Reuters) Assad has been trying to market himself as the lesser evil in Syria compared to ISIS and the Nusra Front, Syria's Al Qaeda affiliate that is fighting both ISIS and the regime."The regime still feels that … at the end of the day, if it really comes down to [the Nusra Front], ISIS, and Assad in a room, you have to side with Assad," Kozak said.And while the Assad regime might be assisting ISIS in the short-term as the militants advance across the countryside north of Aleppo, that doesn't mean that ISIS and Assad are actually collaborating or that Assad supports ISIS. Since Aleppo, Syria's largest city, is still strategically important to Assad, he's unlikely to allow ISIS to take the city itself, Kozak said.
(Flickr/Thierry Ehrmann) "Aleppo is really important for asserting the regime's legitimacy," Kozak said. "What the regime does think is that allowing ISIS to advance in that northern countryside threatens the supply lines of the rebels inside the city."Assad is taking a risk by aiding ISIS' movements in the countryside, however. Part of ISIS' strategy is to look for weak spots the group can exploit. The Assad regime makes itself somewhat vulnerable by allowing ISIS to establish a strong presence north of Aleppo.While the Nusra Front and other rebels might currently be a more immediate threat to the Assad regime, Assad will turn on ISIS eventually and look for support to neutralize the group's threat to Syrian state, Kozak said.US officials have said that they don't consider Assad to be a legitimate ruler and that he will never be a viable counterterrorism partne. But Assad is likely banking on that to change if the moderate opposition is pushed out of Syria and only the most radical jihadists are left.Despite the atrocities the Syrian regime commits against its citizens and the suspicions that Assad's air force is leaving ISIS untouched while it bombs other rebels, the US still won't touch Assad. Iran is Syria's primary ally, and Shia militias backed by Iran are fighting ISIS on the ground in Iraq as Baghdad's security forces crumble in the face of a recent ISIS offensive.NOW WATCH: Why Putin is the most powerful man in the world