Indonesia's Mount Sinabung Could Be on Verge of Violent Eruption, Experts Say By The Associated Press Published Jun 17 2015 07:53 PM EDT weather.comOne of the most active volcanoes in the world could be on the verge of a violent eruption, but thousands of people living nearby are refusing to leave their homes.Mount Sinabung, one of about 130 active volcanoes in Indonesia, has been at the highest alert level for nearly two weeks. On Tuesday, at least 48 avalanches of hot ash barreled down its slopes, with the biggest reaching 2.5 kilometers (1.5 miles) southeastward. The volcano in northern Sumatra, one of Indonesia's main islands, has also been shooting smoke and ash more than 700 meters (2,300 feet) into the air.In this photo taken with slow shutter speed, hot lava flows from the crater of Mount Sinabung as seen from Tiga Serangkai, North Sumatra, Indonesia, early Monday, June 15, 2015.  (AP Photo/Binsar Bakkara)Several thousand people, including women carrying babies in slings, have left the mountain in police trucks since Monday after the volcanic activity intensified over the weekend. Some streamed down the scorched slopes on motorcycles, their faces caked in ash.But Subur Tambun, who heads the local disaster mitigation agency, said only 10,000 of about 33,000 people living within the main danger zone have moved into tent camps or government buildings a safe distance from the volcano. No injuries have been reported from the recent eruptions."The villagers insisted on tending crops," Tambun said. "They are confident of being able to escape a major eruption. All we can do is ask them to leave."The 2,460-meter (8,070-foot) Mount Sinabung has erupted sporadically since 2010, when it caught scientists off guard and blew after being quiet for four centuries. Last year, a powerful explosion heard hundreds of kilometers (miles) away destroyed villages around its slopes and killed at least 17 people.For days, authorities have pleaded with villagers in the main danger zone, which stretches 7 kilometers (4 miles) to the south and southeast of the peak, to move to the temporary shelters, but have faced resistance."We have lost our vegetables, but not coffee," said Sapta Sembiring Palawi from Gambir village, about 4.7 kilometers (3 miles) from the smoldering peak. "Coffee has let us survive and we have to take care of it now." Palawi, a grandfather, is one of about 200 people from the village who have refused to move to government shelters.(MORE: Families Evacuate Arizona Brush Fire)The reluctance of people to leave their homes despite danger is common in the sprawling archipelago nation. It has more volcanoes than any other country and is prone to volcanic eruptions and earthquakes because of its location on the "Ring of Fire" — a series of fault lines stretching from the Western Hemisphere through Japan and Southeast Asia.More than 150,000 people live along the slopes of Mount Sinabung, taking advantage of its fertile soil to grow chilies, oranges, cocoa and coffee.Despite warnings, some evacuees returned home Tuesday to tend their crops and livestock."We are worried, but we have to see our house and to clean up the ash from our farm," said Yapti Sitepu, who was evacuated to a temporary shelter on Monday.More than 2,000 people forced to move by last year's eruption are still living in temporary houses rented by the government while they wait for permanent relocation. Their villages are now uninhabitable.MORE ON WEATHER.COM: Sinabung Erupts in September 2013 Pigeons fly by as Mount Sinabung spews volcanic materials following its eruption in Karo, North Sumatra, Indonesia, Sunday, Sept. 15, 2013. Thousands of people have been evacuated from their homes after the volcano erupted early Sunday. (AP Photo/Binsar Bakkara) 
Tropical Depression Bill Soaks Texas (PHOTOS) Published Jun 17 2015 11:07 PM EDT weather.com A man wades through flood waters in Ardmore, Okla. as Tropical Depression Bill moves through the area. (@SarahWilliams/twitter.com) 
 Tropical Storm Bill made landfall along the Texas coast Tuesday, slamming much of the region when heavy rains and winds upwards of 60 mph. Throughout the day Tuesday, the storm system churned northward.In the early hours of Wednesday morning, the National Hurricane Center downgraded the system from a tropical storm to a tropical depression. The system is forecast to weaken throughout the day.While the storm's wind and storm surge caused some isolated issues, the heavy rainfall across Texas poses the most life-threatening impact for millions of Texans. Because record rains fell in some areas last month, the saturated region will struggle to hold any additional precipitation.(MORE: Latest News On Bill | Live Updates | Forecast)Wednesday afternoon, top reported rainfall totals included 11.77 inches near Ganado, Texas, and 11.59 inches west of El Campo in Wharton County, Texas. Flooded roads have been reported across parts of the region.We will be collecting photos that illustrate Bill's impacts throughout the event and, using the gallery at the top of this page, will bring you those images as the storm moves into the Southern Plains. Be sure to check back frequently for the latest photos.
Arizona Brush Fire Grows Amidst Heat Wave; Hundreds Evacuated Published Jun 17 2015 10:19 PM EDT weather.com A growing brush fire near Kearny, Arizona, is forcing hundreds of evacuations, just as the hottest temperatures of the season envelope the Desert Southwest.Three hundred residents were ordered to evacuate homes and local businesses near the Gila River Wednesday, Kearny Mayor Sam Hosler told ABC15 in Phoenix. The fire had grown to about 300 acres by 6 p.m. local time, AZ Central reports, and was at zero percent containmen.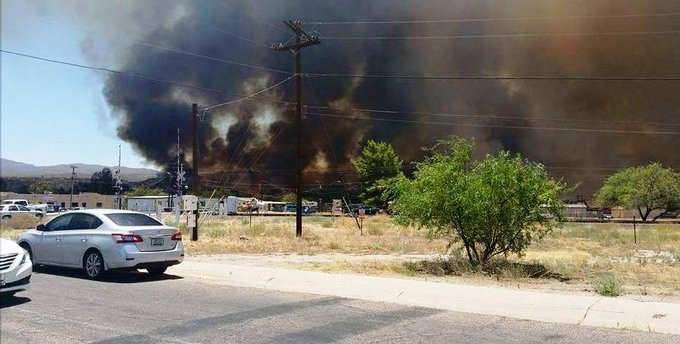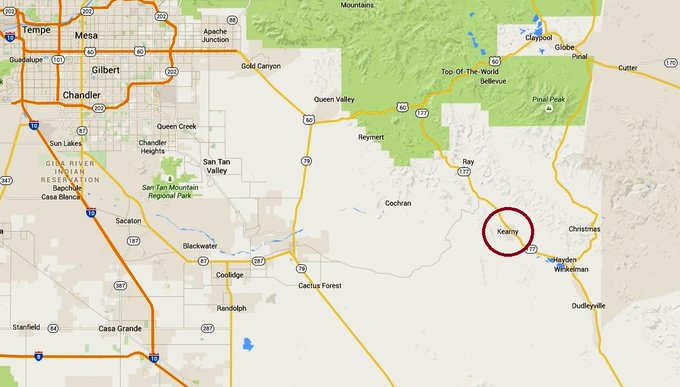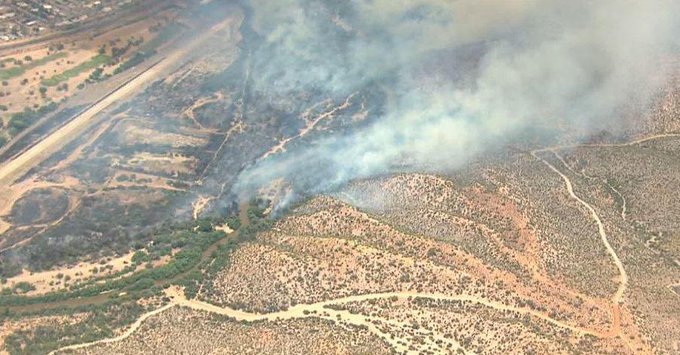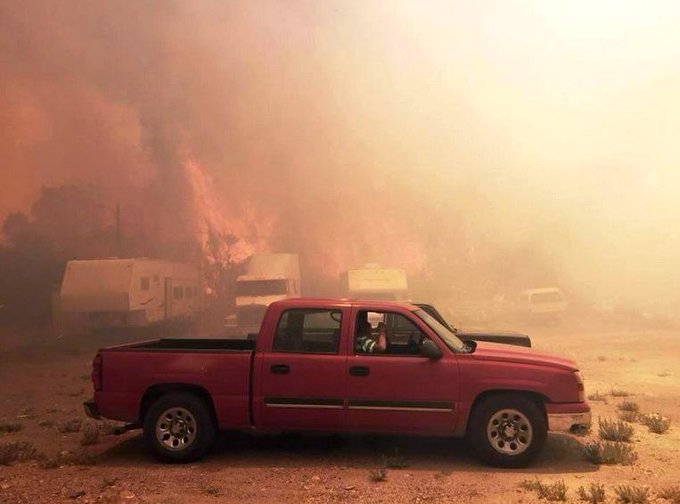 Follow
Daniel Aguirre @DAguirreTAZ Kearny KearnyRiverFire hay mas de 100 personas desalojadas a causa de fuerte incendio fotos @TelemundoAZ @12News(PHOTO: Double Rainbow Over Sydney Stuns)According to weather.com meteorologist Chris Dolce, temperatures in the lower elevations around Kearny were well above 100, with low relative humidity — conditions that are sure to work against any firefighting efforts.Dolce says there's no relief in sight. Meteorologists say an extended heat wave will keep high temperatures in the triple-digits for the foreseeable future. Two homes and two outbuildings were destroyed by the blaze, according to the Arizona State Forestry Division. Shelters have been set up in area schools for evacuees.MORE ON WEATHER.COM: The Beauty of the Grand CanyonFog drifts over parts of the Grand Canyon, Arizona seen on May 11, 2014. Each year some five million people visit Grand Canyon National Park with its dramatic views into the deep inner gorge of the Colorado River. (MLADEN ANTONOV/AFP/Getty Images) 
A Restless Volcano Puts Ecuador on Edge Once More
Cotopaxi, located only ~60 kilometers from Quito in Ecuador, has been silent for almost 75 years. Prior to this three-quarter century quiescence, the volcano was vociferous, producing dozens of potent eruptions over the two centuries. Most of these explosive eruptionswhere fairly small. However, in 1744, 1768 and 1877, the volcano unleashed larger eruptions that were on the same scale as the 2010 eruption of Eyjafjallajökull orPelée in 1902 — in other words, big. The 1877 eruption sent volcanic mudflows (lahars) over 100 kilometers from Cotopaxi. Then, after 1940, Cotopaxi went quiet*, and since has been a sentinel looking over the valley were Quito lies.However, Cotopaxi is starting to show signs of restlessness. Now, it is unclear whether this restlessness might be the prelude to a new eruption, but in any case, Ecuador isn't taking any chances inpreparing for the eventual awakening of Cotopaxi.The most recent reports from the IG-EPN, Ecuador's volcano monitoring agency, say that the volcano is feeling over 100 small earthquakes per day, along with the signature tremor associated with fluid movement at a volcano. This increase in seismicity was first noticed in mid-May but has been slowly increasing ever since. Sulfur dioxide emissions are 5 times higher than the background level of ~500 tonnes/day. The steam-and-gas plume has also become more prominent, reaching 1-kilometer in recent days (and causing some alarm). The northeast flanks of the volcano are also experiencing low levels of ground inflation. Put all those signs together, and you have a volcano that is clearly heating up.Until other signs appear, it is hard to say these signs mean a new eruption will happen. Everything described above could be hypothetically caused by changes in the hydrothermal system under Cotopaxi rather than magma rising. It is important to remember that more times than not, unrest at a volcano does not lead to a new eruption. Even so, the IG-EPN suggest that we might expect only steam-driven (phreatic) explosionsas the interior of the volcano warms. Right now, the volcanologists and disaster planners in Ecuador have to play a waiting game until the signs of activity at Cotopaxi become clearer (or start to wane).The National Park at Cotopaxi has been closed to the public as a precaution during this time of unrest.Regions near Cotopaxi have been placed on Yellow alert status as well so that preparations can begin if any eruption occurs.A major eruption from Cotopaxi could have serious ramifications for Quito. The population of the Quito metro area is around 3 million people, meaning it is roughly the same size as Seattle. Thinking of Cotopaxi the same way that Seattle thinks of Rainier is a good place to start when considering the dangers the volcano poses.You can check out loops of the most recent webcam images for the three camera pointed at Cotopaxi.
10 Places to Visit Before They Disappear The Active Times
Photo Illustration by Erik Mace By Diana Gerstacker An old saying goes, "the only thing constant is change," and indeed the world is changing all the time. From the moment the Earth was formed, it has seen ice ages, mass migrations, climate change, and the list goes on.In today's world though, scientists are raising
concerns about the environment and how things have been changing more quickly than normal. From the booming population to the issue of pollution, there's mounting evidence that humans are changing the world around them and the eventual conclusion, it seems, doesn't look very good.We've put together a list of incredible places that are experiencing major changes. Soon these places will be changed forever, so if you've been longing to see glaciers up close, take in the beauty of the Great Barrier Reef or see the Taj Mahal in person, you should do so in the near future.Eco-friendly travel is a crucial part, though, so be sure to travel with a responsible operator and remember these tips when traveling abroad.Glacier National Park
Photo: Shutterstock The 10th most visited national park in the country draws 2.3 million people a year, but that number might soon be climbing as people try to get the last look at receding glaciers. The park that was shaped by once-giant glaciers is really showing the effects of climate change, said the Northern Rocky Mountain Science Center (NOROCK). Glacier National Park was once home to roughly 150 glaciers but is now down to just 25, and some scientific estimates say the park could lose all of its large glaciers by 2030, if not sooner.The Great Barrier Reef
Photo: Shutterstock
Amazing images show what looks like monkeys domesticating wild wolves
 By Cody Sullivan6 hours ago
(Jeffrey Kerby. Research funded in part by National Geographic.) An Ethiopian wolf mingling with gelada monkeys in Guassa Plateau. Peaceful interactions rarely occur between a predator and prey. But researchers in Ethiopia caught wild wolves and monkeys called geladas intermixing without agression.The seemingly tamed wild wolves just up and walk through the monkey herd, while the monkeys act like the wolves don't exist.Other carnivores on Ethiopia's Guassa Plateau, feral dogs and servals mostly, hunt the gelada monkeys — it would seem that the wolves would be a natural predator as well. But instead researchers observed the two species happily intermixing for years.This peaceful interaction could be similar to how dogs were first domesticated by humans. "The gelada case is comparable to what early domestication of dogs might have been like," study researcher Claudio Sillero, of the University of Oxford, told New Scientist's Bob Holmes.From their observations, they think the mutual friendship helps the wolves hunt, by making rodents easier to spot and catch.They reported the incident in the Journal of Mammalogy An uncommon friendship
(Bobisbob~commonswiki) High up on the grassy Guassa Plateau 12,000 feet above sea level, gelada monkeys travel in herds up to 700 members strong. With long fangs, and wild manes of hair the gelada monkeys appear pretty vicious for an herbivore that likes to eat flowers and seeds. They share these grasslands with their main predators, servals and feral dogs, as well as wolves.According to New Scientist:"You can have a wolf and a gelada within a metre or two of each other and virtually ignoring each other for up to 2 hours at a time," says [study researche Vivek] Venkataraman. In contrast, the geladas flee immediately to cliffs for safety when they spot feral dogs, which approach aggressively and often prey on them.When the wolves enter the gelada monkey herd, they alter their behavior to show the monkeys they aren't aggressive. Normally wolves run in a zig zag pattern or make rapid movements when searching for rodents. But when around monkeys they slow down to a more sedate stalk even when hunting.And even more surprisingly, the wolves in the study don't try to eat the baby geladas — an easy-to-get meal. There's always exceptions to the rule, of course, and during their observation period the researchers did observe one altercation: One of the wolves attacked a baby monkey. The adult geladas quickly mobbed the wolf, which dropped the baby monkey unharmed and ran off.Primates have been observed to form associations with other animals, but, the authors write, these relationships are rare and often fleeting. In contrast, the gelada's relationship with the wolves is pretty stable — the researchers observed it over the course of years — and it doesn't appear to be ending anytime soon.
(Jeffrey Kerby) Research funded by National Geographic.Why work together? Other than engaging in fewer fights, were there other benefits to these co-habitating creatures? The researchers found that when these two species intermingle, the wolves can snatch up rodents about 40% more often than when hunting away from the monkeys.Why? The researchers have two theories: Either the geladas flush rodents out of their homes, making them easy targets, or the rodents have trouble distinguishing between the two similarly sized and colored animals, and don't run away from the wolves.While the wolves earn easier meals, the monkeys don't seem to benefit from having the wolves around. They don't scare away other predators that prey on geladas — the researchers saw feral dogs kill numerous monkeys during the study.Historically wolves also tagged along behind another species: humans. Thousands of years agoresearchers believe that wolves scavenged along the outskirts of human settlements or groups. While the humans probably killed aggressive wolves, the non-aggressive wolves were tolerated and eventually domesticated after people found value in them as hunters and possible companions.NOW WATCH: Amazing video captures how exotic animals drink water
We're Running out of Water
BGR NewsChris Smith
nasa-water-aquifers It's not happening today or tomorrow, but we're slowly running out ofwater, new NASA data shows. Looking down at the planet using its GRACE satellites over a period of ten years, the researchers at NASA discovered that more than half of Earth's 37 largest aquifers are being depleted at an alarming rate, far faster than they can be replenished.DON'T MISS: TWC is About to be Sued for Violating Net Neutrality Rules and Holding Traffic for RansomAquifers are underground sources of water used by hundreds of millions of people. 21 of them have apparently passed their sustainability tipping points, which means that more water has been removed than replenished during from 2003 to 2013. The Arabian Aquifer is the most stressed one, serving more than 60 million people.The special satellites are able to detect and precisely measure subtle changes in the Earth's gravitational pull, The Washington Post reports, and register where the heavier weight of water exerts a greater pull on the spacecraft."The situation is quite critical," NASA Jet Propulsion Laboratory senior water scientist Jay Famiglietti said. "The water table is dropping all over the world," he said. "There's not an infinite supply of water.""We need to get our heads together on how we manage groundwater," he said, "because we're running out of it."There are many factors affecting aquifers, as more people are drilling for water for various purposes, from drinking to irrigation and mining. The most affected areas are the heavily populated ones where there aren't many alternative water sources. Meanwhile, most of the evaporated groundwater reaches the oceans rather than getting back to aquifers.According to the researcher, problems with groundwater are further exacerbated by global warming, which has caused regions near the equator to get drier and more extreme latitudes to get wetter and experience heavier rains."People living in mid-range latitudes not only pump more water from aquifers to contend with drier conditions, but that water — once removed from the ground — also then evaporates and gets recirculated to areas far north and south," the Post notes.More details about NASA's new water studies are available at the source link.Related storiesThis solar flare captured by NASA's Solar Dynamics Observatory is positively stunning How to watch live as NASA's orbiter approaches dwarf planet Ceres at 1PM EST Watch this mesmerizing timelapse video of Earth in infrared lightMore from BGR: TWC is About to be Sued for Violating Net Neutrality Rules and Holding Traffic for RansomThis article was originally published on BGR.com
Pink octopus so cute it may be named 'adorabilis'
 4 hours ago
This handout photo from the Monterey Bay Aquarium Research Institute shows the flapjack octopus, which scientists may call "Opisthoteuthis Adorabilis" (AFP Photo/)Washington (AFP) – Some say she looks like a ghost from the Pac-Man video game, but she's anything but spooky. In fact, the fist-sized pink octopus is so cute scientists may call her "Opisthoteuthis Adorabilis."Researchers in California are looking for an appropriate Latin species designation for the mysterious cephalopod and, while little is yet known about it, few would deny that the specimens found so far are adorable.Stephanie Bush of the Monterey Bay Aquarium Research Institute said that after a year of study she is preparing to submit a report to a scientific review that would confer a name on the species, a form of Flapjack octopus."New species are discovered every year, not all of them get described, it can take a lot of time, years sometimes," she said.Some other species have been deemed adorable — such as Lophornis adorabilis, the White-crested Coquette hummingbird — and Bush said: "I don't see any obvious reason why it would be inappropriate … it's easy to pronounce and popular with the public."Aside from how she looks, we don't know much more about the new octopus, it lives in deep cold waters and the 12 individuals that have been studied so far have all been female."They spend most of their time on the bottom, sitting on the sediment, but they need to move around to find food, mates," Bush said.Bush is trying to incubate a batch of octopus eggs in her laboratory, but they develop very slowly because of the cold temperature of the deep ocean and may not hatch for two or three years.Anyone charmed enough by the cute creature to want to see one in the wild would have to dive in the Pacific to between 200 and 600 meters to where the water is only 6 degrees Celsius (42 Fahrenheit).
Russian official calls for 'international investigation' of the Apollo program Use your key for the next article Next: NASA successfully tests engine that uses no fuel, violates the laws of physics June 17, 201511:16 AM MST
Play American astronaut Neil Armstrong became the first man to walk on the moon 45 years ago, as part of NASA's Apollo 11 mission. Here's a look back at six compelling moments from America's successful manned moon missions, from a lightning strike to golf…on.aol.comAccording to a Tuesday article in the Moscow Times, a spokesman for Russia's Investigative Committee named Vladimir Markin suggested that an international investigation be mounted into some of the "various murky details surrounding the U.S. moon landings between 1969 and 1972." Markin would particularly like to know some of the missing moon rocks went to and why the original footage of the Apollo 11 moon landing was erased. Markin hastened to add that he is, of course, not suggesting that NASA faked the moon landings and just filmed the events in a studio.
A largely discredited conspiracy theory posits that NASA faked the moon landings in order to derived the propaganda coup without going through the effort of landing on the moon. Everything from an episode by the Mythbusters to modern visual evidence has disproved this theory thoroughly.Markin seems to be upset at American investigations ofFIFA, the governing body for World Cup Soccer, which resulted in the resignation of its president under suspicion of corruption. The revelations have focused attention of how Russia and Qatar became hosts of the competition in 2018 and 2022 respectively. Investigators believe that money laundered payments were made to secure the hosting of the World Cup Soccer competition.What the point would be of an international investigation of the Apollo program, aside from petty revenge for Russia, is an open question. The race to the moon proved to be a triumph for the United States and an utter humiliation for the Soviet Union. Some historians believe that the moon landings contributed to the eventual fall of the Soviet Union by proving the technological superiority of the United States.Relations between Russia and the United States have been strained as of late, largely because of Vladimir Putin's imperialist adventures in the Ukraine and elsewhere. Russia has openly talked of ending the America-Russian space partnership and striking out on its own, as was the case during the Cold War. A variety of technical glitches and funding problems have cast doubt on Russia's ability to do so.
Shocking photos of landscapes on Earth that look exactly like Mars
 By Jessica Orwig7 hours ago If you thought Mars was completely different from Earth, think again.
(NASA/JPL-Caltech/MSSS. Edited by Jason Major. ) Panoramic view of Mars taken by NASA's Curiosity rover and assembled by Jason Major. The hill at the left (eastern) edge is called Apikuni Mountain. Our warm, blue planet is more similar in some ways to the desolate Red Planet than you know, and we have comparison images to prove it.For almost three years, NASA's Curiosity rover has been driving across the Martian surface, exploring a region called Gale Crater, located in the southern hemisphere. And the images it has taken look strikingly similar to some of the most extreme places on Earth, like Death Valley and the Atacama Desert.Below are five comparisons that show a picture of Mars on top and Earth on the bottom. Jason Major — who blogs about all things space at Lights in the Dark — assembled the panoramic images of Mars below, and you can find more examples on his Flickr page.1. Flat valleys on Mars look just like the ones along the Badwater basin in the Death Valley National Park.
(Top: NASA/JPL-Caltech/MSSS. Edited by Jason Major on Flickr. Bottom: Wendy on Flickr) 2. Tall mounds in Ica, Peru — a place so dry that human remains naturally mummify instead of decomposing because of lack of moisture — look disturbingly similar to the ones on Mars, which is equally dry.
(Top: NASA/JPL-Caltech/MSSS. Composite by Jason Major. Bottom: Tito Cornejo Crosby on Flickr.) 3. Rolling, dust-ridden hills on Mars are akin to the hills you can find just outside of the desert town ofWadi Halfa, located in the center of the Sahara desert — the world's third largest desert after Antarctica and the Arctic.
(Top: NASA/JPL-Caltech/MSSS. Composite by Jason Major. Bottom: fiverlocker on Flickr.) 4. The world's driest non-polar desert, the Atacama Desert in South America, is a great place to test out future Mars rovers because the two environments are so similar. Here you can see one of Curiosity's epic selfies (above) juxtiposed against the European Space Agency's prototype of their 2018 ExoMars mission in the Atacama Desert (below).
(Top: NASA/JPL-Caltech/MSSS. Edit by Jason Major. Bottom: ESO/G. Hudepohl on Flickr.) 5. This incredible shot of a ridge in Gale crater shows that rocks on Mars aren't so different from rocks on Earth, like the ones in Libya shown below. Both generate towering mounds with distinctive parallel slits etched in the surface.
(Top: NASA/JPL-Caltech/MSSS. Composite by Jason Major. Bottom: Hembo Pagi on Flickr) These images suggest that the first people to walk on Mars might not feel so alone. After spending months in space on their journey to the Red Planet, they'll land on an alien world that might not feel so alien, after all.NOW WATCH: Matt Damon is left to die on Mars in first trailer for 'The Martian'
El Niño Helps Bring Giant Purple Sea Slugs, Tuna Crabs Onto California Shores, Frightening Beachgoers By Sean Breslin Published Jun 16 2015 12:48 PM EDTweather.comGiant Purple Slugs, Crabs Invade California Beaches Giant purple slugs and tiny tuna crabs are separately invading California beaches and the crabs may be lured by El Nino! Matt Sampson has the details. A pair of bizarre invasions have left California beachgoers perplexed, and experts say the creatures have come ashore because of El Niño's warmer water.Large purple blobs have been spotted in the last week along Oakland's East Bay beaches, ABC 7 News reported. The sight of these slimy objects were so disconcerting to some beach visitors that one person called 911 because they thought they'd found a small purple heart on the beach. Other visitors also called authorities, the report added.Pictured is a sea hare that washed ashore in California in 2007. (flickr/Michael Coleman)These purple slugs are known as sea hares, and they're totally harmless to humans, ABC 7 News also said. Hundreds of miles to the south, thousands of tuna crabswashed ashore on San Diego Bay at about the same time.(PHOTOS: The Strangest Things That Washed Up On Beaches)Warm water from the El Niño pattern is partially, if not completely, to blame for the invasion of both creatures, scientists believe. The sea hares' migration to shallower water usually occurs in the summer, but the warmer water accelerated the mass exodus to the shoreline, NBC Bay Area said."It also might be because the bay water is pretty warm throughout the year, and perhaps they're able to reproduce longer," East Bay Regional Park District's Morgan Dill told NBC Bay Area.But the tuna crabs will not have a similar experience while ashore. These tiny creatures are meant to live far offshore, and as the warmer waters of El Niño pushed them closer and closer to the coast, they became food for birds, fish and sea lions, ABC News reported."The result is certain death and nothing can be done to save the crabs," ABC News added.MORE ON WEATHER.COM: California's Historic DroughtLow water is seen at the dam of Lake Success as rain totals remain insufficient to break the worsening drought on February 11, 2015 near East Porterville, California. (David McNew/Getty Images) 
The Latest: Family members arrive after balcony collapse
 By The Associated Press8 minutes ago Associated Press Videos Berkeley Balcony Collapse Investigated
Current Affairs Berkeley Balcony Collapse Investigated 8:45 p.m. (PDT)Related Stories
About 300 people, including some of their fellow Irish students, attended a somber Catholic Mass at Oakland's cathedral for the six Irish students killed in a California balcony collapse.Father Aidan McAleenan said at the Mass Wednesday evening that this is a time to come together and support the parents of those killed and the seven injured, who remain hospitalized.McAleenan spoke after "Amazing Grace" was played on bagpipes. He asked the faithful to pray and asked for support for the families as they grieve for the loss of the children.Some relatives have arrived in the San Francisco Bay Area, but none were at the mass.___
The remaining wood from the Library Gardens apartment building balcony that collapsed is shown in Be …3:45 p.m. (PDT)Grieving family members declined to speak with the media after arriving from Ireland and being met at San Francisco International Airport by a priest and representatives from the Irish Consulate.They left the airport in a van and headed to an unknown location. A Mass was planned for Wednesday evening in Oakland for the victims.___12:54 p.m. (PDT)
Neil Sands of the Irish Network Bay Area places a flag of Ireland over wreaths at the Library Garden …Berkeley's mayor says early investigation points to moisture-damaged wood as a prime cause of a deadly balcony collapse.Mayor Tom Bates said Wednesday that investigators believe the support beams may not have been sealed properly at the time of construction.The disclosure came a day after six people, including five students from Ireland, died in the collapse of the fifth-floor balcony during a 21st birthday party.Seven partygoers remained hospitalized with serious injuries.Independent structural engineers who examined photographs of the broken balcony beams also have pointed to decayed wood as a likely main cause.
Workers remove part of a balcony that collapsed at the Library Gardens apartment complex in Berkeley …_12:10 p.m. (PDT)A structural engineer says it's "surprising and unexpected" that the wooden beams supporting the Berkeley, California, apartment balcony that collapsed and killed six people had deteriorated so much on a building less than a decade old.Darrick Hom, president of the Structural Engineers Association of Northern California, visited the site and said the wood was so decayed that the broken beams crumbled in the hands of investigators.He said Wednesday that the wood breaking off at their touch indicates major deterioration in the joists and wondered how that level of damage happened in just eight years.
Police tape blocks off a section of Kittredge Street in front the Library Gardens apartment building …Hom says any building material exposed to the elements requires weatherproofing at the time of construction, so investigators likely will look at how weatherproofing was carried out at Library Gardens apartments.__11:10 a.m. (PDT)The Diocese of Oakland plans a service on behalf of the students injured and killed when a balcony broke from a wall in the college town of Berkeley, California.The service is scheduled for 7 p.m. Wednesday at Cathedral of Christ the Light in Oakland. Spokesman Mike Brown says dignitaries have been invited, but it's uncertain who will attend.