As wildfires rage in West, ranchers lose cattle, rangeland
 By GOSIA WOZNIACKA12 hours ago
PORTLAND, Ore. (AP) — For weeks, rancher Darrel Holliday has rounded up frightened cows and calves off the smoldering hills of the Strawberry Mountain Range, a wilderness area in eastern Oregon of old-growth forest and grass where wildlife and cattle roamed.Holliday's entire federal forest grazing allotment of about 32,000 acres — 50 square miles — burned last month as a wildfire ravaged the area. The land is now a smoke-filled expanse of blackened tree sticks and ash a foot and half deep."We're picking up cows that should have calves with no calves. We assume they might have died out there," said Holliday, who is still missing 22 of his 180 cow-calf pairs. He's among dozens of ranchers similarly wrestling with the loss of animals and grazing land in a region where cattle production is one of the leading agricultural industries.The vast majority of the 1.6 million acres — nearly 2,600 square miles — that burned in Oregon, Idaho and Washington this year are federally owned, data show, with large swaths of that public land used as rangeland for livestock grazing.Many of Holliday's recovered animals have burnt hooves or are lame from walking on hot coals, he said. Miles of fences have burned. And the land, for which Holliday pays a fee, will likely be closed to grazing for at least two years while it recovers, he said.That's left him scrambling to figure out how to feed the cows."We've been ranching here all our lives," said Holliday, whose father started grazing cattle in the area in 1942. "To watch it totally destroyed, you get sick to your stomach every day you go out there."In Oregon's Canyon Creek Complex alone, 125 of the 170 square miles burned were grazing allotments, said Malheur National Forest rangeland management specialist Nick Stiner. Some 4,000 cows ranged on those allotments, he said.
FILE – In this Aug. 14, 2015, file photo, the Canyon Creek Complex fire burns near John Day, Ore. In …And in the Soda Fire in southwest Idaho, that state's biggest fire this year, 280 of the 430 square miles burned were federal grazing allotments and another 75 square miles were private grazing lands, according to the National Interagency Fire Center.In addition to rangeland lost, ranchers and ranching groups say hundreds of cows have perished and millions of dollars' worth of hay stacks and barns has gone up in flames."We're hearing lots of reports of displaced cattle and grazing grounds that are no longer usable," said Kayli Hanley of the Oregon Cattlemen's Association, which says many ranchers are still assessing damage and looking for lost cows.In northern Washington state, where the Okanogan Complex burned about 475 square miles and is considered the largest wildfire in state history, rancher Doug Grumbach found the burned carcasses of several cows on a hill among smoldering trees.One of those cows became wedged between two trees trying to flee the flames.When the fire started last month, the fourth-generation rancher was on his way to move the cows dispersed in the mountainous terrain. But, he said, the winds picked up and the fire exploded, so "we had to get ourselves out of there."In total, eight of his cows and four calves died and 20 are still unaccounted for — a loss of tens of thousands of dollars. He's also treating calves and cows with burnt feet, severe body burns and respiratory problems.
In this photo taken on Wednesday, Aug. 26, 2015, Doug Grumback, 52, a fourth generation Ferry County …"They're kind of like family … you care for them all their life, so you hate for anything to happen to them," he said.Grumbach said he doesn't have enough unburned private land to feed his cattle; his cows are now eating hay meant for winter feed. And because of the drought, he doesn't have as much hay as usual, he said.Many ranchers like Grumbach are desperately looking for pastures and hay, said Wyatt Prescott of the Idaho Cattle Association. Those who can't afford feed, he said, are sending their animals to sale yards."Producers spend generations developing the genetics of their cows to produce the best beef. Liquidating part of their herd is something they try to avoid at all costs," Prescott said.His group is facilitating a confidential online pasture exchange where farmers who have land out of production can lease it to those who lost their grazing grounds.Idaho rancher Brenda Richards, who runs about 500 cow-calf pairs, lost 95 percent of her grazing allotment to the Soda Fire."Ranching is the strength of these local communities, that's our tax base," Richards said, adding that the fire has been devastating, but it also brought out local ties. "It was amazing to watch people come together."Cattle associations and private groups are now collecting hay and distributing it to those who lost rangeland.In eastern Oregon, convoys of trucks have hauled in about 600 tons of hay from donors inside and outside the state to a storage set up by newly-formed group Hay for John Day, a town just northwest of the Strawberry Mountain Range.The historic fire season has also re-kindled a long-running debate.Ranchers say the federal government should have allowed more grazing to reduce the severity of the wildfires. Environmental groups say more grazing would have increased soil erosion and riparian damage, removed native grasses and increased fire risk.Federal officials stand in the middle: grazing, they say, may help slow some fires' spread, but it won't make a difference in extreme weather."When you have high winds, grazing won't stop or slow that fire," said Jessica Gardetto with the Bureau of Land Management.
Northern California wildfire kills 1, destroys 400 homes
 By JANIE HAR and JUSTIN PRITCHARD2 hours ago Associated Press Videos Raw: Massive Wildfire Rages in Northern CA
News Raw: Massive Wildfire Rages in Northern CA MIDDLETOWN, Calif. (AP) — Earlier this summer, this small mountain town north of San Francisco opened its modest high school to residents fleeing an unusually ferocious wildfire nearby.Now it is Middletown itself that has been evacuated — and gutted — by another blaze that shocked firefighters with its strength and speed.The town's small cluster of shops and cafes was spared, but behind them erratic winds sent flames zigzagging down leafy streets, torching some houses and sparing others. On Monday, some residents returned to find their homes reduced to concrete foundations, chimney stacks and rubble.One woman wept and embraced her mother as they stood among blackened appliances and twisted metal where their family home used to be. Nearby, beige houses trimmed in white remained untouched."I'm in shock. I want to cry. I'm looking at my neighbors' places, and they're all gone, and I'm still here," homeowner Jim Maurer said. "We're just shaking our heads."Over the weekend, the blaze killed an elderly, disabled woman identified by her family as retired teacher Barbara McWilliams, 72.McWilliams had settled in the Middletown area in the last year, her family said. Her caretaker, Jennifer Hittson, told the Santa Rosa Press Democrat (http://bit.ly/1Kbct8I ) McWilliams had advanced multiple sclerosis and had major physical disabilities that limited her ability to walk. She died trapped in her home.Lake County Sheriff's Lt. Steve Brooks declined to confirm the victim's name.The fire and another in the Gold Rush country of the Sierra Nevada foothills, about 120 miles to the southeast, are the worst of a dozen burning in the state. Between them, they have destroyed 535 homes and hundreds of other structures and displaced 23,000 people, Mark Ghilarducci, director of the Governor's Office of Emergency Services, told reporters.Citing dry conditions from four years of drought, Ghilarducci called this summer's fires some of the most volatile he's seen in 30 years of emergency response work.The fire that marauded through Middletown and other parts of rural Lake County, less than 100 miles north of San Francisco, was burning nearly unchecked, despite fire crews' efforts.Since starting Saturday, it has consumed more than 95 square miles and injured four firefighters. An unknown number of residents were unaccounted for. Some might be safe; emergency personnel and law enforcement planned to go to their last known locations once the danger subsides.
Firefighter Andrew Dodds monitors a backfire while battling the Butte fire near San Andreas, Califor …While the destruction of Middletown was not complete, it was widespread.The town's two-stoplight commercial strip was largely spared. Hardester's Market & Hardware was open Monday — Grant Hardester, one of the owners, was running the lights on a generator and taking IOUs to regulars who had not evacuated."Just to be able to buy something has lifted people's spirits and solved some problems," Hardester said while a customer loaded two shopping carts with gasoline cans, ice, paper plates and water.It was on the streets behind Middletown's shops and cafes where the capricious devastation unfolded.On their rampage, flames destroyed some homes but left others standing. In many cases, firefighters made the difference. Sometimes it was simply the whims of the wind.One two-story apartment complex of about 50 units was gutted, blackened cars with melted tires sitting near washers and driers and the skeletons of metal chairs. Yet a colorful play structure was untouched, and two lots away stood eight homes, behind a white picket fence."There was kind of a randomness of it because the wind was so erratic," Cal Fire Chief Dave Shew said as he stood in the apartment complex's ashes. "Some good firefighting activity saved structures; there just weren't enough people to save all of them."About 15 miles to the northwest, the town of Cobb — population 1,700 — was badly damaged.Adam Bailey returned home to survey the damage. He hoped to search for a relative's engagement ring, but the ash was too hot. He lost his beloved Ford pickup, the first thing he ever took out a loan on, but his family was safe — and for that he was thankful.Elsewhere, the fire damaged or destroyed landmarks.It devastated Harbin Hot Springs, a clothing optional retreat in the mountains between Middletown and Cobb. The area also is home to a string of geothermal power sites known as The Geysers, which use underground steam to generate electricity. Five of the 14 plants were affected, including power lines and wooden towers which held cooling water, said Brett Kerr, spokesman for Calpine Corp. which runs the facilities.Though the flames also spread into northern Napa County, the region's famous wine valley was not threatened. Standing in the way were peaks as high as 4,300 feet.California has seen about 6,000 wildfires this year — about 1,500 more than this time last year.Lake County has been particularly hard-hit. In late July, a wildfire east of Clear Lake destroyed 43 homes as it spread across more than 100 square miles. It was that fire that saw Middletown's high school serve as an evacuation shelter.As firefighters drew close to surrounding the blaze, another fire erupted Aug. 9 several miles from the community of Lower Lake.Jim Walsh was at the Napa County Fairgrounds on Monday morning sitting around a card table with other evacuees. It was the third time this summer he had to flee Lower Lake.This time he left with clothing, camping gear, his dog and his drones."My house, I hope, is standing," he said.East of Fresno, California's largest wildfire marched away from the Sierra Nevada's Giant Sequoia trees, some of which are 3,000 years old, fire spokesman Dave Schmitt said. The fire, which was sparked by lightning July 31, has charred 211 square miles and was nearly 40 percent contained.___Pritchard reported from Los Angeles. Contributing to this report were Haven Daley in Middletown, Elaine Thompson in Cobb, Don Thompson in Sacramento, Kristin J. Bender and Paul Elias in San Francisco, and John Antczak in Los Angeles.
'Gone, absolutely gone' is refrain of California wildfire Trevor Hughes and Lindsay Deutsch, USA TODAY Network10:20 p.m. EDT September 14, 2015As California residents continue to be evacuated from their homes, a brief respite in the weather leaves some firefighters hopeful for containment. But it was too late for some families as their homes were completely destroyed. VPC
(Photo: Elaine Thompson, AP) 394CONNECT 82TWEET 1LINKEDIN 4COMMENTEMAILMOREMIDDLETOWN, Calif. — Corie Barloggi looked across a charred field in this once scenic Northern California town, best known for hot springs and its proximity to Napa Valley, and was struck by what she didn't see: her neighbors' homes."They're gone, absolutely gone," the third-grade teacher said as firefighting airplanes circled above and the wind whipped ashes across charred trees and smoldering power lines.These gray and lifeless images, more reminiscent of war than the mellow gold hills that draw retirees, are the remains of the huge and largely unchecked Valley Fire that swept through California's Lake County this weekend, destroying at least 400 homes in the town and nearby area about 90 miles north of San Francisco.The fire, intensified by the state's extreme drought conditions, resulted in the death of one person and displaced 13,000 people. At 61,000 acres, it was only 5% contained late Monday. About 200 miles away, southeast of Sacramento, the Butte wildfire, about 30% contained, has destroyed about 80 homes and burned 71,000 acres.
USA TODAYOne dead, hundreds of Northern California homes burn in wildfiresBarloggi and her husband, Ken, were at a barbecue Saturday when the fire broke out. They rushed home to collect their puppy, Miss Belle, and Ken's heart medication, but they found their evacuation blocked by downed power lines.Their single-family ranch home survived, perhaps helped by Ken's decision to plow the fields around their house. "We got extremely lucky," said Corie, 48.
A wildfire ravaged an apartment complex with more than 100 units in Middletown, Calif., on Sept. 13. (Photo: Kent Porter, EPA)Other parts of Middletown were far worse.  As the fire hopscotched across town, one apartment building was reduced to rubble. Some power lines were still burning, throwing up orange flames across the gray haze. The silence was broken by roosters crowing near the shells of burned-out cars and houses.Power officials worked to restore power, but they fought a losing battle. Flames licked at many poles, several of which appeared ready to snap, nearly burned through.  Around the corner flapped a metal street sign, melted and bent from the intense fire's heat.Most homeowners and residents were kept out of the area, which is filled with sheriff's deputies and highway patrol officers monitoring the evacuation zone for looters.Many evacuees from Middletown and the surrounding areas in Lake County have had to pick up quickly and leave many of their belongings. The American Red Cross opened two shelters in neighboring town Calistoga, Calif., at the Napa Fairgrounds and a high school.
Ice shelves are disappearing The polar landscape is changing. Belinda Smith reports on shrinking ancient ice shelves. 
An ice-breaker in the Ross Sea, Antarctica. Sea ice is proliferating even as ice shelves are melting.CREDIT: UIG-SI-001 / GETTY IMAGESBetter book a cruise soon if you want to experience the awe-inspiring sight of Antarctic Peninsula ice shelves towering above you. They're 10,000 years old and crumbling, one by one. Over the past few months, measurements from ice-penetrating radar suggest a chunk half the size of Tasmania could disappear within the next century. "We're watching a large-scale natural experiment unfold before our eyes," says Ala Khazendar, climate scientist at NASA's Jet Propulsion Laboratory in California. And it's not only bad for tourism.Ice shelves form long coastal sections of Antarctica and are also found in northern Canada and Greenland. They create an ever-changing coastline as they calve huge icebergs into the sea. Like the congealed plug on your toothpaste, ice shelves can also hold back seaward glaciers. Were Antarctica's ice shelves to disappear completely, sea level rises of tens of metres would obliterate the low-lying regions of the world. Luckily, for the moment, Antarctica's collapsing ice shelves are confined to the continent's warmest, most northerly region, the Antarctic Peninsula. The peninsula sticks out from the Antarctic continent like a thumb from a fist, extending 1,300 kilometres towards South America. Its rocky islands are mostly covered by an ice sheet up to 500 metres thick, the middle of which is drained by glaciers running east and west. The Larsen ice shelves, named for the British-Norwegian explorer and sea captain Carl Larsen, plug the east-running glaciers.Just 20 years ago, seven ice shelves dotted the bayside edge of the peninsula. But in 1995, Larsen A – a 2,000-square-kilometre shelf at the northernmost tip of the thumb – collapsed completely in a single storm. Moving south, two thirds of Larsen B followed in 2002, and its remaining third looks set to crumble within a few years. Then there's Larsen C. At nearly 50,000 square kilometres – or half the area of Tasmania – it's the biggest of the peninsula's ice shelves. It's still standing – but for how long? "It's basically haemorrhaging ice"Like living organisms, ice shelves shed and grow. They calve off massive chunks of ice that bob around the ocean as icebergs and are usually replenished by snowfall and tributary glaciers each year. But in a Sciencepaper in April, climate scientist Fernando Paolo from the University of California, San Diego reported the balance has been lost: ice shelves are losing ice faster than they can regrow. From 1994 to 2003, ice shelves lost an average of around 25 cubic kilometres of ice per year. Then from 2003 to 2012, the ice loss ramped up more than tenfold to 310 cubic kilometres per year. At some point, these ice shelves could reach a tipping point that sends them into sudden, dramatic collapse. So why are ice shelves retreating? No surprise: global warming. But there's nothing simple about Antarctic weather patterns.Out on Antarctica's thumb, the ice shelves are melting from warmer ocean currents flowing below, and warmer temperatures above. The peninsula's annual average temperature has increased by around 3 °C in the past 50 years – several times faster than the global average. Scientists are yet to crack the exact processes that have led to this localised warming, because across most of the continent's fist, winds are strengthening and increasing the spread of sea ice [see "Two types of ice and why they matter", below]. Stronger westerly winds around Antarctica can be linked to the ozone hole and, perhaps, to global warming, Paolo says. While the ozone hole appears to be filling, he says "climate models suggest in the near future global warming will play a more important role in changing these winds", which will increase ice shelf melt.Using radar satellite imagery, Khazendar traces vast fractures in ice shelves. In a paper in Earth and Planetary Science Letters he and colleagues described one such crack creeping across what's left of Larsen B, 12 kilometres from its grounding line –where the ice shelf sits on rock. In addition, the flow of surrounding glaciers is also picking up pace. "It's basically haemorrhaging ice," Khazendar says.Paul Holland, an oceanographer with the British Antarctic Survey, analysed 14 years' of aircraft radar, which he saysis a way to "see through the ice". Holland saw that Larsen C has been thinning too. He and his colleagues reported their findings in the journalThe Cryosphere."Larsen B collapsed because it retreated past a critical point," Holland says. "It's probably what will happen to Larsen C – we just don't know where that point is." While Larsen B held back 10 or so small glaciers before its collapse, Larsen C stems around 30. When it collapses, we can expect to see a few centimetres of sea level rise over a few decades. And while that may not sound much, the rapid onset will be tough to handle, Holland says: "We could deal with a rise of a metre over a 1,000 years, but over 100 years it would be really hard." The Intergovernmental Panel for Climate Change's fifth assessment report has already forecast a 25-85 centimetre sea level rise by 2100.The stakes are even higher in other parts of Antarctica, Khazendar says. Modelling suggests the far larger West Antarctic ice sheet, which lies south of the peninsula, is tipped to cause up to four metres of sea level rise over the next 1,000 years. West Antarctica's Pine Island glacier, where temperatures are also rising, is the fastest melting glacier on the continent and already accounts for a quarter of the continent's ice loss. So what can we do? Not much – collapse of the remaining part of Larsen B is inevitable, Khazendar says: "All we can do is diagnose and forecast.""I've been studying Larsen C for 10 years now and I've always been extremely sceptical about its collapse within a century," Holland says. "But now I've accepted the possibility that it'll go within my children's lifetime." 
Two types of ice and why they matter Last summer, the extent of Antarctica's sea ice reached a record high, denying supply ships access to Mawson station, and requiring all supplies to be flown in by helicopter. How can ice shelves be melting while sea ice is growing?  It's important not to confuse the two, says NASA climate scientist Ala Khazendar: "They both float – and that's about it." Sea ice is only a metre or two thick. Its extent depends mostly on wind strength, but also on ocean temperature, waves, currents and tides. Paradoxically, increased sea surface temperatures boost the extent of sea ice. Thinner ice layers break up and are spread more easily by winds.The winds swirling around Antarctica have been blowing more strongly over the past few decades due to the steepening temperature gradient between the warming equator and the atmosphere over Antarctic, which has been cooled by the hole in the ozone layer. This has concentrated the winds into a tighter circle.Down near the surface, strong southerlies, fresh off the West Antarctic ice sheet blow sea ice away from the coast to extend far into the Southern Ocean. But warmer winds from the north, such as those blowing onshore to the western edge of the Antarctic Peninsula, produce far less sea ice. Belinda Smith is deputy editor of Cosmos.
CLIMATE A Third American City Is Now Running Entirely On Renewable Energy BY SCOTT KEYES
 SEP 14, 2015 1:20PM
CREDIT: WIKIMEDIA COMMONS The number of American cities that run entirely on renewable energy is growing.Last week, the city of Aspen, Colorado declared it had become the third municipality to receive all of its power from renewable sources. Aspen's energy portfolio now primarily consists of wind power and hydroelectric, with smaller contributions from solar and geothermal.The announcement came after the city's decade-long effort to shift toward renewable energy. David Hornbacher, Aspen's Utilities and Environmental Initiatives Director, told the Aspen Timesthat "It was a very forward-thinking goal and truly remarkable achievement."Burlington, Vermont and Greensburg, Kansas were the first two cities to achieve all-renewable energy portfolios.Aspen's new energy portfolio was made possible by the extraordinary drop in the price of renewable energy. The cost of solar has plunged in recent years, and the price is expected to drop below $0.50 per watt within a few years. Wind power has also become far cheaper than it was just a decade ago.In addition, new regulations from the Obama administration that help internalize some of the pollution costs of fossil fuels are making energy sources like coal increasingly uncompetitive. Already, more than one-third of American coal plants have been shuttered in the past six years, and the new carbon rules make it quite possible that no new coal plants will ever be built in the United States.Though Aspen is not a large city — just under 7,000 residents or so live there year-round — Hornbacher told the Aspen Times that its achievement was symbolically important. "We've demonstrated that it is possible," he said. "Realistically, we hope we can inspire others to achieve these higher goals.
Medieval Skeleton Found Dangling From the Roots of a Fallen Tree

George Dvorsky Filed to: ARCHAEOLOGY9/14/15 7:30am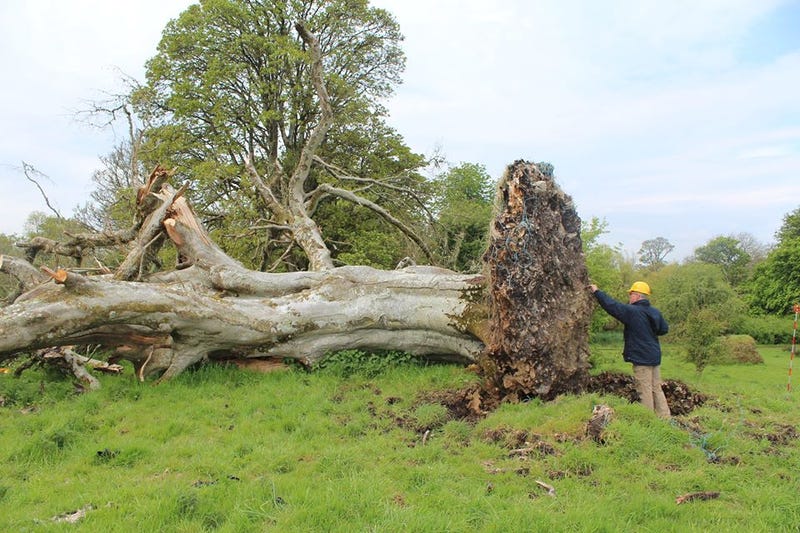 After a violent storm ripped through the Irish town of Collooney, locals were shocked to discover the remains of a 1,000-year-old skeleton hanging from the roots of a fallen tree.The body, which belonged to a young man who appears to have died a violent death, was found beneath a 200-year-old beech tree. In a scene that must have been quite macabre, the upper part of the skeleton was found raised in the air within the tree's root system, while the legs remained in the ground.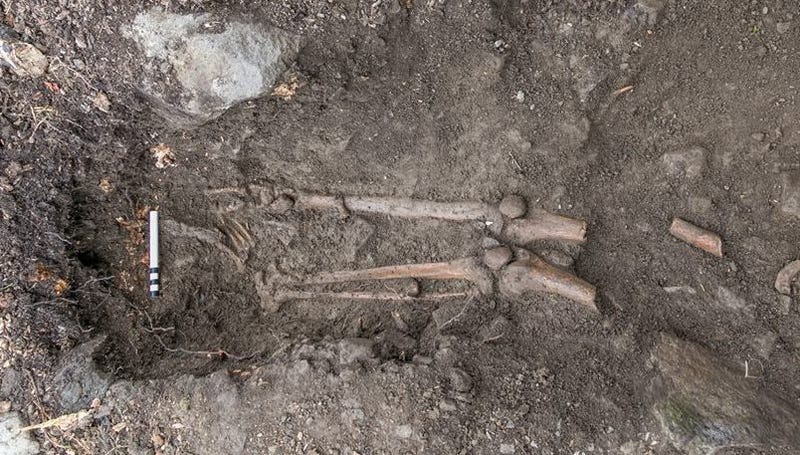 The leg bones of the Collooney skeleton still embedded in the ground (Credit: Thorsten Kahlert).Irish Archaeology reports:Preliminary analysis has indicated that the remains consist of young man who was between 17 and 25 years old when he died. His bones contained several injuries which had been inflicted by a sharp blade, possibly a sword or knife. He had obviously suffered a violent death, but whether these wounds were related to an ancient battle or a personal dispute remains unknown. The body was subsequently buried in a shallow east-west oriented grave and radiocarbon analysis indicates that this occurred sometime between 1030 and 1200 AD.Archaeologists working for Sligo-Leitrim Archaeological Services will continue to investigate the site in hopes of finding more clues.[ Irish Archaeology via The Irish Mirror ]Email the author at george@io9.com and follow him at @dvorsky. Top image by Sligo-Leitrim Archeological Services/Marion Dowd.
Not Doomed Yet: A New Newsletter About Climate Change A weekly summary of global-warming news, for people who want to pay more attention to it.
Chinese Stringers Network / ReutersROBINSON MEYER I remember the first time I learned about climate change. I was sitting at a fancy restaurant with my parents, reading a science magazine under the table. (I think it was Kids Discover, which—with its full-page photos, friendly writing, and cartoonish illustrations—ranked up there with the Klutz books as '90s edutainment par excellence.) In the bottom half of a page, there was an info box: Scientists had identified something called the greenhouse effect, which could make disastrously extreme weather more common and the planet too hot to inhabit. I remember looking around the table, anxiously, before stammering out a question to my parents: Did they know about this? Humanity breaking the planet, and adults were doing nothing about it?I have lost count of the number of people who have identified climate as "the political issue of the 21st century." It ranks up there for me. Food, water, protection from the elements: It feels insufficient to say that climate touches everything, because it in fact permeates us. Physically, materially, existentially, the climate determines what it feels like to have a human body in this biosphere. And that means that every consideration of the future—of security personal, economic, and international—winds back to climate.When I consider whether to have children, I think about climate change. When I consider where I want to live, I think about climate change. When I stand on the beach and play catch with my younger brothers and wonder what their young adulthood will be like, I think of refugees and resource wars—and, thus, climate change.Even my current career, as a technology reporter, was inflected by the climate: When I first got into technology in the mid-2000s, I was partly drawn to it because I thought all that new wealth—and all that new expertise in handling data—might flow toward reducing greenhouse gas emissions. Climate change, a phenomenon without a mind, is engrained in every texture of my every ordinary day.

And I want to follow it better. So I'm starting this

.Posts will live here in The Atlantic's new Science section, but they'll also go to readers's inboxes. You can subscribe here:* * *This situation we live in, this situation which realistically we will never stop living in: How did it develop in 2015? In the popular U.S. press this past summer, there have been two big, attention-getting answers.Eric Holthaus, Rolling Stone, "The Point of No Return: Climate Change Nightmares Are Already Here":Historians may look to 2015 as the year when shit really started hitting the fan. Some snapshots: In just the past few months, record-setting heat waves in Pakistan and India each killed more than 1,000 people. In Washington state's Olympic National Park, the rainforest caught fire for the first time in living memory. London reached 98 degrees Fahrenheit during the hottest July day ever recorded in the U.K.Jonathan Chait, New York Magazine, "This Is the Year Humans Finally Got Serious About Saving Themselves From Themselves":Those who have consigned the world to its doom should reconsider. The technological and political underpinnings are at last in place to actually consummate the first global pact to limit greenhouse-gas emissions. The world is suddenly responding to the climate emergency with—by the standards of its previous behavior—astonishing speed. The game is not over. And the good guys are starting to win.Is 2015 the year of shit-fan-hitting or of humanity-serious-getting? The two possibilities are not mutually exclusive, exactly, but they reflect different dispositions toward history. Are the recent American regulations cause for hope, or is everything getting worse much faster than we thought?There are other, more expert accounts that loom behind these, too:In July, the climate scientist James Hansen released a revised study on melting ice in Antarctica and Greenland. It estimates that sea level rise could occur 10 times as fast as previously believed. He and his coauthors warn that the resulting refugee disasters and resource shortages could produce an "ungovernable world." ;Pope Francis's encyclical, Laudato si', positioned the world's largest Christian church behind climate-change mitigation.;And Al Gore has taken a more optimistic turn: "We're going to win this," he told The New York Times in March. "The only question is how long it takes."Hansen's and the Pope's pleas are addressed to the UN climate talks in Paris at the end of this year, when UN member states will gather for the 20th time to consider limiting carbon emissions. Unlike in previous years, it seems likely they will take a "bottom-up" approach to the talks, agreeing to voluntary accords (not internationally binding ones) as the United States and China have done.Climate is a strange story. Even if the UN talks come to nought, there will be macro-trends that shape the safety of Earth—trends like the falling cost of renewable energy, and the American abandonment of coal—that will continue. Our understanding of those big trends changes week-to-week, and it seems useful (if climate change really is a big political deal) to follow those trends beyond the gloom or succor of a big magazine profile. I want to follow the climate in a way that's not (a) reading a big, scary story, (b) freaking out for a day, (c) forgetting about it and going on with my life.* * *Here are the most important, concrete trends in climate news right now:The atmosphere is filling with greenhouse gases. The Mauna Loa Observatory measured 398.49 CO2 molecules in the atmosphere per million molecules this week. A year ago, it measured 396.12 ppm. Ten years ago, it measured 377.86 ppm. An "unsafe" level is anything above 350 ppm."You owe the world $12,000 for burning all those fossil fuels," if you're an American born before 1995, but the article goes on to say you might owe something closer to $66,000.Renewable energy costs are plunging faster than anyone estimated. This week's headline: The U.S. will likely add 7.7 gigawatts of solar power this year, or enough to power a little less than 5.4 million homes. China already installed that much solar between January and June of this year.+ A reminder of just how big the plunge in renewable costs has been:Experts predicted in 2000 that wind-generated power worldwide would reach 30 gigawatts; by 2010, it was 200 gigawatts, and by last year it reached nearly 370, or more than 12 times higher. Installations of solar power would add one new gigawatt per year by 2010, predictions in 2002 stated. It turned out to be 17 times that by 2010 and 48 times that amount last year.The U.S. really seems like it's going to get serious about regulating greenhouse gas emissions. The Clean Power Plan, "the most important action any president has taken to address the climate crisis," got its first Congressional hearing, which was mostly Republicans saying how much they dislike the regulation. But any attempt to stop the plan will come from the courts, where the Obama administration won a fairly meaningless victory this week.Before Paris The UN's most-anticipated climate negotiations since 2009 begin in 11 weeks.Last week, the French President François Hollande connected the upcoming talks to the continent's ongoing refugee crisis: "If we don't conclude [with a successful agreement], and there are no substantial measures to ensure the transition [to a climate-affected world], it won't be hundreds of thousands of refugees in the next 20 years, it will be millions."About 100,000 people live in Kiribati. Its roughly 800 square-mile area is distributed across 33 islands in the central Pacific Ocean. The IMF and the World Bank disagree over whether it has the smallest economy in the world or only the third smallest. At a forum last week with Pacific island nations, its president pleaded with Australia and New Zealand to commit to only 1.5° Celsius of climate change. "It's not about economic development," he said. "It's not politics. It's survival."About 23.5 million people live in Australia; its 2.9 million square miles sit mostly on its eponymous continent. It has about the 20th largest economy in the world. Last week, its immigration minister joked on a live mic about those meetings running late: "Time doesn't mean anything when you're, you know, about to have water lapping at your door." Australia did not commit to the 1.5° Celsius target.Since then, Australia has changed prime ministers. Its new chief executive says he does not anticipate altering the nation's climate-change policy.This week in the Earth system This time last month, if you had asked a reasonably informed arborist how many trees there are in the world, she would have told you a number seven times too small: "In a blockbuster study released Wednesday in Nature, a team of 38 scientists finds that the planet is home to 3.04 trillion trees, blowing away the previously estimate of 400 billion. That means, the researchers say, that there are 422 trees for every person on Earth." ;The planet has lost three percent of its forests since 1990, but the rate of that loss has halved this decade.;The National Weather Service has a great Q&A on El Niño, which it says will be the principal determinant for U.S. winter weather patterns. The Jet Stream will veer to the south and east, leading to a warmer, drier winter for the northern half of the U.S. and a wetter, chillier winter for the southern half.;The Atlantic Ocean, meanwhile, may be at the end of the two-decade-long  "active hurricane era" that produced Hurricanes Katrina, Sandy, and Floyd. On the other hand, it may not: El Niño—half a world away—may just be discouraging hurricanes before they can form.* * *And… hello again. This is an experiment. If I left something out, or there's something super important that the average climate-concerned person should understand, please write in and let me know. If you have a friend you think would like something like this, feel free to forward it to them. Please consider subscribing, and thank you for reading.Double Whammy: 2 Meteors Hit Ancient Earth at the Same Time
 By 

Elizabeth Palermo

6 hours ago
It's not altogether uncommon to hear about double rainbows, but what about a double meteor strike? It's a rare event, but researchers in Sweden recently found evidence that two meteors smacked into Earth at the same time, about 458 million years ago.Researchers from the University of Gothenburg uncovered two craters in the county of Jämtland in central Sweden. The meteors that formed the craters landed just a few miles from each other at the same moment, according to Erik Sturkell, a professor of geophysics at the University of Gothenburg and one of the scientists who is studying the newfound craters.When the meteors slammed into Earth, Jämtland was just a seafloor, about 1,600 feet (500 meters) below the surface of the water. One of the craters left by the meteors is huge, measuring 4.7 miles (7.5 kilometers) across. The other, smaller crater — which is only about 2,300 feet (700 m) across — is located just 10 miles (16 km) from its larger neighbor. [Meteor Crater: Experience an Ancient Impact]After analyzing information collected from a drilling operation, the researchers determined that theimpact craters were formed at the same time. The information revealed identical geological sequences, or layers of rock, inside each crater. The sediment that accumulated inside the craters over the subsequent millennia also dates back to the same time, according to Sturkell."In other words, these are simultaneous impacts," Sturkell said in a statement. The meteors likely crashed to Earth following the collision of two large asteroids in the asteroid belt between Mars and Jupiter some 470 million years ago, he added.When the meteors crashed into Earth, they displaced the water underneath them, leaving two huge, dry pits in the seabed for about 100 seconds, the researchers said.
This fossilized meteorite in limestone is typical of those found on Kinnekulle. The black blob in th …"The water then rushed back in, bringing with it fragments from the meteorites mixed with material that had been ejected during the explosion and with the gigantic wave that tore away parts of the seabed," Sturkell said.This isn't the first time that scientists in the area have found evidence of ancient meteor impacts in what is now Sweden, though it is the first time they've found evidence of two meteors striking the planet at the same moment.In the 1940s, quarry workers found an unusual red slab of limestone on Kinnekulle, a large hill in the county of Västergötland in southern Sweden. Researchers later identified the red rock as a meteorite. While large meteorites typically "explode and disintegrate" upon impact with the ground, small meteors fall to Earth as rocks, like the one embedded in the limestone slab, Sturkell said.About 90 meteorites in total have been found on Kinnekulle in the past 15 years alone. But in Jämtland, where the dual meteor strikes occurred, researchers have only found small grains of chromite, a remnant of large, exploded meteors.Follow Elizabeth Palermo @techEpalermo. Follow Live Science @livescience, Facebook &Google+. Original article on Live Science.
Fukushima dumps first batch of once-radioactive water in sea
 By 

Harumi Ozawa

15 hours ago
Tokyo (AFP) – Japan's crippled Fukushima nuclear plant Monday began releasing previously contaminated water into the sea, but the man tasked with preventing another meltdown warned other highly radioactive fluid still stored on site could pose a major threat.Tokyo Electric Power Co (TEPCO), which operates the plant in eastern Japan, discharged 850 tons of formerly contaminated water it had extracted from the ground near the plant into the sea, saying a filtration process had now made it safe.Monday was the first time the plant, whose reactors went into meltdown after being hit by a huge tsunami in 2011, has released once radioactive water into nature after a years-long battle with fishermen, who feared it could destroy their livelihood.But Dale Klein, the chairman of a committee created to ensure the nuclear meltdown is never repeated, said other highly radioactive water used to cool the reactors four years ago and which is still kept in tanks in the plant could be dangerous.="The risk that you run is that you have all these tanks full of water," Klein told AFP in an interview."The longer you store the water, the more likely you are going to have (an) uncontrolled release," he said, adding that he would like to see the supplies released from storage in the next three years.
Black smoke rises from reactor number three at the Fukushima Dai-ichi nuclear power plant in March 2 …TEPCO has faced criticism for its handling of the meltdown, which saw thousands of people evacuated as radiation poisoned the air, land and water and has already cost some $57 billion in compensation for residents.Four years later it is still extracting some 300 tons of contaminated water from the ground every day, which had been stored in tanks before TEPCO started releasing it into the sea after purification on Monday.- 'Long-term solution' -The move is a milestone for the company, which said its Advanced Liquid Processing System, which removes highly radioactive substances like strontium and caesium, meant the ground water was now safe to release into the natural environment.Fishermen had argued that the discharge even of the groundwater would heighten contamination concerns and hurt their already battered reputation.
Japan's Tokyo Electric Power Co. (TEPCO) displays the new filtering facility to purify groundwat …They had fought to stop the water being released into the sea, even after it is filtered, but eventually bowed to pressure from TEPCO, which is struggling to find space to store the tainted supplies.But it has yet to find a solution to deal with another highly radioactive 680,000 tons of water that was used to cool the reactors during the meltdown, which is still stored on site.Fishermen are opposed to the fluid being released into the sea, even after it is filtered."I would much rather see Japan move to a long-term solution of the controlled release, rather than have an unexpected release" that could be caused by pipebreaks or other failures, said Klein.Torrential flooding this month in an area not far south of the plant added to contamination concerns, flushing away at least 293 plastic bags of plants and soil that had been collected in the clean up.The tsunami, following a 9.0 magnitude quake, triggered the world's worst nuclear disaster in a generation and prompted Tokyo to shut down the 50 reactors nationwide used to generate electricity.This month saw the evacuation order lifted for Naraha, the first of seven municipalities fully emptied after the explosion whose residents can return permanently, but the full clean up is expected take decades.
North Korea to launch satellites to mark party anniversary
By 
HYUNG-JIN KIM
1 hour ago
View phFILE – In this Dec. 12, 2012 file photo, a screen at the General Satellite Control and Command Center shows the moment North Korea's Unha-3 rocket is launched in Pyongyang, North Korea. North Korea said Monday, Sept. 14, 2015 it is ready to launch satellites aboard long-range rockets to mark a key national anniversary next month, a move expected to rekindle animosities with its rivals South Korea and the United States. North Korea has spent decades trying to perfect a multistage, long-range rocket. After several failures, it put its first satellite into space with a long-range rocket launched in late 2012. (AP Photo/File)
SEOUL, South Korea (AP) — North Korea said Monday it is ready to launch satellites aboard long-range rockets to mark the ruling communist party's anniversary next month, a move expected to rekindle animosities with its rivals South Korea and the United States.Related Stories
A National Aerospace Development Administration director said the North has been making "shining achievements" in the space development field ahead of the 70th birthday of the Workers' Party, saying scientists and technicians are pushing forward on a final development phase for a new earth observation satellite for weather forecasts."Space development for peaceful purposes is a sovereign state's legitimate right … and the people of (North Korea) are fully determined to exercise this right no matter what others may say about it," the director told Pyongyang's official Korean Central News Agency. The world will "clearly see a series of satellites soaring into the sky at times and locations determined" by the Workers' Party.The launches, if made, are certain to trigger an international standoff, with Seoul, Washington and other neighboring countries condemning past launches as disguised tests of the North's long-range missile technology and Pyongyang making a furious response to the criticism.South Korea's Defense Ministry said Tuesday that the firing a long-range missile would represent a "serious" violation of U.N. resolutions, but added it had not detected any signs indicating North Korea was preparing such a launch.North Korea has spent decades trying to perfect a multistage, long-range rocket. After several failures, it put its first satellite into space with a long-range rocket launched in late 2012. The U.N. said it was a banned test of ballistic missile technology and imposed sanctions. Experts say that ballistic missiles and rockets in satellite launches share similar bodies, engines and other technology.An angry North Korea then conducted its third nuclear test in February 2013, inviting further international condemnation and sanctions.Washington sees North Korea's pursuit of nuclear weapons and ballistic missiles as a threat to world security and to its Asian allies, Japan and South Korea.The North's announcement Monday also raised doubt about recent signs of easing animosities between the rival Koreas, which have agreed to hold reunions next month of families separated by war. The two Koreas previously threatened each other with war in August in the wake of mine explosions blamed on Pyongyang that maimed two South Korean soldiers earlier in that month.The Korean Peninsula remains in a technical state of war since the 1950-53 Korean War ended with an armistice, not a peace treaty. About 28,500 U.S. troops are stationed in South Korea as deterrence against potential aggression from North Korea.