Tornado Warning Credited With Saving Lives At Missouri Football Game Published Sep 20 2015 12:04 PM EDT weather.com Kansas Tornado Captured Up Close Severe storms in the Midwest Friday, September 18, 2015 produced this tornado. A tornado warning likely saved lives on Friday night, as a tornado impacted the area near Freeman, in west-central Missouri, including a school football game was just about to begin.Enlarge Damage at the Cass Midway school on Friday, September 18, 2015. (Photo taken by the National Weather Service office in Kansas City) The National Weather Service office in Kansas City surveyed the damage on Saturday and rated the tornado an EF-1 with estimated winds of 86 to 100 mph. The tornado formed around 6:57 p.m. and dissipated around 7:12 p.m. The path of the tornado was 5.3 miles long and approximately 100 yards wide.(MORE: Tornadoes Reported in Kansas, Illinois on Friday)A tornado warning for the area, west-central Cass county and northeastern Miami county, was issued at 6:32 p.m. as law enforcement officials and trained spotters had reported a tornado near Louisburg, Missouri. This dangerous storm was moving east at 30 mph and the tornado warning was in effect until 7:15 p.m.According to the National Weather Service, officials at Cass Midway High School were able to evacuate about 250 people from the football field into an underground shelter 10 minutes prior to the 7:00 p.m. kickoff time. The school is located just northwest of Freeman, Missouri in west-central Cass county.The tornado damaged the scoreboard, press box and bleachers just after 7:00 p.m. School officials have credited the tornado warning from the National Weather Service as what prompted the safe evacuation, which resulted in no fatalities or serious injuries from the tornado.Windows were also broken at the school and in nearby cars, with additional damage to air conditioning units and possibly the roof, the football coach, Larry Burchett, told local media.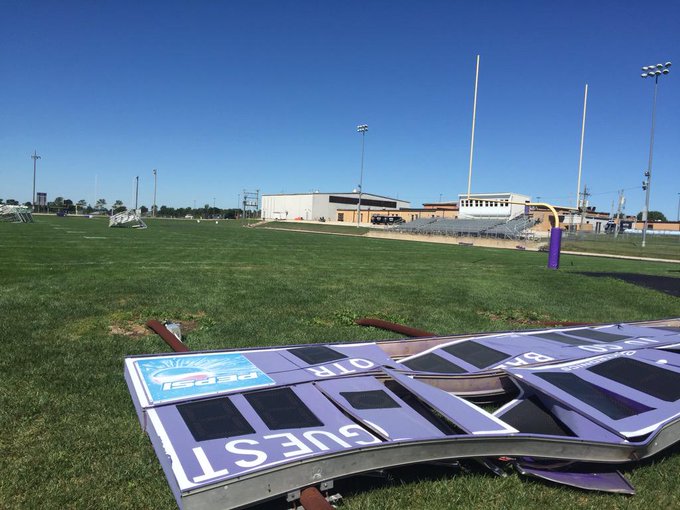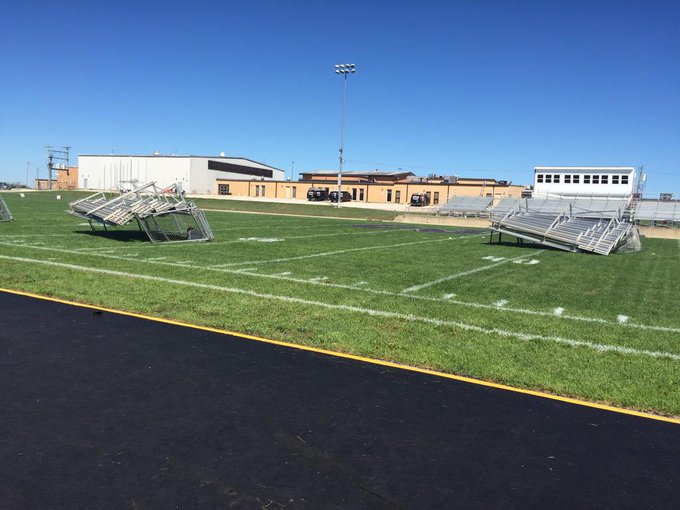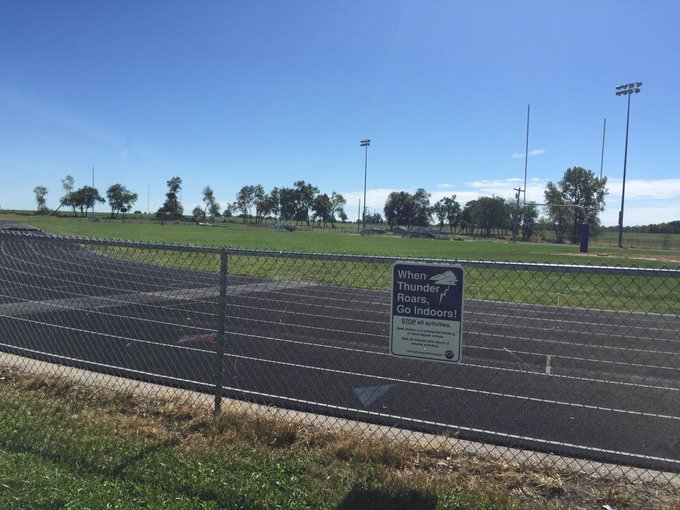 Follow
NWS Kansas City @NWSKansasCityCass Midway school officials credit early warning with decision to shelter 250 people 10 minutes prior to kickoff.The National Weather Service office in Kansas City posted on their Facebook page that, "Success stories like this are not possible without partners out there. So we'd like to give a big shout out to the emergency managers, firefighters, law enforcement, media, spotters and our social media users who give us timely reports from the field, and also help to spread the word to those who need it when life-threatening weather strikes."(MORE: Severe Weather Forecast)In Harrisonville, Missouri, which is northeast of Freeman, a football game was delayed due to the tornado warning, as the field was evacuated. Everyone cooperated and sheltered inside Harrisonville Middle School, Superintendent Frank Dahman reported to The Cass County Democrat Missourian. No damage or serious injuries occurred at the school.MORE ON WEATHER.COM: Strange Tornado Damage (PHOTOS)Aftermath of tornado that destroyed parts of Moore, Okla. is seen on Tuesday, May 21, 2013, a day after the tornado moved through the region. (Shane Brown/Weather.com) 
Japan Floods, Landslides: 8 Dead, 46 Injured; Missing Persons All Accounted For By Nick Wiltgen Published Sep 19 2015 02:35 PM EDT weather.com What Does the Cone of Uncertainty REALLY Mean? There's a lot of confusion about the "cone of uncertainty."
Meteorologist Ari Sarsalari explains what it really means and when you need to be concerned during Hurricane Season. Officials in Japan confirmed an eighth fatality Wednesday in the wake of disastrous flooding unleashed by torrential rainfall that hit the eastern and northern parts of the country in the wake of Tropical Storm Etau earlier this month.Fourteen of the 15 people reported missing in the Japanese city hardest-hit by last week's floods and landslides were reported safe and accounted for on Tuesday, and the 15th name on the list proved to be there in error, marking the end of the search and rescue effort in a region still reeling from the deaths and a heavy toll of material losses in the wake of Tropical Storm Etau.The 15 people had been reported missing in Joso city, Ibaraki Prefecture, where a levee was breached by the swollen Kinugawa River as unprecedented rainfall struck parts of eastern and northern Japan last Wednesday, Thursday and Friday. Public broadcaster NHK said one of the names on the list was the result of a "telephone lie," but also cited experts who put forth other possible explanations for the mixup, which lasted only a few hours after the other 14 people had been reported alive and safe.As the rescue effort ended, however, more than 2,700 people were still in evacuation shelters, their homes in varying states of disrepair as more rain moved in.(MORE: Mount Aso Volcano Erupts in Western Japan)Much of the devastation occurred in three prefectures – Tochigi and Ibaraki, neighboring prefectures in the northern part of the Greater Tokyo region; and Miyagi, a prefecture on the Pacific coast of northern Japan devastated by the 2011 Tōhoku earthquake and tsunami.The tally of homes flooded but not structurally damaged in last week's deluge exceeded that of the 2011 calamity, topping 18,000 in a government report Tuesday afternoon. However, the number of homes destroyed or structurally damaged in the disaster – 118 – pales in comparison to the catastrophe four and a half years ago, which destroyed 124,690 homes and damaged another 1,039,961 in what remains the world's costliest natural disaster of all time.Water from the Kinugawa River (left) rushes through a levee break into the city of Joso, Ibaraki Prefecture, on Thursday, Sept. 10, 2015. (Jiji Press/AFP/Getty Images) Here are the latest statistics from the Japanese government's Fire and Disaster Management Agency and other national and local governments as of Friday, Sept. 18:
The death toll is eight: three in Tochigi Prefecture, three in Ibaraki Prefecture, and two in Miyagi Prefecture.
There are 46 confirmed injuries, with Ibaraki Prefecture accounting for 24 of them.
A total of 18,882 dwellings have been confirmed flooded. Ibaraki leads this list as well, with 12,088 flooded homes.
In addition to the flooded homes, 16 dwellings have been destroyed and another 102 have structural damage.
Damage also occurred to 61 non-residential structures.
Damage to the agricultural, forestry and fishing industries has reached 11.7 billion yen (about 98 million U.S. dollars).
At least 455 landslides were reported – 358 of them in Tochigi Prefecture alone, and 312 of those in the city of Nikkō, according to the prefectural government.
Up to 26 inches of rain fell in eastern Japan Sunday through Friday due to Tropical Storm Etau and its remnant low.
Local officials in Ibaraki Prefecture said 1,344 people had been rescued via helicopter by the country's Self-Defence Force and rescuers from 10 of the country's 47 prefectures.
Key developments in the storm:
On Wednesday, Sept. 16, officials confimed the death of a 40-year-old man who had been out on his bicycle when the floods hit Ibaraki Prefecture on Sept. 10.
A 60-year-old man was found dead Saturday after the vehicle he was in was swept into a flooded river Friday morning in the city of Kurihara, Miyagi Prefecture. A 48-year-old woman also died in that incident.
Japanese media said a pair of eight-year-old boys were among those found alive and removed from the list of missing Saturday.
Two men, ages 71 and 51, were found dead in rice fields flooded by the levee breach in Joso, according to public broadcaster NHK. The men were not previously among the list of missing.
The Japanese government's Fire and Disaster Management Agency confirmed that a man found dead in a flooded vehicle in Tochigi Prefecture Sunday morning died of storm-related causes.
A 63-year-old woman was confirmed dead after a landslide struck Kanuma city, Tochigi Prefecture, early Thursday. The woman was missing for hours before being found dead Thursday evening.
A man in his 20s was confirmed dead Friday after falling into a flooded drainage pipe Thursday in Nikkō city, Tochigi Prefecture.
Rare emergency weather warnings were issued for Tochigi, Ibaraki and Miyagi prefectures on Thursday and Friday, but have all since been lowered.
A magnitude-5.2 earthquake struck Tokyo Bay at 5:49 a.m. local time Saturday, rattling the entire Tokyo region and prompting fears of quake-triggered landslides in rain-soaked hilly terrain.
The earthquake injured seven people in Tokyo and its suburbs, according to the FDMA.
Another earthquake, rated magnitude 4.6 and centered off the east coast of Ibaraki Prefecture, rattled the Joso flood zone nearly six hours later but with weaker ground shaking.
The Shibui River broke through a levee in Ōsaki city, Miyagi Prefecture, on Friday morning. At least 1,000 people were stranded in floodwaters, according to the newspaper Asahi Shimbun.
The Japan Meteorological Agency issued the maximum "Level 5" flood warning Friday for the Yoshida River in Miyagi Prefecture and for the Mogamiogumi River in Yamagata Prefecture.
More than 800 people in the mountainous town of Minamiaizu, Fukushima Prefecture, were cut off from the outside world due to flooding and landslides on the lone highway through town Friday.
The Japan Meteorological Agency issued a rare emergency heavy rainfall warning for Miyagi Prefecture and its 2.3 million residents early Friday as torrential rains continued to drench the prefecture, which includes the city of Sendai, raising concerns of landslides and river flooding. The JMA observation site near Sendai's central business district reported 269 millimeters (10.59 inches) of rain in the 24-hour period between 7:40 a.m. Thursday and 7:40 a.m. Friday local time. (Japan is 13 hours ahead of U.S. Eastern Daylight Time.) JMA lowered the warning for Miyagi Friday evening.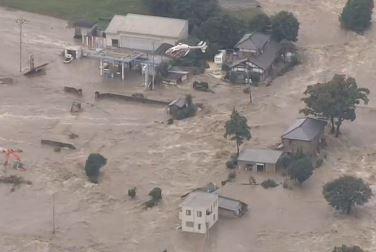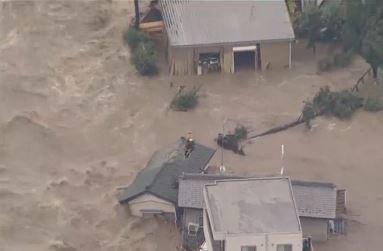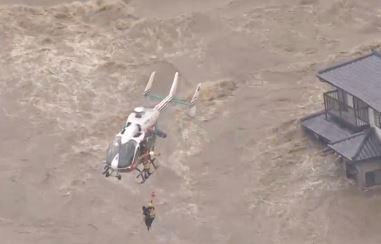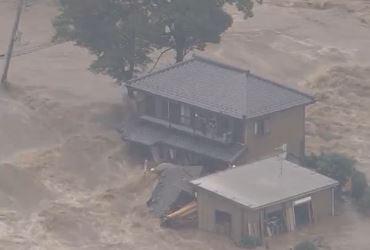 Follow
SKY NEWS WEATHER @SkyWeatherAUSNew pictures emerge of the worsening flood situation in eastern Japan @SkyNewsAust pic.twitter.com/tU8tt8LClY (@Amy_Greenbank)"We can say this is an abnormal situation and there is imminent serious danger," said Takuya Deshimaru, chief forecaster at the Japan Meteorological Agency, according to the BBC.On Thursday, JMA issued similar emergency weather warnings for 5 million people in Tochigi Prefecture and Ibaraki Prefecture, north and northeast of Tokyo, on Thursday morning. The warnings were issued as a band of heavy rainfall associated with the post-tropical remnant of Tropical Storm Etau stalled over eastern Japan, dumping up to 21 inches of rain in 24 hours near the head of the Kunigawa River, which drains south through the northern suburbs of Tokyo.The emergency warnings in Tochigi and Ibaraki prefectures were lowered Friday morning.Levee Break Unleashes Dangerous Flash FloodStorm Total RainfallThe path history of Tropical Storm Etau, along with selected rainfall reports from the Japan Meteorological Agency for the six-day period from Sept. 6 through Sept. 11, 2015. Early Thursday afternoon, the Kinugawa River breached a levee in the city of Joso, Ibaraki Prefecture. Prefectural government officials there said 22 people were missing due to the flooding and hundreds of others were still awaiting rescue Friday morning, according to public broadcaster NHK. All of the missing have since been accounted for, but it took several days to rescue all of the stranded residents.JMA had already issued its highest level of flood warning for the Kinugawa River Thursday morning before the breach occurred.Japan's Self-Defense Force sent helicopters to the scene, plucking a number of people from rooftops and the top stories of homes near the stricken levee. Japanese television stations broadcast some of the dramatic scenes live as they happened during the early afternoon hours Thursday.In one disturbing scene, two people were seen struggling to cling to the roof of what appeared to be a garage or shed as the structure began to crumble beneath them and collapse into the raging floodwaters. The television broadcast, streamed live on the website houdoukyoku.jp, quickly cut away from the images to show its in-studio anchors. The fate of the couple is not immediately clear.The scenes played out again Friday morning, as SDF helicopters plucked more victims standing on rooftops underneath sunnier skies.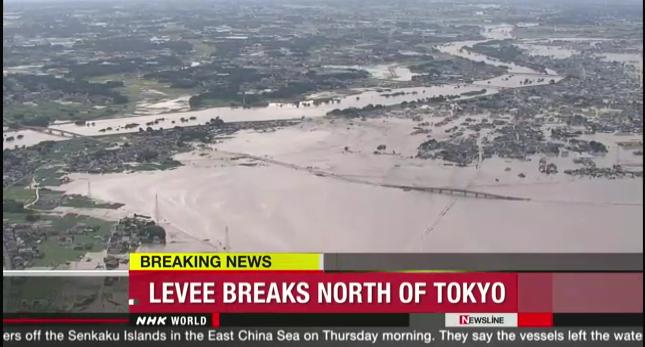 Follow
Robert Speta @robertspetaAt least 7,000 homes damaged or destroyed in Ibaraki.Efforts continued by helicopter and by ground Saturday, even as an earthquake centered in Tokyo Bay rattled the flood zone with moderate ground shaking. More rescues took place Sunday, when two men were found dead in rice paddies – the first confirmed fatalities in the Joso levee breach incident.By Monday, images broadcast on national television showed much of the built-up portion of Joso had dried out, but crews were still working to pump standing water from flooded rice fields back into the Kinugawa and its tributaries. Efforts to repair the compromised section of levee were also well underway.Tochigi Prefecture: Landslides Turn Deadly According to the Tochigi Prefecture government, a landslide early Thursday in the city of Kanuma left one person dead and another person injured. NHK says the body of the missing person, a 63-year-old woman, was found Thursday evening. The woman was later confirmed dead.Kanuma reported 444 millimeters (17.48 inches) of rain in the 24-hour period ending at 6 a.m. local time Thursday; in records that began in 1976, this was more than double the city's previous 24-hour record of 212 mm (8.35 inches) set July 11, 2002.The incident was one of 41 landslides reported by the prefectural government. One home each was damaged in two of the landslides, and 11 people were trapped but later rescued in another of the incidents. The government said five people were stranded in Nikkō due to flooding on a local river Wednesday night; firefighters rescued them around daybreak Thursday.The rain was extraordinarily heavy in and around the city of Nikkō, a popular tourist destination in Tochigi Prefecture. JMA's observation side in that city's Imaichi district recorded 668.0 millimeters (26.30 inches) of rain Sunday through Thursday. Of that amount, 541 mm (21.30 inches) fell within a 24-hour period Wednesday and early Thursday. The nearby Ikari observation site in Nikkō city logged 551 mm (21.69 inches) of rain in the 24-hour period ending at 6:30 a.m. Thursday; that was the highest 24-hour rainfall total anywhere in Japan during the storm.Those sites' 24-hour rainfall totals were the highest ever recorded since rainfall measurements began there in the late 1970s – and the 24-hour totals alone at both sites were greater than the previous 72-hour rainfall records for each location. The same is true of several other nearby sites – a sign of just how extreme the rainfall has been.A landslide caused by Tropical Storm Etau affected houses in Toba city, Mie Prefecture on Wednesday, Sept. 9, 2015. The powerful storm made landfall in nearby Aichi Prefecture Wednesday morning, dumping more than a foot (300 millimeters) of rain on parts of central and eastern Japan. (Credit: The Yomiuri Shimbun via AP Images) Evacuation Orders Lifted for Most Areas Voluntary evacuations became mandatory in some locales as the rain continued and rivers rose. In all, about 192,000 people were ordered to evacuate at some point during the tropical storm and ensuing floods, according to the FDMA. At least 15,000 people remained under orders to stay out of flooded areas in and near the city of Joso as of Monday morning.Most of the voluntary evacuation advisories, which covered 3.1 million people during various stages of the storm, had been lifted by Saturday evening. Fewer than 3,000 people were still under voluntary evacuations Monday morning, mostly in Joso.
Storm Impacts Wide Swath of Japan Tropical Storm Etau affected many other areas of Japan prior to and during its landfall. Here's a wrap of its impacts Tuesday and Wednesday:
Tochigi Prefecture: Officials were investigating whether rainfall in advance of Etau's landfall contributed to a slope failure at a mine in Ashikaga on Tuesday afternoon. According to Tokyo television station TBS, a 20-year-old worker was buried alive and later died in the hospital.
Fukushima Prefecture:

According to the Mainichi Shimbun, a national newspaper, heavy rainfall Wednesday caused contaminated water from the crippled Fukushima Daiichi nuclear power plant site to run off into the Pacific Ocean for several hours early Wednesday. The newspaper said it was the seventh such incident this year at Fukushima Daiichi, which suffered a catastrophic meltdown after the 2011 Tohoku earthquake and tsunami.
The Asahi Shimbun's Asia & Japan Watch website reported that 82 bags of radioactive grass and other materials, byproducts of decontamination efforts around Fukushima Daiichi, were swept into a river in Iitate, Fukushima Prefecture, on Friday. Most of the bags were either recovered or became stuck under obstacles downstream, and officials reported none of the bags had ruptured or spilled their contents.

Kanagawa Prefecture: More than 600,000 people in the city of Kawasaki were advised to evacuate during the height of the heavy rainfall, according to government reports. Nearby, the city of Yokohoma recorded a five-day rainfall total of 306.5 millimeters (12.07 inches).
Shizuoka Prefecture:

Flash floods and landslides were reported Tuesday in the city of Hamamatsu, according to NHK. Sediment from one of the landslides overturned a car, slightly injuring a man in his 40s, NHK said. In addition, two people were slightly injured after falling in flooded roadways in the city.
At least 49 locations in Hamamatsu reported road flooding, along with 35 in the neighboring city of Iwata.
NHK also said a section of cliff 10 meters (33 feet) high and 10 meters wide crumbled behind houses in a Hamamatsu neighborhood. No injuries were reported. Hamamatsu reported 388.5 millimeters (15.30 inches) of rainfall in the 72-hour period ending at 9:20 a.m. Japan time Wednesday, according to JMA data.
The national government said 19 landslides occurred in Shizuoka Prefecture as a result of Etau.
The top rainfall total near Etau's landfall zone was 424.5 mm (16.71 inches) on Mount Amagi in Shizuoka Prefecture in the 72-hour period ending at 4:20 p.m. local time Wednesday.
Two elderly men suffered minor injuries after falling in strong winds as Etau made landfall west of the prefecture.

Aichi Prefecture:

NHK said an elderly woman suffered a serious leg injury after falling during strong winds in the city of Toyobashi on Wednesday morning.
NHK said at least 27 flights were canceled in and out of Chubu Centrair Airport near Nagoya due to the tropical storm. Winds at Centrair gusted as high as 64 mph late Wednesday morning local time.

Mie Prefecture: Heavy rainfall caused at least one landslide in the city of Toba, which was also buffeted by strong winds as the center of Tropical Storm Etau passed just east of the prefecture Wednesday.
History of Tropical Storm Etau Etau formed early Monday (Japan time) about 1,000 miles due south of Tokyo. It has been moving in a generally northward direction ever since. At 10:22 a.m. Japan time Wednesday (9:22 p.m. U.S. EDT Tuesday), the Japan Meteorological Agency announced that the center of Tropical Storm Etau had made landfall on the Chita Peninsula of Aichi Prefecture shortly after 10 a.m. local time. The landfall point was about 30 miles (50 kilometers) south of Nagoya, the center of Japan's third-largest metropolitan area.Later Wednesday, the center emerged into the Sea of Japan. JMA said Etau became a post-tropical low-pressure center at 9 p.m. Japan time Wednesday.As of late Wednesday evening, the top reported sustained wind on land was 22.8 meters per second (51.0 mph) at 9:47 p.m. local time at Cape Erimo on Japan's northernmost major island, Hokkaido. The top gust was 30.9 m/s (69.1 mph) at 5:03 a.m. local time Wednesday on the small island of Kozushima, about 100 miles south of Tokyo.Tropical Storm Etau was known as "Typhoon No. 18" in Japan, where tropical cyclones are typically referred to by number rather than name, and "typhoon" is used for all systems of tropical-storm or higher strength.The name "Etau" was also given to a tropical storm that drenched Japan in 2009, killing 28 people and flooding thousands of homes.MORE ON WEATHER.COM: Tropical Storm Etau Strikes Japan (PHOTOS)
A woman walks towards a collapsed house on a field inundated by floodwaters in Joso in Ibaraki prefecture on Sept. 11, 2015. (AFP/Getty Images)
New wildfire in Northern California destroys homes
 3 hours ago Associated Press Videos More Heartbreak and Devastation From Calif. Fire

News More Heartbreak and Devastation From Calif. Fire MIDDLETOWN, Calif. (AP) — A new wildfire in Northern California destroyed or damaged 10 homes in Monterey County and a body was found among the ashes a week after two other blazes killed five people and destroyed at least 1,400 homes, fire officials said Sunday.Related Stories
The blaze burning about 2 miles north of the community of Jamesburg quickly grew to 1,200-acres after starting Saturday afternoon, the California Department of Forestry and Fire Protection said.The person who died has not been identified and authorities are still trying to determine how the person died.Evacuation advisories were issued for residents of Jamesburg and the nearby community of Cachagua, Cal Fire said.Farther north, two wildfires have destroyed 1,400 homes and continue to threaten thousands more, fire officials said.Damage assessment teams have counted 888 homes burned in Lake County, many of them in the town of Middletown, California Department of Forestry and Fire Protection spokesman Daniel Berlant said.
Berlant said teams are getting access to affected areas as firefighters make progress but that the count is far from over.The fire, which killed at least three people and charred 117 square miles was 53 percent contained. Another 6,400 homes remain under threat."Our damage assessment team continues to go in and count home by home, structure by structure but they still have a ways to go before they are finished," Berlant said.Another 535 homes were destroyed by a separate blaze that killed at least two people and that has burned 110 square miles in the Sierra Nevada foothills, about 170 miles southeast. That blaze was 70 percent contained Sunday and even though it continued to threaten thousands of structures all evacuation orders were lifted.Amid the destruction and continued fight against the blazes by thousands of firefighters, people have been stepping up to help in an outpouring of compassion for victims.
The charred remains of a car belonging to Leonard Neft, who has been missing since a wildfire tore t …At Starlet Bridal in Santa Rosa, owner Allison Hargave-Barnard, surprised Rachel Lemon, who lost the home she shared with her fiance in the Lake County fire, by covering the cost of her wedding dress and rallying her colleagues in the bridal industry who have offered to donate photography and music services, flowers and a wedding cake, the Sacramento Bee reported Sunday (http://bit.ly/1gDVW4s).Aria Simpson and her mother, Teresa Fogolini of Bodega Bay, took it upon themselves to help save 18 camels stranded at Sacred Camel Gardens, a spiritual retreat near Middletown, by setting up an online donations site that has collected $15,000 to feed the animals.During the fire, herdsman Stuart Camps and two others guided the camels from one safe area to another as flames devoured a feed barn, fencing and the landscape around them."I can't put it into words," Camps said. "I'm just feeling deep gratitude and thinking of everyone who risked their lives to save them."Residents of Middletown, the area hardest hit by the massive wildfire in Lake County, were allowed to return home Saturday afternoon. Evacuation orders for other areas in Lake County remained.The Lake County fire tore through 62 square miles in 12 hours, causing thousands of residents to flee after it ignited a week ago. About 19,000 people were ordered to evacuate.A weekend of heat had descended on the wildfires after several favorable days, raising fears that major gains could be undone.That makes it essential that the smoldering remains of the two giant blazes be dealt with as quickly and thoroughly as possible, Scott Mclean, a battalion chief with the California Department of Forestry and Fire Protection, said.
Retired Atlantic Hurricane Names: The Most Notorious Storms Since 1954 By Jon Erdman Published Sep 20 2015 11:54 AM EDT weather.com HURRICANE INGRID (2013) Flooding and landslides triggered by Joining forces with also-retired eastern Pacific Tropical Storm Manuel claimed at least 155 lives in Mexico in mid-September 2013. (Image: NASA) 
 Some Atlantic basin hurricanes have had their names retired. Just as no New York Yankee will ever again wear number 3 (Babe Ruth), nor will a Green Bay Packer ever claim number 15 (Bart Starr), no future Atlantic hurricane will ever be named Katrina, Sandy, or Camille.
 (
MORE: Why Hurricanes are Named
)Unlike an athlete's number, however, there is no celebration when an Atlantic name is retired from future use. Contrary to popular opinion, a committee of the World Meteorological Organization, not the U.S. National Hurricane Center, is responsible for the tropical cyclone name lists.Atlantic hurricane and tropical storm name lists repeat every six years, unless one is so destructive and/or deadly that the committee votes to retire that name from future lists. This avoids the use of, say, Andrew to describe a future weak, open-ocean tropical storm.(
MORE: Your Eyes Can Improve the Hurricane Historical Record
)Since the naming of Atlantic tropical cyclones ditched the phonetic alphabet in 1953, 77 Atlantic tropical cyclone names have been retired.Only 20 seasons have not had a name retired, most recently in 2014. Another 21 seasons have had multiple names removed from future use, lead by 
the record-smashing 2005 hurricane season's
 five retirees.Names beginning with the letter "I" lead the retirees with 10, followed by nine "C" storms, then eight "F" storms. Eight of those "I" storms have earned retirement just since 2001, including a four-year streak from 2001 through 2004 (Iris, Isidore, Isabel, Ivan, respectively). 
Wilma
 in 2005 is the deepest-in-the-alphabet retiree.Some names you'll instantly recognize. Others, not so much.For example, 
Katrina
, 
Rita
 and 
Wilma
 are the big three you undoubtedly remember from 2005. You may have forgotten about 
Dennis
 and 
Stan
, however. Did you know 
Stan may have been more deadly than Katrina
?The retired Atlantic storms weren't all necessarily intense 
Category 3, 4 or 5
 hurricanes. In fact, a good number of them were retired due to their deadly flooding in the Caribbean, Mexico, Central America, or the United States.(
MORE: 75 Percent of U.S. Hurricane Deaths From Water, Not Wind
)Some examples of this include 
2013's Ingrid
 in Mexico, 
1996's Hortense
 in Puerto Rico and 
1972's Agnes
 in the eastern U.S.The only retiree never to attain hurricane status, 2001's 
Tropical Storm Allison
, was a $9 billion storm and one of the worst floods of record in Houston.All but two of the 
30 costliest mainland U.S. tropical cyclones
 — including 2011's Irene and 2012's Sandy — have been retired. Every 
mainland U.S. tropical cyclone since 1953 that has claimed at least 38 lives
 has also had its name retired.(
MORE: Most Devastating U.S. Hurricanes | Hurricane Central)
Still, there are some storms that arguably should have been retired long ago."I'd still like to know why the name Alberto wasn't retired after the disaster in 1994," said senior director of weather communications, 
Stu Ostro
 (
Wunderblog
). Alberto's remnants produced massive flooding in eastern Alabama and western Georgia in early July 1994.Ostro also said 
Erika
 should be retired from the list, followed the 
destructive flooding on the Caribbean island of Dominica
.We also made a case in 2013 for retiring of 
Isaac
, after its $2+ billion in damage in the U.S.
Carbon pricing schemes double since 2012 in climate fight: World Bank
 By Alister Doyle5 hours ago
Smoke rises from chimneys of a thermal power plant near Shanghai March 26, 2014. REUTERS/Carlos Ba …By Alister Doyle OSLO (Reuters) – The number of carbon pricing schemes worldwide has almost doubled since 2012 but most taxes or markets have prices too low to prevent damaging global warming, the World Bank said on Sunday.Carbon pricing, including emissions trading schemes from California to China, now covers about 12 percent of all greenhouse gas emissions in a sign of momentum before a U.N. summit on climate change in Paris in December, it said.The number of carbon pricing instruments, both implemented or planned, has risen to 38 from 20 since 2012, it said. South Korea began carbon trading this year, for instance, and both Chile and South Africa plan taxes on carbon emissions."There is a growing sense of inevitability … that there will be a price on carbon" for governments and businesses, Rachel Kyte, a vice president and special envoy for climate change at the World Bank, told a telephone new conference.The study showed that prices, meant to shift investments from fossil fuels toward cleaner energies such as wind or solar power, ranged from less than a dollar a tonne of carbon dioxide in Mexico to $130 a tonne in Sweden.In more than 85 percent of cases the price was less than $10, "considerably lower", the report said, than levels needed to help limit temperature rises to a U.N. goal of 2 degrees Celsius (3.6 Fahrenheit) above pre-industrial times.The World Bank did not suggest a target price.The combined value of the carbon pricing instruments was estimated at $50 billion a year worldwide, with $34 billion from markets and the other $16 billion in taxes.A year ago, 73 countries and more than 1,000 companies and investors called for a price on carbon. Kyte said the group was becoming a "powerful coalition" that would make announcements before Paris. She gave no details.A parallel report by the World Bank and the Organization for Economic Cooperation and Development (OECD), with input from the International Monetary Fund, also laid out new principles for carbon pricing that it called FASTER."Carbon pricing is central to the quest for a cost-effective transition toward zero net emissions in the secondhalf of the century," said Angel Gurría, Secretary-General of the OECD.FASTER stands for Fairness, Alignment of policies and objectives, Stability and predictability, Transparency, Efficiency and cost effectiveness and Reliability and environmental integrity.(Reporting by Alister Doyle; Editing by Ruth Pitchford)
Fuel savings can pay for green energy shift
 3 hours ago
Street lamps powered by wind and solar energy line the side of a road leading from Athi-river town in Machakos county, approximately 25 kilometres from the Kenyan capital Nairobi, on August 19, 2015 (AFP Photo/Tony Karumba)Paris (AFP) – Making the global switch from climate-altering fossil fuels to renewables by 2050 would require an extra $1 trillion (880 billion euros) per year, but the bill will be covered by lower energy costs, a Greenpeace report said Monday.On top of some 600 billion euros per year already earmarked by governments and businesses for investment in renewables, the extra funding would be needed to build enough green energy generators to replace coal-, oil- and gas-fired power stations, it said.The investment would be more than offset by annual savings of nearly $1.1 trillion in fuel costs, said the report entitled "Energy (R)evolution", compiled by experts from Greenpeace and the German Aerospace Centre.Wind turbines, for example, run on a "free" energy source — the wind, while a power station has to be constantly refuelled with expensive coal or gas."Because renewables don't require fuel, the savings… (until 2050) are $1.07 trillion per year, so more than meet the costs of the required investment," said a Greenpeace statement.The world's nations are seeking to curb rampant emissions of climate-altering greenhouse gas emissions in a bid to slow global warming, but the cost of the transformation is often held up as a major obstacle, especially for poor and developing countries."The solar and wind industries have come of age, and are cost-competitive with coal," said the report's lead author Sven Teske of Greenpeace, and warned the fossil fuel industry was "moving rapidly into irrelevance"."Every dollar invested in new fossil fuel projects is high risk capital which might end up as stranded investment."The report highlighted that as many as 9.7 million people could have jobs in the solar power industry by 2030 — more than 10 times as many as today and equivalent to the current number of jobs in the coal sector.Wind industry jobs could increase tenfold to nearly eight million.- 'Economically favourable' -The researchers based their forecasts on UN estimations for economic development and population growth, and assumed the world's energy system would be completely "decarbonised" over the next 35 years.They also considered rising energy demand in fast-growing Africa and Asia, offset by lower demand in rich nations resulting in a peak of global demand by about 2020.And the study assumed that renewable energy costs come down as the technology and availability improves.In the short term, electricity could become slightly more expensive — by about $0.02 per kilowatt hour, said the authors.But "as prices rise for conventional fuels, these costs will become economically favourable across all world regions by 2030, and by 2050 the fuel cost savings will be 1.7 US cents/kWh," said the report.Last week, environmental advocates including wildlife documentary filmmaker David Attenborough and climate economist Nicholas Stern, called for investment in research and development to make renewable energy cheaper than coal within 10 years.And a recent study in the journal Science Advances warned that if mankind burns all the fossil fuel left on Earth, releasing some 10,000 billion tonnes of carbon dioxide into the atmosphere, virtually all of Antarctica's ice would melt, sea levels would rise by tens of metres to flood entire cities, and temperatures would skyrocket to unbearable levels.