Q&A: Things to know about wildfires in California
 By JANIE HARSeptember 22, 2015 7:50 PM.View gallerJ.D. Roel salvages a scrap of melted metal from a friend's property after a wildfire raged through …SAN FRANCISCO (AP) — A pair of deadly wildfires in California have destroyed at least 1,700 homes and killed five residents, ranking among the most destructive fires in state history.Related Stories
They were among nine wildfires being battled Tuesday by more than 10,000 firefighters throughout the state.Here are questions and answers about California's deadly wildfires.__WHERE ARE THE DEADLY FIRES?A wildfire in Lake County, about 90 miles north of San Francisco, has killed three people since it started Sept. 12, and two men remain missing as of Tuesday. President Barack Obama declared a major disaster in the county Tuesday, releasing federal money to help with cleanup and recovery.A blaze in Calaveras and Amador counties, about 125 miles east of San Francisco, has killed two people since Sept. 9.Another fire that began Saturday was burning in Monterey County, about 120 miles south of San Francisco.
Charlie Liethen, right, embraces Sharon Dawson, who lost her home in a wildfire, in Middletown, Cali …__HOW MANY PEOPLE HAVE BEEN AFFECTED?More than 30,000 people were ordered to evacuate in the two fires that have destroyed 2,800 structures, including at least 1,700 homes. Most of that destruction was in Lake County, where more than 1,200 houses and apartment complexes burned.Evacuation orders have been lifted, with many residents returning to houses that were destroyed or too damaged to occupy. Displaced families were bunking with friends or relatives or staying in trailers.__HOW MUCH LAND HAS BURNED?The two fires have scorched 230 square miles.
Sharon Dawson, right, who lost her home in a wildfire, embraces a friend while visiting her Middleto …__ARE THE FIRES UNDER CONTROL?The Lake County fire was about 75 percent contained, while the fire in Calaveras and Amador counties was 80 percent contained. Combined, they were still threatening 9,500 structures._HOW DID THE FIRES START?The causes remain under investigation._WHAT'S FUELING THE FIRES?With California in its fourth year of drought, the wildfires are feeding on tinder-dry brush and trees. An estimated 25 million trees have died because of drought, including those killed by bark beetles, becoming fuel for flames._HOW BAD HAS FIRE SEASON BEEN?The state fire agency has responded to 1,600 more fires than the average from January to mid-September. In a usual year, the fires would have charred about 133 square miles. But this year, that number is 344 square miles.State and federal agencies have responded this year to 7,000 wildfires that have burned a total of more than 1,000 square miles._IS FIRE SEASON OVER?No. September and October are traditionally the worst months for wildfires.
Drone captures a serious shiver of sharks off Florida coast
Michael Franco September 23, 2015 This article, Drone captures a serious shiver of sharks off Florida coast, originally appeared on CNET.com.
shark.jpg The school of sharks (also known as a "shiver") captured in the video were likely black-tipped sharks like these. © Art Brewer/Water Rights/CorbisAccording to a recent report in UK newspaper The Telegraph, your odds of dying from taking a selfie are greater than those of dying from a shark attack. Still, an increase in attacks off the coast of North Carolina this year had residents of the US East Coast more leery about swimming in ocean waters than they had been in years.Those people should not watch the video below, which was posted by aerial photographer Cory Peterson on Vimeo Sunday.According to a report in the UK paper The Guardian, Peterson was fishing near Destin, on Florida's Emerald Coast, when he saw the group of sharks (which, yes, is known as a "shiver" — also a gam, herd, frenzy or school). He launched his camera-carrying drone to capture the group, and the result is the video below.Although it's tempting to draw sci-fi-like conclusions for the appearance of a group of prowling sharks in the waters off Florida (readying for another sharknado, eh?), there's likely a very good reason for their appearance.Related stories
According to Robert Hueter, the associate vice president for research at the Mote Marine Laboratory in Sarasota, Florida, the sharks in the video — likely medium-size black-tip sharks which measure about 5 to 7 feet long (about 1.5 to 2.1 meters) — do aggregate this way off the Florida coast during certain seasons."They're especially seen off the Florida East Coast where the water can be quite clear, often in the hundreds," he said. "Why they do this at times isn't well understood but it probably involves feeding and migration. Autumn is coming and water temperatures are coming down, and that may cue the sharks to prepare for moving south for winter."Hueter also said sharks in a shiver aren't necessarily more dangerous than lone sharks, unless you happen to encounter them during mealtime."Sharks in these groups are not more aggressive, unless they are feeding on a school of prey fish that bring them into a beach environment where people are swimming," he told CNET's Crave blog. "Then bites might occur when people basically get in the way. It's possible this is what happened last June in the Carolinas when a series of bites and attacks occurred."
Global warming: are trees going on strike?
 By Joshua Melvin5 hours ago
Flowers are seen on a blooming magnolia tree on April 7, 2015 in Strasbourg, eastern France (AFP Photo/Frederick Florin)Paris (AFP) – Trees, crucial absorbers of climate-harming carbon dioxide gas, may finally be balking at an ever-earlier spring season brought on by global warming, researchers said Wednesday.Over the past several decades, trees across central Europe have been steadily sprouting their spring leaves earlier in response to warmer temperatures, they said.As a result, forests absorbed more carbon dioxide in a longer growing season — a boon that has been worked into global warming projections.But a study published in the science journal Nature said trees have slowed their pace of seasonal advance — raising fears it may stop altogether.The slowdown "suggests a current and possible future weakening of forests' carbon uptake due to the declining temperature sensitivity of (trees)," lead author Yongshuo Fu of Peking University in Beijing told AFP.Forests play an important role in stemming global warming by absorbing carbon dioxide — the most abundant greenhouse gas — from the atmosphere.For the study, an international team crunched decades of data drawn from seven common types of trees like beech, silver birch and horse chestnut at 1,245 sites in the wild ranging from Denmark to Bosnia.The authors said previous studies had relied on saplings or twigs tested in laboratory settings and not exposed to real-world changes.In real life, they found, leaf-sprouting happened steadily earlier over two study periods: 1980-1994 and 1999-2013 — about 13 days overall over the past three decades.But when the scientists compared the two terms, they noticed the advance of earlier sprouting had slowed by 40 percent in 1999-2013."We found the response (to earlier spring) has declined over the past three decades, and strong winter warming may further reduce it," said Yongshuo.The planet's average temperature has already risen 0.8 degrees Celsius (1.4 degrees Fahrenheit) since the Industrial Revolution. The UN goal is to limit global warming to two C overall.The authors believe the trees may be trying to protect themselves against extreme weather.Many types of trees need a period of cold temperatures before they are ready to sprout spring leaves — a hardwired mechanism to ensure winter has truly passed before they push out buds.Weather conditions have become increasingly unpredictable and the trees' slower advance "would thus reduce the risk of late spring frost damage," the study said.
Seattle area traffic survival guide By KOMO
Staff Published: Sep 21, 2015 at 4:35 PM PDT Last Updated: Sep 21, 2015 at 11:16 PM PDT
»The visit of China President Xi Jinping Tuesday through Thursday is expected to create a number of traffic impacts across the Puget Sound region. We've created a page here to help guide you through the week, but officials stress to plan extra time to get around the city during the visit, as there will be intermittent street and freeway closures, in addition to a security zone in Downtown Seattle that willhave limited access to vehicle traffic.Xi's anticipated schedule has him arriving in Everett Tuesday morning at 9:30 a.m., then eventually head into Seattle. He'll be moving between Seattle, Everett, Redmond and Tacoma on Wednesday and will leave Thursday morning (Full schedule here, courtesy of the Puget Sound Business Journal.)Here are some tools to help you navigate through the traffic closures: Real-time Twitter feed from our traffic reporter Paris Jackson and regional DOT offices: seattledot @seattledot Roads are returning to normal for the night. Stay plugged in for the AM commute tomorrow. We're all in this together. pic.twitter.com/dsEDy0W5TL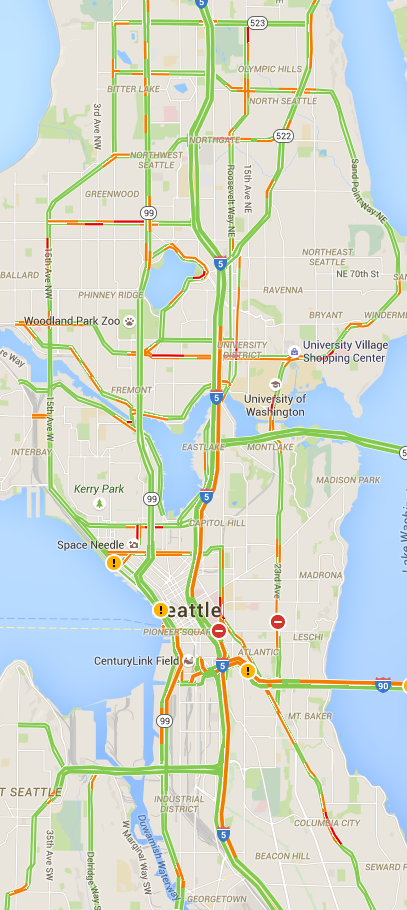 The security zone where traffic will be restricted around the Westin Hotel in Downtown Seattle: 
Vehicle access to the area bounded by Olive Street, 7th Ave., Lenora Street and 4th Ave. will be limited to 5th Avenue between Lenora and Virginia, and on Stewart between 6th and 7th Avenue, according to SPD.Need to get inside the blue box?  SPD has a Q&A page on what to expect going into and through the Downtown Security Zone, including if you're trying to get there by bike or foot as well.Other Helpful Links:
You can also get traffic updates every 10 minutes on the 4's throughout the day and night on KOMO NewsRadio AM 1000/FM 97.7
New Zealand deports would-be 'climate change refugee'
 40 minutes ago
View photoLow-lying Kiribati in the Pacific suffers from a range of environmental problems that have been linked to climate change, including storm surges, flooding and water contamination (AFP Photo/Michael J. Field)New Zealand has deported a Pacific islander who launched a failed bid to become the world's first climate change refugee, the man's supporters said Thursday.Ioane Teitiota was sent to Kiribati on Wednesday after exhausting all avenues of appeal in his four-year battle to stay in New Zealand.Teitiota, 39, had argued that he should not be sent back to Kiribati as rising seas threaten to deluge the island nation of 100,000 people, making it unsafe for him and his family.His pastor, reverend Iosefa Suamalie, confirmed Teitiota's departure after the expatriate Kiribati community's last-minute pleas were turned down.Suamalie said the future was uncertain for Teitiota's wife and three New Zealand-born children, who are expected to follow him to Kiribati next week."What we've been doing is trying to save this family seeking asylum here in New Zealand because of a form of persecution by climate change," he told Radio New Zealand."Going back to Kiribati, there is no life, there is no hope. We are sending back the children to a place that is not safe for them."Low-lying Kiribati suffers from a range of environmental problems that have been linked to climate change, including storm surges, flooding and water contamination.The situation is so dire that Kiribati's government has bought 2,000 hectares (5,000 acres) of land in Fiji to act as a farm for Kiribati if salt-water pollution means the former British colony can no longer produce crops.Teitiota moved to New Zealand in 2007 and overstayed his visa, coming to the attention of police in 2011 over a minor traffic violation.Earlier this year, New Zealand's Supreme Court acknowledged Kiribati faced challenges linked to climate change.But it ruled Teitiota did not meet the legal definition of a refugee because he would not face persecution if he returned home.Prime Minister John Key this week said Teitiota's argument lacked credibility and he had to abide by New Zealand's laws."I'm sure people feel for the guy… (but) in my eyes, he's not a refugee, he's an overstayer," he said.