World Earthquake Of 6.5 Magnitude Struck Southwest China, Killing 5 Tourists While Injuring More Than 60
Newsweek
8 hours ago
0:32
0:31
0:34
1:10
1:18
0:46
Earthquake Of 6.5 Magnitude Struck Southwest China, Killing 5 Tourists While Injuring More Than 60 A 6.5 magnitude earthquake struck southwest China. Five tourists have been killed so far according to the local government, while more than 60 people were injured. About 100 tourists are also trapped by a landslide.
Up to 100 feared dead, thousands injured in China quake: govt 
AFP
10 hours ago
Beijing (AFP) – A 6.5-magnitude earthquake rattled southwest China late Tuesday, killing at least five people, with up to 100 feared dead, according to a government estimate.Five people died and more than 60 were injured in the quake, the official Xinhua news agency said, including 30 who were in critical condition.But China's National Commission for Disaster Reduction estimated that as many as 100 people may have perished, based on 2010 census data of the mountainous, sparsely populated region.Over 130,000 houses may be damaged, it added in a statement posted on its website, based on a preliminary analysis of the disaster in a remote region of Sichuan province.The quake occurred around 9.20 pm (1320 GMT), not far from the site of a massive 8.0-magnitude earthquake that struck in 2008 leaving 87,000 people dead or missing.Its epicentre was 284 kilometres (176 miles) north of the provincial capital Chengdu and struck at a depth of 10 kilometres, the US Geological Survey said.The affected region, Jiuzhaigou county, includes one of the country's most famous national parks, a UNESCO World Heritage Site known for karst formations and lakes.At least one tourist was killed and four others injured in the park, the state-run People's Daily newspaper said, with more than 100 other people trapped there.More than 38,000 people visited the tourist site on Tuesday, according to the official Xinhua news agency.Restaurant owner Tang Sesheng fled her establishment in Jiuzhaigou town after she felt the earth moving under her."I was also in Jiuzhaigou in 2008 during the last big quake, so I knew what it was. This felt even stronger," she told AFP by phone.She said people had come out of their homes to sit out in the town's large public square, far from any tall structures, afraid to go back inside for fear that buildings might topple.Many were also sitting in cars, thinking it safer."People didn't dare grab anything like money or clothes — we just all ran outside right away."Electricity was cut off briefly, but was then restored, she said.Some houses at the scenic spot collapsed following the quake and authorities were organising young people to help evacuate residents, a staff worker at the park told Xinhua.Photos from the area posted to social media showed masses of people milling about on streets scattered with light debris, and a taxi dented from being hit by a large boulder.Over 600 fire officers and soldiers have been deployed, the People's Daily newspaper said.China is regularly hit by earthquakes, especially its mountainous western and southwestern regions.Earlier today, a landslide triggered by heavy rains killed at least 24 people in a different, mountainous region of Sichuan to the south of Chengdu.
TS Franklin poses hurricane threat for Mexico's Gulf coast
Associated Press
View photosPeople walk along the waterfront after the passage of Tropical Storm Franklin in Mahahual, Quintana Roo state, Mexico, Tuesday, Aug. 8, 2017. Residents said the beach had shrunk by several meters the morning after the storm struck. A weakened Tropical Storm Franklin chugged across Mexico's Yucatan Peninsula Tuesday, dumping heavy rain after coming ashore on the Caribbean coast. (AP Photo/Israel Leal)MEXICO CITY (AP) — Tropical Storm Franklin crossed the Yucatan Peninsula on Tuesday and moved out into the open sea, with forecasters predicting it would strengthen into a hurricane before making a second landfall on Mexico's central Gulf coast.The U.S. National Hurricane Center said the storm's center was 325 miles (525 kilometers) east-northeast of Veracruz late Tuesday and it was heading west-northwest at 10 mph (17 kph).Franklin began gaining strength after getting over open water again, with its maximum sustained winds rising to 50 mph (85 kph). The hurricane center predicted it would gain more power as it moved across the lower reaches of the southern Gulf of Mexico and be a hurricane by the time it moved ashore late Wednesday or early Thursday.A hurricane watch was in effect along the Mexican coast from Veracruz to Tuxpan. A tropical storm warning was posted from Veracruz east to Celestun and from Tuxpan north to Rio Panuco. Tropical storm-force winds extended up to 185 miles (295 kilometers) from the center.Mexico Civil Protection director Ricardo de la Cruz said earlier that the storm's impact in Yucatan was not as bad as initially feared, with some trees down and power out in some areas.But, he warned, "The second impact could even be stronger than the first."Franklin's rains posed the threat of flash floods and mudslides in the mountains of central Mexico.Four to eight inches (10 to 20 centimeters) of rain were forecast for mainland areas in the storm's path, with localized amounts of up to 12 inches (35 centimeters).
Weaker TS Franklin crosses Yucatan, aims for Mexico mainland
Associated Press
View photosClouds hang over the beach in Tulum, Quintana Roo state, Mexico, ahead of the arrival of Tropical Storm Franklin, Monday, Aug. 7, 2017. A weakened Tropical Storm Franklin chugged across Mexico's Yucatan Peninsula Tuesday, dumping heavy rain after coming ashore on the Caribbean coast.(AP Photo/Israel Leal)MEXICO CITY (AP) — A weakened Tropical Storm Franklin emerged over the Bay of Campeche early Tuesday evening after crossing the Yucatan Peninsula on a path expected to produce a second landfall on Mexico's central Gulf coast later this week.The U.S. National Hurricane Center said the storm's center was 40 miles (60 kilometers) northwest of Campeche and was heading west-northwest at 12 mph (19 kph).Franklin's maximum sustained winds slowed to 40 mph (65 kph) after it came ashore on Yucatan's Caribbean coast overnight, but it was expected to strengthen again Wednesday while crossing the Bay of Campeche in the southern Gulf of Mexico. It was predicted to move ashore a second time late Wednesday or early Thursday.Mexico Civil Protection director Ricardo de la Cruz said at a news conference that the initial impact on Yucatan's Caribbean coast was not as bad as initially feared. Trees were down and power was out in some areas, he said."The second impact could even be stronger than the first," De la Cruz warned.Franklin's rains posed the threat of flash floods and mudslides in the mountains of central Mexico.Three to six inches (7.5 to 15 centimeters) of rain were forecast for Yucatan, with localized amounts of up to 12 inches (35 centimeters).A hurricane watch was in effect for Mexico's coast from Veracruz to Rio Panuco. A tropical storm warning was posted from Rio Lagartos to Sabancuy and from Veracruz to Rio Panuco. Tropical storm-force winds extended up to 140 miles (220 kilometers) from the center.
Torrential rains bring widespread flooding to Houston area
JUAN A. LOZANO Associated PressRaw: Heavy Rain Floods Houston-Area Streets HOUSTON (AP) — Heavy rains that caused flooding in some parts of the Houston area and prompted about two-dozen water rescues on Tuesday eased before causing major damage, but with more rain expected authorities remained on guard and warned residents to stay alert.While thunderstorms that dropped up to 5 to 6 inches of rain in some parts of Houston overnight had mostly moved out of the area Tuesday, additional storms could pop up Tuesday evening, which could cause additional flooding in areas already saturated by rainfall."We don't want anyone to let their guard down just because it stopped raining for now," said Michael Walter, a spokesman for Houston's Office of Emergency Management.Authorities plan to pre-stage emergency vehicles and barricades in different areas of Houston in case expected rainfall Tuesday afternoon and evening becomes problematic, he said.The National Weather Service has issued a flash-flood watch for the region until Wednesday morning. The weather service said additional rainfall was forecast for Tuesday night, but the greatest potential for heavy rain was expected in areas east of Houston.Jeff Lindner, a meteorologist with the Harris County Flood Control District, said he expects some homes and structures will be flooded but that tally is still being determined. Houston is located in Harris County.While flooding is nothing new in Houston, the nation's fourth-largest city has had more frequent and destructive floods in its recent history.Since 1986, extreme downpours — the type measured in double-digit inches — have occurred twice as often as in the previous 30 years, an AP weather analysis last year showed.Houston is the only major U.S. city without zoning rules, and unrestrained development has also meant more pavement and less water-absorbing wetlands that could help mitigate flooding.Jose Luis Ruiz spent Tuesday sweeping out about 1 foot of water that flooded his North Houston resale shop and moving soggy merchandise, including furniture, suitcases and small appliances, outside to dry.Ruiz, 53, said he will likely have to throw away at least $2,000 in merchandise and is now looking to move his business, which has flooded twice before and is located behind a bayou that overflowed from its banks on Tuesday."It's very sad because this is a small business. It's not a grand thing but it's our living. When this happens, it's a blow to you because you have to start over," Ruiz said.A lack of heavy rain through Tuesday afternoon had helped return all bayous and creeks to within their banks and cleared all reported high water locations along Houston roadways.Many of the streets, roadways and neighborhoods that got flooded on Tuesday were locations that have had flooding in the past, Lindner said."This is one of the more kind of marginal rain events, where the rain stopped just an inch or two before we really got into serious problems and potential to affect a lot of homes," Lindner said.For the most part, the area's system of bayous and other man-made channels that dispatch storm runoff to the Gulf of Mexico "did a good job even though the ground was wet and the rainfall was very intense overnight," Lindner said.According to the flood control district, only a few local bayous had overflowed their banks and caused some flooding of homes and businesses.Both Lindner and Walter said recent heavy rain events in Houston in May 2015 — when seven people were killed — and April 2016 — when eight people were killed — were more serious and caused hundreds of millions of dollars in damage.The same storm system that hit Houston also brought widespread flooding to San Antonio and other areas on Monday. The San Antonio area was mostly clear on Tuesday with some scattered showers and thunderstorms._Follow Juan A. Lozano on Twitter at www.twitter.com/juanlozano70
The Latest: Houston shop 1 of several damaged by flooding
Associated PressRaw: Heavy Rain Floods Houston-Area Streets HOUSTON (AP) — The Latest on heavy rains that have flooded some parts of the Houston area (all times local):4:20 p.m.A Houston business owner whose store was flooded by heavy rains in the Houston area says he got about 1 foot of water in his resale shop and will have to throw away at least $2,000 worth of merchandise.Jose Luis Ruiz sat inside his shop in North Houston Tuesday afternoon after sweeping out water and moving soggy merchandise, including furniture, suitcases and small appliances, outside to dry.The shop is in a strip mall located behind Halls Bayou, one of the many waterways that help channel storm runoff to the Gulf of Mexico. Halls Bayou overflowed from its banks, flooding streets and structures.Ruiz says his business has flooded twice before and he's looking to move.Officials are still determining how many businesses and homes were flooded on Tuesday._11:14 a.m.Heavy rains have caused flooding in the Houston area but officials say the downpours stopped just before there could be potential for serious damage to a wide stretch of homes and roadways.Jeff Lindner, a meteorologist with the Harris County Flood Control District, says 5 to 6 inches of rain fell overnight Tuesday in some parts of the Houston area.Officials reported nearly two-dozen water rescues Tuesday. Lindner says he expects some homes and structures will be flooded but that tally is still being determined.The National Weather Service has issued a flash-flood watch for the region until Wednesday morning.Lindner says a break in the rain Tuesday should help waters recede from bayous and streets.The same storm system brought widespread flooding to San Antonio and other areas Monday._7:13 a.m.Torrential rains have brought more flooding to the Houston area as emergency officials urge motorists to stay home until the water recedes.About 6 inches (15 centimeters) of rain have fallen across much of Harris County, including Houston, and more has swamped suburbs west of the city.Authorities are warning motorists of more than a dozen areas of high water along highways. Fire officials say they've conducted about two-dozen water rescues Tuesday, mostly pulling drivers from their stranded cars.Houston officials launched emergency operations early Tuesday following the heavy rain that began a day earlier. The National Weather Service has issued flash-flood warnings for the region.The same storm system brought widespread flooding to San Antonio and other areas Monday.
Firefighters Rescue Man Stranded Atop SUV In San Antonio Floods
Shubham Kishore
International Business Times
Heavy rains in south central Texas on Monday flooded many streets in the cities of Georgetown and San Antonio. While many streets had to be closed, rescue operations were carried out to evacuate people stranded due to the flooding.The Fire Department of San Antonio rescued a person who was stuck on the top of an SUV as water inundated the street. The driver was stuck at Pinn Road near Highway 151, a low lying stretch, at around 10:30 a.m. (11:30 a.m. EDT), 
reports said
.
WATCH: 
Suspected Cartel Gunmen Open Fire At Tourists In Mexico Beach
Firefighters parked their vehicle at a distance from the car and tried to reach the man who was sitting atop the SUV. However, even after fully extending the ladder available on their truck, the firefighters were not able to reach the stranded car.After the initial failed attempt, the firefighters added another ladder to their existing one and managed to bridge the gap between the two vehicles. The driver was rescued safely, and officials said as soon as he was evacuated, the car was carried away by the rushing waters.According to officials, the man, who wasn't identified, was on his way to work when flood waters rushed through the streets and submerged his vehicle. He managed to get out of the car and sit atop it. Officials said that he was the only person in the car and he did not sustain any injury.The firefighters were also ready with a boat to rescue the man if they failed in their attempts to reach the man from their vehicle. Officials said that while heavy rains had hit the city, constructions in the area had caused drainage issues which led to the flooding.According to the fire department, they responded to more than 20 such rescue requests, most of which were related to vehicles stuck in water.In another rescue operation, a woman was rescued by boat after her vehicle was stranded on a flooded road. The woman, who was also not identified, might face charges for driving through a barricaded flooded road,
 reports said
.The man in the video, however, would face no charges as the road on which he was stranded was not barricaded.Two people trapped in vehicles were also rescued in Bexar county.Around 2-4 inches of rainfall was reported in the area, reports said. Several college and university campuses were closed due to the flooding, 
reports said
. Rains and thunderstorm are expected to continue in southern U.S, which may increase the risk of flash floods in the region, 
accuweather.com 
reported.
READ:
International Cat Day 2017: Photos And Facts About Felines
"An unsettled pattern will lead to numerous showers and thunderstorms, perhaps heavy ones, from the southern Plains to the Tennessee Valley and Carolinas early this week," AccuWeather senior meteorologist Frank Strait said.The forecast stated that rains and thunderstorm would continue till late in the week. With several inches of rain expected in the days to come, storm water lines and drains may stop functioning properly leading to traffic and road blockage problems.
Summer on steroids: Fires, devilish heat waves, and floods
Andrew Freedman
Mashable
•
View photos
On July 7, Mike Flannigan, a scientist at the University of Alberta, stared at satellite imagery on his computer as one wildfire after another ignited across British Columbia during the course of the unusually hot day.
Like much of the Western U.S. this summer, British Columbia has been under the influence of a broad area of high pressure in the atmosphere, which inhibits storm systems that could bring beneficial rainfall, and favors hotter and drier weather than average. In total, 140 wildfires began on that one day, setting what may be a new record, Flannigan said in an interview. SEE ALSO: One of the largest icebergs ever recorded just broke free of AntarcticaThat warm and dry weather pattern has proven to be remarkably resilient as the province's wildfire woes have worsened to the point where the 2017 fire season — which isn't over yet — is already the second largest on record there, burning about 1.4 million acres through Monday. In Canada, Flannigan said, the area burned each year has doubled since the 1970s, despite improvements in fire management."This is due to human caused climate change," he said. "I can't be more direct than that."It's not just British Columbia that's suffering this summer either. Across the globe, it's as if summer weather is on steroids, with searing heat waves, deadly flash floods, and massive fires affecting many areas. Scientists say that we'd better get used to it, thanks in part to global warming. A new normal Events during the past few months show how warming temperatures combined with natural climate variability are tipping the odds in favor of extreme weather that can cause damage around the world. Studies have tied the increasing number of large fires in parts of Canada and the U.S. to global warming. In fact, the level of fire activity across the boreal forests, which stretch from Alaska to Canada and around the top of the world to Scandinavia and Russia, is unprecedented in the past 10,000 years, according to a study published in 2013. Wildfires haven't just been confined to the far north this year either. In the U.S., 5.9 million acres have burned in fires so far in 2017, mainly across the West, which is 1.9 million acres above the past decade's annual average amount. As of Monday morning, firefighters were battling 11 large blazes in California alone, with additional large fires burning in Idaho, Montana, Nevada, Oregon, Washington, and Wyoming.
View photos Map showing atmospheric circulation anomalies during the past 90 days, with the Western ridge circled in black.Image: noaa/mashableA wet winter followed by a dry, hot summer has provided the perfect set up for a blockbuster fire season in much of the West. The winter fostered the growth of vegetation that is now serving as fuel for the fires. There is still some uncertainty in attributing wildfire trends to-date to human-caused climate change, although climate models are in agreement that fire activity will increase in a warming climate. A forthcoming federal climate assessment leaked to the New York Times on Monday, for example, found "medium confidence for a human-caused climate change contribution to increased forest fire activity in Alaska in recent decades, but low confidence for a detectable human climate change contribution in the western United States based on existing studies." It did, however, note the expectation for more wildfires in future decades.Valerie Trouet, an associate professor in the tree-ring lab at the University of Arizona in Tucson, said the West is facing a "perfect storm for extreme fire.""One, there is a combination of wet winters and dry summers," she said in an interview. "Two is the overall warming temperatures on top of that, which makes firefighting more difficult, which makes fires stay hotter" and burn longer, Trouet said. 
View photosFlames from a wildfire consume a residence near Oroville, Calif., on July 9, 2017.Image: AP/REX/Shutterstock"Another factor that comes into play is the fact that we've been putting out fires for a century or more so there is a very dense fuel load so that when a fire lights it's going to get very big, very fast."Trouet is also investigating changing jet stream patterns to see how they may be related to wildfire patterns, particularly in southern Europe, which has been ablaze this summer, with deadly consequences."A lot of the extreme weather that we're seeing is also related to a wavier jet stream that is a side effect of climate change," she said, since there are now longer, more persistent weather patterns that can cause more extreme events to fester.She acknowledged that scientists don't yet know what may be driving this shift, but mounting evidence shows that it's taking place. Trouet is far from an outlier in thinking that something odd is going on with the jet stream, which plays a dominant role in steering weather systems around the globe. Flannigan, too, cited jet stream shifts as playing a role in igniting fires in some areas, including parts of Canada, while suppressing them in others. "Expect more of this," he said. For example, high pressure ridges — like the one above British Columbia now — have long been known to be conducive to fire, but "they're becoming stronger and they're staying longer."In other words, weather phenomena are tending to arrive and persist for an unusually long period of time, like an unwelcome houseguest that just won't leave. Michael Mann, the director of the Earth System Science Center at Penn State University, has been studying stuck weather patterns. "A number of recent extreme summer weather phenomena such as the 2003 European heat wave, 2010 Moscow fires/Pakistan floods, 2011 Texas/Oklahoma heat wave & drought, 2015 California wildfires (and more recent events we are currently looking at) were associated with this phenomenon," Mann said in an email. Although other factors come into play, he said, "We do think this is a contributor to the increasing number of highly persistent extreme weather events over the past two decades."Fires and record heatThe wildfires this year have occurred in concert with, and sometimes even helped to offset, summer heat waves. Ironically, it was the smoke from the fires in British Columbia that blotted out enough sunshine in Seattle and Portland to keep some all-time high temperature records from being broken during an intense heat wave during the first week of August. Even so, Seattle reached a peak temperature of 94 degrees Fahrenheit, and Portland, unaccustomed to severe heat waves, stewed in a smoky, hazy 105-degree day on Aug. 3.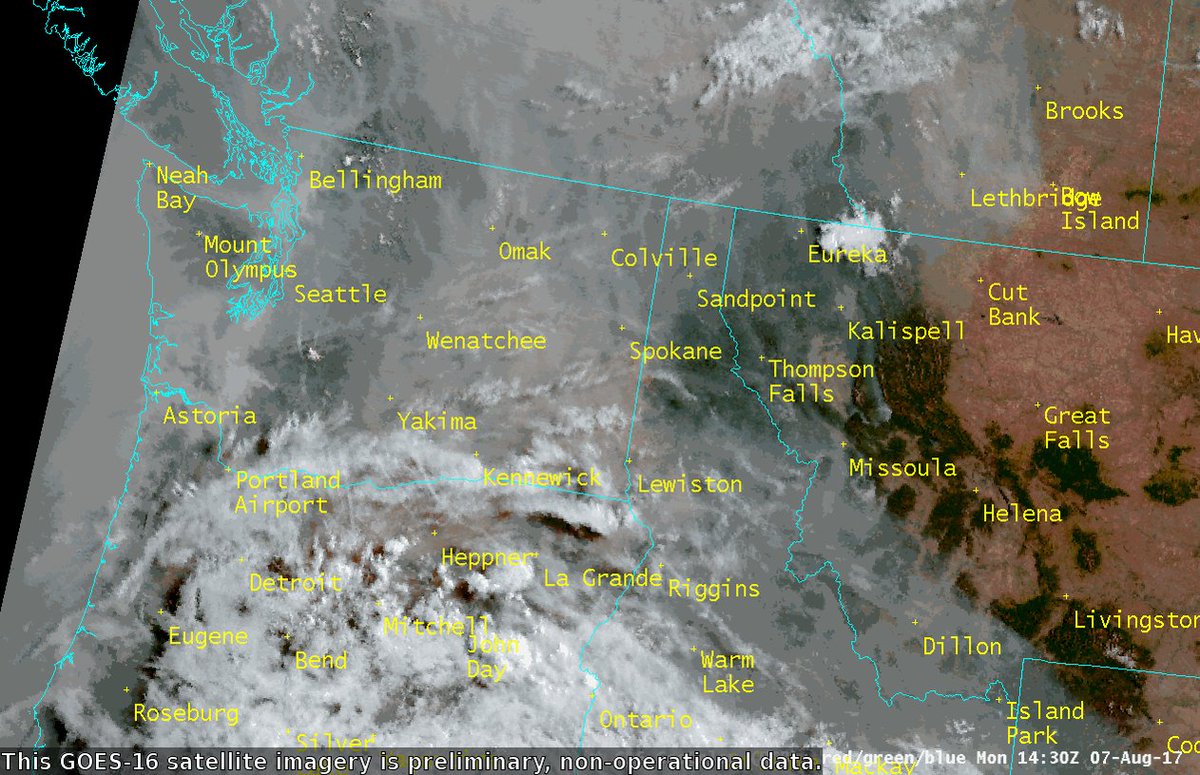 Follow
NWS Spokane @NWSSpokaneHere's the morning visible satellite loop from GOES16. Lots of smoke over the entire region. #wawx #idwxAround the world, signs of a planet with a worsening fever are widespread. While natural weather variability still plays a dominant role in day-to-day conditions, climate change is tipping the balance in favor of certain types of climate extremes over time, with none more closely linked to warming than heat waves. While each heat wave has its own distinct mix of causes, the sheer number of events and records that have fallen so far this summer is noteworthy.Right now, in parts of Europe, a severe and prolonged heat wave, nicknamed "Lucifer," has gripped the continent. Spain, France, Serbia, Romania, and Croatia are all seeing temperatures soar into the 110s Fahrenheit. It will take time to determine how many people died as a result, but at least two fatalities have been directly attributed to it so far. While summers tend to be hot in parts of Spain and southern Europe, this heat wave has been exceptional in terms of its high temperatures and long duration. According to the Associated Press, train routes had to be canceled in southern Serbia after tracks warped from the heat. The heat and dry weather has caused officials to implement water conservation measures in Rome, including shutting down famous fountains in Vatican City. 
View photosImage: climate central A June heat wave contributed to a deadly wildfire in Portugal that killed upwards of 60 people while injuring more than 200. Heat and fires also affected Spain, France, and Switzerland during that period, among other countries. Climate scientists have yet to study many of the specific extreme events underway around the world, but the July heat prompted an investigation from an international team specializing in a form of climate detective work known as extreme event attribution. The researchers from England, France, Switzerland, and the U.S., found that climate change made the intensity and frequency of such extreme heat at least twice as likely to occur in Belgium, at least four times as likely in France, Switzerland, the Netherlands, and central England, and at least 10 times as likely as Portugal and Spain. 
View photosFires burn around the picturesque hilltop town of Bormes-Les-Mimosas, France.Image: AUFFRET/SIPA/REX/Shutterstock On July 21, Shanghai, China, which is the most populated city in the world with 24 million residents, set a record for its hottest day since record-keeping began there in 1872. The high temperature on that day was 105.6 degrees Fahrenheit, or 40.9 degrees Celsius, and it fits with a pattern of hotter weather in that city. Other exceptional heat records have been set this spring and summer across the globe, partly as a consequence of rising global average temperatures in response to increasing amounts of greenhouse gases, such as carbon dioxide, in the atmosphere. In May, the western Pakistani town of Turbat hit a stifling 53.5-degree Celsius high temperature, which was a whopping 128.3 degrees Fahrenheit. This tied the all-time highest temperature for Pakistan, and came close to tying the world record for hottest temperature on record, set in Mitribah, Kuwait, in 2016. According to Weather Underground, Spain, France, Belgium, the Netherlands, Ireland, Norway, Germany, and Austria all set or tied national monthly temperature records for the month of May when a late-month heat wave set in. This included a high temperature of 90 degrees Fahrenheit in Tinnsjø, Norway on May 27. 
Alaska also set high temperature records this summer, and given climate trends in the state, these are worrisome ones for local residents under whom the ground is literally shifting as permafrost melts, releasing long-trapped greenhouse gases and further warming the climate. Barrow, Alaska, on the northern tip of the state above the Arctic Circle, had its warmest July on record, and at least three locations in central Alaska had their warmest month of any month this past July. Even normally hot places have been unusually hot. Take Death Valley, California, for example, which has the reputation for being one of the hottest spots in the U.S. In July, Death Valley set the record for not only its hottest month, but the hottest month on record for any location worldwide. The average temperature for the month of July was 107.4 degrees Fahrenheit. 
View photosChildren playing in a fountain in Seattle during a heat wave on Aug. 2, 2017.Image: AP/REX/ShutterstockTo get an average monthly temperature that high, you need some extraordinary heat, and Death Valley had that in spades. The temperature never fell below 89 degrees Fahrenheit all month, and one night the low temperature was 103 degrees. (But at least it was a dry heat, right?)Like many of the other heat waves detailed here, the Death Valley record occurred as a result of a large area of high pressure, which is sometimes referred to as a heat dome, sitting over the region for an extended period of time. Some studies have shown that certain weather patterns associated with contortions of the jet stream are linked to such extremes and influenced by climate change."We often think of climate change as a distant issue, one that only matters to future generations," said Katharine Hayhoe, a climate researcher at Texas Tech University. "Yet many of us are already experiencing its impacts here and now, as human-induced climate change interacts with, and exacerbates, natural patterns such as the heat and heavy downpours that already characterize our summers."
Severe weather
The excessive heat has been accompanied by severe weather in many places, with thunderstorms erupting along boundaries separating air masses.
On Aug. 6, stationary thunderstorms flooded the low-lying city of New Orleans, dumping up to 10 inches of rain on parts of the city in just a few hours time. This rain overwhelmed the city's pumping system that is designed to move water out of city streets and into Lake Ponchartrain, turning streets into rivers and flooding many homes and businesses.
According to Nola.com, the pumps are designed to handle an inch of rain in the first hour, and a half an inch of rain during subsequent hours, but the storms dropped far more than that.
Like extreme heat, precipitation extremes have also been tied to climate change, since warming air and sea temperatures serve to increase the supply of moisture available for storm systems. More precipitation is now falling in heavier bursts in parts of the world, testing infrastructure such as the 24 pumps in New Orleans.
A series of spectacular cyclones are criss-crossing the Arctic over next 10-days. Will dump considerable snow on sea-ice pack.
"We do have climate change, which means warmer oceans, always now potentially providing a greater source of moisture to enhance rain events by 5 to 20 percent, and with extremes even higher," said Kevin Trenberth, a climate researcher at the National Center for Atmospheric Research in Boulder, Colorado. "New Orleans may be a case in point, like the Louisiana floods a year ago," he said in an email.
There have been some cool spots of note, too. Much of Germany and western Russia have had a remarkably cool summer so far. And the Arctic, which is normally dominating climate headlines for its rapid sea ice loss at this time of year, has been flirting with all-time low sea ice levels but running unusually cold and cloudy for this time of year.
A series of storms is set to sweep across the Arctic Ocean in coming days, dumping snow on sea ice, potentially averting another all-time record low sea ice extent in September.
It's worth considering that the summer of 2017 offers a glimpse into our climate future — which looks even more challenging depending how much countries succeed in cutting greenhouse gas emissions.
In April, researchers reported that by midcentury, what is considered extreme heat now will be commonplace in much of the world.
In other words, Death Valley, here we come.
Science PHOTOS: A 'Massive' Wildfire Is Now Blazing In Greenland NPR.org 1 hour 37 minutes ago
In a region better known for its ice and snow, it's a fire that now has scientists struggling to learn more. Since at least the end of last month, a stretch of land in western Greenland has been alight with a with a "sizable wildfire," NASA says.The agency's European counterpart, the ESA, was a little more emotive in a recent tweet sharing imagery from one of its satellites: "This Sentinel-2 image of Greenland shows [a] massive forest fire," the ESA tweeted. "Yes it is Greenland."View image on Twitter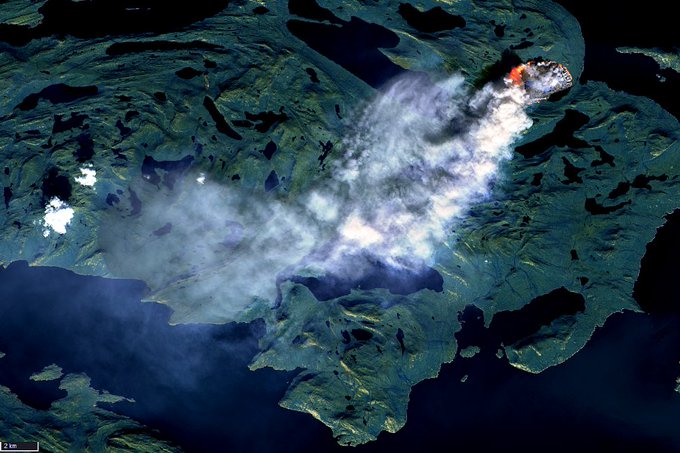 Follow
Meteos @Meteos_#Wildfire au milieu du #Groenland toute la semaine,au dessus du 65°N, encore actif hier. Ici image sat #sentinel2 du jeudi 3 aout #Greenland The fire is burning roughly 90 miles northeast of Sisimiut, a town of about 5,500 that rests on the island's west coast, according to NASA. Citing local reports, the publication Climate Central reports the fire observed by the agency consists of a series of blazes — the largest of which is about 3,000 acres.Researcher Stef Lhermitte of the Netherlands' Delft University of Technology strung together a week of images of the fire, as seen from space.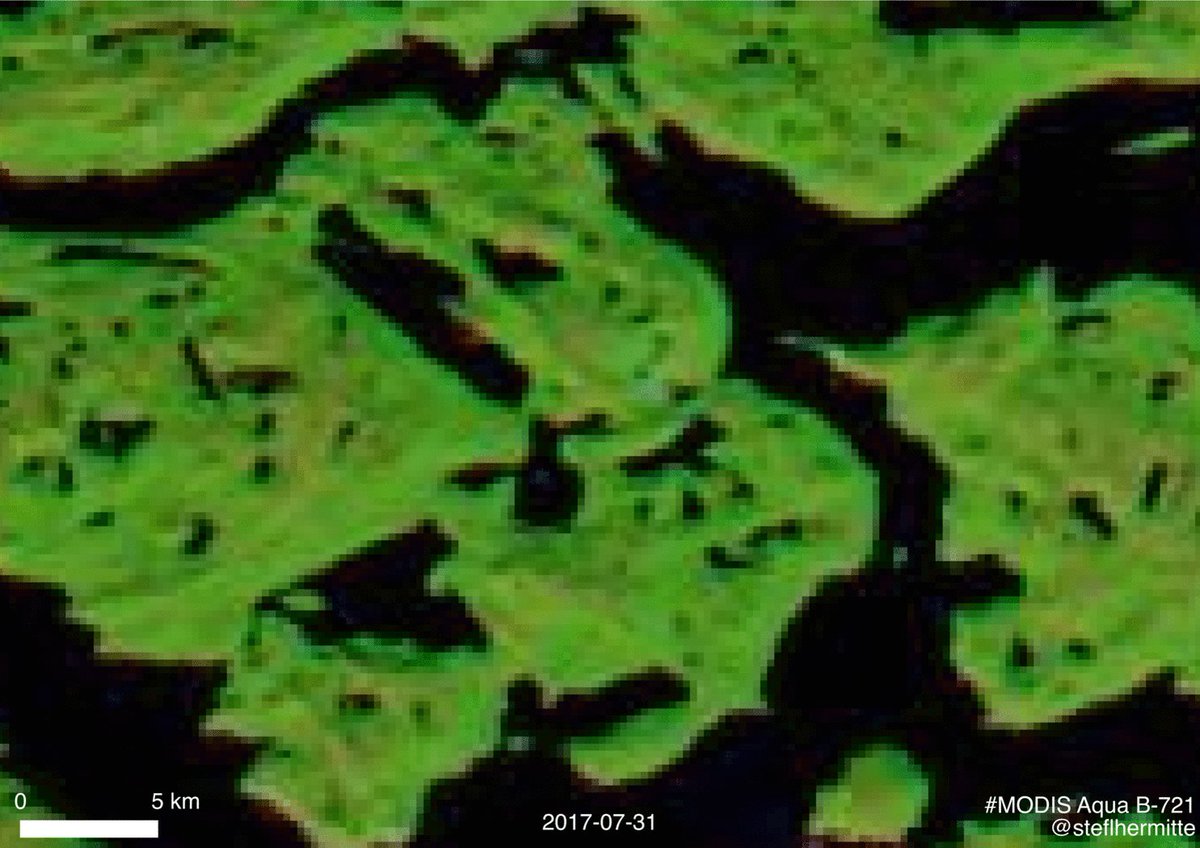 Follow
Stef Lhermitte @StefLhermitteA week of the Greenland wildfire burning as seen from MODIS Aqua/Terra satellites @Pierre_Markuse @m_parrington@ruth_mottram @jmccarty_geo "These fires appear to be peatland fires, as there are low grass, some shrub, and lots of rocks on the western edge of the Greenland Ice Sheet," Jessica L. McCarty of Miami University told Wildfire Today.As The New York Times has pointed out, peat is especially vulnerable to the effects of climate change — drying out as temperatures rise — and especially dangerous for exacerbating climate change if it burns."It's carbon that has accumulated over several thousands of years," one researcher told the paper last year. "If it were to be released, the global CO2 concentration would be much higher."NASA notes the fire, while not unprecedented in Greenland, still makes for an "unusual event" on an island mostly covered by ice. The agency points to an analysis pulled together by Lhermitte, who demonstrates that NASA satellites have detected an "exceptional" number of wildfires in 2017.View image on Twitter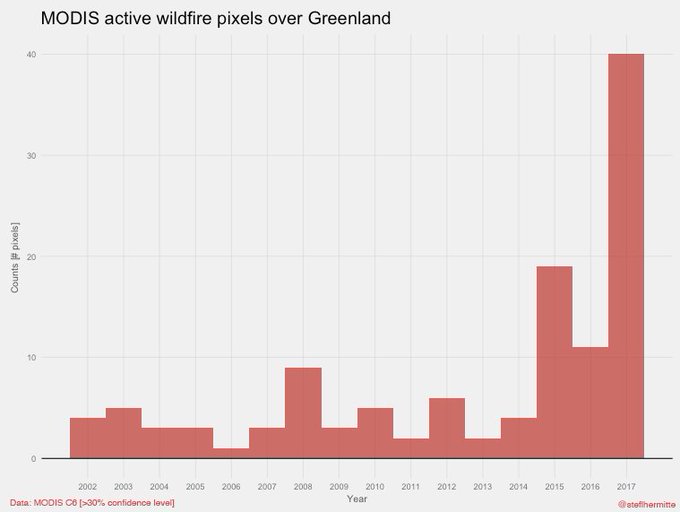 Follow
Stef Lhermitte @StefLhermitteReplying to @StefLhermitte and 8 othersTo wrap up: wildfires have occurred in the past over Greenland but 2017 is exceptional in number of active fire detections by MODISIt remains unclear what triggered the blaze or how long it will last — but satellites from both NASA and the ESA continue to watch it burn from space.The fire in Greenland, as seen last week by the ESA's Copernicus Sentinel-2 and processed by researcher Pierre Markuse.Pierre Markuse/Flicker
World The Reason China Can't Find Anyone to Operate Its Alien-Hunting Telescope
 Grace Lisa Scott,Inverse 10 hours ago China continues to up its game in space sciences, including one particularly ambitious project, the world's largest radio telescope. There's just one problem: they can't find anyone to operate it.The country's government is looking to hire a foreigner as chief scientist to oversee the telescope's daily operation, reports the South China Morning News, and it's even offering free housing and a $1.2 million salary to boot. But no one has been hired, presumably because of challenges associated with the job and the high level of requirements needed to even apply.The "Five-hundred-meter Aperture Spherical Telescope", or FAST, is a $180 million, 1,600 foot-long radio telescope that's capable of receiving radio signals from as far as 1,000 light years away; making it a leading instrument in the search for alien life. To give you an idea of its scale, FAST is roughly the size of 30 soccer fields.In 2016, Breakthrough Initiatives — an organization founded by Russian billionaire Yuri Milner to investigate extraterrestrials — partnered with China to get the telescope online, but despite such high-profile backing, nobody has come forward to fill this managerial role.There are probably a couple of reasons why:
It's a really, really big telescope.Although FAST was completed last year, the chief operator would be contending with some significant technical variables. Important components, such as the signal receiver and over 4,500 moveable reflection panels on the telescope's dish require extensive testing and calibration, according to South China Morning News. A chief operator would likely have no time for their own research, working long and irregular hours, managing the telescope in its infant years. The project's location may also seem less than ideal to some, as its nestled in the mountains of Guizhou, a very remote and undeveloped part of southwest China.It's become even more remote, in fact, because in February of 2016, the Chinese government evicted about 9,110 residents within a 3.1 mile radius of the telescope, claiming they could potentially mess with the electromagnetic wave environment, and offering a measly $1,822 in compensation. It was an unlikely occurrence, considering most (or possibly all) of the rural villagers wouldn't have sophisticated technology at their disposal to actually do that. But anyway…The candidate requirements are intense, too. The winning applicant must have 20 years of experience and must have held a leading role on a large-scale radio telescope project — because there are so many of those. The job also requires the successful applicant to have held a professorship or equally senior role at a highly respected research institute or university. Wang Tinggui, a professor of astrophysics at the University of Science and Technology of China told South China Morning News that it's a tall order."These requirements are very high. It puts most astronomers out of the race. I may be able to count those qualified with my fingers." he said"It is not a job for a scientist. It's for a superhero."Photos via Getty Images, Twitter/ People's Daily, ChinaWritten by Grace Lisa ScottMore articles by Grace Lisa • Follow Grace Lisa on Twitter
U.S.Before and After Photos of California's Drought Are Staggering to See
California looks a bit unfamiliar to residents these days: following historic rainfall, the state's landscape has bloomed, bringing life to its formerly brown hills dogged by drought. On April 7, California Governor Jerry Brown officially lifted the state's emergency water provisions, thus declaring an end to a record-breaking drought. Brown, who's been particularly critical of President Donald Trump's climate policies, declared an end to the water restrictions he imposed in January of 2014. "This drought emergency is over, but the next drought could be around the corner," Governor Brown's statement read. "Conservation must remain a way of life." California's six-year drought had reached unprecedented …Before and After Photos of California's Drought Are Staggering to See by ELEANOR SHEEHAN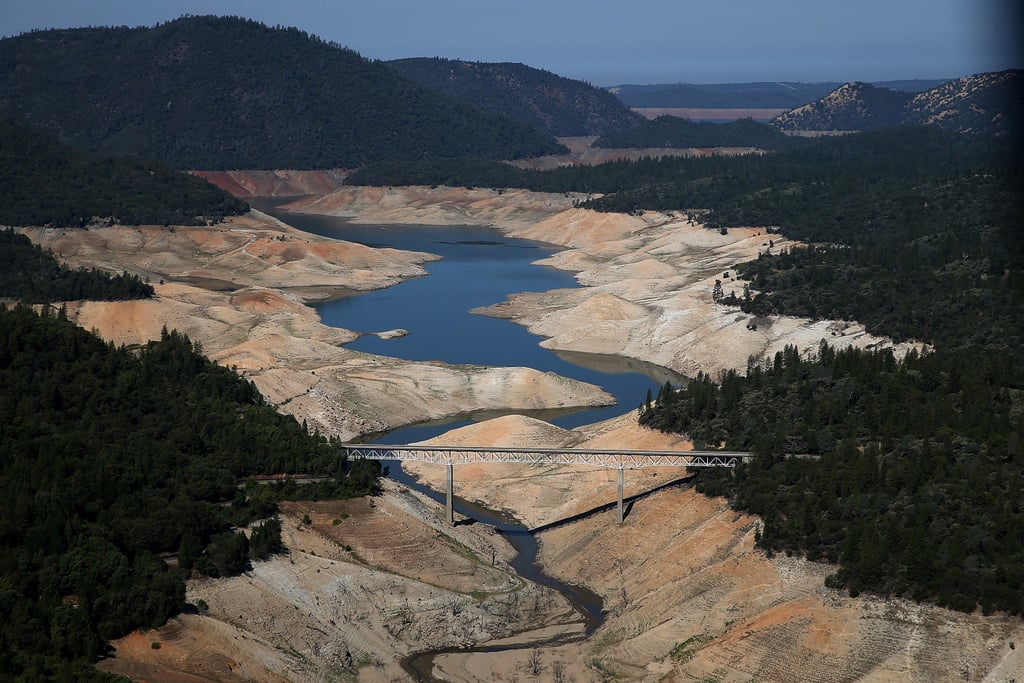 The 12 easiest and cheapest countries for gaining European Union residency Ben Moshinsky
In Green/ShutterstockLONDON – Most countries in the world offer a deal offering fast-tracked residency permits and, ultimately, citizenship in return for investments in local businesses and property.With the UK voting to leave the European Union last June, it is more attractive for wealthy Brits to look elsewhere for access to the European single market and the freedom of movement to travel and work across the 28-nation trading bloc.A study by citizenship consultancy firm Henley and Partners analysed the programmes offered by different governments across the world, ranking them by value, quality and reputation among other metrics.Here are the EU countries that performed the best for cheap and easy access to residency.View As: One Page Slides 12. Bulgaria — A deposit of around €500,000 in a Bulgarian government bond portfolio for five years is enough to qualify for Bulgaria's residency programme.
RossHelen/Shutterstock 11. Greece — After being granted a so-called "D" visa, investors can apply for Greek residency after purchasing properties with a total value of €250,000.
Tobias Van Der Elst/Flickr 10. Cyprus — The Mediterranean island offers a low corporation tax of 12.5% for residents' businesses but to apply you need to buy a property worth more than €300,000.
cyprustourismch/Flickr 9. Monaco — Residents of Monaco are not subject to income tax, capital gains tax or wealth tax and are able to travel visa-free to all Schengen area countries.
Getty 8. Jersey — The island of Jersey is attractive for its low tax regime and mild climate. The minimum investment for residency costs £125,000 a year and is only open to those earning more than £625,000.
WikimediaCommons/Andy Hawkins7. United Kingdom — The UK might not be cheap but it is an attractive destination for rich families looking for good private schooling. The residency programme is tiered, asking for £2 million, £5 million and £10 million from investors.
Flickr / CC 3.0 6. Latvia — To obtain a Latvian temporary residence permit, one has to buy real estate worth €250,000 and pay a 5% government fee.
Lisa A/Shutterstock 5. Spain — The country has a similar programme to Portugal, and a resident permit can be obtained by buying a €500,000 house or investing €2 million in Spanish government debt.
REUTERS/Albert Gea 4. Malta — Malta applies a low 15% tax rate for permanent residents, and the programme can be accessed for relatively little money — the purchase of a €275,000 property should do it.
In Green/Shutterstock3. Portugal — To obtain Portuguese residency one can create 10 jobs with a business, transfer €1 million into a Portuguese bank or buy a house for €500,000.
Andryi Pentryna/Shutterstock2. Belgium — A Belgian residency application takes as little as two months to process and employment in the country may be a qualifier on its own, negating the need for investment.
Shutterstock 1. Austria — Austria offers 10 different types of residency permit that do not require an investment and which can be used for visa-free travel across the Schengen area.
Shutterstock