News Trump warns N. Korea it will face 'fire and fury' Olivier Knox Chief Washington Correspondent Yahoo News•President Trump says North Korea's threats will be met with 'fire and fury' President Trump on Tuesday sternly warned North Korea that it would face "fire and fury like the world has never seen" if it continues to threaten the United States, as his administration grapples with unsettling news of a possible nuclear breakthrough by the Stalinist regime."North Korea [had] best not make any more threats to the United States," Trump told reporters at his golf resort in Bedminster, N.J. "They will be met with fire and fury like the world has never seen."North Korean leader Kim Jong Un "has been very threatening, beyond a normal statement," Trump said, "and as I said, they will be met with fire, fury and, frankly, power the likes of which this world has never seen before."The president's comments came after multiple U.S. news reports and one Japanese government report suggested that North Korea may have developed a miniaturized nuclear warhead that can fit atop one of its intercontinental ballistic missiles. The U.S. reports, citing anonymous American officials, hinged on an undisclosed Defense Intelligence Agency analysis from last month. The Washington Post was the first to report on the development.It's unclear whether North Korea has successfully tested such a miniaturized warhead, though it has boasted of doing so. And it also remains unclear whether the regime in Pyongyang has developed a reentry vehicle that would prevent its warheads from burning up upon entering the atmosphere. The DIA is just one of 17 intelligence agencies, and the reports did not spell out how confident officials are of their conclusion or whether it's broadly shared across the U.S. government.Over the weekend, the Trump administration notched a diplomatic victory when the 15-member U.N. Security Council unanimously voted to impose a tough new regime of economic sanctions on North Korea. That vote came in response to the test of an ICBM thought to be able to reach U.S. soil.In a weekend interview with MSNBC, Trump national security adviser Gen. H.R. McMaster warned that letting North Korea develop nuclear weapons that can strike the United States "is intolerable from the president's perspective." McMaster said he was providing Trump with "all options" to respond to the situation, "and that includes a military option."
Trump Should Be On '24-Hour Suicide Watch' Because of Low Approval Ratings, Says Former Ted Cruz Aide
Jason Le Miere Newsweek•
Trump Should Be On '24-Hour Suicide Watch' Because of Low Approval Ratings, Says Former Ted Cruz AidePresident Donald Trump's latest approval rating and other poll numbers are so bad that he should be on a "24-hour suicide watch." That was the verdict of Rick Tyler, a former spokesman for Ted Cruz's presidential campaign and now a contributor for MSNBC.Related: Mike Pence preparing 2020 election run against 'weak' Trump? Vice president's team denies explosive claim"If I were a political consultant looking at a candidate who had these kind of numbers, I'd have him on 24-hour suicide watch," he said on MSNBC's Morning Joe Tuesday. "These numbers are not good. They don't look recoverable."Trending: Middle East Wars Spark Spike in Murder, Suicide and Rape as Violence SoarsA CNN poll released Tuesday showed Trump's approval rating had dropped to 38 percent, the lowest number for any president after 200 days in office. Adding to the bad news, the ratio of Americans who strongly disapprove of Trump's performance compared with those who strongly approve is almost 2-to-1, 47 percent to 24 percent.The negativity does not end there. Only 24 percent of Americans said they trusted the information that comes out of the White House. Perhaps most worrying is evidence that, despite Trump's tweet to the contrary on Monday, his base is eroding. In the poll conducted from August 3 to August 6, 59 percent of Republicans indicated they approved strongly of his performance, down 14 points since February. A similar decline was indicated in his support among whites without a college degree, a group that was key to his victory in the 2016 election.Don't miss: Public Education in U.S. Threatened Under Betsy DeVos, Union Leader Randi Weingarten Says Follow

Donald J. Trump @realDonaldTrump The Trump base is far bigger & stronger than ever before (despite some phony Fake News polling). Look at rallies in Penn, Iowa, Ohio…….Another poll, released Monday by the American Research Group, indicated that if the New Hampshire primary were held today, Ohio Governor John Kasich would triumph over Trump, 52 percent to 40 percent.Most popular: Why the Partisan Swamp Will Sink Donald Trump's Tax Reform Goal of Lowering RatesAmid the painful poll numbers, The New York Times reported Saturday that multiple Republicans, including Vice President Mike Pence, were already preparing presidential runs for 2020. Pence has vehemently denied the story, and Trump went on a renewed Twitter attack against the Times.Tyler, though, went on to say that Trump's numbers mean that such uncertainty and posturing around 2020 is inevitable."The administration and the vice president can complain about The New York Times story, but we wouldn't have this story if the president's polls numbers were in the mid-50s, high 50s, or low 60s," he added. "Instead, they're in the 30s, and so everyone is speculating. Everybody's positioning for any eventualities that might occur with this very unpredictable administration."At least publicly, however, Trump has shown no indication of looking inwardly as to the source of the poor numbers, repeatedly launching tirades against the "fake" polling and the "fake news" outlets that produce them.Tyler himself was dismissed from the Cruz team last year after promoting a false news story that called into question the faith of Republican primary rival Marco Rubio.
Republican businessman takes on Nevada's Dean Heller Liz Goodwin Senior National Affairs Reporter Yahoo News•
President Trump welcomes Sen. Dean Heller before a meeting with Republican senators to discuss the health care bill, July 19, 2017. (Photo: Saul Loeb/AFP/Getty Images)The Senate's most vulnerable Republican in 2018 just got a challenger from the right, the Trump-supporting businessman and frequent political candidate Danny Tarkanian.Sen. Dean Heller, R-Nev., already faces a likely challenge on the left from Rep. Jacky Rosen, D-Nev., a freshman lawmaker who has spent the past few weeks blasting Heller's shifting positions on the GOP effort to repeal and replace Obamacare as "heartless."Tarkanian announced his decision to run on "Fox and Friends" Tuesday morning, painting Heller as an obstructionist of Trump's agenda and saying Republicans begged him to run against him."Dean Heller wasn't just one of the first Never Trumpers in Nevada, he was one of the most influential," Tarkanian said on the show. "He actually helped Hillary Clinton win the state of Nevada."Tarkanian has run for office five times over the past 10 years without ever winning political office, though he has won Republican primaries.A spokesman for Heller pointed out that Tarkanian recently lost a congressional race to Rosen, who he would likely face again if he won the primary. "He's wasted conservatives' time and cost the Republican Party seats up and down the ballot," Heller spokesman Tommy Ferraro said in a statement. "If he ultimately files for U.S. Senate he will lose in the primary."The Republican establishment is likely to stay behind Heller, who eventually backed the GOP effort to repeal and replace Obamacare in late July. A super-PAC aligned with Sen. Majority Leader Mitch McConnell has said it will be all in for Heller in a primary and the general election, the Nevada Independent reported. It's unclear how supportive the president will be.But Wayne Allyn Root, a conservative talk show radio host in Nevada, said he believes Tarkanian will easily beat Heller, despite his many losses in the past."I think [Tarkanian's] like Abe Lincoln, quote me," Root said. "He lost and lost and lost and then he won the one that matters."
Danny Tarkanian at a Republican debate for Nevada's Third Congressional District in Henderson, April 26, 2016. (Photo: John Locher/AP)Root refers to Heller as "one and done Dean" — saying he'll either lose to Tarkanian or in the general election. A Daily Callercommissioned  poll foundTarkanian and Heller in a statistical tie in a matchup among registered Republican voters.Trump remains popular among Republicans in Nevada, while Heller and the president have had a tense relationship. Heller expressed doubts about Trumpduring the 2016 election, while Tarkanian spoke at some of Trump's rallies. This summer, Heller came out against the Senate's first version of Obamacare repeal and replace, scrambling that effort. A Trump-aligned super-PAC briefly targeted him with ads over that decision, and the president publicly prodded him to get on board, saying, "He wants to remain a senator, doesn't he?" during a lunch meeting with other senators at the White House.Heller later voted for a revised version of that bill, but the overall effort failed. That's allowed his opponent on the left, Jacky Rosen, to blast him for voting to take away health care from Nevadans while getting slammed on the right by Tarkanian for obstructing the president . Tarkanian argued Heller's initial stance robbed repeal and replace of much-needed "momentum.""This will be a bruising, resource-draining primary fight for Nevada Republicans who were already struggling to hold on to this cycle's most vulnerable Senate seat," said Nevada State Democratic Party Chair William McCurdy II, adding Heller's "dancing around" on health care has hurt him. "Whether we're running against a two-faced fraud like Senator Heller or a tea party extremist like Danny Tarkanian, Democrats are poised to win this race in 2018."But Democrats could be in for their own bruising primary. Rep. Dina Titus, D-Nev., has said she will announce soon whether she'll get in to challenge Rosen, who was hand-picked by former Sen. Majority Leader Harry Reid of Nevada. A poll showed Titus and Heller tied in a matchup. "These figures dispel the Reid myth that I am not competitive in a statewide race," Titus said in a statement in late July. "I will announce my decision after spending time in the district during the month of August."
NewsPolls: Americans are losing trust in President Trump  Dylan Stableford Senior Editor Yahoo News•6 months into Trump's presidency, his approval rating hits record low
Scroll back up to restore default view.President Trump is dismissing new polls that show his base of support dwindling, his approval rating at a record low and rampant distrust in the information coming out of the White House."After 200 days, rarely has any Administration achieved what we have achieved," Trump tweeted on Tuesday. "Not even close! Don't believe the Fake News Suppression Polls!"Follow

Donald J. Trump @realDonaldTrumpAfter 200 days, rarely has any Administration achieved what we have achieved..not even close! Don't believe the Fake News Suppression Polls! According to a CNN poll released Tuesday, nearly three-quarters of Americans (73 percent) say they can't trust all or most of what they hear in official communications from the White House, while less than a quarter (24 percent) say they can. Among Republicans, 50 percent say they can trust most of what the White House says, while 47 percent say they cannot.When asked whether they are proud to have Trump as their president, 34 percent of Americans said they were, the survey found; 64 percent said they were not.Related: Trump claims base is bigger 'than ever before.' Polls suggest otherwise.Overall, 38 percent say they approve of Trump's handling of the presidency, according the CNN poll, while 56 percent disapprove. Recent polls by Quinnipiac University and Gallup show Trump with a similar overall disapproval rating.CNN noted that just one other newly elected president held an approval rating below 50 percent at this point in his presidency: Bill Clinton, who had a 44 percent approval rating six months into his first term in 1993. Barack Obama, by contrast, had a 56 percent approval rating at this point in his presidency. Follow
Jim Sciutto @jimsciutto Six-Month Approval Ratings: Kennedy 75% ;Eisenhower 73% ;Bush 69%;Nixon 65% ;Reagan 60% ;Carter 60%;Obama 56%;W. Bush 55%;Clinton 44% ;Trump 38%  · Washington, DC On Monday morning, Trump claimed his base is "far bigger" and "stronger than ever before," offering recent campaign rallies in Pennsylvania, Iowa, Ohio and West Virginia as proof. But an Investor's Business Daily poll released Monday afternoon showed Trump's approval rating has dropped to a record low 32 percent — down 5 percent in the past month — as support from his base has begun to slip."Trump lost significant support across the board, but saw big declines among areas of core support, including Republicans, Midwesterners, middle-income families, white men and the high school educated," IBD's pollsters said.Meanwhile, a new CBS News poll released Tuesday shows Trump's approval rating stands at 36 percent. That figure is unchanged from June, despite favorable views of the U.S. economy."The president does get better marks on his handling of the economy than for other issues," CBS noted, "but his overall approval remains where it is partly because Americans say they're evaluating him more on culture and values than on how they're faring financially, and partly because his ratings for other domestic issues are negative."
CBS News poll shows how Americans are evaluating Trump on more than economy A new CBS News poll reveals a disconnect between Americans' feelings about the economy and how they feel about President Trump. His approval rating remains unchanged from June at 36 percent — still historically low. However, feelings about the economy are higher, with 69 percent of Americans saying the economy is good. Anthony Salvanto, director of elections and surveys for CBS News, joins "CBS This Morning" to discuss the poll's findings.The CBS survey also showed that Americans lack confidence in Trump's ability to handle North Korea, whose nuclear and missile-testing programs have sparked an international crisis.Nearly three-quarters of those surveyed (72 percent) are "uneasy about the possibility of conflict" between Washington and Pyongyang, and most (61 percent) feel that way about Trump's "approach to the situation."The poll was conducted late last week, largely before the United Nations Security Council passed a resolution on Saturday imposing new sanctions on North Korea for its continued tests of an intercontinental ballistic missile.On Monday, Trump complained on Twitter that the "fake news media" had not properly covered the passage of those sanctions.Most major news outlets, though, had covered the sanctions, with the story leading newscasts on Saturday afternoon and evening. CNN's Chris Cuomo said his channel was covering the issue when Trump fired off the tweet.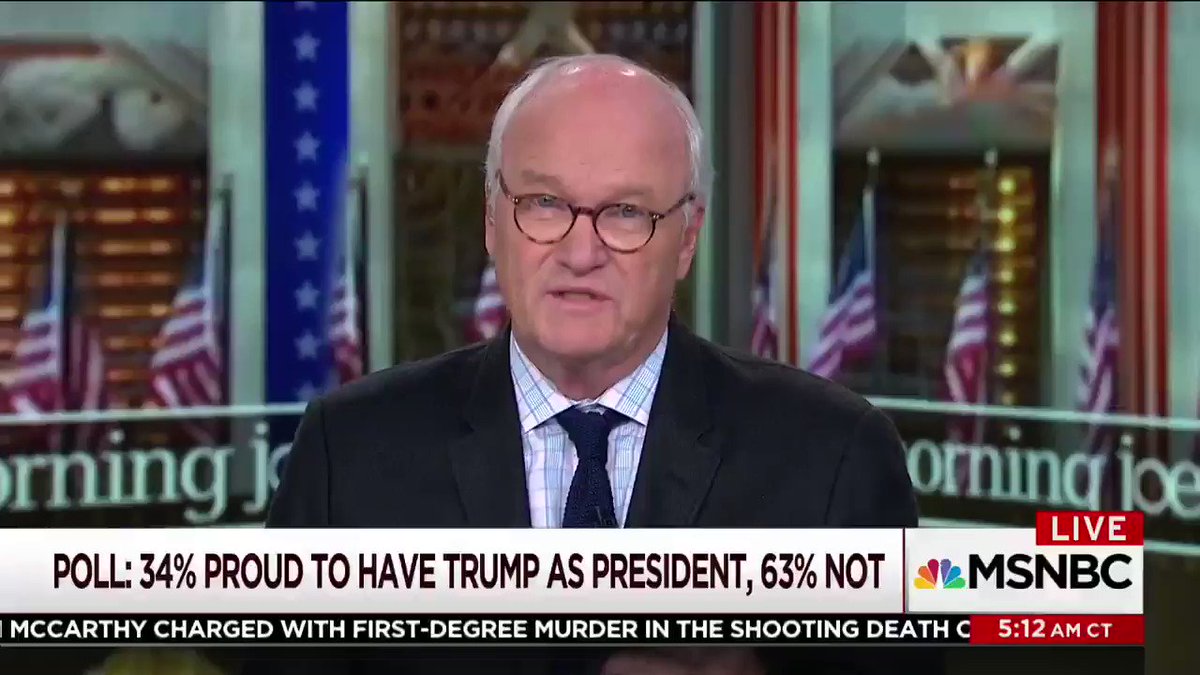 Follow
Morning Joe @Morning_JoeJohn Kasich would beat Trump in NH if the primary were held today, new polling shows. #MorningJoeAnd there is yet another poll — released by American Research Group on Tuesday — likely to draw Trump's ire: If the New Hampshire Republican primary were held today, Ohio Gov. John Kasich would beat Trump (52 percent to 40 percent) in a theoretical matchup.Trump won the 2016 New Hampshire GOP primary, grabbing 35 percent of the vote. Kasich, who finished second, got just 16 percent.With a record-low approval rating, Trump says his political base is 'stronger than ever before'This morning, President Trump took to Twitter to declare that his political base is getting stronger, despite "fake news polling." Last week's Quinnipiac University poll found that only 33 percent of voters overall approve of Trump's job performance.Will the U.N. sanctions against North Korea be effective?
Cbsnews CBS News•
Will the U.N. sanctions against North Korea be effective?As North Korea vowed to retaliate "thousands-fold" against the new U.N. economic sanctions sponsored by the U.S., Secretary of State Rex Tillerson offered to negotiate if the North stops testing missiles and halts its nuclear weapons program. The sanctions were unanimously approved by the U.N. Security Council, including Russia and China.  However, according to Nicholas Burns, a former U.S. ambassador to NATO and undersecretary of state for political affairs during the George W. Bush administration, it is "unlikely" the sanctions will "ultimately work." "This was a victory for the Trump administration, to see these sanctions, to convince China and Russia to join. But the North Koreans prize above .As North Korea vowed to retaliate "thousands-fold" against the new U.N. economic sanctions sponsored by the U.S., Secretary of State Rex Tillerson offered to negotiate if the North stops testing missiles and halts its nuclear weapons program. The sanctions were unanimously approved by the U.N. Security Council, including Russia and China.
Play VIDEO North Korea vows revenge after new U.N. sanctions However, according to Nicholas Burns, a former U.S. ambassador to NATO and undersecretary of state for political affairs during the George W. Bush administration, it is "unlikely" the sanctions will "ultimately work.""This was a victory for the Trump administration, to see these sanctions, to convince China and Russia to join. But the North Koreans prize above all else the possession of these nuclear weapons," Burns said Monday on "CBS This Morning."China, which "has the most leverage," doesn't want to see the North Korean regime collapse, said Burns, who is now a professor at Harvard's Kennedy School."They don't want to see refugees go into China. They don't want to see the Korean peninsula unified by the South Korean government aligned with the United States because that would be a victory strategically for this long-running competition between China and the United States and Asia," Burns said.Burns contrasted the North Korean sanctions and the sanctions imposed on Iran by the U.S."You remember a couple of years ago these tremendous financial and economic, oil and gas sanctions on Iran. Iran's a trading nation. They wanted to be connected economically to the rest of the world, so those sanctions worked to drive them to the negotiating table," Burns said. "North Korea is a hermit kingdom. They're isolated. They don't trade with many countries. And I think Kim Jong Un, this young leader of North Korea, believes that his possession of nuclear weapons is his ultimate protection against any foe, most especially the United States."North Korean Foreign Minister Ri Yong Ho said Monday that "under no circumstances" will it put its nuclear weapons or ballistic missiles on the negotiating table. He made that statement at a conference of the Association of Southeast Asian Nations (ASEAN) in Manila, Philippines.Bringing North Korea to the negotiating table for an interim arrangement might be "a messy compromise," Burns said, "but it'd be a lot better than the current situation.""They're not constrained right now, and they are racing towards a nuclear weapon, and that's a real threat to our country," Burns said. © 2017 CBS Interactive Inc. All Rights Reserved.
North Korea says it's seriously considering a missile strike on US military in Guam
 Alex Lockie,Business Insider 5 hours ago
(Intercontinental ballistic missile (ICBM) Hwasong-14 is pictured during its second test-fireThomson Reuters) North Korea says its seriously considering a plan to fire nuclear-capable missiles at Guam, according to state-run media.A spokesman for North Korea's military told KCNA that it would carry out a pre-emptive operation if there were signs of US provocation.The warning comes after President Donald Trump warned North Korea it would be met with "fire and fury" if it continued to threaten the US in a marked escalation of rhetoric.The statement from North Korea mentioned using the Hwasong-12, the intermediate range missile tested in May. North Korea said at the time the missile can carry a heavy nuclear warhead, and independent analysis seems to fit with their statement.The US military keeps a continuous presence of nuclear-capable bombers in Guam, which would make it an attractive target for a nuclear strike. North Korea specifically mentioned these bombers "which get on the nerves of DPRK and threaten and blackmail it through their frequent visits to the sky above Korea."CNN's Jim Sciutto says that the US flew two B1-B bombers over Korean Peninsula Mon out of Anderson AFB in Guam, part of "continuous bomber presence."But the US maintains a Terminal High-Altitude Area Defense missile interceptor in Guam specifically made to protect from medium-range missiles. THAAD has performed well in test conditions but never intercepted a shot fired in anger.
Earlier, Pyongyang said it was ready to give Washington a "severe lesson" with its strategic nuclear force in response to any US military action.NOW WATCH: How the US's futuristic new aircraft carrier will change naval warfare forever
Analysis: North Korea is fast approaching Trump's red line
Analysis: North Korea is fast approaching Trump's red lineOne of the biggest questions about President Donald Trump is how he would respond to a crisis. Thus far, Trump's presidency has been marked by controversies and stubborn politics, yes, but also by a strong economy and no natural disasters, major domestic terrorist attacks or new large-scale foreign conflicts. A new Washington Post report indicates that North Korea is approaching the Trump administration's red line faster than previously thought. According to The Post's report, a previously secret Defense Intelligence Agency analysis indicates that Kim Jong Un's regime has produced a miniaturized nuclear warhead that can fit inside one of the intercontinental ballistic missiles (ICBMs) that it has been testing.That may be starting to change. A new Washington Post report indicates that North Korea is approaching the Trump administration's red line faster than previously thought.According to The Post's report, a previously secret Defense Intelligence Agency analysis indicates that Kim Jong Un's regime has produced a miniaturized nuclear warhead that can fit inside one of the intercontinental ballistic missiles (ICBMs) that it has been testing. Those tests drew a unanimous vote on new sanctions from the United Nations Security Council over the weekend.The big takeaway, as The Post is reporting, is that North Korea's nuclear capabilities appear to be advancing far more rapidly than previously believed. This is a milestone when it comes to North Korea's ability to strike distant targets with nuclear weapons. Although it's not known yet that Pyongyang can strike the United States with an ICBM, U.S. officials concluded last month that the effort was proceeding more rapidly than experts had anticipated.FILE – This file photo distributed by the North Korean government shows what was said to be the launch of a Hwasong-14 intercontinental ballistic missile, ICBM, in North Korea's northwest, Tuesday, July 4, … moreNow we find out that those ICBMs could be "nuclear-tipped." In other words, North Korea may have solved half of the puzzle when it comes to threatening the U.S. mainland with a nuclear weapon – something it has made clear is its goal.And, importantly, that's a threshold that the Trump administration has said North Korea simply wouldn't be allowed to cross."North Korea just stated that it is in the final stages of developing a nuclear weapon capable of reaching parts of the U.S. It won't happen!- Donald J. Trump (@realDonaldTrump) January 2, 2017″"It won't happen!" Trump tweeted in January. National security adviser H.R. McMaster also said as recently as this weekend that North Korea having nuclear weapons that could threaten the United States would be "intolerable, from the president's perspective." The DIA report is dated July 28, more than a week before McMaster made those comments."The president has been very clear about it: He said he's not going to tolerate North Korea being able to threaten the United States," McMaster told Hugh Hewitt on MSNBC.McMaster said the list of possible responses to that "includes a military option." As The Post's report indicates, plenty of other options also are on the table, including new multilateral negotiations and putting U.S. battlefield nuclear weapons back on the Korean Peninsula."Obviously, war is the most serious decision any leader has to make," McMaster said. "And so, what can we do to make sure we exhaust our possibilities, and exhaust our other opportunities to accomplish this very clear objective of denuclearization of the peninsula, short of war?"The prospect of war, of course, can't help but hang over this entire drama. And polls show that Americans are increasingly resigned to the fact that the conflict may be headed in that direction. While they don't necessarily back military action now, it's clear that public support could quickly be marshaled under the right circumstances. A new Chicago Council on Global Affairs poll, for instance, shows that 62 percent of Americans would support sending troops if North Korea invades South Korea – up sharply from recent years. The poll also shows a rise in the threat North Korea is perceived to pose, with 75 percent labeling it a critical threat.But a CBS News poll released Tuesday morning shows pessimism about Trump's ability to handle a showdown. About 6 in 10 registered voters – 61 percent – said they were "uneasy" about Trump's ability to deal with the situation. Only 35 percent said they were "confident."The same poll showed that only 29 percent favored military action now, but Republicans were about evenly split, with 48 percent in favor – a striking level of support for military action in the president's own party. And those numbers are likely to rise given Tuesday's news.Trump received plaudits for his limited airstrikes against the Syrian government and even seemed dazzled by his ability to launch them. Increasingly, he also seems to be facing some difficult decisions ahead on North Korea. And for the American people, that's a moment that's clearly interlaced with fear.
World Canadian officials back in North Korea to discuss imprisoned pastor
 Reuters 5 hours ago
OTTAWA (Reuters) – Canadian officials have traveled to North Korea to discuss the case of a Canadian pastor serving a life sentence there, a spokesman for Prime Minister Justin Trudeau said on Tuesday.Hyeon Soo Lim, who served at one of the largest churches in Canada, was sentenced to hard labor for life in December 2015 for what North Korea says was an attempt to overthrow the regime.The delegation is headed by Daniel Jean, Trudeau's national security advisor."A Canadian government delegation is currently in Pyongyang to discuss Pastor Lim's case," Trudeau's press secretary Cameron Ahmad said."His health and wellbeing remain of utmost importance to the government and we are obviously continuing to engage on his case and, given that it is an active case, we cannot provide any further comment at this time."Lim's family has become more concerned for his welfare since the June death of American student Otto Warmbier who had been held in North Korea for 17 months. Warmbier died in a Cincinnati hospital just days after he was released in a coma. Canadian officials visited Lim in December 2016.In addition to Canada's Lim, North Korea is holding three Americans.Lim's Toronto-area church has said Lim visited North Korea more than 100 times since 1997 and helped set up an orphanage and nursing home.Last year, Lim told CNN he spends eight hours a day digging holes at a labor camp where he has not seen any other prisoners.The U.N. Security Council imposed new sanctions on North Korea at the weekend over its continued missile tests, and U.S. President Donald Trump on Tuesday warned the country would be met with "fire and fury" if it threatens the United Sates.(Reporting by Leah Schnurr; Editing by James Dalgleish)
China's Military Launches War Games as Warning to U.S., North Korea Amid Nuclear Missile Crisis
Newsweek•China has entered the tense seas off the Korean Peninsula with guns blazing, showing its military might at a time when Beijing has warned two belligerent rivals, the U.S. and North Korea, from further escalating their nuclear standoff. After closing off a 15,000-square-mile stretch of the East China Sea, the Chinese navy launched live-fire exercises Monday involving dozens of ships and submarines, more than 10 aircraft and a number of coastal troops in the Bohai Sea and Yellow Sea, according to the state-run Xinhua News Agency. The drill, which reportedly included both offensive and defensive maneuvers against targets in the air as well as on land and at sea, come during a season of anticipated heightened military activity from the U.S. and its regional allies, and less than two weeks after North Korea conducted its second intercontinental ballistic missile (ICBM) test. Both developments have frustrated Beijing's calls for peace in the region.Related: China's Military Could Leave U.S. Navy Dead In The Water With New Sea Drones"[The Chinese] could be sending a message to the North Koreans that they will be effective in any conflict if war is to break out," Malcolm Davis, a Chinese defense specialist at the Australian Strategic Policy Institute, told the South China Morning Post. The Hong Kong–based newspaper also cited Collin Koh, a maritime security expert at Singapore's Nanyang Technological University, as saying the drill would serve as a signal to the U.S. as well.Trending: Trump Is Waging Outright War Against LGBTQ Americans
GettyImages-630036754This picture taken on an undisclosed date in December 2016 shows a missile being fired from China's Liaoning aircraft carrier during military drills in the Bohai Sea, off China's northeast coast. China has boosted its naval power in order to counter U.S. military influence and assert its own territorial claims in the region. STR/AFP/Getty ImagesTo demonstrate the importance of the drills, major figures within China's military infrastructure observed the two-day exercise, the ruling Communist Party's Global Times reported, citing the official Chinese Central Television. Vice Admiral Shen Jinlong, the Chinese naval commander, was reportedly in attendance. The simulated battles took place off the western flank of the Korean Peninsula, where nuclear-armed North Korea and U.S.-backed South Korea technically remain at war since the 1950s. China has traditionally supported neighboring North Korea but has repeatedly called on that nation to abandon its rapidly expanding nuclear and ballistic weapons arsenal.Chinese President Xi Jinping was approached earlier this year by President Donald Trump in hopes of curbing North Korea's military advancements, but Beijing has repeatedly dispelled what it refers to as the "China responsibility theory" and called on both the U.S. and North Korea to back off. China has been especially critical of the U.S.'s strategy of increasing its military presence in the region, where tens of thousands of U.S. troops are already stationed. China, along with Russia, condemned the U.S.'s installation of the Terminal High Altitude Area Defense System (THAAD) in South Korea, which both countries say undermines their national security.Don't miss: Robert Reich: Trump's Long Vacation Gives Us All a Well Deserved BreakWith North Korea having tested two nuclear-capable ICBMs with the potential to wreak havoc on U.S. cities, the Trump administration has doubled down on its militant rhetoric toward North Korean leader Kim Jong Un. Last week, Joel Wit, a co-founder of the North Korea monitoring group 38 North, criticized "the constant drumbeat about getting China to do our job for us," and said August would be a particularly dangerous period for clashing interests in the region."The situation is bad now and it's going to get worse in August, and that's because, as many of us know who follow this closely, August is exercise season, and there's going to be a large U.S.-South Korean joint exercise in August. And so that could create even more tension, and I think we need to be very careful about aggravating the situation," Wit said during a telephone conference call days after North Korea's second ICBM test late last month.Most popular: What Happens if a President Resigns? Richard Nixon Cried, Drank and Joked With Reporters U.S. military drills in the Asia-Pacific region, which often include allies South Korea and Japan, have been a key instigating factor for North Korea. Kim and his government argue that nuclear weapons are necessary to deter potential invaders and have rejected the calls to disarm. The official Korean Central News Agency ran a statement Monday, attributed to the country's leadership, that accused the U.S. of bringing the world to "the brink of nuclear war" with recent missile exercises in the area. Other state media promised "severe lessons" over the latest sanctions rolled out by Congress.China recently deployed troops to send a message elsewhere, too. Thousands of miles away, a border dispute between China and India has produced threats of an all-out conflict. In June, Indian soldiers crossed a demarcated boundary in the contested Doklam region, which separates India's far eastern Sikkim state, China's far western region of Tibet and Bhutan's Ha Valley. India said it had moved to protect the interests of Bhutan, its ally, after China began building a road near the border. After a series of nearby drills, a Global Times editorial Sunday warned that China may be preparing to remove Indian troops by force in an upcoming operation.
World China Says It's Willing to Pay the Price to Enforce Sanctions Against North Korea
 Reuters 22 hours ago China will pay the biggest price from the new United Nations sanctions against North Korea because of its close economic relationship with the country, but will always enforce the resolutions, Chinese Foreign Minister Wang Yi said.The United Nations Security Council unanimously imposed new sanctions on North Korea on Saturday that could slash its $3 billion annual export revenue by a third.Speaking at a regional security forum in Manila on Monday, Wang said the new resolution showed China and the international community's opposition to North Korea's continued missile tests, the foreign ministry said in a statement on Tuesday."Owing to China's traditional economic ties with North Korea, it will mainly be China paying the price for implementing the resolution," the statement cited Wang as saying."But in order to protect the international non-proliferation system and regional peace and stability, China will as before fully and strictly properly implement the entire contents of the relevant resolution."China has repeatedly said it is committed to enforcing increasingly tough U.N. resolutions on North Korea, though it has also said what it terms "normal" trade and ordinary North Koreans should not be affected.For more on North Korea, watch Fortune's video:The latest U.N. resolution bans North Korean exports of coal, iron, iron ore, lead, lead ore and seafood. It also prohibits countries from increasing the numbers of North Korean laborers currently working abroad, bans new joint ventures with North Korea and any new investment in current joint ventures.Wang said that apart from the new sanctions, the resolution also made clear that the six party talks process, a stalled dialogue mechanism with North Korea that also includes Russia and Japan, should be restarted.That was promise that all Security Council members made, including China, Russia and the United States, and which ought to be carried out, Wang added.He said China fully appreciates comments earlier this month by U.S. Secretary of State Rex Tillerson that the United States does not seek to topple the North Korean government and would like dialogue with Pyongyang at some point.The United States does not seek regime change, the collapse of the regime, an accelerated reunification of the peninsula or an excuse to send the U.S. military into North Korea, Tillerson said.Wang said Tillerson's "Four Nos" promise was a positive signal.China "hopes North Korea can echo this signal from the United States", Wang added.Speaking at the same forum on Monday, Tillerson held a door open for dialogue with North Korea saying Washington was willing to talk to Pyongyang if it halted a series of recent missile test launches.
World Brigitte Macron 'will not become France's First Lady', after 280,000 people sign petition to block her
 Oliver Gee,The Telegraph 14 hours ago 
Now Playing 1:04
1:55
10:16
2:53
0:37
0:43
Should Brigitte Macron Gain The Official Status Of "First Lady"? Brigitte Macron, the wife of French president Emmanuel Macron, will not officially be France's First Lady, according to government officials and reports.The decision flies in the face of Mr Macron's pre-election promise to make an official position for his wife, a move that turned heads particularly as the government is soon to pass a law preventing MPs from hiring family members as assistants, as part of his own anti-corruption drive. But after 280,000 people signed a petition over the last two weeks in an attempt to block Mrs Macron from having a salary, it appears the government is back-pedalling.French government spokesman Christophe Castaner took to Twitter on Monday night to stress that Mrs Macron would not have an official role.
President Macron had intended to give his wife the official First Lady title, much life Melania TrumpCredit:  Michel Euler/AP "Brigitte Macron has a role and responsibilities. We are looking to be transparent and to outline the means she has at her disposal," he wrote."No modification of the constitution, no new funding, no salary for Brigitte Macron. Stop the hypocrisy!"Mr Macron, 39, had promised on the campaign trail in March that his wife would have a "real status"."Paid by the Republic, no. Having a role, a real status, a real capacity to act, yes," Mr Macron said at the time.The presidency has said it will clarify Mrs Macron's role in the coming days and that there would be no change to the constitution to create a First Lady position, sources told AFP and BFM TV. The French government plans to make clear exactly how much Mrs Macron will be costing taxpayers. "The idea is for the French people to know how much this role costs," Aurore Berge, a senior lawmaker from Macron's party, told Europe 1 radio today.
Former president Francois Hollande and his companion Valerie Trierweiler, who, like all previous presidents' wives, was not First LadyCredit:  Jacques Brinon/APMrs Macron currently has a team of two or three aides, two secretaries, and two security guards. Former President Francois Hollande's wife Valerie Trierweiler cost the public €400,000 in 2013, public figures show. Neither Ms Trierweiler or any former wife of France's past presidents have ever had the official title of First Lady.Brigitte Trogneux's most elegant looks
Iranian drone buzzes US naval jet in Gulf: US
 AFP 10 hours ago
Washington (AFP) – An Iranian drone flew within 100 feet (30 meters) of a US Naval jet Tuesday as the American plane was trying to land on an aircraft carrier in the Gulf, the Navy said.The encounter unfolded in international air space as the F/A-18E Super Hornet was preparing to land on the USS Nimitz, US Naval Forces Central Command spokesman Commander Bill Urban said.He said that despite repeated radio calls to stay clear of flight operations near the Nimitz, the Iranian drone executed "unsafe and unprofessional" altitude changes near the F/A 18.The US jet had to maneuver to avoid collision, with the drone passing just 100 feet away at its closest point."The dangerous maneuver by the QOM-1 in the known vicinity of fixed-wing flight operations and at coincident altitude with operating aircraft created a collision hazard and is not in keeping with international maritime customs and laws," Urban said.He added this was the 13th "unsafe and/or unprofessional" interaction between US and Iranian maritime forces this year.In July, a US Navy patrol ship fired warning shots at an Iranian Revolutionary Guard Corps boat in the Gulf as it closed in on the American vessel.
PoliticsMalia Obama Just the Latest First Daughter to Face Intense Scrutiny Because of Her Father
 Greg Price,Newsweek 7 hours ago  Malia Obama, the oldest daughter and child of former President Barack Obama, was recorded looking dazed as she was carted away from the Lollapalooza music festival Friday in Chicago, just hours after her dancing and flailing antics also were recorded on video, TMZ reported Tuesday.Two videos, the first published Saturday showing the 19-year-old writhing on the ground, are likely to increase scrutiny on the former first daughter and potentially up the attention paid to her younger sister Sasha. But, like many a first daughter before her, Malia's likely struggle to enjoy the rigors of her youth out of the public eye is likely to continue as evidenced by predecessors such as President George W. Bush's twin daughters, Jenna and Laura, and President Bill Clinton's only child, Chelsea. Meanwhile, current President Donald Trump's daughter Ivanka, also a key adviser to her father's administration, has perhaps cast a new mold for future first daughters.Each has had to deal with life under the political microscope because of their powerful fathers no matter their political party affiliation. Earlier this year, Malia attended a premiere party for the HBO series "Girls" and was spotted dancing into the wee hours of the night, Page Six reported, while also mingling with stars of the show as well as a Saturday Night Live cast member.Trending: Meteorites Might Explain how Life on Earth Started
U.S. President Barack Obama and his daughter Malia walk from Marine One to board Air Force One upon their departure from O'Hare Airport in Chicago on April 7. Kevin Lamarque/ReutersHer sister, Sasha, also was splashed along gossip websites because of Lollapalooza. A picture surfaced of the 16-year-old kissing a young man named Matt Metzler, which led The Daily Beast to posit the question: "When are we gonna leave these girls alone?"The answer to the question, given the age of social media and type of celebrity fame that President Obama gained both before, during and since his administration ended is likely never. But the Bush twins know that all too well.Don't miss: Trump's North Korea Threat Is Eerily Similar To Harry Truman's Hiroshima Bombing Announcement In 1945In May 2001, when their father had been in office for just about four months, the 19-year-olds were issued citations for underaged drinking in Austin, Texas. It was the second such citation for Jenna Bush in less than a five-week period, USA Today reported.While attention is paid to presidential offspring's perceived missteps, Chelsea Clinton and Ivanka Trump have faced scrutiny for their possible political aspirations.Clinton, who was just about to turn 13 when her father took the oath of office, was heavily chastised in March after entertainment publication Variety announced it would give her the Lifetime Impact Award for her work with the Alliance for the Healthier Generation. Technically, the award was not for "lifetime achievement" but due to her political royalty status, it was suggested that Clinton was only receiving the award because of her father and mother's accomplishments.Most popular: How the World Could End: The Perseid Meteor Showers, Doomsday Rocks and Other Signs of Cosmic CatastropheThat level of criticism, as well as her father and mother's political scandals, are likely to plague Clinton should she actually run for public office, which has been rumored but she has largely denied.Ivanka Trump, who has long been billed as a sort of "whisperer" of her father, is already feeling the public wrath since taking a position in the Trump administration earlier this year. Most notably, the fact that Ivanka and her husband, Jared Kushner, were unable to deter the president from pulling out of the Paris Climate Agreement and hinder his ban on transgender troops serving in the U.S. military, has led many to question their true effectiveness on a president known for being quite impulsive.
That's also led Republicans and members of the media to call for the Trump "kids" to be taken off the White House staff.
Fired Google memo writer draws jeers, cheers and a job offer
Reuters
7 hours ago
Google fires author of 'sexist' anti-diversity memo
Scroll back up to restore default view.By David Ingram and Jonathan Allen SAN FRANCISCO/NEW YORK (Reuters) – The male Google engineer fired for circulating a memo decrying the company's diversity hiring program became the center of a heated debate on sexism, drawing scorn, cheers and even a job offer on Tuesday from WikiLeaks publisher Julian Assange.James Damore, 28, confirmed his dismissal from Alphabet Inc's Google on Monday, after he wrote a 10-page memo that said the company was hostile to conservative viewpoints and shaped by a flawed left-wing ideology.The manifesto was quickly embraced by some, particularly on the political right, branding him a brave truth-teller. Others found his views, which argued that men in general may be biologically more suited to coding jobs than women, offensive.Assange, praised by some for exposing government secrets and castigated by others as a nation security threat, offered Damore a job."Censorship is for losers," Assange wrote on Twitter. "Women & men deserve respect. That includes not firing them for politely expressing ideas but rather arguing back."Legal and employment experts noted, however, that companies have broad latitude to restrict the speech of employees and that First Amendment protections do not apply in the workplace. Some argued that Damore's views left Google little to no choice but to terminate his employment, because he had effectively created a hostile work environment for women.Damore said in an email on Monday that he was exploring a possible legal challenge to his dismissal. His title at Google was software engineer and he had worked at the company since December 2013, according to a profile on LinkedIn.The LinkedIn page also says Damore received a PhD in systems biology from Harvard University in 2013. Harvard said on Tuesday he completed a master's degree in the subject, not a PhD. He could not immediately be reached on Tuesday.Silicon Valley tech companies have been under mounting criticism for not doing enough to promote gender equality and stamp out sexual harassment.
Glen Campbell says 'Adios': the story behind his farewell album 
 Chris Willman Thu, Jun 8 1:31 PM PDT On June 9 of this year, Glen Campbell released his 64th and final studio album, Adios. Almost exactly two months later, on Aug. 8, he passed away at age 81 following a long battle with Alzheimer's disease. Yahoo Music is re-running this piece on the making of the country legend's farewell album today as tribute.
(Photo by Lisa Lake/Getty Images)Glen Campbell's new album — his true farewell record, despite an earlier recording that was billed as such — is Adios, a collection of songs he secretly recorded shortly after his final tour came to a close at the end of 2012. It opens with his version of a song it's hard to believe he never recorded before: "Everybody's Talkin'," the Fred Neil tune made into a smash hit by Nilsson in the early 1970s. Surely, you think, it was chosen because, without having been written to, it seems to describe the condition of Alzheimer's.In fact, Adios seems to be a concept album of sorts, with most of the tracks making at least a passing reference to remembering, forgetting, being stuck inside one's head, or just saying so long — all the way down to, obviously, the Jimmy Webb-penned title track. A line like "Maybe someday I believe we'll forget"? Titles like "Am I All Alone (Or Is It Only Me)" or "Funny How Time Slips Away"? You've got to commend Campbell's associates for how cleverly they managed to find existing songs whose metaphors would seem to allude to his very literal condition.Except friends and family members all insist this "concept" was coincidental. His family just wanted a farewell record that skewed toward the singer's classic style of gentle, lyrical country, leaning on tunes already familiar enough to the Alzheimer's-stricken singer that they wouldn't involve an impossible learning curve. If those tunes mostly happen to bring up issues of memory, that was a bittersweet kismet."I promise you, it wasn't pre-planned," says producer Carl Jackson, in the midst of agreeing that the songs on the album seem to be thematically grouped. "Even with the title of the album being Adios, we didn't think about that at the time. That was just one of Glen's favorite Jimmy Webb songs. It wasn't like 'We need to do 'Adios' because this is gonna be your last record, or 'Oh, man, we need to do "Everybody's Talkin'" because that has this underlying message. We were just cutting songs."
The singer's wife of 35 years, Kim Campbell, concurs. "The lyrics — 'Everybody's talkin' at me, I can't hear a word they're saying, only the echoes of my mind' — when I listen to that now and I think about our journey with Alzheimer's, that's kind of where we are today. So that song has an eerie edge to me now. Because Glen has complete aphasia. He doesn't understand anything anyone says to him, and he can't communicate verbally, although he's content and in his own world. These were all just songs that Glen had always loved and had been singing ever since I've known him. You're right, somehow they magically take on kind of a different edge, knowing that he has Alzheimer's. Like 'It Won't Bring Her Back' — there's nothing I can do to bring Glen back to me now, so I just have to accept it. It's really sad."Glen's daughter, Ashley Campbell, who plays banjo and sings on the album, says that although any running theme is "kind of coincidental, because these are all songs that he's loved and played for so many years, way before the Alzheimer's, but it's also very fitting. I think life is about that — about remembering, and about cherishing things, and sometimes having to say goodbye and move on. So it's kind of poignant for every stage in life."Not that Adios is just a beautiful bummer. "Am I All Alone (Or Is It Only Me)," for one, is a moment of classic country levity, and includes an introductory snippet of its late writer, the great country humorist Roger Miller, playing the tune to Glen at his home, as captured by Kim on a microcassette recorder, before we get Campbell's studio version with an added vocal part by Vince Gill. Other less melancholy tunes include the George Jones evergreen "She Thinks I Still Care," which Campbell previously cut for 1972's Glen Travis Campbell album. Virtually the entire album sounds like a time capsule lifted from the singer's late '60s/early '70s golden age, when he formed an unbeatable team with Webb, who's responsible for four of the songs on this goodbye collection.Speaking of memories, fans will recall that 2011's Ghost on the Canvas was billed as Campbell's farewell effort in the time. There was no ruse involved: It just seemed like he might have one left in him when the singer came off the road from his goodbye tour at the end of 2012. There was no career strategizing involved in keeping the fact that he'd cut an additional album under wraps until now.
The way Kim tells it, it kind of, well, slipped their minds. "I had many other things to worry about," she says, underscoring the obvious. "We really almost forgot about it, because I was in the throes of Glen's progressing Alzheimer's, and it was going from middle stages into the later stages, which can be kind of crazy and harrowing. It's really a quite difficult journey to travel when you're living with Alzheimer's. In the early and middle stages, Glen was just great. He was able to function; he just needed the right support team around him. But to the later stages, you just kind of become lost. So I got busy with that. But when things settled down a bit, we thought, 'Gosh, we should get these out and listen to them again,' and when we did, we thought, 'We've got to finish this project.' I'm so glad that we did. I think Glen would be so happy with it."Campbell's condition was advanced enough by the end of 2012 that it was hardly a sure thing studio sessions would have a happy ending. "We didn't know what we would get," she admits. "But put him behind a microphone and you get magic. You know, music is really good for people who have Alzheimer's, because it utilizes all the different regions of the brain at the same time, and it's very stimulating. The doctors all said that because Glen continued doing music, they think it helped him plateau longer and kind of fend off the disease a little bit."For this album, "they needed to be songs that he was very familiar with, because the melodies were deeply ingrained in his heart and his soul, and he already understood the meaning of the lyrics. Every time you handed him a guitar, these are the songs he would play, but he had never recorded them."Ashley confirms: "Any time we were at home, if he would sit down with a guitar, you could almost guarantee that the first thing he would play were 'Don't Think Twice, It's All Right' (the rollicking Dylan kiss-off he covers on this album) or "A Thing Called Love.' Those were just his go-tos, because they're so much fun to play on guitar, in that Jerry Reed style. Because his short-term memory wasn't so great, some of the songs we had to take line by line. But he had such a great time recording with Carl, because they're friends that go way back."Ashley owes her very existence to the album's producer. Carl Jackson was a member of Campbell's band from 1972-84, and it was during that time that he and his-then girlfriend set up Glen on a blind date in New York with Kim, who was dancing at Radio City Music Hall at the time. "I'm so proud of the fact that I introduced them, because Kim saved Glen's life—it's that plain," Jackson says. "I mean before all this — when Glen was going through some really tough times, back years ago, and things that could have very easily taken him out of this world, Kim was a complete blessing to him." Jackson is Ashley's godfather, which may or may not be incidental to the fact that she followed in his footsteps in becoming an ace banjo player. While Jackson played the banjo part when Glen performed "Everybody's Talkin'" back on The Sonny and Cher Show, he insisted Ashley take over that rather complicated role when they recorded it for this album.
Jackson admits that they tried recording some additional material for the farewell that didn't pan out. "I actually did cut a couple of new songs, but we were not able to pull those off, because there just wasn't left enough in the memory bank as far as [learning] those melodies he didn't know. But with these tunes — like 'Funny How Time Slips Away,' which he used to bring out and sing quite often when I was traveling the road with him — he was so familiar with 'em that it was not nearly as much of a struggle as you might think. I never really would show him but about a verse at a time, as far as lyrics go, because that would confuse him to see more. But we were able to pull it off with so much love in the room. Those melodies were still there in his head, and he hadn't lost that perfect pitch. I know how much joy was on his face when we were doing it, and there's tons of video to prove that. In the studio, we had 99 percent laughter and 1 percent tears."These songs don't represent Campbell's final turn in the studio. That was for "I'm Not Gonna Miss You," the Oscar-nominated song that was the theme for the documentary I'll Be You.
"The lyric of "I Wish You Were Here" reflects how we all just miss Glen so much" says Kim. "We still have him, but like 'I'm Not Gonna Miss You' says, 'I'm still here, but yet I'm gone.' That is the reality of the situation. I started a website called careliving.org to inspire and encourage caregivers to take care of themselves while they care for the ones they love, because it's just so heartbreaking and depressing to lose a family member like this. It's great to be able to bring something positive out of this experience. I'm so proud of my husband for going public with his diagnosis, and then going out to do a tour while he was living with Alzheimer's with a film crew documenting it. He was so brave and open. There are 5.6 million people living with it in the United States alone, and 15 million caregivers, so I think he helped remove the stigma and opened up a conversation about it and gave people hope."How is he doing, fans have to wonder, six years after going public with his diagnosis?"I will tell you that, just like his song 'I'm Not Gonna Miss You' says, he is blissfully unaware of his situation. But he is getting the best care in the world, and he is content and cheerful. He can't play guitar anymore, but he still sings. It's not lyrics that we understand. It's kind of gibberish, but you can tell that he is enjoying himself. He's got a happy melody in his heart and just as content as can be. He's surrounded by love. So that's the best we can ask or hope for."Says Jackson, "I go see Glen now, and believe it or not, he still sings. It's like talking to him. I mean, you can't understand what he's singing. The word he's singing may not make any sense. But there is still that voice. It's pretty amazing. They're really not even melodies you'd recognize, anymore, but they're pretty. And he does say some words. We have conversations; it's just not about anything. I tell people that it's kind of like you take the dictionary and pour all the words in a hat and Glen just reaches in and pulls them out. I'll carry on a conversation with him. It doesn't have to mean anything. It's just being with him and knowing what he's always meant to me. He'll say something and just laugh or smile or show all kinds of different emotions with what he's saying, but you have no idea what it means. But I want to believe that he knows what it means."For Jackson, a friend of 50 years, it was important that Campbell sound up to the task on this last album, to fulfill a legacy. "I want people to realize and know what I believe, which is that Glen Campbell is the greatest singer ever," he says. "There are people that will have different opinions, but after being around him for all those years, to me, he was the golden boy of American music, just like Mickey Mantle was the golden boy of baseball. He was perfection when he sang. And you can test me on that. I tell people that I'll give 'em 500 bucks if they can go find a bad note on Glen Campbell. You know, show me a YouTube video where he's not just killing it. I see the clips from this British TV show we did in front of a live audience for 10 or 12 weeks, all in front of a live audience, one take, live band, live orchestra, and it sounds like it's been tuned. He was absolutely amazing as a vocalist, and I hope this album continues to show that."Although he wasn't up to playing guitar on Adios, Kim hopes her husband's legacy is remembered as "one of the greatest guitar players that ever lived. Most musicians are well aware of that, but some of the new kids growing up, maybe they've never heard of Glen Campbell. Of course, if they go to see Guardians of the Galaxy, they're gonna hear 'Southern Nights'! That was a thrill for us."