Trump Asks, 'What About the Alt-Left?' Here's an Answer.

The New York Times  By LINDA QIU

'Just no': Lawmakers blast Trump's latest Charlottesville remarks
© Al Drago for The New York Times President Trump spoke Tuesday at Trump Tower in Manhattan.President Trump defended his belated condemnation of white supremacists who engaged in violence in Charlottesville, Va., by arguing that he was exercising caution in casting blame. Then he returned to his original position that there was ample fault on both sides.Asked about Senator John McCain, Republican of Arizona, who characterized calls for the firing of Lt. Gen. H. R. McMaster, the president's national security adviser, as "the same purveyors of hatred and ignorance who precipitated the recent violence in Charlottesville," Mr. Trump suggested that blame should be shared.Sign Up For the Morning Briefing Newsletter"What about the 'alt-left' that came charging at, as you say, the 'alt-right'?" he asked. "Let me ask you this: What about the fact they came charging — that they came charging with clubs in their hands, swinging clubs? Do they have any problem? I think they do."Antifa, or anti-fascist activists, certainly used clubs and dyed liquids against the white supremacists, according to the New York Times reporters Sheryl Gay Stolberg and Hawes Spencer, who covered the violence in Charlottesville. Other counterprotesters included nonviolent clergy members.But there is one stark difference between the violence on the two sides: The police said that James Alex Fields Jr. of Ohio drove his car into a crowd and killed at least one person, Heather Heyer. Mr. Fields was charged with second-degree murder.Comparing Antifa to Mr. Fields's act is like "comparing a propeller plane to a C-130 transport," said Brian Levin, the director of the Center for the Study of Hate and Extremism at California State University, San Bernardino."Using the fact that some counterprotesters were, in fact, violent, creates a structural and moral false equivalency that is seriously undermining the legitimacy of this president," Professor Levin said.Antifa and black block — the far left of today — engaging in street brawls and property damage, while reprehensible, is "not domestic terrorism," said J. J. MacNab, a fellow in the Program on Extremism at George Washington University. Similar episodes of extreme violence certainly exist on the left: the recent congressional baseball shooting in Virginia, or the bombing of the North Carolina Republican Party headquarters.But overall, far-right extremist plots have been far more deadly than far-left plots (and Islamist plots eclipsed both) in the past 25 years, according to a breakdown of two terrorism databases by Alex Nowrasteh, an analyst at the libertarian Cato Institute.White nationalists; militia movements; anti-Muslim attackers; I.R.S. building and abortion clinic bombers; and other right-wing groups were responsible for 12 times as many fatalities and 36 times as many injuries as communists; socialists; animal rights and environmental activists; anti-white- and Black Lives Matter-inspired attackers; and other left-wing groups.Of the nearly 1,500 individuals in a University of Maryland study of radicalization from 1948 to 2013, 43 percent espoused far-right ideologies, compared to 21 percent for the far left. Far-right individuals were more likely to commit violence against people, while those on the far left were more likely to commit property damage."We find that the right groups and the jihadi groups are more violent on the left," said Gary LaFree, one the researchers and the director of the University of Maryland's National Consortium for the Study of Terrorism and Responses to Terrorism. The data set is in the process of being updated, so it does not reflect current state of extremism, Professor LaFree cautioned, but "in general, we've been seeing this fairly robust trend in right-wing cases."All of the experts contacted by The Times stressed that extremism ebbs and flows, based on the presence of a charismatic leader, incremental changes in society, seismic events like an election or war, among other factors.The far left was far more active and violent in the 1970s, while the far right and, specifically, militia movements resurged in the 1980s. A decade later, environmental terrorists became active. And jihadist attacks dominated after the Sept. 11, 2001, attacks."The extreme left has not been nearly as organized" in recent decades, said Brent Smith, the director of Terrorism Research Center at the University of Arkansas. "Leaders of the extreme left died off and they're floundering without leadership."While antigovernment activists, for example, have been fomenting and building their anger since 2008, Antifa is a more nascent movement, reflected in their scale. The far right has a scattered membership of a few hundred thousand, estimated Ms. MacNab, compared with a few thousand Antifa activists."They're less structured, they're less organized, they're active on social media but not to the extent of others. They don't have the entree into and oxygen of support from the mainstream left," Professor Levin said.Though Antifa and black block "are on my radar," he still considers violent Salafist jihadists and white nationalists, neo-Nazis, "sovereign citizens" and radical anti-abortion extremists — the consortium of far-right agitators — more concerning.Get politics and Washington news updates via Facebook, Twitter and in the Morning Briefing newsletter.
Fox News Host Kat Timpf Absolutely Goes Off on 'Disgusting' Trump Presser The Daily Beast 3 hours ago
President Trump's bonkers Tuesday afternoon presser, in which he blamed the "alt-left" for the deadly Charlottesville violence, did not sit particularly well with one Fox News host.The Fox News Specialists co-host Kat Timpf's immediate comment on the press conference, which aired during the early portion of her show, was one of unrestrained revulsion."It's crazy for me to have to comment because I'm still in the phase where I'm wondering if it was actually real life what I just watched," a visibly stunned Timpf told her co-host Eboni Williams. "It was one of the biggest messes I've ever seen. I can't believe it happened."Timpf then railed against the president for saying he waited two days to unequivocally condemn white-nationalist hate groups because "You don't make statements that direct unless you know the facts"—a claim that strikes with particular irony considering how knee-jerkedly Trump reacts to violent incidents purportedly involving Muslims."I'm surprised he didn't say it was a terrorist instead of waiting to say something," Timpf explained. "'This was clearly an Islamic terrorist!' Because he's done that before, before he's had the facts. He is not measured in his criticism. He goes after people as soon as he gets the inkling."She continued the fury: "For him to take 48 hours, that is something he has never done before. And, yeah, it shouldn't be some kind of bold statement to say, 'Yes, a gathering full of white supremacist Nazis doesn't have good people in it. Those are all bad people, period.' And fact that that's controversial, I don't know if i should just laugh. I have too much eye makeup on to start crying right now."She concluded: "It's disgusting."
Group that allegedly helped plan inauguration protests subpoenaed CBS News Blair Guild

KKK leader says he is 'glad' about woman's death in Charlottesville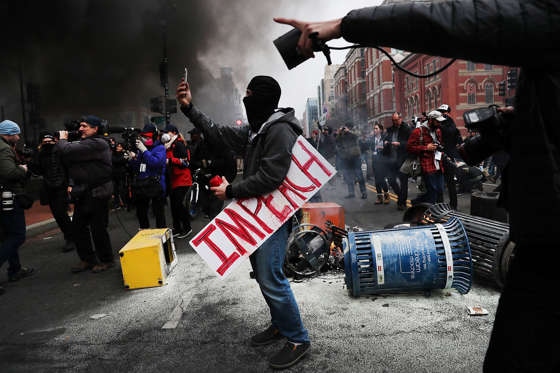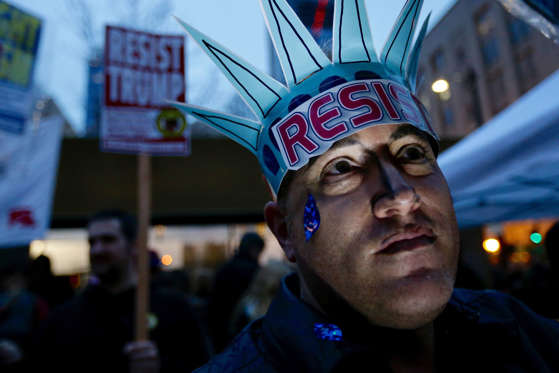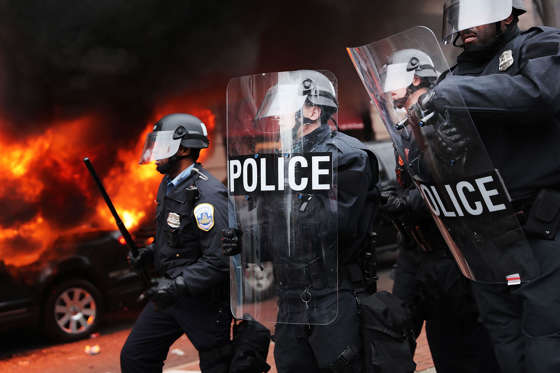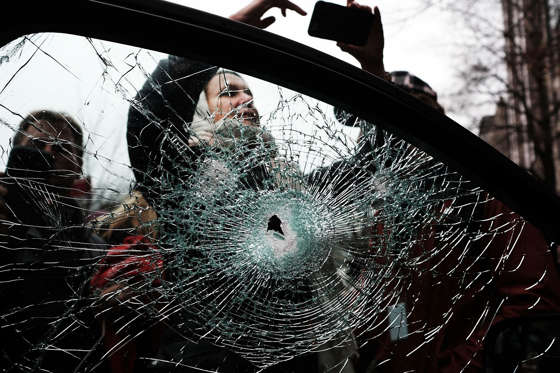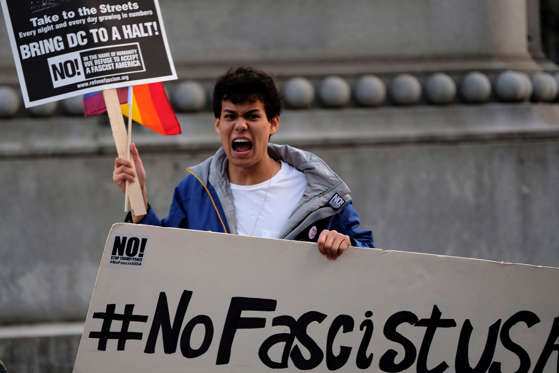 Slide 1 of 110: A protester takes a picture while holding a sign that reads "IMPEACH" in downtown Washington following the inauguration of President Donald Trump on January 20, 2017 in Washington, DC. Washington and the entire world have watched the transfer of the United States presidency from Barack Obama to Donald Trump, the 45th president.1/110 SLIDES © Spencer Platt/Getty ImagesA protester takes a picture while holding a sign that reads "IMPEACH" in downtown Washington following the inauguration of President Donald Trump on Jan. 20, 2017 in Washington, DC. Washington and the entire world have watched the transfer of the United States presidency from Barack Obama to Donald Trump, the 45th president.The U.S. Attorney's Office in Washington, D.C. has subpoenaed records from a group that allegedly helped facilitate Trump inauguration protests.The office has subpoenaed user records from the company DreamHost, which web-hosts #DisruptJ20, a group that allegedly assisted in planning protests against President Trump's inauguration in January. The subpoena is related to prosecutions of people arrested for the violence that occurred in Washington, D.C.DreamHost, which provides website hosting and domain name registry, is fighting the subpoena and has posted it online. The subpoena asks DreamHost "to provide all information available to us about this website, its owner, and, more importantly, its visitors," their website reads.
© Getty gettyimages-632240794.jpg The company argues that the subpoena is broad to the point of invading user privacy, as it would subsequently reveal the private data of more than a million users."That information could be used to identify any individuals who used this site to exercise and express political speech protected under the Constitution's First Amendment. That should be enough to set alarm bells off in anyone's mind," DreamHost's website explains. The case is set for a hearing this Friday, CBS News confirmed.A U.S. attorney official told CBS News that the office and the Department of Justice would not comment on DreamHost's blog post.
World US Army commander in Europe honored on Poland's army day Washington Post 11 hours ago
WARSAW, Poland — The Polish president has bestowed a high honor on the U.S. Army commander in Europe as Poland marked its Armed Forces Day with a military parade. President Andrzej Duda bestowed the Commander's Cross with a Star of the Order of Merit on Lt. Gen. Ben Hodges, the commander of the U.S. Army in Europe. Some 1,500 Polish soldiers then paraded in Warsaw, while fighter planes and other aircraft flew in formation above. Poland's marching soldiers were joined by a small unit of U.S. troops, some of the thousands who deployed to Poland this year as part of efforts to reassure European countries concerned about possible Russian aggression. U.S. Ambassador to Poland Paul Jones said on Twitter …The activists, many of them women, held up photos of Heather Heyer, the American woman killed when a car plowed into a crowd of people protesting a white nationalist rally in Virginia on the weekend.Beneath the photos were the words: "If you're not outraged you're not paying attention. Heather Hayer, victim of fascism August 2017.""Get fascists off our streets," read another sign.The aim of the protest was to prevent a group of several dozen extremists from marching in central Warsaw. In recent years Polish far-right groups have become increasingly active, particular on the national holidays. Critics of the ruling conservative Law and Justice party believe the government is emboldening them by failing to denounce them in strong terms.Police forcibly removed the protesters, taking them to a side street and recording their names, but as they did so new protesters arrived to take their places. Police heavily guarded the extremists.Earlier in the day, President Andrzej Duda bestowed a high honor, the Commander's Cross with a Star of the Order of Merit, on Lt. Gen. Ben Hodges, commander of the U.S. Army in Europe. A spokesman for the president said the award recognizes Hodges' commitment to Polish-U.S. military cooperation and his role in strengthening the NATO and U.S. presence in Poland.World News AlertsBreaking news from around the world.Some 1,500 Polish soldiers then paraded in Warsaw, while fighter planes and other aircraft flew in formation above.Poland's marching soldiers were joined by a small unit of U.S. troops, some of the thousands who deployed to Poland this year as part of efforts to reassure European countries concerned about possible Russian aggression.U.S. Ambassador to Poland Paul Jones said on Twitter that the Americans were proud to march alongside their Polish allies.The August 15 holiday celebrates Poland's landmark victory against the Russian Bolsheviks in the 1920 during the Polish-Soviet war. In the Battle of Warsaw, often called the "Miracle on the Vistula," outnumbered Polish troops led by Pilsudski defeated an advancing Red Army.
Politics
Trump's demand that Germany increase its military defense spending enters German election campaign
Los Angeles Times
2 hours 48 minutes ago
President Trump's demand that Germany nearly double its defense spending has become an election issue for Chancellor Angela Merkel, who has increasingly come under attack for sticking to her 3-year-old promise to NATO to sharply increase investments in weapons.Although Merkel's Christian 
Democrats
 — who have won the last three elections — are still far ahead of the center-left Social Democrats in opinion polls, the opposition has latched onto the military defense spending issue in hopes it will resonate with German voters. In a last-ditch attempt to tap into anti-Trump sentiment prevailing in Germany, the Social Democrats have criticized Merkel's pledges to Trump and NATO to raise that spending on military equipment."It would be simply insane for us to follow Trump's goal and start investing 2% of our annual economic output on defense," said Foreign Minister Sigmar Gabriel, noting that would be nearly double the 1.2% of GDP, or $45 billion a year, that Germany currently spends. "This election is among other things a decision if we're going to submit to Trump or not."After Merkel reaffirmed her commitment on Monday to raise Germany's defense spending toward 2% of GDP by 2024 — as NATO countries agreed at a 2014 summit in Wales — Gabriel went on the attack: "For me that's an act of submission to the American president that I find hard to believe."Paid Post
WHAT'S THIS?
Relentless security that works here. And here. And here.
A Message from 
Juniper Networks
The Software-Defined Secure Network turns your network into a single, holistic enforcement domain. Which means complete protection, everywhere.Another Social Democrat leader, Manuela Schwesig, added to the drumbeat of criticism on Tuesday: "We don't need rearmament, we don't need to spend an additional 20 billion euros [$23.5 billion] a year on weapons. We want to spend that money instead on education and better equipment at our schools."The Social Democrats, or SPD, who have been junior coalition partners to Merkel's conservatives since 2013, initially supported the NATO pledge to increase defense spending. Only four of the 29 North Atlantic Treaty Organization members reach that 2% target, with the United States leading the way with 3.6% — a point of contention with successive U.S. presidents even before Trump asked Germany and other nations to do more. Even though it is one of Europe's most prosperous countries and its federal government produces annual budget surpluses, Germany ranks 17th behind countries such as Romania, Poland, Montenegro, Norway, Portugal and Croatia.After first telling Merkel that Germany owed the United States vast sums for the U.S.-led defense, Trump launched public criticism of Germany on May 30. He tweeted: "We have a MASSIVE trade deficit with Germany, plus they pay FAR LESS than they should on NATO & military. Very bad for U.S. This will change."Earlier, on March 18, Trump wrote: "Germany owes vast sums of money to NATO & the United States must be paid more for the powerful, and very expensive, defense it provides to Germany!"Yet Trump's attacks have only galvanized opposition in Germany. In a country with a deep aversion to war in part due to its militaristic 20th century history and with an electorate already leery about spending money on tanks and warplanes while many school buildings are in need of repairs, the SPD has thrown off its gloves and attacked Merkel head on over the issue in what appears to be a Hail Mary attempt to shake up the dynamics of the election campaign."The SPD sense that this might be their only chance," said Gero Neugebauer, political scientist at Berlin's Free University. "They know that Germans are against military interventions abroad and most aren't interested in more defense spending as long as so many school buildings are in a state of disrepair."But Neugebauer added that Merkel is trying hard to defuse the issue in her own stay-calm style. "She's trying to tone down any confrontation by pointing out that it's only a voluntary goal for a distant date seven years away."Merkel is seeking a fourth four-year term. She and her conservatives are currently polling around 39% in opinion polls with the SPD, led by Martin Schulz, a distant second at 24%. Merkel's conservatives hope to win enough support to form a center-right coalition with the pro-business Free Democrats, polling around 8%. The election will be Sept. 24.Thorsten Hasche, a political scientist at Goettingen University, said Merkel was doing all she could to avoid getting blindsided late in the campaign by the defense spending issue and prevent any fallout from harming her still-sterling reelection prospects.Yet she knows well that the antiwar issue goes down exceptionally well in Germany. Another SPD candidate, Gerhard Schroeder, came from far behind the conservatives in opinion polls in 2002 to narrowly win reelection by campaigning fiercely against U.S. President George W. Bush's plans to invade Iraq."The SPD would certainly like to make this one of the main campaign issues while Merkel is doing everything she can to stay away from it," said Hasche. Schulz, the SPD candidate, is doing all he can to turn the contest into an anti-Trump election."Martin Schulz has become the strongest Trump critic in Germany in an attempt to improve his standing with voters," said Hasche. "But it hasn't really had much traction yet because the reality in Germany is: Pretty much everyone is against Trump."
Here's how long it could take North Korean nuclear missiles to reach US cities Business Insider Sun, Aug 13 10:00 PM PDT
North Korea's recent weapons tests suggest it could launch a weapon to the US. The range of a North Korean nuclear missile may extend as far as New York City. The flight time to NYC, for example, might be about 40 minutes and 30 seconds. However, very little is publicly known about the capabilities of North Korea's ICBM technologies. North Korea has the world on edge. In July, the isolated nation test-launched intercontinental ballistic missiles, or ICBMs, that can reportedly deliver nuclear warheads to targets thousands of miles away. And as journalists revealed in August, US intelligence officials think North Korea has also figured out how to miniaturize its warheads to fit atop ICBMs.While many weapons experts question the exact capabilities of North Korea's latest hardware, few deny it represents worrisome progress toward the nation becoming a credible nuclear threat. Experts are also concerned the maturing ICBM program could proliferate nuclear weapons around the world, raise the likelihood of nuclear accidents, and bring the world closer to the brink of what could be a global calamity."Based on current information, [the July 28] missile test by North Korea could easily reach the US West Coast, and a number of major US cities," David Wright, a physicist and the co-director of the Union of Concerned Scientists' global security program, wrote in a recent blog post.To estimate how long it'd take for North Korean missiles to reach key US targets, Business Insider called up Wright for help.The interactive feature below shows approximate flight times from the North Pyongan province (where the ICBMs were test-launched) to several key US targets. Those locations include Washington DC, New York City, Los Angeles, Honolulu, Chicago, Anchorage, and Guam — where there's a major US military presence. Wright said the above flight times and distances are not ironclad and come with numerous caveats.For one, they're calculated based on what is publicly known about North Korea's Hwasong-14 ICBM system and its July 28 test launch. Wright estimated the missile to have a maximum range of about 6,500 miles, which would bring it just shy of Washington, DC."The range of a ballistic missile is tied to its speed. It's just like throwing a ball; the faster you throw it at a given angle, the farther it will travel," Wright said, adding that the burn-out velocity — or speed an ICBM reaches when it shuts off its engines in space — isn't known, among other variables.Given the correct angle of launch and some modifications, he thinks North Korean ICBMs might be capable of reaching between 3 and 4.2 miles per second at burn-out."I've tried to put in numbers that I think are related to North Korean missiles," said Wright, who is considered an arms control, missile technology, and space weapons expert. "I get those from years of playing around with this stuff."Another unknown is payload weight.The Hwasong-14 missile test reportedly flew some 2,300 miles into the sky, for a total flight time of about 47 minutes. It also lofted a reentry vehicle — a device that protects one or more warheads from burning up when plowing through Earth's atmosphere — but it's uncertain if the dummy vehicle accounted for the weight of an actual warhead. (The lighter a payload, the faster, higher, and farther a missile can go.) There's also evidence that the reentry vehicle failed and broke into pieces on its way back down.
North Korean leader Kim Jong Un inspects the intercontinental ballistic missile Hwasong-14 in this undated photo released by KCNA. Thomson ReutersJust as important, Wright said his numbers and flight paths don't account for Earth's movement."When you launch, the Earth doesn't stay still. It rotates underneath the missile," Wright said. "Trying to do this on a rotating Earth gets really complicated."This not only requires over- or under-shooting a missile, but also makes the physics of targeting far more complex."The range of a ballistic missile is tied to its speed, and if you're firing east, you get a little bit of a speed boost from the Earth's rotation," Wright said. He added that it depends on whether you're firing at a target to your north or south, since Earth moves faster at its equator than northern or southern latitudes.Finally, the numbers also assume a North Korean ICBM could thwart missile defense systems, such as the US military's latest "kill vehicle" technology, and actually reach its intended target."If you're launching your missile, you need to figure out how fast it's going, shut off engines at the right speed, and keep it pointed in the right direction," Wright said. "That's hard to do really accurately."SEE ALSO: What ICBMs are, how they work, and why they're so scary
Former Defense Secretary explains 2 ways the US could 'blunder' into a 'Korean armageddon'