Politics Art of the Deal co-author predicts Donald Trump is about to resign
 Maya Oppenheim,The Independent 10 hours ago
The co-author of Donald Trump's memoir The Art of the Deal has predicted the US President is going to resign by autumn if not sooner.Tony Schwartz, who claims to have ghostwritten the 1987 best-selling business book, argued Mr Trump is on the brink of stepping down and said he would be shocked if his presidency lasts until the end of the year.Mr Schwartz, who has been a vocal critic of President Trump and spent 18 months interviewing and shadowing him in the 1980's, suggested he would negotiate a deal for immunity in the Russia investigation in exchange for giving up his seat in the Oval Office.He said: "The circle is closing at blinding speed. Trump is going to resign and declare victory before Mueller and Congress leave him no choice"."Trump's presidency is effectively over. Would be amazed if he survives till the end of the year. More likely resigns by fall, if not sooner."The author argued resistance against the president, who has drawn fierce criticism for drawing moral equivalence between white supremacists and anti-fascists in the wake of Charlottesville, must be maintained despite his resignation being imminent.He said: "Trump must be isolated. Resistance every day. The end is near but must keep pressure high."He added: "The end game is on: Trump goes down or we do. He will blow up the world to prove he matters. We must stand up in opposition every day".Mr Schwartz has been a fierce critic of the billionaire property magnate since he threw his hat into the ring for the presidential race and has often raised alarm bells about the danger of him having access to America's nuclear weapons.Last year he announced he was advising the campaign of Mr Trump's Democrat rival Hillary Clinton for free as "penance" for boosting Mr Trump's success and profile by ghostwriting his book."This is my penance for having created a man who has become a monster, and I've spent 30 years feeling bad about it," he told CNN ahead of the second Presidential debate. "Now I feel like I've got to show there's nobody behind the curtain."When pressed about whether there was anything he found appealing about Mr Trump, he said "nothing"."This is a man who I really believe lacks a conscience at the deepest level, so there really was nothing. He was effective in certain ways, he's a dominant, aggressive personality and he pushes and he pushes and he pushes and he gets a lot of what he wants."Mr Schwartz claims to have gotten to know Mr Trump very well while working on The Art of the Deal, saying he spent hundreds of hours talking to him about his life, listening to him speak and generally observing him in action.He has since said he bitterly regrets the way he portrayed the former reality TV star, saying the glowing depiction is a piece of fiction and amounted to himself having "put lipstick on a pig".On top of this, he said if he could go back in time and rewrite it he would opt for the title The Sociopath. Last autumn, he even committed to giving $55,000 in royalties he had made off the book over the past six months to the National Immigration Law Center. This is an American organisation which focuses on achieving social, economic, and racial justice for low-income immigrants and pushes for policies that would allow more undocumented immigrants to remain in the US legally.There have been some disputes between Mr Schwartz and Mr Trump about who wrote the book. The president has challenged Mr Schwartz' position as the ghostwriter via his legal team but Mr Schwartz claims he has proof from his publisher Random House that he wrote the entire book.Mr Schwartz, who shared credit as a co-author with Mr Trump, claims Mr Trump only did some minor editing of the book which he touted during his campaign as evidence of his skills as a negotiator.Mr Trump has acknowledged Mr Schwartz as his co-author but insisted he wrote his own memoir, saying: "He owes a lot to me. I helped him when he didn't have two cents in his pocket. It's great disloyalty. I guess he thinks it's good for him – but he'll find out it's not good for him."
Barcelona terror attack: Two men arrested, 13 killed after van ploughed into crowd of pedestrians
Yahoo News UK
13 dead after van ploughs into crowd of pedestrians
Two men have been arrested
Driver is thought to be still at large
ISIS has claimed responsibility for the attack
Attack took place in popular Las Ramblas tourist area
Spanish PM declares three days of mourning
Two men have been arrested and at least one more is still at large after a white van ploughed into a crowd of people in a busy Barcelona tourist district, killing at least 13 and injuring 100 others.Officials said some were very badly hurt, suggesting the death toll could rise even further.Police have said neither of those arrested were the driver of the van, meaning a major manhunt is underway for at least one person still at large.The two detained are a Moroccan and a man from Spain's north African enclave of Melilla.Barcelona attack witness saw driver 'knocking people over at high speed;In pictures: Barcelona rocked by terror attack;Trump reacts to terror by touting (debunked) anti-Muslim war crime tale;People are sharing pictures of cats after the Barcelona attack
Isis has claimed responsibility for the attack via their Amaq News Agency. Isis frequently declares involvement in incidents across the world so their claims should be treated with caution, though Catalan Police have confirmed the incident is a terror attack.Spain has several hundred soldiers in Iraq providing training to local forces in the fight against Isis, but they are not involved in ground operations.Senior police officials said Thursday's van attack was linked to an explosion at a nearby home the previous day in which one person was killed. Residents of the house were preparing explosives, a Catalan police source saidLocal police also said a man later ran over two police officers at a checkpoint elsewhere in the city, but it was not clear if the incidents were linked. The AAP news agency has said police have confirmed the two events were unconnected.Spanish media have published a picture of a man police sources say rented the van.Authorities have named him as Driss Oukabir, a 28-year-old born in Morocco who lives in Catalunya.Security sources told El Pais that Oukabir had recently visited Morocco and arrived back in Barcelona earlier this week.
View photosThe man police sources say rented the van that was used in the attackThe horrifying attack took place at around 5pm local time, when the vehicle careered into terrified pedestrians in the busy tree-lined promenade in Las Ramblas, one of the most popular parts of the city, visited by tourists and locals alike.Police said that neither of the two men arrested had driven the van, though they were involved in some capacity.Pictures from the scene showed police helping people injured in what was described as a 'massive crash'.Harrowing images and video showed numerous bodies strewn across the pavement.Earlier reports said up to two armed men had fled to a restaurant and taken hostages, but police have since confirmed no suspects are holed up in nearby buildings.U.S. President Donald Trump said: "The United States condemns the terror attack in Barcelona, Spain, and will do whatever is necessary to help."He added: "Be tough & strong, we love you!"Reports say that a Spanish passport of a man with a Moroccan name was found inside the van.The area was cordoned off and local metro stations closed, with many people taking shelter in local shops and cafes. Shop owners are thought to have invited passers-by into their premises and then put up shutters to keep those inside safe.As police continued the hunt, they asked people not to post images or video on social media.
View photosPolice and emergency services attend to injured persons at the scene REUTERSSteve Garrett was in a nearby market and sheltered in a bakery with several others after streams of people ran inside.One member of the group who took refuge with him said she had heard gunshots after the incident.Mr Garrett told the BBC: "A very large number of people ran into the market area in a big kind of way, lots of screaming, lots of shouting."The security guards immediately responded. We ran into the bakery with four or five other people and ran straight upstairs and hunkered down whilst an enormous wave of people went through the market."The lady that was with us said she heard some gunshots."Mr Garrett said a "second wave" of people then entered the market, followed by armed police.He said: "They seemed to sweep through the market area."They seemed to be looking for someone. They were going very carefully, very cautiously, stall to stall."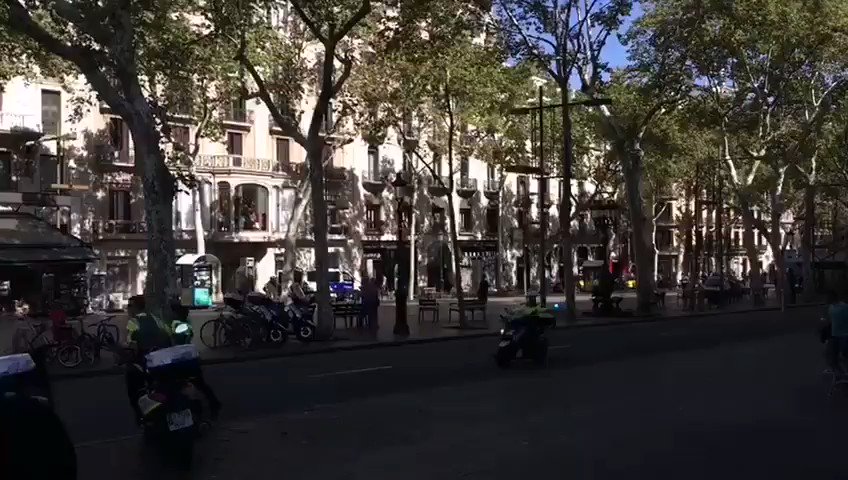 Follow
Arturo Fernández Rui @Arturof66REl horror llega a nuestra ciudad.Twitter Ads info and privacyEyewitness Ethan Spibey told Sky News: 'It was real chaos, people started running, screaming. There was a loud bang.'Another witness, Aamer Anwar, said: "All of a sudden, I just sort of heard a crashing noise and the whole street just started to run, screaming. I saw a woman right next to me screaming for her kids."Police wTom Gueller, who lives on a road adjoining the site of the attack, was forced to flee when the vehicle began hitting pedestrians.He told the BBC: "I heard screams and a bit of a crash and then I just saw the crowd parting and this van going full pelt down the middle of the Ramblas, and I immediately knew that it was a terrorist attack or something like that."I ran away, I mean I live near, I had to run back about 50 metres or so and go up to my flat and obviously see what's happening on the road from my balcony."Asked about the van, he said: "It wasn't slowing down at all. It was just going straight through the middle of the crowds in the middle of the Ramblas."In recent weeks, threatening graffiti against tourists has appeared in Barcelona, which draws at least 11 million visitors a year.In one video released under the slogan "tourism kills neighbourhoods", several hooded individuals stopped a tourist bus in Barcelona, slashed the tyres and spray-painted the windscreen.Since July 2016 a number of vehicles have been driven into crowds in a series of attacks across Europe, killing well over 100 people in Nice, Berlin, London and Stockholm.Las Ramblas is a popular shopping street in the centre of Barcelona and one of the city's most popular tourist destinations.London Mayor Sadiq Khan said that his thoughts were with the victims of the attack.Prime Minister Theresa May said her thoughts are with the victims of the "terrible attack", adding: "The UK stands with Spain against terror."
U.S. Ex-NY governor hopeful who insulted Obamas kicked off board
 CAROLYN THOMPSON,Associated Press 1 hour 36 minutes ago
BUFFALO, N.Y. (AP) — One-time Republican candidate for New York governor Carl Paladino, whose published insults of former President Barack Obama provoked a public uproar, was removed from Buffalo's school board Thursday for improperly discussing teacher contract negotiations.State Education Commissioner MaryEllen Elia announced her decision Thursday, a day after Paladino protesters disrupted the school board's latest meeting with calls for his ouster.Paladino's lawyer said he would appeal the decision, which he suggested may have been influenced by the country's mood in the wake of a violent white nationalist rally in Charlottesville, Virginia. Attorney Dennis Vacco said that although Paladino was kicked off the board for writing about confidential board business, the monthslong campaign for his removal has centered on Paladino's "vile" comments about Obama and former first lady Michelle Obama."It's not lost on me that just last night, protesters were at the board of education hearing again protesting Carl and attempting to link Carl to the unfortunate events in Charlottesville," Vacco, a former state attorney general, said.The protests have been happening since December, when Paladino, who helped chair President Donald Trump's campaign in New York, told a local arts newspaper he wished Obama would die of mad cow disease. But it was a later article written by Paladino detailing closed-door teacher contract negotiations that led to his removal.Elia sided with fellow school board members who said Paladino had willfully disclosed confidential discussions, including the superintendent's "panic" over the threat of a teacher strike. The revelations revealed vulnerabilities that ultimately benefited the teachers' union and other units with pending contract negotiations, union and school board officials testified during a hearing in June.Paladino had argued his disclosures more than two months after an agreement was reached were justified because his intent was to inform his constituents about what he viewed as "a scheming and rigging of a contract."Elia also rejected Paladino's contention that the board's real reason for the removal petition was retaliation for his Obama comments, which he said were not meant for publication but nevertheless protected by his constitutional right to free speech. A federal lawsuit filed by Paladino against the board accuses members of attempting to stifle that right.The Obama comments may have set into motion Paladino's ouster, Elia wrote, but Paladino's subsequent executive session disclosures "provided a new, independent ground for seeking (Paladino's) removal."The commissioner's ruling disqualifies Paladino, the Republican nominee for New York governor in 2010, from appointment or election to any district office for one year. The wealthy developer was elected to the school board in 2013 and re-elected by a narrow margin in 2016."There is absolutely no place in public education for someone who flagrantly disregards the rules and spouts disgusting, racially charged ideas that harm students and the teaching environment," New York State United Teachers said in one of several statements issued by organizations in support of Elia's decision.The Education Trust's New York chapter, invoking last weekend's violence in Virginia, said the issue was "much deeper" than contained in the limited ruling."As we've seen from the recent events in Charlottesville, we have a long way to go as a country to combat hate and intolerance" the organization said, "and elected leaders at every level from the local school board to the president must be held accountable for the tone they set and for the lessons their words teach young people."School board President Barbara Nevergold said Elia's ruling confirms that it's not for individual board members to decide what is confidential and what should be made public. She said she hopes Paladino's removal clears the way for more productive meetings."There has been a lot that has occurred at this board table and outside that has really been due to the behavior of Mr. Paladino," Nevergold told reporters inside the City Hall meeting room. "We're looking forward to being able to move forward without the distractions that have accompanied his behavior."Paladino's remarks about Obama were part of an end-of-the-year Artvoice article that posed questions to high-profile, Buffalo-area personalities about the year ahead.When asked what he'd like to happen in 2017 and what he'd like to see go away, Paladino replied he wanted Obama to die of mad cow disease and Michelle Obama to "return to being a male and let loose in the outback of Zimbabwe where she lives comfortably in a cave with Maxie, the gorilla."
Lakewood school board president resigns (again) amid turmoil
NJ.com
Mon, Aug 14 10:00 PM PDT
LAKEWOOD -Lakewood's school board president resigned Monday, for the second time in as many months, citing a lack of state funding for the impoverished school district and persistent criticism from the community as the reasons for his departure. Board President Barry Iann first tendered his resignation in July, but it was not accepted by the Lakewood Board of Education. He said at the time he decided to stay on after encouragement from colleagues and members of the community. However, Iann said that the stream of unrelenting criticism toward the board ultimately sealed his decision follow through with the resignation. "I couldn't get unity on the board," Iann said, adding, "this community is …Gallery: Lakewood board of education meetingBy 
Payton Guion
pguion@njadvancemedia.com
,NJ Advance Media for NJ.com
LAKEWOOD
 -Lakewood's school board president resigned Monday, 
for the second time in as many months
, citing a lack of state funding for the impoverished school district and persistent criticism from the community as the reasons for his departure.Board President Barry Iann first tendered his resignation in July, but it was not accepted by the Lakewood Board of Education. He said at the time he decided to stay on after encouragement from colleagues and members of the community.However, Iann said that the stream of unrelenting criticism toward the board ultimately sealed his decision follow through with the resignation."I couldn't get unity on the board," Iann said, adding, "this community is pointing fingers in the wrong way. The community has to unite. We can't point fingers."Iann also said the district's ongoing budget crisis also contributed to his decision to step down. Earlier this year, the district was facing a $14.7 million budget shortfall  that could have resulted in the 
layoff of about a quarter of the district's teachers
.An $8.5 million loan from the state Department of Education and a gift of more than $1 million from Lakewood Township 
prevented the layoffs and massive cuts
 to after school programs, including athleticsBut because the New Jersey's school funding formula does not account for Lakewood's unique school situation, another budget deficit is likely next year, school officials have said.
A rare glimpse into the elite college that changed Lakewood forever
To truly understand Lakewood, you must first understand BMG.Lakewood has about 6,300 public school students and more than 30,000 children in private schools. The state only provides funding based on the smaller public school enrollment, even though Lakewood is required to pay to send some 
special education students to private school for services.
 Lakewood also has extraordinarily high busing costs because it provides transportation for most of the 30,000 private school students. State lawmakers, including Sen. Robert Singer, R-Ocean, have said they're working on legislation to change the formula in order to help Lakewood's school district. Without legislative relief, the next school board president will face the budget issues that helped force Iann to resign.On Monday, the school board named board member Moshe Bender as the new board president. With Iann's seat now vacant, the board is 
asking interested candidates
 to submit resumes. The board will interview candidates and name Iann's replacement at the Aug. 30 meeting.Also at Monday's meeting, Lakewood schools Superintendent Laura Winters received a pay bump when the board agreed to a three-year salary that pays her $196,547 per year. Winters was previously making $167,500 per year.Kimberlee Shaw, the president of Lakewood's teacher's union, said her members were indifferent to Iann's resignation and are hoping Bender can provide the job security they've been lacking in recent years."It really has no impact on us," Shaw said. "We're hoping we have a full board to give us stability. We just want someone who is interested in the public schools."
Payton Guion may be reached at PGuion@njadvancemedia.com. Follow him on Twitter @PaytonGuion. Find NJ.com on Facebook.
Spain hunts van driver who mowed down Barcelona crowd, killing 13
Reuters By Andrés González and Richard Martin UPDATE: MADRID, Aug 18 (Reuters) – Catalan police said on Friday they had killed the perpetrators of a "terrorist attack" in the town of Cambrils, south of Barcelona, following a police operation.The operation came after a van attack in Barcelona on Thursday that so far has left 13 dead.The police did not say on Twitter how many people had died in Cambrils. Spanish media said police had killed at least three attackers.EARLIER: BARCELONA, Aug 18 (Reuters) – A manhunt was underway for the driver of a van that mowed through crowds of tourists on Barcelona's most famous avenue on Thursday, killing at least 13 people in an attack that was claimed by Islamic State.Authorities said the death toll could rise, with more than 100 people injured, some seriously.Police said they arrested two men, a Moroccan and a man from Spain's north African enclave of Melilla, though neither was the driver. Witnesses said the driver fled on foot.It was still not clear how many attackers had been involved.Hours beforehand, one person was killed in an explosion in a house about 100 km (62 miles) southwest of Barcelona, in an incident linked to the attack, police added. Residents of the house were preparing explosives, a Catalan police source said.In another incident, police shot dead a man who had driven a car into a police checkpoint in Barcelona, though they had no evidence he was connected with the van attack.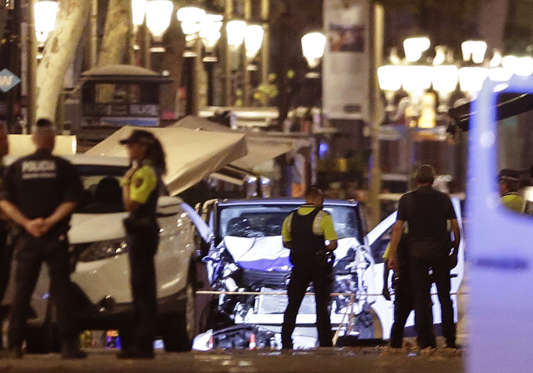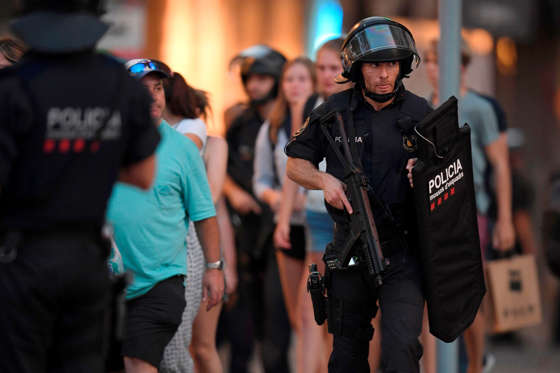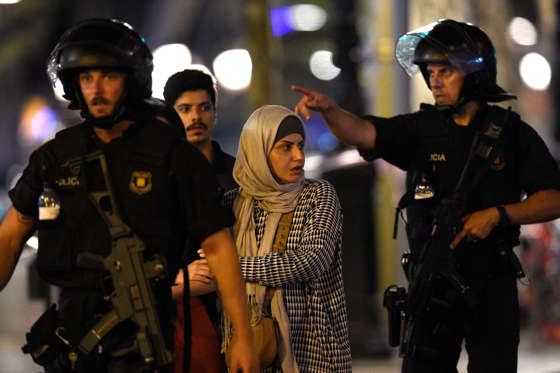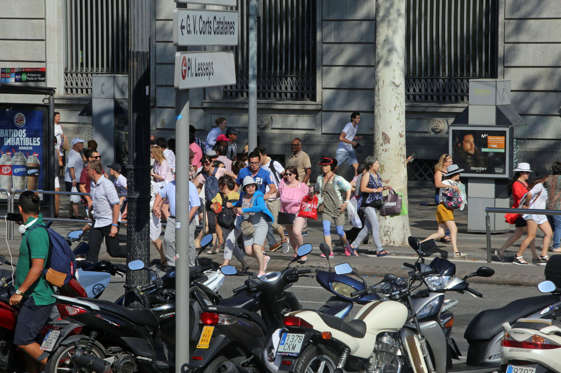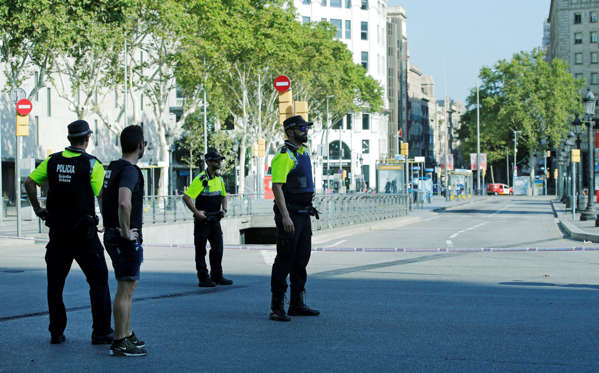 Slide 1 of 19: Police officers stand next to the van involved on an attack in Las Ramblas in Barcelona, Spain, Thursday, Aug. 17, 2017. A white van jumped up onto a sidewalk and sped down a pedestrian zone Thursday in Barcelona's historic Las Ramblas district, swerving from side to side as it plowed into tourists and residents. Police said 13 people were killed and more than 50 wounded in what they called a terror attack. (AP Photo/Manu Fernandez)1/19 SLIDES © Manu Fernandez/AP Police officers stand next to the van involved on an attack on Las Ramblas in Barcelona, on Aug. 17, 2017. A white van jumped up onto a sidewalk and sped down a pedestrian zone  in Barcelona's historic Las Ramblas district, swerving from side to side as it plowed into tourists and residents.Slideshow by photo servicesWitnesses said the white van zigzagged at high speed down Las Ramblas, a busy avenue thronged with tourists, ramming pedestrians and cyclists, sending some hurtling through the air and leaving bodies strewn across the ground.Islamic State's Amaq news agency said: "The perpetrators of the Barcelona attack are soldiers of the Islamic State and carried out the operation in response to calls for targeting coalition states" – a reference to a U.S.-led coalition against the Sunni militant group.Spain has several hundred soldiers in Iraq providing training to local forces in the fight against Islamic State, but they are not involved in ground operations.The Islamic State claim could not immediately be verified.If the involvement of Islamist militants is confirmed, it would be the latest in a string of attacks in the past 13 months in which they have used vehicles to bring carnage to the streets of European cities.That modus operandi – crude, deadly and very hard to prevent – has killed well over 100 people in Nice, Berlin, London and Stockholm.British tourist Keith Welling, who arrived in Barcelona on Wednesday with his wife and 9-year-old daughter, said they saw the van drive past them down the avenue and took refuge in a restaurant when panic broke out and the crowd started running."People were shouting and we heard a bang and someone cried that it was a gunshot … Me and my family ran into the restaurant along with around 40 other people."At first people were going crazy in there, lots of people crying, including a little girl around three years old."It was the deadliest attack in Spain since March 2004, when Islamist militants placed bombs on commuter trains in Madrid, killing 191 people and wounding more than 1,800.Spanish Prime Minister Mariano Rajoy announced three days of official mourning for what he called a "jihadist attack.""Today the fight against terrorism is the principal priority for free and open societies like ours. It is a global threat and the response has to be global," he told a news conference in Barcelona.The Spanish royal household said on Twitter: "They are murderers, nothing more than criminals who are not going to terrorize us. All of Spain is Barcelona."U.S. President Donald Trump said: "The United States condemns the terror attack in Barcelona, Spain, and will do whatever is necessary to help."He added: "Be tough & strong, we love you!"BODIES ON THE GROUND Catalan police said the two men detained on Thursday had been arrested in two towns, Ripoll and Alcanar, both in the region of Catalonia, of which Barcelona is the capital.The explosion was also in the town of Alcanar, in the early hours of Thursday. One person died and another was injured in that incident, police said.Mobile phone footage showed several bodies strewn along the Ramblas, some motionless. Paramedics and bystanders bent over them, treating them and trying to comfort those still conscious.Around them, the boulevard was deserted, covered in rubbish and abandoned objects including hats, flip-flops, bags and a pram.Belgium's foreign minister said a Belgian was among the dead.Regional head Carles Puigdemont said people had been flocking to hospitals in Barcelona to give blood.Susana Elvira Carolina, 33, who works at a shop on Las Ramblas, had just entered her building when the van struck."We had a window and you could see the bodies lying from there, you could see how people were run over … We were shutting down the blinds but people kept coming in and we had to keep it open so they could enter the shop."TOURIST DRAW The incident took place at the height of the tourist season in Barcelona, which is one of Europe's top travel destinations with at least 11 million visitors a year.French President Emmanuel Macron, whose nation has suffered some of Europe's deadliest militant attacks in recent years, tweeted: "All my thoughts and France's solidarity to the victims of the tragic attack in Barcelona."A Vatican spokesman said Pope Francis was praying for the victims and wanted to express his closeness to all Spanish people, especially the victims and their families.Authorities in Vic, a small town outside Barcelona, said a van had been found there in connection with the attack. Spanish media had earlier reported that a second van had been hired as a getaway vehicle.Barcelona is the capital of the wealthy northeastern region of Catalonia, which plans to hold a popular vote on Oct. 1 on whether it should secede from Spain. The central government says the vote cannot go ahead because it is unconstitutional.Before Thursday's attack, government data showed that police had arrested 11 suspected jihadists in the Barcelona area so far this year, more than anywhere else in Spain.(Reporting by Angus Berwick, Sarah White, Julien Toyer and Madrid newsroom; Alissa de Carbonnel in Belgium; Ali Abdelaty and Ahmed Aboulenein in Cairo; Writing by Mark Trevelyan; Editing by Mark Bendeich, Nick Tattersall and Lisa Shumaker)
World Canada sees 'unsustainable' spike in asylum seekers at U.S. border
 By Anna Mehler Paperny and Allison Lampert,Reuters 2 hours 13 minutes ago