Harvey hammers Rockport, Texas; 1 dead
 MORGAN WINSOR,Good Morning America 5 hours ago 
Video Not AvailableUnfortunately, this video is not available in your region.SS-100-202A small city nestled on the Texas Gulf Coast has been hit hard by Harvey's wrath of torrential rain and high wind, leaving one dead, and the life-threatening weather has prevented emergency crews from responding to calls for help, officials said.Rockport Volunteer Fire Department Chief Steve Sims told ABC News around 9 a.m. on Saturday that its teams are out doing assessments of the area of about 10,000 residents. Earlier in the morning, about 22 firefighters were still hunkered down at the local fire station. The department had about 25 to 30 pending calls at the time, and firefighters were anxious to help, Sims said, but they weren't able to respond until weather conditions improved and it was safe for them to travel.Sims said the firehouse fared well in the storm thus far."It rattled, it shook, but made it through it," he said.At least one person died in Rockport as a result of the storm, officials said Saturday afternoon. The individual's identity was not released pending next-of-kin notification.Hurricane Harvey bashes Texas coast, leaving thousands without power, homes damaged, residents injuredHurricane Harvey downgraded to Category 2 storm as winds weakenMayor tells those not evacuating for hurricane to put Social Security numbers on armsThe extent of the damage in Rockport became more clear as daylight brightened. ABC News' crew on the ground observed homes and buildings with roofs that had collapsed or were blown off; storefronts on Main Street that were shattered; brick structures that had crumbled; and flooded streets with downed power lines and scattered debris, making some roads completely impassable.
Rockport City Manager Kevin Carruth also confirmed to ABC News that multiple buildings were damaged in the coastal community, including the courthouse and the public high school.Harvey made landfall as a Category 4 hurricane at around 10 p.m. local time Friday over the northern end of San Jose Island between Port Aransas and Port O'Connor. The storm's eye was 30 miles away from the coastal city of Corpus Christi. By Saturday afternoon, Harvey was downgraded to a tropical storm.However, Rockport, located about 31 miles northeast of Corpus Christi, experienced peak wind surges of more than 125 mph overnight, according to the National Weather Service.
The city was among a handful of Texas locales that had issued mandatory evacuations prior to Harvey's anticipated arrival Friday night. Rockport Mayor Pro Tem Patrick Rios advised residents who were not evacuating ahead of the massive storm to mark their identities on their bodies."We're suggesting if people are going to stay here, mark their arm with a Sharpie pen with their name and Social Security number," Rios said at a news conference Friday morning.
He said that grim step is necessary to prepare for the worst in case of deaths among people who remain in the area."We hate to talk about things like that," he added. "It's not something we like to do but it's the reality, people don't listen."
ABC News' Janet Weinstein contributed to this report.
U.S. Photos Show Devastation Left Behind From Hurricane Harvey
 Chris McGonigal,HuffPost 14 hours ago
As Saturday morning arrived on the Texas Gulf Coast, people awoke to considerable damage left behind by Hurricane Harvey. Images show damage to several buildings in the city of Rockport, which is located 30 miles northeast of Corpus Christi. The city took the brunt of the Category 4 winds. Corpus Christi also saw significant damage with photos showing houses that caught fire during the storm. Buildings and homes in Katy, near Houston, were demolished after tornadoes touched down.We will update this post with the latest images of damage from Hurricane Harvey, which was downgraded to a Category 1 storm but with warnings of "catastrophic flooding" to come.
A destroyed apartment complex is seen on Aug. 26, 2017, after Hurricane Harvey passed through Rockport, Texas.
Donna Raney is helped out of the window by Lee Guerrero and Daisy Graham in Rockport.Valerie Brown walks through a flooded area after leaving her apartment in Rockport.A Rockport firefighter goes door to door on a search and rescue mission as he looks for people who may need help.
Jacque McKay walks through the apartment complex where she lives in Rockport.
A damaged home is seen after Hurricane Harvey in Rockport.
Damage is seen to a shopping center in Victoria, north and farther inland than Rockport.Damage is seen at a business near RockportA damaged mobile home in Victoria.
Damage to a hotel in Victoria.A business is damaged in Victoria. A light plane sits upside done at Rockport Airport.
A sunken boat at Rockport Harbor.
Destroyed houses in Rockport.A car lies abandoned in Rockport. A police officer checks for survivors among destroyed houses in Rockport. A gas station in Victoria.Damage to homes is seen near RockportA sign on a Holiday Inn hotel in Victoria
A burnt-out house that caught fire after Hurricane Harvey hit Corpus Christi. A house suffers roof damage in Corpus Christi.A fireman walks by a burnt-out car that caught fire in Corpus Christi.A car lies submerged in Corpus Christi.
Harvey claims second fatality, threatens catastrophic floods
By Brian Thevenot Reuters
Harvey claims second fatality, threatens catastrophic floodsBy Brian Thevenot ROCKPORT, Texas (Reuters) – A second person was killed on Saturday as Harvey, the most powerful storm to hit Texas in more than 50 years, roared inland, knocking out power to more than 230,000 people and threatening catastrophic flooding.The second fatality was identified as a woman who was killed as she drove through flooded streets on Houston's west side, a Houston police officer said. On Friday night, an unidentified victim died in a house fire in the town of Rockport, 30 miles (48 km) north of Corpus Christi.Another dozen people in the area suffered injuries like broken bones, another official said.Harvey slammed into Texas late Friday as a Category 4 hurricane with winds of 130 miles per hour (209 km per hour), making it the strongest storm to hit the state since 1961. It has since lingered over Houston, dumping 2-3 inches of rain an hour onto the city.The storm ripped off roofs, snapped trees, triggered tornadoes and flash floods and cut off power to some 232,000 people, mostly in the Houston area, on Saturday night. It also largely curtailed oil and gas production in the state, prompting price hikes at the pumps.Harvey was downgraded to a tropical storm on Saturday but was expected to lash Texas for days as it lumbers inland, bringing as much as 40 inches (102 cm) of rain to some areas, according to the National Hurricane Center, which described the forecast for the state as potentially "catastrophic."The Weather Channel reported that rainfall rates in Houston, the fourth most populous city in the United States and home to a third of the 6 million people that could be impacted by Harvey, could reach 5-6 inches per hour, making streets impassable.Rockport, which took a direct hit from the storm, was left with streets flooded and strewn with power lines and debris on Saturday.A dozen recreational vehicles were flipped over on a sales lot, one blown into the middle of the street. By Saturday evening, a convoy of military vehicles had arrived in the Rockport area with people and equipment to help in the recovery efforts, and town officials announced an overnight curfew for residents.STREETS DESERTED "It was terrible," resident Joel Valdez, 57, told Reuters. The storm ripped part of the roof from his trailer home at around 4 a.m., he said as he sat in a Jeep with windows smashed by the storm. "I could feel the whole house move."Before the storm hit, Rockport's mayor told anyone staying behind to write their names on their arms for identification in case of death or injury. A high school, hotel, senior housing complex and other buildings suffered structural damage, according to emergency officials and local media.Texas Governor Greg Abbott said he was activating 1,800 members of the military to help with the statewide cleanup, while 1,000 people would conduct search-and-rescue operations.The streets of Corpus Christi, a city of about 320,000 people, were deserted on Saturday, with billboards twisted and strong winds still blowing. City authorities asked residents to reduce use of toilets and faucets because power outages left waste water plants unable to treat sewage.Elsewhere, the Texas Department of Criminal Justice said it was forced to evacuate some 4,500 inmates from three state prisons near the Brazos River because of rising water.The U.S. Coast Guard said it had rescued 20 people from distressed vessels on Saturday, and was also monitoring two Carnival Corp cruise ships carrying thousands of people stranded in the U.S. Gulf of Mexico due to the effects of the storm.Harvey was a Category 4 hurricane on the Saffir-Simpson scale when it hit the coast, the second-highest category, and the most powerful storm in over a decade to come ashore anywhere in the mainland United States.Harvey weakened to tropical storm from hurricane strength on Saturday, the U.S. National Hurricane Center said. The center of the storm was barely moving and was less than 150 miles (240 km) from Houston with sustained winds of 60 mph."MAJOR WATER EVENT""This is serious," Houston Mayor Sylvester Turner said in a televised interview on Saturday afternoon. "It is important that people stay off the roads." Turner said the city, which has faced flooding in recent years during smaller storms, is prepared for what he described as a "major water event".Authorities warned of the potentially life-threatening impact of heavy rains between Houston and Corpus Christi over the next several days.The latest forecast storm track has Harvey looping back toward the Gulf of Mexico coast before turning north again on Tuesday."This rain will lead to a prolonged, dangerous, and potentially catastrophic flooding event well into next week," the National Weather Service said.The size and strength of Harvey dredged up memories of Katrina, the 2005 hurricane that made a direct hit on New Orleans as a Category 3 storm, causing levees and flood walls to fail in dozens of places. About 1,800 died in the disaster made worse by a slow government emergency response.U.S. President Donald Trump, facing the first big natural disaster of his term, signed a disaster proclamation on Friday. He met with his cabinet and staff on Saturday to discuss the federal reaction to the storm, according to a White House statement."President Trump emphasized his expectations that all departments and agencies stay fully engaged and positioned to support his number one priority of saving lives," according to the statement.Several refiners shut down plants ahead of the storm, disrupting supplies and pushing prices higher. Many fuel stations ran out of gasoline before the storm hit, and the U.S. Environmental Protection Agency loosened gasoline specifications to reduce shortages.Disruptions to fuel supply drove benchmark gasoline futures to their highest price in four months.More than 45 percent of the country's refining capacity is along the U.S. Gulf Coast, and nearly a fifth of the nation's crude is produced offshore in the Gulf of Mexico.Just under 25 percent of Gulf output, or 429,000 barrels per day (bpd) had been shut in by the storm, the U.S. Bureau of Safety and Environmental Enforcement said on Saturday.(For graphic on hurricanes in the North Atlantic, click http://tmsnrt.rs/2wwerEh)(Additional reporting by Liz Hampton, Ernest Scheyder, Marianna Parraga, and Ruthy Munoz in Houston; Jessica Resnick-Ault, Jarrett Renshaw, Taylor Harris, Devika Krishna Kumar, Sophia Kunthara and Chris Michaud in New York; Timothy Gardner in Washington, D.C. and Dan Whitcomb in Los Angeles; Writing by Simon Webb, Richard Valdmanis and Dan Whitcomb; Editing by Matthew Lewis and Lisa Shumaker)
2nd storm in a week batters southern China
Associated Press
View photosA man raises an anemometer against the strong wind caused by tropical storm Pakhar on the waterfront of Victoria Habour in Hong Kong, Sunday, Aug. 27, 2017. The Hong Kong Observatory says Severe Tropical Storm Pakhar has made landfall over Taishan of Guangdong. (AP Photo/Vincent Yu)HONG KONG (AP) — A second tropical storm in days swept into southern China on Sunday, lashing Hong Kong and Macau with heavy rain and strong wind as the region reels from the strongest typhoon in decades that left 18 dead.Severe Tropical Storm Pakhar made landfall west of the Chinese casino hub of Macau in the early morning, packing maximum sustained winds of 90 kilometers (55 miles) per hour and gusts of up to 106 kph (65 mph).Forecasters in Hong Kong and Macau raised a storm signal two notches below the maximum, forcing schools and businesses to close, ferry operators to halt services and airlines to delay or cancel some flights.The storm is expected to move farther inland and gradually weaken later Sunday.On Wednesday, Typhoon Hato left a trail of devastation as it barreled through the region, killing at least 18 people, including nine in Macau and nine more on mainland China.The storm's toll in Macau sparked a furious response by residents in the casino hub, who complained of the government's slow response. The city's chief weather officer was forced to resign because of the criticism.In an unprecedented move, soldiers from China's People's Liberation Army left their barracks to help residents and crews clean up the mess.Tornado hits Houston-area community

  Associated Press By FRANK BAJAK

Scams that are fooling even the smartest UPDATE: Marilyn Shaughnessy didn't expect the worst of Tropical Storm Harvey to hit the Houston area until Sunday. But she opened a window Saturday afternoon to see a tornado bearing down on her house.The tornado wound through the Houston suburb of Cypress, damaging several homes and buildings but causing no apparent injuries. Shaughnessy, a retired police officer, says she had her family run to their laundry room and wait out the tornado. Their house shook and framed pictures fell off the walls. It passed a few minutes later.Shaughnessy came outside to find small holes in her roof and wooden planks from her fence missing. Nearby, contractors tore the remains of a chimney off one home and sized up the broken windows of another. Shaughnessy says she plans to stay in her home through the next several days, when heavy rain and strong winds are in the forecast.The National Hurricane Center says torrential rain will continue as Tropical Storm Harvey drifts east-northeastward with very little additional motion expected over the next few days. The center said in its Saturday evening update that maximum sustained winds have now decreased to 60 mph (96 kph) and additional weakening of winds is expected during the next day or two. The tropical storm's center was about 40 miles (64 km) northwest of Victoria, Texas.Tropical storm force winds extend outward up to 115 miles (185 km) from the storm's center. Harvey came ashore in Texas on Friday night as the strongest hurricane to hit the U.S. in more than a decade. A judge has confirmed one death and about a dozen injuries from the storm.Authorities say sheriff's deputies in the Houston area saw a tornado touchdown about four times near Cypress as Tropical Storm Harvey pounds Texas. The Harris County Sheriff's Office posted a video to Facebook on Saturday of Sheriff Ed Gonzalez speaking to residents and news media about the tornado. Gonzalez says a car with a driver inside was flipped over by the tornado, but is OK.Gonzalez says he and deputies were seeing extensive damage to roofs, but had not heard of any injuries. National Weather Service meteorologist Wendy Wong says that numerous tornadoes spawned by Harvey caused damage in Houston and the surrounding area — from around Matagorda on the coast to the Cypress area in the north. She said homes, vehicles and buildings were damaged. More than a dozen Texas counties were under a tornado watch Saturday night.This is a breaking news story. Please check back for frequent updates. EARLIER STORY: CORPUS CHRISTI, Texas (AP) — Harvey spun deeper into Texas and unloaded extraordinary amounts of rain Saturday after the once-fearsome hurricane crashed into vulnerable homes and businesses along the coastline in a blow that killed at least one person and injured up to 14. Throughout the region between Corpus Christi and Houston, many people feared that toll was only the beginning. They did not know the full scope of damage already done, and they dreaded the destruction that was yet to come from a storm that could linger for days and unload more than 40 inches of rain on cities, including dangerously flood-prone Houston, the nation's fourth-largest. Long after the system came ashore, weather conditions prevented emergency crews from getting into many of the hardest-hit places. In the island community of Port Aransas, population 3,800, officials were unable to fully survey the town because of "massive" damage. Police and heavy equipment had only made it into the northernmost street.Mayor Charles Bujan had few other details. "I can tell you I have a very bad feeling and that's about it," he said.Some of the worst damage appeared to be in Rockport, a coastal city of about 10,000 that was directly in the storm's path. The mayor said his community took a blow "right on the nose" that left "widespread devastation," including homes, businesses and schools that were heavily damaged. Some structures were destroyed.
© (AP Photo/Eric Gay) A driver moves through flood waters left behind by Hurricane Harvey, Saturday, Aug. 26, 2017, in Aransas Pass, Texas. Harvey rolled over the Texas Gulf Coast on Saturday, smashing homes and businesses and lashing the…Rockport's roads were a mess of toppled power poles. A trailer blocked much of one major intersection. Pieces of 100-year-old oak trees impeded the slow passage of emergency vehicles. Wood framing from ripped-apart houses was strewn along Route 35 on the town's southern end. Harvey's relentless wind tore the metal sides off the high school gym and twisted the steel door frame of its auditorium. The windows of some police vehicles had been blown out. "We're still in the very infancy stage of getting this recovery started," said Larry Sinclair, the Aransas County spokesman. Rockport Mayor Charles "C.J." Wax told The Weather Channel that the city's emergency response system had been hampered by the loss of cellphone service and other forms of communication.On Friday, Rockport Mayor Pro Tem Patrick Rios offered ominous advice, telling the station that people who chose not to evacuate should mark their arm with a Sharpie pen, implying that the marks would make it easier for rescuers to identify them. Citing a county judge, the Austin American-Statesman reported one death from Harvey in Rockport, and 12 to 14 people injured.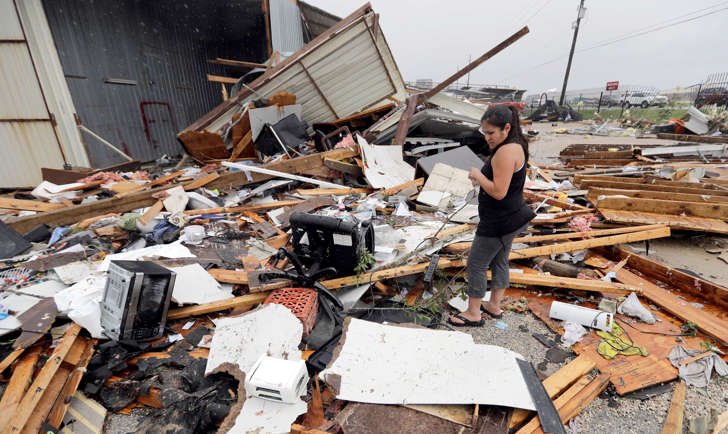 © David J. Phillip/AP Photo Jennifer Bryant looks over the debris from her family business destroyed by Hurricane Harvey Saturday, Aug. 26, 2017, in Katy, Texas. Harvey rolled over the Texas Gulf Coast on Saturday, smashing homes and businesses…In Port Aransas, the mayor had called for a mandatory evacuation and said he knew some people had stayed, but he did not know how many. Elsewhere in the storm's immediate aftermath, Coast Guard helicopters rescued 18 people from boats and barges in distress, said Capt. Tony Hahn, commander of the Corpus Christi sector. The city's port was closed and will need a lot of repairs before it can reopen.Because Corpus Christi is the third-largest petrochemical port in the nation, authorities will also be on the lookout for spills, Hahn said.The fiercest hurricane to hit the U.S. in more than a decade came ashore late Friday about 30 miles (48 kilometers) northeast of Corpus Christi as a mammoth Category 4 storm with 130 mph (209 kph) winds. By dawn, nearly 300,000 consumers were without power in the coastal region, and nearly 20 inches (0.5 meters) of rain had fallen in some places.Harvey weakened to a tropical storm by early afternoon. At 4 p.m., its maximum sustained winds had fallen to about 65 mph (104 kph). The storm was centered about 60 miles (97 kilometers) southeast of San Antonio. It was moving north at 2 mph (3 kph), the hurricane center said.The hurricane posed the first major emergency management test of President Donald Trump's administration. Trump met with his Cabinet and other senior administration officials to discuss the federal response to the damage and flooding, the White House said Saturday in a statement.The president held a video conference from Camp David in which he instructed relevant departments and agencies to "stay fully engaged and positioned to support his number one priority of saving lives," the statement said. Trump, who on Friday signed a federal disaster declaration for coastal counties, also reminded department heads that the full impact of the storm will not be apparent for days.On Twitter, he commended the head of the Federal Emergency Management Agency for his handling of the disaster. In Corpus Christi, the major city closest to the storm's center, wind whipped palm trees and stinging sheets of horizontal rain slapped against hotels and office buildings along the seawall as the storm made landfall.Daybreak revealed downed lamp posts and tree limbs and roof tiles torn off buildings. The city's marina was nearly unscathed, save an awning ripped from a restaurant entrance and a wooden garbage bin uprooted and thrown. Along Interstate 45 leaving Galveston, the rain was so intense that drivers were to stop under bridges because they could not see in front of them. In Houston, rain fell Saturday at nearly 3 inches (76.2 millimeters) an hour, leaving some streets and underpasses underwater.  The many drainage channels known as bayous that carry excess water to the Gulf were flowing freely but rising. "Flooding is a minor issue so far," Harris County Judge Ed Emmett, the chief administrator of the county that includes Houston, said. "Most of the watersheds are well within banks, but we're not out of this."Francisco Sanchez, with the Harris County Emergency Management Office, said the storm would "linger a while." "Someone is going to get those very high rainfall totals," he said. "Hopefully it's not us, but we're in that possibility area."About 4,500 inmates were evacuated from three state prisons in Brazoria County south of Houston because the nearby Brazos River was rising.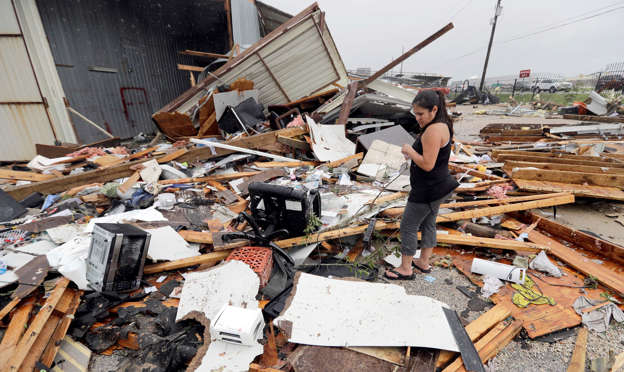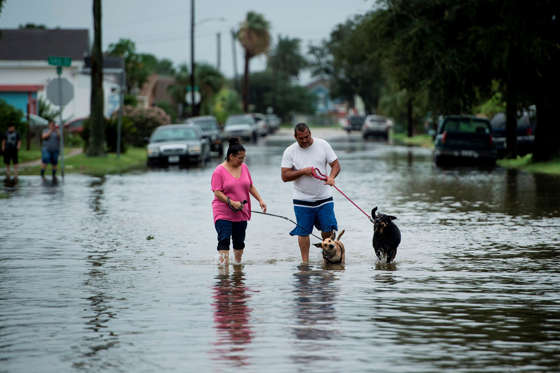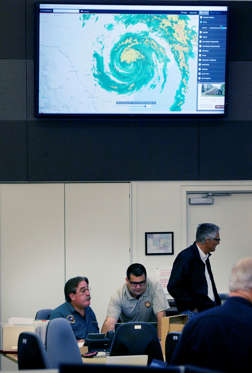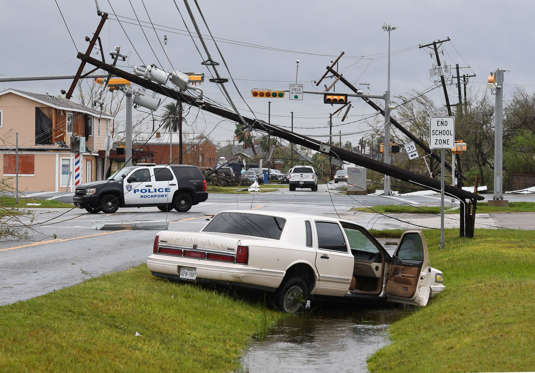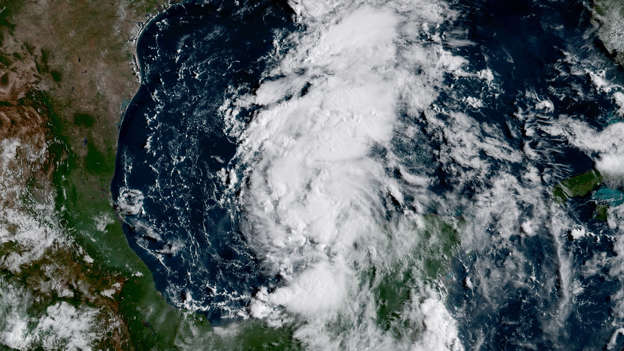 Slide 1 of 65: Jennifer Bryant looks over the debris from her family business destroyed by Hurricane Harvey Saturday, Aug. 26, 2017, in Katy, Texas. Harvey rolled over the Texas Gulf Coast on Saturday, smashing homes and businesses and lashing the shore with wind and rain so intense that drivers were forced off the road because they could not see in front of them.1/65 SLIDES © David J. Phillip/AP PhotoJennifer Bryant looks over the debris from her family business destroyed by Hurricane Harvey Saturday, Aug. 26, 2017, in Katy, Texas. Harvey rolled over the Texas Gulf Coast on Saturday, smashing homes and businesses and lashing the shore with wind and rain so intense that drivers were forced off the road because they could not see in front of them.Slideshow by photo services Fueled by warm Gulf of Mexico waters, Harvey grew rapidly, accelerating from a Category 1 early Friday morning to a Category 4 by evening. Its transformation from an ordinary storm to a life-threatening behemoth took only 56 hours, an incredibly fast intensification.Harvey came ashore as the fiercest hurricane to hit the U.S. in 13 years and the strongest to strike Texas since 1961's Hurricane Carla, the most powerful Texas hurricane on record. The storm's approach sent tens of thousands of people fleeing inland. Families who escaped Rockport were worried about neighbors and whether their homes are still standing.Johanna Cochran was panicking over whether her house or the McDonald's where she works survived the storm. She and her boyfriend evacuated to a San Antonio shelter. Another Rockport resident, Pamela Montes, said she knew many people who stayed behind because "no one felt like it was going to hit."Just hours before landfall, the governor and Houston leaders issued conflicting statements on evacuation. Gov. Greg Abbott urged more people to flee, but Houston authorities recommended no widespread evacuations, citing greater danger in having people on roads that could flood and the fact that the hurricane was not taking direct aim at the city. The last Category 4 storm to hit the U.S. was Hurricane Charley in August 2004 in Florida.Associated Press writers Michael Graczyk, Juan Lozano and Nomaan Merchant in Houston; Tammy Webber in Chicago; David Phillip in Dickinson, Texas; and Jamie Stengle, David Warren and Claudia Lauer and in Dallas contributed to this report.
Storm Pakhar hits Hong Kong and Macau days after deadly Hato
Reuters
View photosA man looks at motorcycles tipped over by strong wind from tropical storm Pakhar in Macau, China August 27, 2017. REUTERS/Tyrone SiuHONG KONG (Reuters) – Tropical storm Pakhar brought strong winds and heavy rain to Hong Kong and Macau on Sunday, just four days after one of the strongest typhoons on record, Hato, caused serious flooding and damage in the territories and killed at least 10 people in the gaming hub.Pakhar brushed passed both cities on Sunday morning and landed in the southern Chinese city of Taishan, according to local weather authorities. Macau will lower the typhoon signal at 1 p.m. local time (0500 GMT) while Hong Kong is considering the same.Both cities issued their third-highest weather warnings, storm signal No. 8, early on the day as winds intensified and heavy rain lashed down, churning up rough seas and prompting alerts of flooding in low-lying areas.No serious damage has been observed in Hong Kong so far. The government said it has received three reports of flooding and 85 reports of fallen trees.Hong Kong's weather observatory said winds occasionally reached storm force in the southern part of the territory and hurricane force on high ground on Lantau Island to the west of the city where the airport is situated.Pakhar's arrival comes as the cities are still reeling from Hato. While Hong Kong escaped major damage, Hato devastated Macau, the world's largest gambling hub, killing at least 10 people, injuring 244 and exposing critical infrastructure flaws after it left the city without water and power for days."With Pakhar making landfall and departing Hong Kong, local winds are expected to moderate progressively. However, under the influence of Pakhar's rainbands, high winds are still affecting the southwestern part of Hong Kong," said the Hong Kong Observatory, the territory's weather forecasting agency.The maximum sustained winds recorded at Cheung Chau and Chek Lap Kok slowed to 87 and 61 kilometers per hour, respectively, from 114 and 76 kilometers per hour (71 and 47 miles per hour) earlier. Maximum gusts were 106 and 101 kmh.China's Meteorological Administration maintained its yellow typhoon warning, the third-highest of four levels, as of midday Sunday and said torrential rains are expected in several southern provinces through Monday afternoon.Hong Kong's flagship carrier, Cathay Pacific Airways Ltd, said the storm would cause delays and cancellations to flights arriving and departing on Sunday and Monday. Airport Authority Hong Kong reported that a total of 140 flights have been canceled as at 6am local time (2200 GMT on Sunday).Other transport services including ferries to Macau and outlying islands in Hong Kong were suspended.In Macau, the storm will pose a major setback to clean-up efforts that saw Chinese People's Liberation Army troops deployed to help remove mountains of stinking debris strewn across some heavily flooded districts battered by Hato.Power has been restored in the territory but some areas still lacked water supply as of Saturday evening, the Macau Government Information Bureau said on its official website.The government said the city still faced a severe challenge in removing huge piles of waste from the streets, with 2,600 tonnes of debris collected on Saturday alone. Shower facilities and changing rooms at four public swimming pools have been opened to accommodate residents with no water facilities.Four Hong Kong journalists were denied entry to Macau on Saturday to cover the storms and relief effort on grounds they "posed a risk to the stability of internal security," according to reports from the media companies they represented. The Hong Kong Journalists Association expressed "deep regret" over the incident and urged Macau to respect press freedom. Police chief Ma Io-kun told a press conference on Saturday he was not aware of the case, but said the government respects press freedom "very much".(Reporting by Anne Marie Roantree, Clare Jim, Venus Wu and Farah Master; additional reporting by Elias Glenn in Beijing; Editing by Andrew Hay and Paul Simao)
Storm Harvey threatens Texas with 'catastrophic' floods, one dead
 By Brian Thevenot,Reuters 29 minutes ago
By Brian Thevenot ROCKPORT, Texas (Reuters) – The most powerful storm to hit Texas in more than 50 years has killed at least one person and is now threatening catastrophic flooding as search and rescue teams deploy to the hardest-hit zones, authorities said on Saturday.Harvey slammed into Texas, the heart of the U.S. oil and gas industry, late Friday as a Category 4 hurricane with winds of 130 miles per hour (209 km per hour), making it the strongest storm to strike the state since 1961.It ripped off roofs, snapped trees, and triggered tornadoes and flash floods, and cut power to nearly a quarter of a million people. It also curtailed a large portion of America's oil and fuel production, prompting price hikes at the pumps.Harvey has since weakened to a tropical storm, but is expected to lash Texas for days as it lumbers inland, bringing as much as 40 inches (102 cm) of rain to some areas, and affecting heavily populated.Houston could receive as much as 2 to 3 inches of rain per hour overnight, Mayor Sylvester Turner said late on Saturday. The National Hurricane Center described the rain forecast for the state as potentially "catastrophic.""Rainfall measured in feet rather than inches can certainly create a catastrophic flood," spokesman Dennis Feltgen said.One person died in a house fire in the town of Rockport, 30 miles (48 km) north of the city of Corpus Christi, as Harvey roared ashore overnight, Mayor Charles Wax said in a news conference on Saturday, marking the first confirmed fatality from the storm. Another dozen people in the area suffered injuries like broken bones, another official said.The town took a direct hit from the storm and had streets flooded and strewn with power lines and debris on Saturday afternoon. At a recreational vehicle sales lot, a dozen vehicles were flipped over and one had been blown into the middle of the street. By Saturday evening, a convoy of military vehicles had arrived in the Rockport area with people and equipment to help in the recovery efforts, and town officials announced an overnight curfew for residents."It was terrible," resident Joel Valdez, 57, told Reuters. The storm ripped part of the roof from his trailer home at around 4 a.m., he said as he sat in a Jeep with windows smashed by the storm. "I could feel the whole house move."Before the storm hit, Rockport's mayor told anyone staying behind to write their names on their arms for identification in case of death or injury. A high school, hotel, senior housing complex and other buildings suffered structural damage, according to emergency officials and local media. Some were being used as shelters.Texas Governor Greg Abbott on Saturday said he was activating 1,800 members of the military to help with the statewide cleanup, while 1,000 people would conduct search-and-rescue operations.The streets of Corpus Christi, which has around 320,000 residents, were deserted on Saturday, with billboards twisted and strong winds still blowing. City authorities asked residents to reduce use of toilets and faucets because power outages left waste water plants unable to treat sewage.Elsewhere, the Texas Department of Criminal Justice said it was forced to evacuate some 4,500 inmates from three state prisons near the Brazos River because of rising water. Texas utility companies, meanwhile, said 220,000 customers were without power for an indefinite period of time.The U.S. Coast Guard said it had rescued 20 people from distressed vessels on Saturday, and was also monitoring two Carnival Corp cruise ships carrying thousands of people stranded in the U.S. Gulf of Mexico due to the effects of the storm.Harvey was a Category 4 hurricane on the Saffir-Simpson scale when it hit the coast, the second-highest category, and the most powerful storm in over a decade to come ashore anywhere in the mainland United States.HEADING INLAND, STORM WEAKENS Harvey weakened to tropical storm from hurricane strength on Saturday, the U.S. National Hurricane Center said. The center of the storm was barely moving and was less than 150 miles (240 km) from Houston with sustained winds of 60 mph.Houston, the fourth most populous city in the United States and home to a third of the 6 million people that could be impacted by Harvey, has gotten about 16 inches of rain so far, and will receive 2 to 3 more feet in the coming days, Mayor Sylvester Turner said Saturday afternoon."This is serious," Turner said in a televised interview as Harvey turned into a tropical storm expected to linger over the mid Texas coast. "It is important that people stay off the roads." Turner said the city, which has faced flooding in recent years during smaller storms, is prepared for what he described as a "major water event."Other authorities warned of the potentially life-threatening impact of heavy rains between Houston and Corpus Christi over the next several days.The latest forecast storm track has Harvey looping back toward the Gulf of Mexico coast before turning north again on Tuesday."This rain will lead to a prolonged, dangerous, and potentially catastrophic flooding event well into next week," the National Weather Service said.The size and strength of Harvey dredged up memories of Katrina, the 2005 hurricane that made a direct hit on New Orleans as a Category 3 storm, causing levees and flood walls to fail in dozens of places. About 1,800 died in the disaster made worse by a slow government emergency response.U.S. President Donald Trump, facing the first big natural disaster of his term, signed a disaster proclamation on Friday.He met with his cabinet and staff on Saturday to discuss the federal reaction to the storm, according to a White House statement."President Trump emphasized his expectations that all departments and agencies stay fully engaged and positioned to support his number one priority of saving lives," according to the statement.GASOLINE PRICES SPIKEUtilities American Electric Power Company Inc and CenterPoint Energy Inc reported a combined total of around 240,000 customers without power.Several refiners shut down plants ahead of the storm, disrupting supplies and pushing prices higher. Many fuel stations ran out of gasoline before the storm hit, and the U.S. Environmental Protection Agency loosened gasoline specifications late on Friday to reduce shortages.The American Automobiles Association said pump prices rose 4 cents in four days in Texas to reach $2.17 a gallon on Friday.Disruptions to fuel supply drove benchmark gasoline futures to their highest price in four months.More than 45 percent of the country's refining capacity is along the U.S. Gulf Coast, and nearly a fifth of the nation's crude is produced offshore in the Gulf of Mexico.Just under 25 percent of Gulf output, or 429,000 barrels per day (bpd) had been shut in by the storm, the U.S. Bureau of Safety and Environmental Enforcement said on Saturday.(Additional reporting by Jessica Resnick-Ault, Jarrett Renshaw, Taylor Harris, Devika Krishna Kumar and Sophia Kunthara in New York; Liz Hampton, Ernest Scheyder, Marianna Parraga, and Ruthy Munoz in Houston; Writing by Simon Webb and Richard Valdmanis; Editing by Matthew Lewis and Lisa Shumaker)
Associated Press Trump keeps tabs on Harvey and its aftermath from Camp David
WASHINGTON (AP) — President Donald Trump monitored Hurricane Harvey from the seclusion of his official mountaintop retreat on Saturday, sending a flurry of tweets before and after the powerful storm made landfall in Texas in an effort to reassure the public that he was fully in control of managing the first natural disaster since he took office."Closely monitoring #HurricaneHarvey from Camp David. We are leaving nothing to chance. City, State and Federal Govs. working great together!" Trump tweeted in the morning. In an evening tweet, he touted "Wonderful coordination between Federal, State and Local Governments in the Great State of Texas – TEAMWORK!"The White House said in a statement Saturday that Trump held a video teleconference briefing on the storm with Vice President Mike Pence, Cabinet members and senior staff back at the White House. Trump directed all departments and agencies to "stay fully engaged and positioned to support his number one priority of saving lives," and the governors of Texas and Louisiana, the White House said.Trump reminded his team that the full effects of the storm will be felt over the next few days with heavy rains and flooding. He also thanked all the volunteer and faith-based organizations that are providing assistance, and sent his thoughts and prayers to those who were affected.Harvey was downgraded to a tropical storm on Saturday afternoon.The White House said Trump had received multiple storm updates on Friday and Saturday from chief of staff John Kelly, formerly secretary of the Department of Homeland Security, where the Federal Emergency Management Agency is housed. The White House released photos of Trump presiding over Saturday's video teleconference from the Camp David presidential retreat in Maryland's Catoctin Mountains with his advisers gathered in the White House Situation Room.A businessman inexperienced at managing a natural disaster, Trump has been mindful of his image during the storm.He tweeted a photo of himself in the Oval Office on Friday, with his desktop covered by color-coded papers. He was joined by Kelly and homeland security adviser Tom Bossert.Trump's tweets also covered conversations he had with the governors of Texas and Louisiana, urgings for the public to follow the advice and orders of their state and local officials, and his decision to declare that a major disaster exists in Texas, which expedites the flow of federal money for rebuilding after the storm.Bossert told reporters that "this is right up President Trump's alley" when asked Friday what the president needed to do to project leadership during the storm."Not only has he shown leadership here, but his entire focus has been on making America great again," Bossert said. "He is focused on the Americans that voted him into office. He's focused on the Americans that didn't vote him into office. He's focused on effecting positive change in this country. And when we go in and brief him on the preparations for this hurricane, he is acutely focused on making sure that — and just the right thing, by the way — that the American people in the storm's path have what they need."Trump also responded to Sen. Chuck Grassley of Iowa, who told Trump on Twitter to "keep on top of hurricane Harvey" and not repeat the mistakes that President George W. Bush made with Hurricane Katrina after it devastated New Orleans at this time in 2005. Bush was criticized for a slow federal government response to the storm caused hundreds of deaths and tens of billions of dollars in damage."Got your message loud and clear. We have fantastic people on the ground, got there long before #Harvey. So far, so good!" Trump tweeted back to Grassley._Follow Darlene Superville on Twitter: http://www.twitter.com/dsupervilleap