Planes evacuate travelers stranded at Houston airport, flying them to Dallas out of storm zone
 EMILY SHAPIRO,Good Morning America 53 minutes ago
Travelers stranded at Houston's William P. Hobby Airport amid the deadly hurricane that devastated southeast Texas this weekend were tonight flown to Dallas out of the storm zone.Over 400 passengers had been stranded at Hobby Airport and at least 100 passengers were stranded at George Bush Intercontinental Airport as Hurricane Harvey drenched the city's roadways and overwhelmed homes, a Houston Airports spokesman told ABC News this afternoon.The roadways to both airports were submerged underwater, so airport and airline officials were scrambling to figure out how and when to evacuate travelers, the spokesman said. No structural issues were reported at either airport, the spokesman added.Then, starting late this afternoon, the flooding receded from the Hobby runways enough to allow Southwest Airlines to get special permission from the Federal Aviation Administration to fly five rescue flights to Dallas Love Field airport.The flights evacuated 486 passengers as well as some Southwest employees.Southwest said the passengers will be put in hotels until they can be rebooked.An airport official told ABC News that after the Southwest rescue flights took off, only 25 people remained at Hobby airport this evening, 17 of whom are Houston-area residents.Harvey: 'Unprecedented' flooding 'beyond anything experienced' inundates Houston area, kills at least 3Rescuers scramble to save Hurricane Harvey survivors in Houston and across southeast TexasHurricane Harvey victims: How to help Before travelers left Hobby Airport, among those stranded there today was a Chicagofamily of four: Micah Garb, his wife and their two teenagers daughters.Garb posted a video on Instagram this evening of the line of passengers who seemed to be calmly waiting for what Garb says was expected to be "rescue flights."
Garb also wrote on Instagram that his fellow travelers who were lined up to get on flights "spontaneously" applauded for the food service staff who kept them fed overnight.Garb told ABC News his family boarded a rescue flight headed to Dallas.ABC News' Jeffrey Cook, Jessica Church and Whitney Lloyd contributed to this report.
Full extent of Harvey's aftermath starts to come into chilling focus

The Washington Post Kevin Sullivan, Robert Samuels, Emily Wax

Where are young people moving? We found 33 of the most popular places HOUSTON — The full extent of Hurricane Harvey's aftermath started to come into chilling focus Sunday in Houston and across much of Central Texas, as rain measured in feet, not inches, overwhelmed lakes, rivers and bayous, leaving several people dead and thousands displaced in a weather disaster described as "beyond anything experienced."Across the nation's fourth-largest city and suburbs many miles away, Harvey left families scrambling to get out of their fast-flooding homes. Rescuers — in many cases neighbors helping neighbors — in fishing boats, huge dump trucks and even front-end loaders battled driving rains to move people to shelter. Some used inflatable toys to ferry their families out of inundated neighborhoods, wading through chest-deep water on foot while the ­region was under near-constant tornado watches.By Sunday afternoon, the National Weather Service — which tweeted the "beyond anything experienced" description that morning — was predicting that parts of Texas could receive nearly 50 inches of rain, the largest recorded total in the state's history. It also warned that Harvey's relentless downpours were expected to continue until late in the week and that flooding could become much more severe. More than 82,000 homes were without electricity in the Houston area by Sunday night as airports shuttered and hospitals planned evacuations.Thousands of rescue missions have been launched across a large swath of Texas, and Gov. Greg Abbott (R) said Sunday that more than 3,000 National Guard troops had been deployed to assist with relief efforts. The Federal Emergency Management Agency said federal agencies have more than 5,000 employees working in Texas, and the White House said President Trump plans to visit flood-wracked areas of the state on Tuesday.Subscribe to the Post Most newsletter: Today's most popular stories on The Washington Post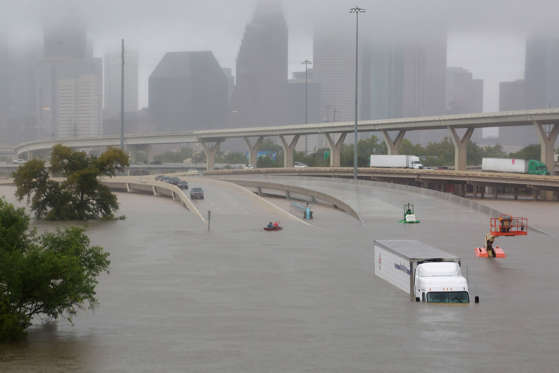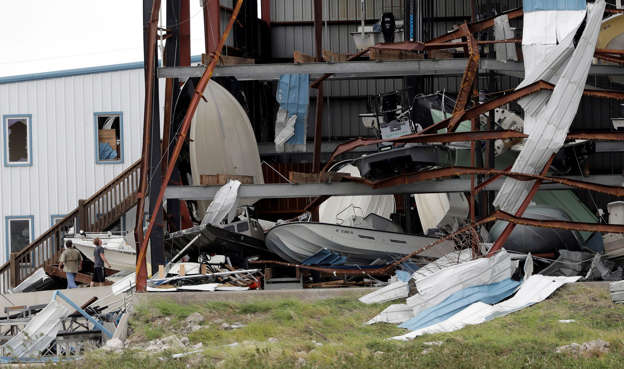 Slide 1 of 92: Interstate highway 45 is submerged from the effects of Hurricane Harvey seen during widespread flooding in Houston, Texas, U.S. August 27, 2017. REUTERS/Richard Carson TPX IMAGES OF THE DAY – RTX3DL7M1/92 SLIDES © Richard Carson/ReutersInterstate highway 45 is submerged from the effects of Hurricane Harvey seen during widespread flooding in Houston, Texas, U.S. August 27, 2017. REUTERS/Richard CarsonOfficials said Houston, a major center for the nation's energy industry, had suffered billions of dollars in damage and would take years to fully recover. Oil and gas companies have shut down about a quarter of oil and gas production in the Gulf of Mexico. Spot prices for gasoline are expected to jump on Monday, but the full extent of damage will not be clear for days, companies and experts said.Harvey's sheer size also became apparent Sunday as heavy rains and flooding were reported as far away as Austin and even Dallas. What started with a direct impact on the tiny coastal town of Rockport on Friday night has turned into a weather disaster affecting thousands of square miles and millions of people.In Austin, the Wilhelmina Delco Center, currently one of two Red Cross shelters in the city, had about 200 evacuees. Rain continued to fall steadily in Austin on Sunday, and river levels continued to rise. Precautionary sandbags were stacked against the shelter's entrance.Bristel Minsker, communications director for the Red Cross Central and South Texas region, said "things are changing quickly" as the organization prepares to scale up operations in the areas between Austin and Houston.Still, much of the nation's focus remained squarely on Houston, where the massive scale of the flooding and the potential for the situation to get much worse in the days ahead was reminding many spooked residents of the effects of Hurricane Katrina on New Orleans.Mayor Sylvester Turner and other officials pleaded with residents to "shelter in place" and to make calls to overwhelmed 911 operators only in life-threatening emergencies. They urged people to climb to their roofs to await shelter if water was rising inside their homes, and local television news anchors reminded people to stay out of attics where they might be trapped by rising water — or to at least bring an ax to hack their way to the roof.Police began to ask people with high-water vehicles and boats to assist in their rescue efforts on streets where abandoned cars were completely submerged. Brays Bayou, a huge waterway crossing the southwestern part of the city, rose between 10 and 20 feet overnight and by Sunday morning was flowing over bridges in its path.
© Jabin Botsford/The Washington Post A resident transports his pets and belongings on an air mattress along Mercury Drive as he flees floodwater at his home in Houston on Sunday. The Texas National Guard has deployed across the state, including engineers in Corpus Christi and an infantry search-and-rescue team in Rockport. Another search-and-rescue unit was staging in San Antonio and was likely to be deployed to affected areas shortly, officials said.As the extent of the disaster became clear at daylight Sunday, some criticized Houston officials for not calling for an evacuation of the city. Turner defended the decision not to evacuate, noting that it would be a "nightmare" to empty out the population of his city and the county all at once."You literally cannot put 6.5 million people on the road," Turner said at a news conference.Trump praised the way the city's officials were handling the flood, tweeting at 8:25 a.m. that the "Good news is that we have great talent on the ground." He promised to head to Texas "as soon as that trip can be made without causing disruption. The focus must be life and safety." Trump signed a disaster proclamation for Texas on Friday night.The disaster unfolding in Houston appeared suddenly, starting with severe storms Saturday evening that came with slashing, sideways rain and almost uninterrupted lightning. By morning, a city that had been largely spared by Harvey's initial pounding of coastal communities was flooded to devastating levels.By 7 a.m. Central time, the National Weather Service had recorded close to 25 inches of rain around Houston. Warnings for flash flooding and tornadoes remained across the region, and storm surges were expected along the coast, bringing flooding to typically dry areas.
© Jabin Botsford/The Washington Post Downtown is seen in rain and clouds in Houston on Sunday. Rising water from Hurricane Harvey pushed thousands of people to rooftops or higher ground. The Weather Service said Sunday that at least five people had been reported dead because of Harvey. Local officials have confirmed that at least three people have died as a result of the storm, and officials in the hardest-hit counties expect that as the waters recede the number of fatalities will rise.The first reported death came Saturday in Rockport. Officials said one person was killed after their house caught fire during the storm and they became stuck inside.About 9:15 p.m. on Saturday, rescue workers in southwest Houston recovered the body of a woman thought to have driven her car into floodwaters before attempting to escape on foot. Just two minutes earlier, police about 40 miles southeast in La Marque found the body of a 52-year-old homeless man in a Walmart parking lot where there had been high water."No city can handle these kind of deluges. In our case, 23 inches overnight," La Marque Mayor Bobby Hocking said Sunday, noting that the police department rescued approximately 30 families and brought them to city offices. "I have since secured hotel rooms for them. They were thankful and cried tears of joy," he said.As it scrambled to open shelters across Texas, the Red Cross command center in Houston was "physically isolated" because of floodwaters, said Paul Carden, district director of Red Cross activities in South Texas, which includes Corpus Christi."The advice is, if you don't have to be out, don't be out," said Bill Begley, a spokesman with the Joint Information Center in Houston. He said most of the calls for help the center had received had come from residents who tried to drive through the storm and got stuck in high water.Both of Houston's major airports were closed, and many tourists and visitors found themselves stranded in hotels with no hope of leaving anytime soon.Southwest Airlines flight attendant Allison Brown said at least 50 flight attendants, a number of pilots, airport staff and hundreds of passengers have been stranded at William P. Hobby Airport since at least 1 a.m. Sunday.Brown said the airport flooded so quickly that shuttles were unable to get them out. They were told by police that it would be unsafe to attempt to leave."Luckily, we have the restaurant staff, or else we would've been stuck with no food," Brown said. "Waters in the road are around four feet — minimum — surrounding the airport."The Marriott Courtyard Hotel in southwest Houston, along the banks of Brays Bayou, was surrounded by floodwater when guests woke up Sunday morning.All roads in the area were underwater, and a park across the bayou was completely flooded. A car nearby had been abandoned, its doors left open. City traffic lights were still blinking red and green over the empty and flooded bridge, but most buildings visible in the area seemed to be dark and without power.By midmorning, Nichelle Mosby stood up to her knees in floodwater in the parking lot, grimacing with a towel over her head to block the rain. Mosby and six family members, including a 4-year-old girl, had come from Louisiana to visit relatives. When Harvey hit, they booked into the Courtyard. Now they were stranded with dozens of other guests."We went through Katrina, but this feels different," she said. Instead of a gradual buildup of rising water, she said, "this was like a gush of water that came up too fast."In the lobby, John McMillian, 70, sat eating breakfast with his wife, Debbie McMillian, 64, and their daughter, Tara, 29.They were in town so John McMillian could have five days of treatment for his leukemia at MD Anderson Cancer Center just down the road. He had three days of treatment and was supposed to have his fourth on Sunday, but now they were marooned."If push came to shove, we could always wade to the hospital," he said."I'm not going to let him, don't worry," his wife added.She said her new Acura was underwater in the parking lot."I haven't even made the first payment on it yet," she said.Local television station KHOU went offline while covering the rescue of a driver in an semitrailer stuck in more than 10 feet of water near the Interstate 610 loop. The reporter was able to flag down a rescue crew, but as the rescue was about to take place, the station went dark. The main office said the station had to evacuate because floodwaters rushed into the building.Local television and the Weather Channel showed rescues by boat, including in Dickinson, south of Houston on the way to Galveston, which appeared to be completely inundated."This place was built in 1976, and this has never happened," the owner of a flooded RV park told a reporter. Asked where people would go once they were rescued from their RVs, she said, "I have no idea."About 500 people escaping Harvey are now living in two shelters in Dallas, 240 miles north of Houston.In one, a neighborhood recreation center on the far south side of Dallas, Rebecca Hernandez, 35, said she and her family came from their north Houston home to avoid floodwaters. She, her husband, Gilbert, and their three children drove to Dallas on Friday night. With rent due in a few days, the family couldn't afford to spend more than one night in a hotel, so they came here."We're starting small," said Angienetta Johnson, who runs the shelter, noting that there were perhaps 500 or so evacuees in her shelter and another one across town. "But we have plans to go up to 5,000 if need be."A neighbor has told Hernandez that floodwaters were at the family's front door Sunday — just as they were during Katrina."We're ready to go back as soon as they tell us it's safe," she said.In Katy, Michele and Joel Antonini were in line at a cavernous HEB supermarket with 20 sacks of groceries. They had come out in the rain to buy food for neighbors they would probably be taking in from Grand Lakes, where they used to live.They bought a sheet cake, a roast, chips, hot dogs and hamburgers."We just want to be ready if they are hungry and can get out," Michele said. "We just want to be ready to help."Amanda Picard, 35, a CrossFit trainer, said that she lives behind a creek and that all the neighborhood lakes were flooded. She said she was doing a grocery run, picking up spring mix and a frozen pizza, with her husband and 6-year-old in case the storm goes on for days."It's gonna be a long haul," Picard said.Sullivan reported from Houston, Samuels reported from Washington and Wax reported from Katy, Tex. Wesley Lowery, Thomas Gibbons-Neff and Steven Mufson in Washington; Justin Glawe in Dallas; Stephanie Kuzydym and Dylan Baddour in Houston; Tim Craig in Rockport and Corpus Christi; Brittney Martin in San Antonio; Ashley Cusick in New Orleans; Mary Lee Grant in Port Aransas, Tex.; and Sofia Sokolove in Austin contributed to this report.
Harvey throws a wrench into U.S. energy engine
 By Ernest Scheyder and Erwin Seba,Reuters 3 hours ago
By Ernest Scheyder and Erwin Seba HOUSTON (Reuters) – A hurricane in the heart of the U.S. energy industry is expected to upend years of U.S. excess oil capacity and low prices, with the impact expected to reverberate globally and affect energy markets for weeks.Harvey hit the Texas shore as a fierce Category 4 hurricane, causing massive flooding that knocked out 11.2 percent of U.S. refining capacity, a quarter of oil production from the U.S. Gulf of Mexico, and closed ports all along the Texas coast.Gasoline futures jumped as much as 7 percent to their highest level in more than two years in early Monday trading in Asia as traders took stock of the storm's impact.The outages will limit the availability of U.S. crude, gasoline and other refined products for global consumers and further push up prices, analysts said.Damage assessments could take days to weeks to complete, and the storm continues to drop near-biblical amounts of rain as it lingers west of Houston, home to oil, gas, pipeline and chemical plants.More than 30 inches (76 cm) fell in the Houston area in 48 hours and a lot more rain is forecast, according to the National Weather Service."This is not like anything we have ever seen before," said Bruce Jefferis, chief executive of Aon Energy, a risk consulting practice. It is too soon to gauge the full extent of Harvey's damage to the region's energy infrastructure, he said.The storm was felt from coastal ports to inland oil and gas wells. Oil producers in the Eagle Ford shale region of south Texas have halted some operations.At least four marine terminals in the Corpus Christi area, an export hub for energy deliveries to Latin America and Asia, remained closed due to the storm."We just simply don't know yet the damage all this rain will have on Houston's energy infrastructure," said Andrew Lipow, president of energy consultancy Lipow Oil Associates LLC.Texas refineries could be offline for up to a month if their storm-drainage pumps become submerged, he said.As the storm churned towards Texas on Friday, U.S. gasoline futures rose to their highest level in three years for this time of year. Those gains came even before several large Houston area refiners, including Exxon Mobil Corp , halted some operations.Exxon closed the second largest U.S. refinery, its 560,500 barrel-per-day (bpd) refinery in Baytown, Texas, complex because of flooding. Royal Dutch Shell Plc also halted operations at its 325,700-bpd Deer Park, Texas, refinery. The refinery may be shut for the week, it said.Flooding on highways between Houston and Texas City nearer to the coast led Marathon Petroleum Corp to cut back gasoline production at the company's 459,000-bpd Galveston Bay Refinery in Texas City, said sources familiar with plant operations.Marathon Petroleum employees were unable to drive to work and conditions at the plant forced the company to reduce gasoline output, said industry sources. Marathon spokesman Jamal Kheiry declined to discuss plant operations.Not every plant in the region was hit. Operations were stable at the largest U.S. crude refinery, Motiva Enterprises' [MOTIV.UL] 603,000-bpd Port Arthur plant, the company said.Motiva double-staffed the refinery's crew ahead of the storm, as did Total SA at the company's 225,500-bpd Port Arthur refinery, said sources familiar with plant operations.Coastal refineries in Texas account for one-quarter of the U.S. crude oil refining capacity. All of those refineries have been impacted by Harvey since Thursday when refineries in Corpus Christi, Texas, shut in production ahead of the storm's landfall on Friday.Colonial Pipeline, the largest mover of gasoline, diesel and other refined products in the United States, said its operations had not been affected by Harvey. Any disruptions to the conduit would send prices across the U.S. Southeast and Northeast soaring. Traders have been keeping a close eye on whether there will be an outage at the pipeline.Citgo Petroleum Corp [PDVSAC.UL] and Flint Hills Resources [FHR.UL], two of the refiners that closed last week as the storm approached, did not provide updates about the status of their Corpus Christi refineries on Sunday.(Reporting by Ernest Scheyder; Additional reporting by Devika Krishna Kumar in New York; Editing by Gary McWilliams and Sandra Maler)
Desperate for help, flood victims in Houston turn to Twitter for rescueUSA Today 11 hours ago
HOUSTON – Desperate flood victims all over the Houston area are taking to Twitter to plead for help after a night of torrential rains while 911 was inundated. "I have 2 children with me and the water is swallowing us up," one woman tweeted.  It was retweeted more than 1,000 times. Two hours later, she tweeted that they were safe. Last count, officials had assisted in over 500 rescues overnight, said Houston Police Chief Art Acevedo said. Many people are reportedly trapped. Officials are warning residents to not get into their attics to avoid rising floodwaters. Acevedo tweeted, "we have reports of people getting into attic to escape floodwater. Do not do so unless you have an ax or means to break …"I have 2 children with me and the water is swallowing us up," one woman tweeted.Last count, officials had assisted in over 500 rescues overnight, said Houston Police Chief Art Acevedo said. Many people are reportedly trapped.Officials are warning residents to not get into their attics to avoid rising floodwaters. Acevedo tweeted, "we have reports of people getting into attic to escape floodwater. Do not do so unless you have an ax or means to break through onto your roof.A man named David tweeted, "Urgent water rescue needed now … cancer patient with feeding tube."Another man asked for help for his family located in southeast Houston. The Houston Police Department responded saying their dispatch had the call.
A man walks through floodwaters from Tropical Storm Harvey as he evacuates his home on Aug. 27, 2017, in Houston, Texas. Rescuers answered hundreds of calls for help Sunday as floodwaters from the remnants of Hurricane Harvey rose high enough to begin filling second-story homes, and authorities urged stranded families to seek refuge on their rooftops.  Charlie Riedel, AP
Newsweek
7 hours ago
Donald Trump signed away Obama-era flood standards just weeks before Hurricane Harvey hit Texas in a bid to get infrastructure projects approved more quickly. The rule signed by former president Barack Obama in 2015 had not yet come into effect but aimed to make infrastructure more resilient to the effects of climate change, such as rising sea levels and flooding.Those who backed Obama's rules believed they would make people safer by putting roads, bridges and other infrastructure on safer ground, 
NPR 
reported, but Trump rescinded the rule several weeks ago in an attempt to speed up the time it takes for infrastructure projects to be approved.
Keep Up With This Story And More 

By Subscribing Now
Lee Padilla walks down the street in the Cottage Grove neighborhood which has been inundated with floodingf from Hurricane Harvey on August 27, 2017 in Houston, Texas.GETTY Obama's regulations meant roads, buildings and other infrastructure needed to be constructed to take climate change into account and be built to withstand the effects of such climate change, including rising sea levels in coastal areas.But Trump believed the rule would slow down the permitting process. The president favored a faster route for infrastructure building, which he announced with an executive order signed several weeks ago—the latest in a series of Obama-era climate change policies to get the boot.Speaking from New York when he announced the rollback of the rules on Tuesday, August 15, Trump said: "We're going to get infrastructure built quickly, inexpensively, relatively speaking, and the permitting process will go very, very quickly."The executive order signed by Trump also gives a two-year time limit for the permits to be completed for major infrastructure projects, which includes environmental reviews on such proposals."It's going to be a very streamlined process, and by the way, if it doesn't meet environmental safeguards, we're not going to approve it," added Trump, who previously promised he would pass a $1 trillion package intended to improve the country's infrastructure, although this is yet to materialize.At least five people have been reported dead in the aftermath of Hurricane Harvey and ensuing heavy flooding, with the emergency services rescuing more than 1,000 people overnight who were trapped in high flood waters.Residents in Houston have reported being trapped in their homes by rising floodwater, and authorities have warned people to stay indoors and not attempt to drive along flooded roads, which is where the majority of fatalities occur.This year, Weather.com reported there are expected to be 11 named storms, four hurricanes and two major hurricanes this season, with the average usually slightly higher.Trump's decision to roll back the Federal Flood Risk Management Standard was praised by business groups including the National Association of Home Builders, who felt flood regulations had pushed up the cost of housing, but faced criticism from environmental groups, Reuters reported.Former director of public affairs at the Federal Emergency Management Agency (FEMA) Rafael Lemaitre told the news service at the time that Trump was undoing "the most significant action taken in a generation" to protect infrastructure from climate change."Eliminating this requirement is self-defeating; we can either build smarter now, or put taxpayers on the hook to pay exponentially more when it floods. And it will," he added.The National Association of Home Builders did not immediately respond to Newsweek's request for comment.
Hurricane Harvey: Houston-area hospitals preparing to evacuate patients
 MERIDITH McGRAW and DAN CHILDS,Good Morning America 2 hours 51 minutes ago
Hospitals in the Houston area are preparing to make evacuations as flood waters rise in the wake of Hurricane Harvey.Water flooded the basement of the Ben Taub General Hospital, disrupting food, pharmacy and central supply services. Ben Taub, one of only two comprehensive, level 1 trauma centers in Houston, says their concern now is finding ways to get critical care patients to safety."Our first concern is patients on ventilator support," hospital spokesman Bryan McLeod said.For now, 17 to 18 patients require ventilator support to breathe, McLeod told ABC News. After they have been evacuated, McLeod said, the hospital plans to move the rest of the approximate 350 patients."We will work through those patients from the most critical to the least critical," he said. "This will probably be a multiday effort."While the hospital's electrical service has not been disrupted, losing electricity is a concern for the hospital."We're very good with power right now; there was some concern earlier in the day. That being said, if we get another round of rainfall like we have already had, this could change," McLeod said.Another hospital in Houston, Bayshore Medical Center, said this evening that all its 196 patients are being moved to the surrounding-area hospitals of Clear Lake Regional Medical Center, Conroe Regional Medical Center, Houston Northwest Medical Center, Kingwood Medical Center, Mainland Medical Center, Pearland Medical Center, Tomball Regional Medical Center and West Houston Medical Center.Bayshore made the decision because of rising waters. It is suspending all services, including its 24-hour emergency medical center.The Catastrophic Medical Operations Center, which coordinates all hospital evacuations in the area, warns there could be more.Michael Walter, public information officer for CMOC, told ABC News that some hospitals evacuated before Hurricane Harvey hit Houston. In the case of Ben Taub hospital, Walter said, evacuations will be made to affiliate hospitals located in the close vicinity.ABC News' Janice McDonald contributed to this report.
Houston flooding may be worst ever: Texas governor on Harvey
 CHRISTINA POWELL and NICKI ZINK,Good Morning America 8 hours ago Texas Gov. Greg Abbott said flooding in Houston from Tropical Storm Harvey may be the worst the city has ever seen."Houston is an area that is prone to flood at least once a year," Abbott told ABC News Chief Anchor George Stephanopoulos on "This Week" Sunday, "but this is one of the worst, if not the worst that Houston has suffered."Harvey, which hit the Texas coast Friday night as a Category 4 hurricane with 130 mph winds and has since been downgraded to a tropical storm, has so far left at least two people dead. The storm is lingering over the Houston area, causing severe flooding that is expected to grow worse over the next few days, with a total of up to about three feet in rain possible through Wednesday.Rockport,Texas, emerging as city hit hard by HarveyAbbott said he appreciates the federal government's help in responding to Harvey."We could not be more appreciative of what the federal government has done, from the president on down," Abbott, a Republican, told Stephanopoulos.President Trump granted Governor Abbott's request for a disaster proclamation on Friday, activating response from the Federal Emergency Management Agency for relief to the state."FEMA has been very active, involved, and engaged in this whole process long before the hurricane even hit ground," said Abbott. "Because of their assistance it means that Texas will be able to begin the rebuilding process very swiftly."
Asked by Stephanopoulos if it makes sense for the president to visit Texas this week, or if it will divert resources from the relief effort, Abbott said, "it depends on where he goes.""We are already involved in the cleanup process in Corpus Christi, if the president were to visit there it wouldn't hinder any efforts. We'll just have to wait and see where the storm goes, understanding that this entire storm has been very unpredictable in its movement, and I couldn't tell you right now where it will be in two days," he said.The president tweeted Sunday morning that he will visit Texas once he can do so without disrupting emergency response efforts.The White House point man on the storm, Homeland Security Adviser Tom Bossert echoed the president's tweet in a separate interview on "This Week" Sunday saying that Trump "doesn't want to get in the way" of relief efforts."We'll go where we can without getting in the way of the operators," said Bossert. "We certainly won't go in a place where we would prevent lifesaving activities from taking place. The president wants to go to show support. He doesn't want to go to get in the way."
Texas flood damage from Harvey may match Katrina: insurance group
 Reuters 5 hours ago
Flood insurance losses due to Hurricane Harvey could equal that of Hurricane Katrina in 2005.WASHINGTON (Reuters) – Flood damage in Texas from Hurricane Harvey may equal that from 2005's Hurricane Katrina, the costliest natural disaster in U.S. history, said an insurance research group on Sunday.As heavy rain pounded Houston and Texas's coastal counties, the Insurance Information Institute said it was still too soon to make precise estimates of the damage to homes and businesses."It could be a flood loss like Katrina because of the amount of water that's coming in … not as much wind as it will be water," said institute spokeswoman Loretta Worters.Hurricane Katrina resulted in more than $15 billion in flood insurance losses in Louisiana and Mississippi that were paid by the National Flood Insurance Program (NFIP), a federal program that is the only source of flood insurance for most Americans.The NFIP is already deeply in debt and likely will have to be bailed out again by U.S. taxpayers, as it was after Katrina, to cover the bill for flood damage claims from Harvey.Having dumped more than two feet (60 cm) of water on Houston already, Harvey, which hit the Texas coast as a Category 4 hurricane but is now a tropical storm, was expected to hover over Southeast Texas for several days and drop more than two more feet (60 cm) of water.When hurricanes hit, many U.S. homeowners suffer because they have no property insurance. Others who do have it often discover they are not covered for flooding. Wind damage from hurricanes is covered by property insurers; flood damage is not.For that, property owners must turn to the NFIP, which backs flood policies sold and serviced by private insurers, including Allstate, Assurant and others.The NFIP is managed by the U.S. Federal Emergency Management Agency. Policies are sold to property owners by dozens of private insurers, with premiums going to FEMA.A national poll by the Insurance Information Institute in 2016 showed only 12 percent of people in flood-prone coastal areas had flood insurance, down from 14 percent in 2015.The NFIP was created in 1968 after private insurers stopped selling flood coverage. Critics have said the program provides a misguided tax subsidy to coastal and river valley property owners, encouraging development in flood-prone, often environmentally sensitive areas such as wetlands.Congressional reform efforts, supported by a coalition of environmental activists and free-market advocates, have largely been thwarted by waterfront real estate interests.The NFIP owes $24.6 billion to the U.S. Treasury. Many lawmakers are skeptical that debt will ever be repaid.(Reporting by Kevin Drawbaugh; Editing by Sandra Maler)
Hurricane Harvey: Photo of Texas nursing home residents in waist-deep water prompts rescue
 MERIDITH McGRAW and SABINA GHEBREMEDHIN,Good Morning America 3 hours ago
A startling image of elderly women in a Texas nursing home surrounded by waist-deep flood waters, covered by blankets and sopping wet personal items stunned viewers on social media Sunday morning and prompted an emergency evacuation of the facility.Galveston County Commissioner Ken Clark told ABC News that 20-25 residents at La Vita Bella Nursing home were safely evacuated from the flooded building in Dickinson. David Popoff, the city's emergency management coordinator told Galveston County Daily News they were rescued by helicopter.Timothy McIntosh, whose mother-in-law owns the nursing home, posted the photo and pleaded for emergency help."Need help asap emergency services please RETWEET," wrote McIntosh. His tweets caught the attention thousands on social media and the national guard was notified of the nursing home's situation."Latest update on La Vita Bella home in Dickinson, TX.On "purple" high priority list. Coast Guard on route right now for rescue.#HoustonFlood," said McIntosh on Twitter.By the early afternoon, McIntosh posted that the residents had been safely evacuated."RESCUED!! Thank you to the National Guard & the Galveston City Emergency crew for our rescue; @GalvestonOEM #houstonflood @NationalGuard""We're very grateful," McIntosh told ABC News about the nursing home rescue. He said he believes the rescue would not have taken place so quickly without the attention his photo received on Twitter.
'Every one of us thought we were going to die': Harvey wreaking havoc on TexasRick Jervis and Matt Woolbright, USA TODAY NETWORKPublished 12:29 p.m. ET Aug. 26, 2017 | Updated 2:06 p.m. ET Aug. 26, 2017
Princess Summer ClubNew concept! Princess Summer Club #UnforgettableSummer #MakeMemories #EnjoySummer #AllDayAllNight
After a night of 130-mph wind gusts, storm surges and flash floods, heartbreaking images show the damage left in the wake of Hurricane Harvey. USA TODAY
(Photo: Eric Gay, AP) 1206CONNECTTWEET 6LINKEDIN 7COMMENTEMAILMORE FULTON, Texas – Crushed homes. Roofs on roads. Homes and trucks just gone.Residents and first responders in this seaside community emerged Saturday with the twin realization that they had just survived one of the strongest storms to ever hit Texas and that their city had been radically transformed. Directly in the path of Tropical Storm Harvey, Fulton, and nearby Rockport and Port Aransas, absorbed the brunt of the massive Category 4 hurricane.Harvey weakened overnight to Category 1 and was downgraded to a tropical storm Saturday afternoon."I'm just glad all my friends are alive," said Brian Burks, a former member of the Fulton Volunteer Fire Department who rode out the storm at the fire station with his former colleagues. "Every one of us thought we were going to die."Fulton, just north of Rockport and 30 miles north of Corpus Christi, was in the path of Harvey's eye when it roared ashore Friday night, packing 130 mph winds.Power lines blocked some roads, while others were flooded and impassable. Trees and trailer homes were upended, as city and county officials tried to survey the damage and assist residents.
A Texas and U.S. flag fly as rain from Hurricane Henry falls in Texas City, Texas.  Brendan Smialowski, AFP/Getty ImagesOn Texas State Highway 35, the roof from a nearby building was strewn across the entire highway and a large RV laid on its side on the shoulder of the road.Some residents who stayed in this city said they were expecting a smaller storm. Others were surprised by Harvey's ferocity.Wanda Carpenter, 43, had planned to get her family out. But preparations weren't made fast enough and Harvey arrived earlier than expected, trapping her, her two sons and her 6-year-old daughter, Samantha, in their trailer home, she said.The family held the walls of the home up with their hands as Harvey roared around them."The walls were pulsing in and out," said Isaiah Wilcox, 16, Carpenter's older son. "We spent hours holding our walls up. Others houses around us were already gone."When the calm from Harvey's eye finally came over Fulton, the family fled to a local elementary school building. During the eye, members of the Fulton Volunteer Fire Department drove around town, picking up residents and bringing around 35 of them to the impromptu elementary school shelter. They also stayed at the school, as their station appeared on the verge of collapse.On Saturday morning, the displaced residents lingered in front of the shelter, some cradling pets or smoking cigarettes, others with vacant stares or just standing and trembling.Duane Stark, 53, was riding out the storm with his girlfriend, Crystal Whitehead, at the Magic Sun Tan Motel in nearby Rockport. When the roof began to peel off under Harvey's roaring winds, the couple moved to the bathroom with their two dogs.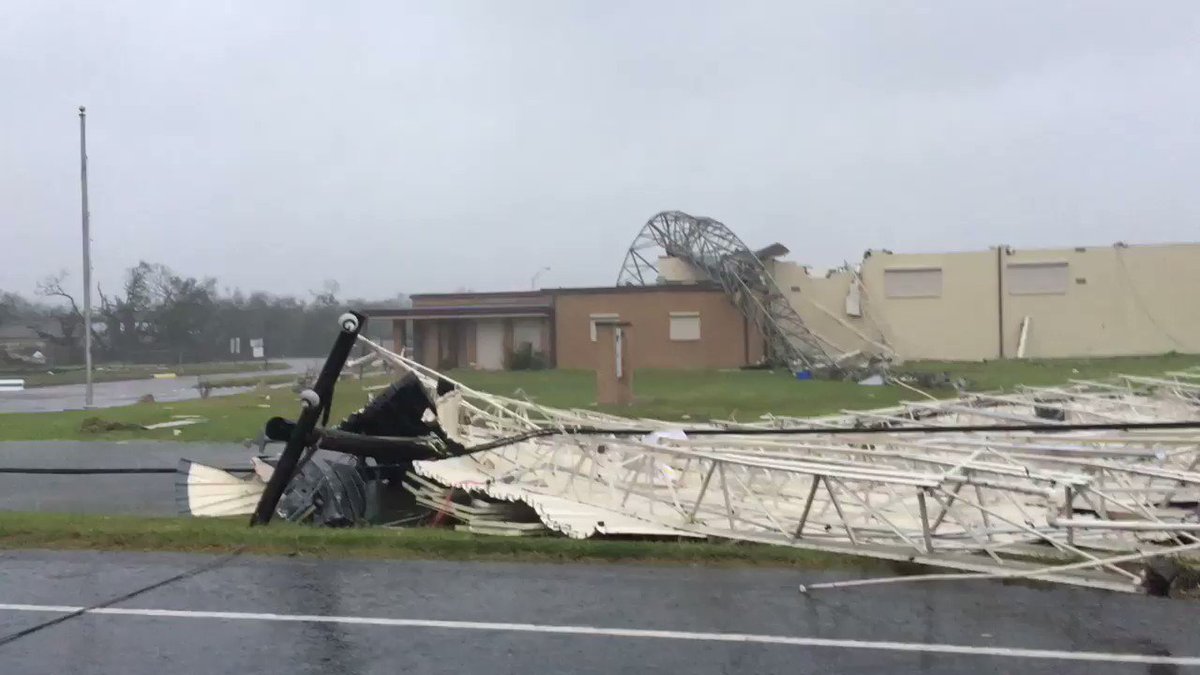 "The walls started rocking back and forth. It sounded like a train was coming," Stark said. "Before you know it, the bathroom had imploded."The couple climbed out of a small hole in the rubble. "All you could see was the tile floor and the trees. The hotel room was gone," he said.They climbed into Stark's van and, on four flat tires, drove to the elementary school for shelter.On Saturday, Whitehead trembled uncontrollably, cradling her dachshund, Pixie Dixie."That bathroom saved our lives," she said.