Nearly 6,000 Inmates Evacuated From Texas Prisons

NBC News Kalhan Rosenblatt
© Rain continues to fall in Houston from Tropical Storm Harvey on Aug. 28, 2017. Image: Rain continues to fall in Houston from Tropical Storm Harvey Five Texas prisons have evacuated nearly 6,000 inmates since Saturday due to catastrophic flooding caused by Hurricane Harvey.At approximately midnight on Tuesday in Fort Bend County, 1,400 inmates at the Jester 3 and Carol S. Vance prison units began boarding buses to be moved out of affected areas. They will be relocated to other Texas Department of Criminal Justice facilities, Robert Hurst, a TDCJ spokesman told NBC News. Fort Bend County is located just southwest of Houston.Those inmates join an estimated 4,500 others who were evacuated on Saturday from Terrell, Stringfellow and Ramsey prison units in Brazoria County, which is located south of Houston along the Texas coast.Officials began the evacuations because the five prisons are at risk of flooding due to their proximity to the rising Brazos River, according to the Facebook post.As of 10 a.m. on Tuesday, it was not immediately clear if the Jester 3 and Carol S. Vance units had finished being evacuated."We're moving them to other facilities where there is not any risk," Hurst said. "At this time there have been no complications and things are going smoothly."Hurst said there have been no issues with overcrowding as the inmates are moved from areas inundated with rain from Harvey to secure locations."We are making sure everybody is safe and that it's a secure operation. We're not taking any risk with what we're having to do but at this time things are going smoothly," Hurst said.Hurst said the inmates are being transferred to the TDCJ facilities aboard buses used for standard prison situations. The inmates are accompanied by correctional officers during the transport, the TDCJ said on Facebook.Related: Harvey, Already a 'Landmark Event,' Threatens Round TwoBecause of the historic flooding, which has killed at least four people so far and left nearly 300,000 without power, it is not clear when the inmates will be returned to their facilities."We've got to wait for the storm to pass and wait for other situations to resolve themselves before we look into that," Hurst said.On Tuesday, Harris County Sheriff's Office tweeted that their jail hadn't been evacuated. Harris County, which encompasses Houston, has seen some of the most significant flooding from Harvey.The sheriff's office said that inmates had access to phones in order to check on loved ones.
U.S.
6 Family Members, Including 4 Children, Presumed Dead In Harvey Floods
Dominique Mosbergen
HuffPost
•
6 Family Members, Including 4 Children, Presumed Dead In Harvey Floods
Six people in the same family, including four children, are presumed dead after floodwaters caused by Tropical Storm Harvey inundated their van on Sunday afternoon.Six people in the same family, including four children, are presumed dead after floodwaters caused by Tropical Storm Harvey inundated their van on Sunday afternoon.Samuel Saldivar had been driving his relatives to safety when 
rising floodwaters suddenly "overcame" their van
, according to CBS affiliate KHOU-TV, which first reported the tragedy in northern Harris County, Texas.Saldivar said the victims were his elderly parents, who both had Alzheimer's, and his four great-nieces and nephews, who were between the ages of 6 and 16, KHOU-TV reported, citing Harris County Sheriff's Office spokesman Jason Spencer.
View image on Twitter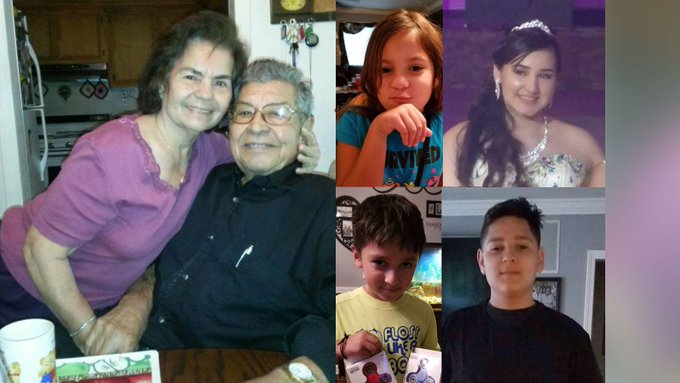 Follow
KHOU 11 News Houston
@KHOU
Family of 6 believed to have drowned inside van while trying to escape 
#
Harvey
 floods 
http://

on.khou.com/2vDTRxj

 
#
HurricaneHarvey
#
KHOU11
Texas officials have yet to confirm the deaths, saying they haven't located the submerged van. Authorities did say there had been "
six suspected flood-related deaths
" in Harris County, but it's not clear if they were referring to the Saldivar family.As the vehicle began to sink, Saldivar managed to 
climb out of the driver-side window
 and shouted at the children to escape from the back, a relative told The Associated Press. He survived the ordeal by hanging onto a tree limb, KHOU-TV reported.Virginia Saldivar, who identified herself as the driver's sister-in-law and the children's grandmother, said the kids and their great-grandparents weren't able to escape in time."Sam calls my husband and tells him, 'They're gone,'" she told the AP. "That's when my husband dropped the phone and started screaming."Ric Saldivar, Samuel's brother, said it all happened extremely quickly. Samuel heard the children scream as the van was rapidly swept away, Ric told KTRK-TV.Family of 6 presumed dead after van sinks in Harvey floods 
http://

trib.al/iLTLpRY
Family of 6 presumed dead after van sinks in Harvey floods DALLAS (AP) – As a van full of family members tried to escape Harvey, violent floodwaters engulfed the vehicle and six people are presumed dead, including four siblings aged 6 to 16, a relative said….Ashley Hiser Jackson, a California-based relative, confirmed the identities of the six missing family members as Manuel Saldivar, 84; Belia Saldivar, 81; Daisy Saldivar, 6; Xavier Saldivar, 8; Dominic Saldivar, 14; and Devy Saldivar, 16.Jackson said her family is "heartbroken" and never expected the storm to "be this bad.""We are a strong family and have many people around us lifting everyone up in prayers," Jackson told HuffPost in an email Tuesday. "Our need right now is for everyone's continued safety and the recovery of our family."A 
GoFundMe page
 to support the Saldivar family raised over $1,400 in less than 24 hours.Speaking to NBC News, Virginia Saldivar called her grandchildren "
the sweetest kids
.""Devy loved animals, Starbucks and thrift store shopping. She was my sunflower, my sunshine. Xavier was the sweetest boy. He loved anything Army and playing video games," she said. "Daisy was our princess. She was Grandpa's girl. She loved kittens and dressing up, and watching YouTube videos. Dominic was my heart. He was the most amazing, loving boy. He loved playing his trombone, watching YouTube and playing video games. He loved his family and he would defend them against anything."Manuel and Belia Saldivar would've celebrated their 60th anniversary in October. The two were 
holding hands
 when the car was overtaken by the flood waters, according to CNN."I was really hoping they would somehow go together because I couldn't see one without the other," Ric Saldivar 
told CNN
. "No matter who was left behind they weren't gonna last much longer without the other one.""They went to heaven holding hands."
Hayley Miller contributed reporting.
HOUSTON (AP) — With its flood defenses strained, the crippled city of Houston anxiously watched dams and levees Tuesday to see if they would hold until the rain stops, and meteorologists offered the first reason for hope — a forecast with less than an inch of rain and even a chance for sunshine.The human toll continued to mount, both in deaths and in the ever-swelling number of scared people made homeless by the catastrophic storm that is now the heaviest tropical downpour in U.S. history.The city's largest shelter was overflowing when the mayor announced plans to create space for thousands of extra people by opening two and possibly three more mega-shelters."We are not turning anyone away. But it does mean we need to expand our capabilities and our capacity," Mayor Sylvester Turner said. "Relief is coming."The rescues went on. Federal and local agencies said they had lifted more than 13,000 people out of the floodwaters in the Houston area and surrounding cities and counties.Louisiana's governor offered to take in Harvey victims from Texas, and televangelist Joel Osteen opened his Houston megachurch, a 16,000-seat former arena, after critics blasted him on social media for not acting to help families displaced by the storm.Meteorologists said the sprawling city would soon get a chance to dry out.When Harvey returns to land Wednesday, "it's the end of the beginning," National Hurricane Center meteorologist Dennis Feltgen said.Harvey will spend much of Wednesday dropping rain on Louisiana before moving on to Arkansas, Tennessee and parts of Missouri, which could also see flooding.But Feltgen cautioned: "We're not done with this. There's still an awful lot of real estate and a lot of people who are going to feel the impacts of the storm."The National Weather Service predicted less of an inch of rain for Houston on Wednesday and only a 30 percent chance of showers and thunderstorms for Thursday. Friday's forecast called for mostly sunny skies with a high near 94.In all, more than 17,000 people have sought refuge in Texas shelters, and that number seemed certain to increase, the American Red Cross said.The city's largest shelter, the George R. Brown Convention Center, held more than 9,000 people, almost twice the number officials originally planned to house there. The crowds included many from outside Houston.By the end of the day, the Toyota Center, home of the NBA's Rockets, had begun accepting people who could not find space at the convention center.Louisiana Gov. John Bel Edwards said he expected Texas officials to decide within 48 hours whether to accept his offer, which comes as Louisiana deals with its own flooding. About 500 people were evacuated from flooded neighborhoods in southwest Louisiana, Edwards said.The city has asked the Federal Emergency Management Agency for more supplies, including cots and food, for an additional 10,000 people, said the mayor, who hoped to get the supplies no later than Wednesday.In an apparent response to scattered reports of looting, the mayor also imposed a curfew. Police Chief Art Acevedo said violators would be questioned, searched and arrested.Four days after the storm ravaged the Texas coastline as a hurricane, authorities and family members have reported more than a dozen deaths from Harvey. They include a woman killed when heavy rain sent a large oak tree crashing onto her trailer and another woman who apparently drowned after her vehicle was swept off a bridge.Houston police confirmed that a 60-year-old officer drowned in his patrol car after he became trapped in high water while driving to work. Sgt. Steve Perez had been with the force for 34 years.Six members of a family were feared dead after their van sank into Greens Bayou in East Houston. A Houston hotel said one of its employees disappeared while helping about 100 guests and workers evacuate the building.Authorities acknowledge that fatalities from Harvey could soar once the floodwaters start to recede from one of America's largest metropolitan centers.A pair of 70-year-old reservoir dams that protect downtown Houston and a levee in a suburban subdivision began overflowing Tuesday, adding to the rising floodwaters.Engineers began releasing water from the Addicks and Barker reservoirs Monday to ease the strain on the dams. But the releases were not enough to relieve the pressure after the relentless downpours, Army Corps of Engineers officials said. Both reservoirs are at record highs.The release of the water means that more homes and streets will flood, and some homes will be inundated for up to a month, said Jeff Linder of the Harris County Flood Control District.Brazoria County authorities posted a message on Twitter warning that the levee at Columbia Lakes south of Houston had been breached and telling people to "GET OUT NOW!!" Brazoria County Judge Matt Sebesta said residents were warned that the levee would be overtopped at some point, and a mandatory evacuation order was given Sunday.The levee was later fortified, but officials said they did not know how long the work would hold.Officials in Houston were also keeping an eye on infrastructure such as bridges, roads and pipelines that are in the path of the floodwaters.Water in the Houston Ship Channel, one of the nation's busiest waterways, which serves the Port of Houston and Houston's petrochemical complex, is at levels never seen before, Linder said.The San Jacinto River, which empties into the channel, has pipelines and roads and bridges not designed for the current deluge, Linder said, and the chance of infrastructure failures will increase the "longer we keep the water in place."Among the worries is debris coming down the river and crashing into structures and the possibility that pipelines in the riverbed will be scoured by swift currents. In 1994, a pipeline ruptured on the river near Interstate 10 and caught fire.During a visit to the storm zone, President Donald Trump kept his distance from the epicenter of the damage in Houston to avoid disrupting recovery operations. But he planned to return to the region Saturday to meet with some of the victims, press secretary Sarah Huckabee Sanders said.After five consecutive days of rain, Harvey set a new continental U.S. record for rainfall for a tropical system.The rains in Cedar Bayou, near Mont Belvieu, Texas, totaled 51.88 inches (1.32 meters) as of Tuesday afternoon. That's a record for both Texas and the continental United States, but it does not quite surpass the 52 inches (1.33 meters) from Tropical Cyclone Hiki in Kauai, Hawaii, in 1950, before Hawaii became a state.The previous record was 48 inches (1.22 meters) set in 1978 in Medina, Texas, by Tropical Storm Amelia. A weather station southeast of Houston reported 49.32 inches (1.25 meters) of rain.Before it breaks up, Harvey could creep as far east as Mississippi by Thursday, meaning New Orleans, where Hurricane Katrina unleashed its full wrath in 2005, is in Harvey's path. Foreboding images of Harvey lit up weather radar screens on the 12th anniversary of the day Katrina made landfall in Plaquemines Parish.The disaster is unfolding on an epic scale, with the nation's fourth-largest city mostly paralyzed by the storm that arrived as a Category 4 hurricane and then parked over the Gulf Coast. The Houston metro area covers about 10,000 square miles (25,900 square kilometers), an area slightly bigger than New Jersey._Associated Press writers Frank Bajak and Michael Graczyk in Houston, Diana Heidgerd and David Warren in Dallas, Seth Borenstein in Washington and Tammy Webber in Chicago contributed to this report._Sign up for AP's daily newsletter showcasing our best all-formats reporting on Harvey and its aftermath: http://apne.ws/ahYQGtb .
Macau weather agency under investigation for delayed typhoon warning
 AFP 22 hours ago
Macau (AFP) – Macau graft busters have begun a probe into the city's weather bureau over its handling of deadly Severe Typhoon Hato, amid reports that deference to the island's gaming industry was behind delays to its storm warnings.The destruction wrought by the typhoon, which killed at least 10 people, prompted the resignation of Macau's weather chief, an apology from the city's leader and the deployment of the People's Liberation Army Macau garrison to help in relief efforts.Reports said consideration for the city's gambling industry played a role in delaying the storm warning over Hato, which hit the city last Wednesday and was believed to be the strongest storm in 53 years.Macau's Commission Against Corruption (CCAC) on Monday said they received a "large volume of complaints" over the Macau Meteorological and Geophysical Bureau's typhoon warning.The investigation into the bureau centres on its "typhoon warning process and its internal management" along with its former head, Fong Soi-kun, who resigned last Thursday, the CCAC statement said.It also added that it received similar complaints last year during Typhoon Nida, when the third highest typhoon warning T8, which mandates a shutdown of the city, was not raised."There can be no doubt the 'casino factor' plays into the thinking of those charged with making storm signal decisions," an unnamed source told the South China Morning Post, adding that once a T8 is raised, casinos must pay all staff overtime.The newspaper said the Macau T8 signal was raised around nine hours after Hong Kong issued the same warning, with residents complaining that the timing of the notice came just as people were travelling to work.Macau police also arrested an elderly man and his sister for spreading false information online, saying that bodies were found in a flooded car park in one of the worst hit areas, the Post reported Tuesday.Hato ripped through the gambling hub Wednesday, plunging casinos into darkness and causing destructive floods.A further eight people are known to have died from Typhoon Hato in the neighbouring mainland Chinese province of Guangdong.Streets appeared cleaner after local residents of all ages and around 1,000 troops from the Chinese People's Liberation Army Macau garrison worked to clear piles of debris blocking the streets.Summer is typhoon season for the region including Hong Kong, which can experience storms of such severity that the entire city shuts down.
Twitter Reacts to Viral Photo Of Dog Carrying Food Bag In Harvey Hit Texas
Shreesha Ghosh International Business Times•A photo of a dog carrying a bag of food on a street in the northwest part of Corpus Christi, after Hurricane Harvey triggered havoc in Texas over the weekend, has gone viral since it was posted on Facebook on Saturday.The photo was shared by a Facebook user, Tiele Dockens. She wrote in the caption: "This dog is walking around Sinton TX carrying a entire bag of dog food with him. LOL  #refugee.(sic)" Related SearchesDog Carrying Bag Of FoodOtis Dog FoodWhen Will Harvey Hit TexasDockens, cleared in her Facebook post, that the dog was not a stray. The Facebook image was shared over 30,000 times at the time of publishing this story.As the picture went viral on Twitter, "#refugeedog" started trending on the microblogging site. Some of the users, in their posts , called the dog a "CanineAidWorker," while some said he was a "looter." Most users hailed him as a hero and praised his actions.The German shepherd from Sinton, Texas,  Otis, was said to have accidentally got loose on Friday from his porch prompting his 65-year-old owner Salvador Segovia to searched him on the streets, the Houston Chronicle reported. "I kept yelling his name and yelling his name and he wasn't around," Segovia told the Chronicle.Segovia said Otis had been found and brought back home safe. "Otis is an all around special dog," he said. "He's been instrumental in helping comfort Carter following numerous hospital visits for seizures and asthma. Otis is also a local celebrity," he added."Otis can go to Dairy Queen (a fast food store in Texas) and he can get a hamburger. He's the only dog allowed to lie down in front of the county court house," the Chronicle quoted Segovia as saying. "He also goes to H.E.B. (a grocery store). He's not a stray. He's a good dog."Otis is around six years old, Segovia told the Washington Post. He said he adopted the dog when he was just a puppy. Recalling how he adopted Otis, he said one day he saw a man driving near their residence in Texas and had the dog and was planning to abandon it when Segovia decided to adopt the dog. "I said, 'No, no, no, leave him here, we'll keep him," he said. "He left the dog here, and it became my grandson's dog."While the dog and his owner and Dockens' family were all safe, the city of Sinton and nearby Papalote, where Dockens resides, faced power outage and was without water till Saturday evening. "People are holding up good," Dockens told the Huffington Post, adding the rescue teams have been working to restore power and residents were helping to clear the streets after the storm.
The Guardian
Houston dam begins to overspill as Harvey triggers unprecedented impact
Tom Dart in Houston,
The Guardian
10 hours ago
'We have never faced this before, we have uncertainty in how the water is going to react' official says, as water levels in reservoirs threaten monitoring equipment
Tropical storm Harvey – live updates
A vital dam in suburban Houston that protects the central city began overspilling on Tuesday, and officials said the rainfall from Harvey is so unprecedented they do not know what 
the impact
 on surrounding communities will be.Water levels in the Addicks reservoir have reached 108ft, said Jeff Lindner, a Harris County flood control district meteorologist.He warned that neighbourhoods in the spillway zone would begin to see street and possibly structural flooding."We have never faced this before. We have uncertainty in how the water is going to react as it moves out of the spillway and into the surrounding area," Lindner told a news conference on Tuesday. "We are trying to wrap our heads around what this water will do."Linder named six subdivisions that appear most at imminent risk and told residents: "If you want to leave, now is the time to leave. The reason being, once the water comes into the street you're not going to be able to leave."Another major dam and reservoir nearby, Barker, is also enduring exceptionally high water levels, and some residents in streets to the west of it are under voluntary evacuation orders. They also face the possibility that their roads could be rendered impassable just as the storm's precipitation appears to be decreasing in intensity."New streets will continue to flood, new homes will continue to flood … the amount of water that goes over the spillway will be increasing," Lindner said. He added that it is unlikely to happen quickly but could leave some homes inundated for a month."I completely understand the uncertainty that people are dealing with. This is a complex situation," he added. "My own house is in the spillway region of [Addicks] reservoir so I completely understand what you're going through."Addicks and Barker were constructed in the 1940s by the US army corps of engineers, which maintains them.The dams are designed to control the flow of water into the Buffalo bayou, a river that stretches for dozens of miles and goes through the heart of the city, depositing water in the ship channel to the east.As Harvey battered the region over the weekend, the corps began "controlled releases" of water into the bayou and warned that surrounding areas were at increased risk of flooding as a result.The corps is performing a balancing act with water levels that sees some nearby places flood, or existing floods worsen, while protecting a much larger area from potentially catastrophic effects.The dams have been undergoing extensive repairs because several years ago the corps deemed them at "extremely high risk" of failing. The federal agency has repeatedly denied this means there is a serious chance of a disastrous breach.Many parts to the east of the dams were already flooded by the bayou even before the corps started the controlled releases. The bayou is so high that it has submerged outlets designed to feed it to relieve the reservoir levels.The Houston region's dramatic population growth – about a million new residents in the past decade – has seen extensive construction of new houses, offices and apartment complexes built around the dams in what once was empty grassland.The area is now dubbed the Energy Corridor because it is popular with oil industry workers. A number of companies are headquartered there."If you're building in areas that are considered storage for the reservoir, that is an issue," a corps spokesman said.To add to the problems, Lindner said that a reservoir monitoring gauge in the Barker reservoir was flooded on Monday evening and no longer works, and because so many streets and highways are unusable, United States Geological Survey officials are unable to reach the site and repair it."We have law enforcement personnel going to pick them up in a high-water vehicle to take them to Barker and establish a temporary measuring gauge. Based on the elevation of Addicks we are concerned we may lose the Addicks gauge," he said.
Most Harvey flood victims on hook to pay for home repairs
Bernard Condon and Ken Sweet, AP Business Writers,
Associated Press
8 hours ago
  0:53
1:04
18:26
1:59
1:42
1:49
Most Harvey flood victims on hook to pay for home repairs NEW YORK (AP) — Homeowners suffering flood damage from Harvey are more likely to be on the hook for losses than victims of prior storms — a potentially crushing blow to personal finances and neighborhoods along the Gulf Coast.Insurance experts say only a small fraction of homeowners in Harvey's path of destruction have flood insurance. That means families with flooded basements, soaked furniture and water-damaged walls will have to dig deep into their pockets or take on more debt to fix up their homes. Some may be forced to sell, if they can, and leave their communities."All these people taken out in boats, they have a second problem: They have no insurance," said Robert Hunter, director of insurance at the Consumer Federation of America who used to run a federal flood insurance program.Hunter estimates that total out-of-pocket costs for flooded homeowners could reach $28 billion, the largest in U.S. history.Harvey made landfall in Texas late Friday as a Category 4 hurricane and has lingered off the coast, dropping heavy rain as a tropical storm. Hunter expects flood damage alone from the storm to cost at least $35 billion, about what Katrina cost. But in that 2005 hurricane about half of flooded homes were covered by flood insurance.With Harvey, only two of 10 homeowners have coverage, Hunter estimates.Homeowners insurance typically covers just damage from winds, not floods. For that, you need separate coverage from the federally run National Flood Insurance Program. The insurance must be bought by homeowners with federally-backed mortgages living in the most vulnerable areas, called Special Flood Hazard Zones.People in those areas and near them have complained for years that the premiums are too high, though they would be much higher still if not subsidized by the federal government.Much of the Houston area falls outside those most vulnerable zones and many homeowners who aren't forced to have coverage have decided to do without. Now they are stuck because much of the damage in the nation's fourth largest city won't be covered by their homeowners insurance.Unlike Corpus Christi and Rockport, much of the Houston area was damaged by flooding, not winds."There's going to be a huge uninsured economic loss here," said Pete Mills, a senior vice president at the Mortgage Bankers Association.About 1.2 million properties in the Houston-Sugarland-Baytown area are at high/moderate risk of flooding but are not in a designated flood zone requiring insurance, research firm CoreLogic estimates. That's roughly half of all properties — residential and commercial — in that area.Hunter of the CFA said that homeowners without flood insurance can possibly apply for federal disaster relief benefits, but those come in the form of low interest loans, a burden for those already struggling with too much debt.
Watch news, TV and more Yahoo View, available on iOS and Android.
"If you have $30,000 in damages, you can get maybe $25,000," Hunter said. "But there will be interest, and then you have your mortgage. You'll have two loans on your house."Homeowners with water damage can get paid through their homeowners insurance but only if wind blows out a window or sends a roof aloft first, allowing the water in. If the water rushes through the floorboard or walls, you're not covered.Harvey has dumped more than 30 inches of rain in some places, and rivers are swelling and expected to crest at record levels. The Cypress River, which runs through downtown Houston, is expected to rise four feet higher than the record 94.3 feet set in 1949, according to Air Worldwide, a risk modeling firm.Hunter said that adjusters typically take about 30 days to visit your home and send a check, but the crucial distinction between wind damage and flood damage can be tricky and take longer. Fights in court with insurers over wind-versus-storm damage stretched out for years after Superstorm Sandy in 2012.Sandy resulted in $8.4 billion in payouts for flood damage from the federal insurance program, according to the Insurance Information Institute. After Katrina in 2005, the program paid $16 billion for flood damage.The flood program is run by the Federal Emergency Management Agency, which owes the Treasury about $23 billion in funds borrowed to cover the cost of past disasters, according to a recent report by the U.S. Government Accountability Office.For homeowners facing big bills, some banks may be willing to help. During a disaster like Harvey, they typically will institute a type of forbearance program on any borrowers who are in the disaster's impacted counties.Wells Fargo, the nation's largest mortgage lender, said Monday that it was suspending all negative reporting to credit bureaus, collection calls and foreclosure procedures against customers in the impacted communities at least through the end of September.Customers who contact Wells Fargo can get disaster relief for 60 to 90 days, and can postpone payments. Further relief will be offered case-by-case, the bank said.Loretta Worters, a spokesperson for the Insurance Information Institute, said floods do have a least one positive effect: They convince people who had shrugged off the risk to their homes to buy policies.But the memory quickly fades, she added, noting that despite the blows of Katrina and Sandy and other storms only 12 percent of homeowners nationwide had flood insurance last year."People buy coverage immediately after a storm, then it starts to drop," Worters said. "Three or four years later, we're back to where we started."
ABC reporter Tom Llamas slammed as a snitch for calling police on Houston 'looters'
By 
Shawn Langlois
Published: Aug 29, 2017 3:12 p.m. ET'Should they order from Amazon?'
GettyPeople walk through the flooded waters of Telephone Rd. in Houston.Tom Llamas is not the hero Houston needs right now, according to how some of his dispatches were received on Tuesday morning.The ABC News reporter, using the #BREAKING hashtag, 
told his followers
 that he saw "looting" taking place at a supermarket in the northeast part of the city, an area grappling with catastrophic floods and supply shortages.And that there was a dead body nearby. In that order.He was immediately met with a heavy dose of internet WTF:
't stop Llamas from following up with a now-deleted image from the "crime" scene, where authorities were called into action.No families struggling for a bag of soggy Wonder Bread on Llamas's watch. That's how his hundreds of detractors on Twitter saw it, and that's where the whole thing really went off the rails: