Over 130,000 flee menacing volcano on Bali tourist island
 STEPHEN WRIGHT,Associated Press 14 minutes ago
BALI, Indonesia (AP) — More than 130,000 people have fled the region around the Mount Agung volcano on the Indonesian tourist island of Bali, fearing it will soon erupt.The disaster mitigation agency's command post in Bali said the number of evacuees has swelled to about 134,200 by Thursday evening. That's more than double the estimated population within the immediate danger zone, but people farther from the mountain are leaving too.Those who have fled are scattered in more than 500 locations across the island famed for its beaches, lush green interior and elegant Hindu culture, taking shelter in temporary camps, sports centers and other public buildings.The volcano has been at its highest alert level for a week, sparking the exodus. Thousands of cows were left behind in the rural communities where farming is an important livelihood, but local animal husbandry officials were arranging trucks to remove them.The exclusion zone around the mountain extends as far as 12 kilometers (7.5 miles) from the crater in places. The local observatory reported a small plume most likely of water vapor after daybreak Friday, but no ash cloud."I was very worried about the situation" said Nyoman Suarta, who was leaving a village a few kilometers outside the official no-go radius. "So I decided to get out to save myself with my stuff and my pet," he said, carrying a cage housing a bird.Agung, which dominates the landscape in the northeast of the island, last erupted in 1963, killing more than 1,100 people. It remained active for about a year.Volcanologists say the past week's dramatic escalation in tremors indicates an eruption is more likely than not, but they can't say with certainty when it will happen."I would definitely be following the advice to stay outside the exclusion zone," said Heather Handley, an assistant Earth sciences professor at Sydney's Macquarie University. The increase in tremors suggests an eruption is "imminent," she said.Its eruptions in 1963 produced deadly clouds of searing hot ash, gases and rock fragments that traveled down its slopes at great speed. Lava spread for several kilometers and people were also killed by lahars — rivers of water and volcanic debris.Officials this week installed warning sirens in several townships."If Mount Agung erupts, I'm in charge of pressing the alarm button," said Nyoman Kasna, a local official. "Sirens will sound and tell the community the mountain has erupted."Agung, about 70 kilometers (45 miles) to the northeast of the tourist hotspot of Kuta, is among more than 120 active volcanoes in Indonesia.Another volcano, Mount Sinabung on Sumatra, has been erupting sporadically since 2010, sometimes blasting volcanic ash several kilometers (miles) into the air and forcing more than 30,000 to evacuate their villages.Indonesia is located on the Pacific "Ring of Fire," an arc of volcanoes and fault lines encircling the Pacific Basin, and is prone to seismic upheaval.
Royal Caribbean CEO saw 'glimmer of something good' after hurricanes
 Melody Hahm 7 hours ago Royal Caribbean CEO on hurricane relief efforts
Scroll back up to restore default view.This Atlantic hurricane season was the most devastating in the last decade. And relief organizations have rallied support, providing supplies and rescuing evacuees.Hurricanes Irma and Maria were "by far the biggest and most disruptive hurricanes we've ever seen," said Richard Fain, CEO of Miami-based Royal Caribbean Cruises (RCL). Fain has been at the helm of the company for 29 years and said his team has been laser-focused on helping communities across Florida, Puerto Rico and the Virgin Islands."I do have to say everybody came to the fore. It was really heartening to see how the storm really seemed to bring out the best in people — people tried to help, people on the islands were resilient and accepting — in a terrible time there was a little glimmer of something good there," he explained.
Jose Garcia Vicente walks through his destroyed home, in the aftermath of Hurricane Maria, in Aibonito, Puerto Rico. (AP Photo/Gerald Herbert)How Royal Caribbean is helping hurricane-affected communities In addition to providing nearly 30,000 gallons of water and over 13,000 pounds of pet food and supplies, and nearly 10,000 gallons of milk, the company evacuated 1,700 people, many of whom were employees."We consider ourselves fortunate, blessed to be in a position where we can give back a little bit," Fain told Yahoo Finance.The company even coordinated with the University of Miami to bring a dialysis machine to Puerto Rico.Of course, cruise lines are no strangers to inclement weather. Royal Caribbean even hired a chief meteorologist this year to monitor how weather will impact sailings. But Fain said there's no possible way to fully prepare for the damage."We can't forecast them but we're resilient and frankly we go to some 450 destinations around the world so we're able to mix and match. [These two] seemed to be particularly well-pointed at us. So every port that we went to in the Caribbean got some of the harm. But fortunately we were able to make some adjustments. And we're a strong enough company to move on," he said.As Royal Caribbean helps communities rebuild, it's also resuming itineraries. "What we really want to do is see the strength that the cruise industry and tourism bring to these islands. Tourism can be one of the strongest contributors to these economies going forward. We intend to be part of that," he said.Melody Hahm is a writer at Yahoo Finance, covering entrepreneurship, technology and real estate. Follow her on Twitter @melodyhahm.
U.S. appoints general to oversee military response to Puerto Rico disaster
By Robin Respaut and Dave Graham Reuters
U.S. appoints general to oversee military response to Puerto Rico disasterBy Robin Respaut and Dave Graham SAN JUAN, Puerto Rico (Reuters) – The Pentagon named a senior general to command military relief operations in hurricane-ravaged Puerto Rico on Thursday and the Trump administration sent a Cabinet emissary to the island as U.S. lawmakers called for a more robust response to the crisis.The U.S. territory of 3.4 million people struggled through a ninth day with virtually no electricity, patchy communications and shortages of fuel, clean water and other essentials in the wake of Hurricane Maria, the most powerful storm to hit the island in nearly 90 years.The storm struck on Sept. 20 with lethal, roof-ripping force and torrential rains that caused widespread flooding and heavily damaged homes, roads and other infrastructure.The storm killed more than 30 people across the Caribbean, including at least 16 in Puerto Rico. Governor Ricardo Rossello has called the island's devastation unprecedented.The U.S. military, which has poured thousands of troops into the relief effort, named Lieutenant General Jeffrey Buchanan on Thursday to oversee its response on the island.Buchanan, Army chief for the military's U.S. Northern Command, was expected to arrive in Puerto Rico later on Thursday. He will be the Pentagon's main liaison with the Federal Emergency Management Agency (FEMA), the U.S. government's lead agency on the island, and focus on aid distribution, the Pentagon said in a statement.FEMA has already placed the U.S. Army Corps of Engineers in charge of rebuilding the island's crippled power grid, which has posed one of the island's biggest challenges after the storm.In yet another move raising the administration's profile in the crisis, acting U.S. Homeland Security Secretary Elaine Duke, whose department includes FEMA, will visit Puerto Rico on Friday with other senior government officials to meet the governor, Puerto Rican authorities and federal relief workers, her office announced.President Donald Trump again praised the government's performance, saying on Twitter FEMA and other first responders were "doing a GREAT job," but he complained about media coverage, adding: "Wish press would treat fairly!"U.S. Senator Marco Rubio of Florida, like Trump a Republican, had earlier called for the appointment of a single authority to oversee all hurricane relief efforts, and said the Defense Department should mostly be in charge. DISASTER BECOMING "MAN-MADE" Democratic U.S. Senator Richard Blumenthal of Connecticut said the crisis was shifting from a natural disaster to a man-made one. The government's response had been "shamefully slow and undersized and should be vastly upgraded and increased," he told the Senate.Blumenthal called for as many as 50,000 troops to better coordinate logistics and the delivery of aid and basic necessities.Even as FEMA and the U.S. military have stepped up relief efforts, many residents in Puerto Rico voiced frustration at the pace of relief efforts."It's chaos, total chaos," said Radamez Montañez, a building administrator from Carolina, east of capital city San Juan, who has been without water and electricity at home since Hurricane Irma grazed the island two weeks before Maria.In one sign of the prevailing sense of desperation, thousands lined up at San Juan harbor on Thursday to board a cruise ship bound for Florida in what was believed to be the largest mass evacuation since Maria struck the island.The humanitarian mission, offered free of charge, was arranged between Royal Caribbean International and Puerto Rican authorities on a largely ad-hoc, first-come basis that sought to give some priority to those facing special hardships.Defending the relief effort, White House spokeswoman Sarah Sanders said 10,000 federal relief workers had arrived in Puerto Rico, including troops, and that 44 of the island's 69 hospitals were now operational."The full weight of the United States government is engaged to ensure that food, water, healthcare and other life-saving resources are making it to the people in need," Sanders told reporters.Army Brigadier General Richard Kim told reporters that the total military force on the island, including the Puerto Rico National Guard, numbered about 4,400 troops.SHIPPING RESTRICTION LIFTED The Trump administration earlier lifted restrictions known as the Jones Act for 10 days on foreign shipping from the U.S. mainland to Puerto Rico. While that measure might help speed cargo shipments, Puerto Rico is struggling to move supplies around the island once they arrive.The U.S. government has temporarily lifted the Jones Act following severe storms in the past, but critics had charged the government was slow to do this for Puerto Rico.Overall, the island is likely to need far more than $30 billion in long-term aid from the U.S. government for disaster relief and rebuilding efforts following Maria, a senior Republican congressional aide said on Thursday.The immediate relief effort was still badly hampered by the damage to infrastructure.Clearing cargo deliveries at the San Juan port remained slow, and several newly arrived tankers were waiting for a chance to unload their fuel, according to Thomson Reuters shipping data."Really our biggest challenge has been the logistical assets to try to get some of the food and some of the water to different areas of Puerto Rico," Governor Rossello told MSNBC on Thursday. He has staunchly defended the Trump administration for its relief response, which Trump noted in one of his Thursday night Twitter posts.The military has delivered fuel to nine hospitals and helped establish more than 100 distribution centers for food and water on the island, the Pentagon said on Thursday.Brock Long, the FEMA administrator, told CNN he was dissatisfied with the federal response to Maria, saying operations had been hindered by damage to the island's air traffic control system, airports and seaports.FEMA said full air traffic control services had been restored to the main international airport in San Juan, allowing for more than a dozen commercial flights a day, although that figure represented a fraction of the airport's normal business.The island has also seen the gradual reopening of hundreds of gasoline stations during the past few days, while a number of supermarket chains were also returning to business, FEMA officials said.(Reporting by Robin Respaut and Dave Graham in SAN JUAN, and Doina Chiacu and Susan Heavey in WASHINGTON; Additional reporting by Makini Brice, Roberta Rampton, Richard Cowan, David Shepardson and Idrees Ali in WASHINGTON, and David Gaffen and Scott DiSavino in NEW YORK; Writing by Frances Kerry and Steve Gorman; Editing by Howard Goller, Lisa Shumaker and Paul Tait)
NASA Maps Damage in Puerto Rico to Assist Relief Efforts
Calla Cofield Space.com Senior Writer SPACE.comNASA is using data from Earth-observing satellites to assist relief efforts in Puerto Rico, which was devastated by Hurricane Maria last week. Scientists at NASA's Jet Propulsion Laboratory in Pasadena, California, collected observations of Puerto Rico taken by the European Space Agency's Copernicus Sentinel-1A and Sentinel-1B satellites, according to a statement from NASA. The radar images were taken before and after the storm made landfall. Related SearchesPuerto Rico Relief FundPuerto Rico Disaster ReliefPuerto Rico Hurricane ReliefThe images were then used to create a "damage proxy map," which the agency has subsequently provided to the Federal Emergency Management Agency (FEMA), according to the statement. FEMA then "combined the map with building infrastructure data," NASA officials said, and created an estimated damage density map, which was sent to FEMA's Urban Search and Rescue teams in the field in Puerto Rico.This effort, which is overseen by the NASA Disasters Program — part of the agency's Earth Science Division — uses Earth-observing satellites to create maps of areas that have been affected by natural disasters. 
This image shows the Damage Proxy Map overlaid with an optical satellite image of Puerto Rico. The map covers an area of 105 by 60 miles (169 by 96 km), shown by the large red polygon in the figure. The inset, denoted by the orange rectangle, shows the extent of damage in and around the capital city of San Juan.  NASA/JPL-Caltech/ESA/Copernicus/GoogleHurricane Maria was the first Category 4 hurricane to hit Puerto Rico since 1932, and it has left many residents without shelter, water or means of communication with the outside world. NASA and the National Oceanic and Atmospheric Administration (NOAA) monitored Maria's progress from space as it raged through the Atlantic Ocean and into the Caribbean Sea. An astronaut on the International Space Station also shared photos of the storm from space.Puerto Rico is home to the Arecibo Observatory, which hosts the world's second-largest radio telescope. Observatory officials have reported that some damage was done to the facility and the telescope during the storm. Follow Calla Cofield @callacofield. Follow us @Spacedotcom, Facebook and Google+. Original article on Space.com.
World Bank approves $150 million disaster fund for Dominican Republic
Reuters
World Bank approves $150 million disaster fund for Dominican RepublicWASHINGTON (Reuters) – The World Bank on Thursday approved $150 million in disaster financing for the Dominican Republic to help it better prepare for natural disasters, weeks after the country was pummeled by two major hurricanes.The loan was the first contingency line of credit approved by the World Bank for a Caribbean country under the so-called Catastrophe Deferred Drawdown Option.The facility provides countries with financing to prepare them for natural disasters without taking government resources away from social or development programs, the World Bank said.The Dominican Republic was battered by Hurricane Irma on Sept. 7 and drenched days later by Hurricane Maria, forcing evacuations and damaging infrastructure and homes."This financing will help us mitigate risks from climate shocks, natural disasters, as well as pandemics," Dominican Republic President Danilo Medina said in a statement.Tahseen Sayed, World Bank director for the Caribbean, said the financing would help the Dominican Republic strengthen and speed up its response to disasters."The most important lesson from our experience in disaster response across the world is to invest in prevention and preparedness to be able to respond speedily when disaster strikes," said Sayed.Economic damage from disasters in the Dominican Republican is estimated at about $420 million a year, according to a recent World Bank and Ministry of Economy, Planning and Development study.(Reporting by Lesley Wroughton; Editing by Peter Cooney)
NHC says 40 percent chance of cyclone over Cuba
Reuters(Reuters) – A large area of cloud and showers extending from the northwestern Caribbean Sea northward across Cuba to the Florida Straits has a 40-percent chance of developing into a tropical cyclone within 48 hours, the U.S. National Hurricane Center (NHC) said on Thursday.The system is likely to produce locally heavy rainfall over portions of central and western Cuba, the Florida Keys, the Florida peninsula, and the northwestern Bahamas during the next several days, the Miami-based weather forecaster said.(Reporting by Swati Verma in BengaluruEditing by Sandra Maler)
Royal Caribbean Cancels Cruise, Sends Ship On Mission To Help Puerto Rico
Carla HerreriaHuffPostRoyal Caribbean, which operates cruise ships and tours around the world, canceled a voyage so that its ship can help with recovery efforts on the Caribbean islands devastated by Hurricane Maria. Royal Caribbean announced Wednesday that it will cancel its Adventure of the Seas cruise, which was scheduled to depart from San Juan, Puerto Rico, on Sept. 30 and sail to various islands in the Caribbean, to free up the cruise liner to dock in ports in San Juan and on the U.S. Virgin Islands of St. Thomas and St. Croix to aid in relief efforts.The ship will bring donated supplies to each port and bring evacuees from the islands to Fort Lauderdale, Florida, ahead of ship's next scheduled cruise on Oct. 6.The company said it will give full refunds to the customers who were booked on the Sept. 30 cruise, including for payments for onshore activities. On top of that, Royal Caribbean will offer a 25 percent cruise credit for those who rebook trips within 30 days.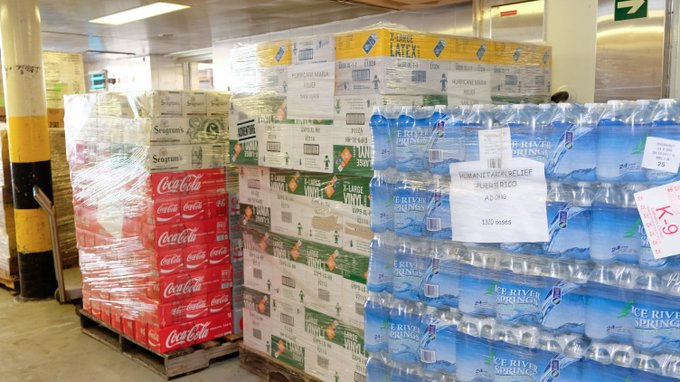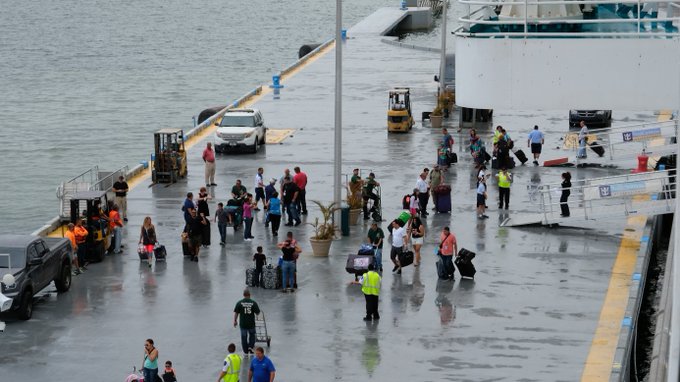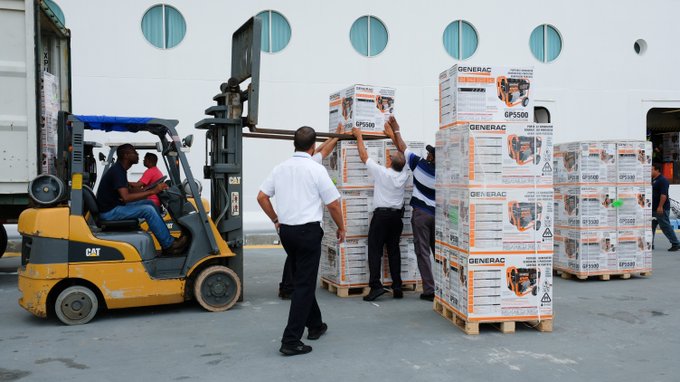 Follow
Royal Caribbean @RoyalCaribbean Adventure of the Seas arrived in San Juan to drop off supplies and pick up evacuees. Next up: St Thomas & St Croix: http://bit.ly/2xWkf7i  · Miami, FLRelated SearchesRoyal Caribbean ShipsRoyal Caribbean Cruise LinesHurricane Maria caused island-wide destruction on Puerto Rico, leaving much of the U.S. territory without electricity and in dire need of aid. According to the Department of Defense, about 44 percent of the island's population is without drinking water.Officials in Puerto Rico have described the conditions there as "apocalyptic," and San Juan Mayor Carmen Yulín Cruz said Tuesday that island residents are being discovered in "near-death conditions.""The priorities right now are continued lifesaving action, meaning the delivery of commodities, restoration of power to critical infrastructure and of communication abilities, and restoration of fuel," William Booher, director of public affairs at the Federal Emergency Management Agency, told HuffPost on Tuesday.President Donald Trump increased the federal funding for disaster response efforts in Puerto Rico this week and is scheduled to visit the island on Oct. 3."That island was hit as hard as you can hit," Trump said Tuesday. "Literally houses are just demolished. It was like tornadoes. It was like having hundreds of tornadoes."
Jose Bernard and his daughter Yolymar salvage what they can from their home in Corozal, Puerto Rico, on Wednesday. (Joe Raedle via Getty Images)Royal Caribbean said the company recently dispatched its Majesty of the Seas and Empress of the Seas ships to help with relief efforts after hurricanes Irma and Maria."We have been such a part of the Caribbean and South Florida communities for so many decades. We are worried and anxious," Royal Caribbean CEO Michael Bayley told The Miami Herald earlier this month while the company's cruise ships were assisting with Hurricane Irma relief efforts."At the end of the day, we want to try to help as much as we can," Bayley added.So far, the company has assisted with evacuating 1,700 people and bringing tens of thousands of supplies to hurricane victims across the Caribbean and in Florida, according to its website.Puerto Rico was still reeling from the devastation caused by Hurricane Irma, which left $1 billion in damages, when Maria made landfall on the island Sept. 20.Find out how you can help the victims of Hurricane Maria and Puerto Rico's recovery efforts here.
U.S. The Latest: Rock fall strikes Yosemite for a second day
 Associated Press 5 hours ago
YOSEMITE NATIONAL PARK, Calif. (AP) — The Latest on a rock fall in Yosemite that killed a British climber (all times local):4:20 p.m.Yosemite National Park has had another massive rock fall a day after a slab dropped from El Capitan, killing a British climber and injuring a second.Ken Yager of the Yosemite Climbing Association said Thursday's rock fall was larger than the one a day before on the iconic rock formation.Yager says he witnessed a large cloud of dust and heard sirens. Images show a huge plume of smoke in the wake of the rock fall. He says traffic on a road near the base of El Capitan has stopped.No other details were immediately available._11:30 a.m.An official says the man killed when a massive hunk of rock fell of Yosemite National Park's El Capitan monolith was a British climber.Yosemite park ranger and spokesman Scott Gediman said Thursday that the man was with a British woman who was seriously injured.Gediman says they are not being identified until their relatives are notified.He says the two were at the park to climb El Capitan when the sheet of rock estimated to be 130 feet tall (40 meters) and 65 feet wide (20 meters) fell.Gediman says the two were hiking at the bottom of El Capitan's vertical face in preparation on their way to scale it when the rock fell.He says the massive rock fall was among seven that happened in the same general area during a four-hour period on Wednesday.Officials had no immediate estimate for how much the big rock weighed but Gediman says all of the rock falls Wednesday weighed 1,300 tons (1,100 metric tons) combined.Rescuers found no other victims.The park records about 80 rock falls per year, though they are rarely fatal._10:30 a.m.An adventure tour guide who has led hikers in Yosemite Park for 12 years says the big rock fall that killed at least one person and injured another at the iconic El Capitan rock formation was the biggest slide he's ever seen at the park.John DeGrazio of YExplore Yosemite Adventures said Thursday he had just reached the summit of Half Dome with a group of hikers when they saw large plumes of dust rising up the vertical wall of El Capitan.DeGrazio says he's seen avalanches and rock falls in the past but that Wednesday's rock fall was "more significant than anything I've seen before."He says climbers are aware of the risks of the sport and that granite erosion takes place on El Capitan and elsewhere in the Sierra Nevada mountain range.He says climbers have been lucky that many rock slides have not killed people._This version corrects that DeGrazio saw the cloud of rock dust from the top of the Half Dome rock formation, not from the top of El Capitan._9:30 a.m.All areas in California's Yosemite Valley are open a day after a major rock fall from the famed El Capitan rock formation killed one person and injured another.At least 30 climbers were on the vertical wall of the 7,569-foot (2,307 meter) El Capitan when the huge rock hunk fell Wednesday afternoon. It was not clear Thursday if the victims were climbers or tourists.Yosemite National Park ranger and spokesman Scott Gediman says the rock appeared to fall from the popular "Waterfall Route" on the East Buttress of El Capitan.He said Wednesday he did not know who was killed and injured and did not immediately respond Thursday to phone and email messages seeking updated information.Images showed a woman being carried into a helicopter by two rescue workers.Canadian climber Peter Zabrok says he saw a piece white granite the size of an apartment building suddenly peel off the wall._12:25 a.m.A giant chunk of white granite broke loose from the face of a mountain-climbing mecca in Yosemite National Park, killing one person and injuring another.Officials at the park said Wednesday that they were searching for more victims after the rock fall at El Capitan, but had reported no more several hours after the dead and injured person was found.It was not clear whether the two victims were climbers or tourists at the site during the height of the climbing season. Officials say many climbers were on El Capitan when the rock fall happened.Longtime Yosemite climber Peter Zabrok (ZAY'-brok) says he's never seen anything like the chunk of rock that broke off. Zabrok said it was as big as an apartment building.
AP PHOTOS: Editor selections from Latin America, Caribbean
The Associated PressAssociated Press•
AP PHOTOS: Editor selections from Latin America, CaribbeanThis photo gallery highlights some of the top news images, made by Associated Press photographers in Latin America and the Caribbean, published in the past week.People in Puerto Rico emerged after the passage of powerful Hurricane Maria to find their island in shambles, the electricity grid knocked out, roads and bridges churned up, and drinking water and food in short supply.Related SearchesLatin America MapLatin America CountriesLatin American CountriesLatin American CupidLatin American RevolutionMeanwhile, Mexicans began digging out the debris left when a magnitude 7.1 earthquake collapsed dozens of buildings in the capital and neighboring states. Rescue teams from around the world and an army of local volunteers helped in the task of looking for survivors and picking up the pieces.In Brazil, shootouts between rival drug gangs prompted the government of Rio de Janeiro to ask for the army to join in another attempt to pacify the city's slums. Away from the violence, thousands reveled at the Rock in Rio music festival.Haitian demonstrators clashed with police during a protest over the government's new budget that will raise taxes on such things as cigarettes, alcohol and licenses.In Argentina, the River Plate soccer club pummeled Bolivia's Wilstermann by 8-0 during a match of the Copa Libertadores tournament for South American teams._This photo gallery was curated by photo editor Tomas Stargardter in Mexico City._AP photographers and photo editors on Twitter: https://twitter.com/AP/lists/ap-photographers