Halep holds off Stephens in Montreal    skysports.com
Messi sets new Barcelona trophy record
Roma look to Romanian Dennis Man for right wing reinforcement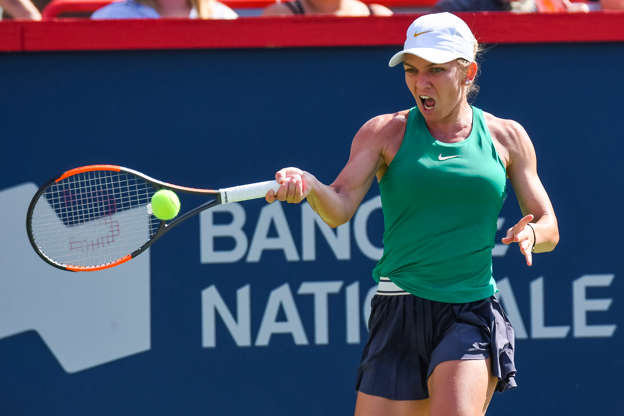 Simona Halep secured her second Rogers Cup title with a thrilling victory over Sloane Stephens in Montreal. In a repeat of this year's French Open final, also won by Halep, the world No 1 ran out a 7-6 (8-6) 3-6 6-4 winner in a pulsating match of high quality and high drama.Both players looked on the verge of collapsing with exhaustion as they embraced at the net after a marathon battle lasting two hours and 41 minutes.Halep said on court afterwards: "It's been an amazing week and I feel like I reached my best level of tennis."I just didn't give up during the tournament, I fought until the end."Halep broke serve in the third game and, although Stephens forced a break point in the next, she could not capitalise.Romanian Halep broke again for 4-1, but amid some fiercely-contested rallies Stephens hit back for 4-4.They exchanged breaks again, Halep failing to serve out the set with American Stephens by now looking the more composed.Yet Halep saved two set points, and two more in the tie-break, before eventually taking the opener after 70 punishing minutes.A run of three consecutive breaks at the start of the second was halted by Stephens, who will defend her US Open title later this month, to move 3-1 ahead.The third seed held on to that advantage before converting a fourth set point on the Halep serve to level an enthralling encounter.It was Halep who drew first blood in the decider, but Stephens, looking the fresher of the two, pegged her back at 2-2.However, Halep called on all her reserves of energy to break the resilience of the third seed, shrugging off a double fault at championship point along the way, as she completed a memorable victory.
Politics
White House announces Space Force, but don't try to enlist just yet
Christopher Wilson
Editor
,
Yahoo News
•
Yahoo News explains: What is Trump's proposed U.S. Space Force?Vice President Mike Pence announced Thursday that the White House was moving forward with its plans to establish a Space Force. But it will be awhile yet before uniformed rocket jockeys will be skirmishing outside atmosphere.The Space Force debate has hinged on whether or not the existing Air Force Space Command is capable of protecting American satellites in orbit and handling other military challenges in space. This debate flared up last fall during the crafting of the National Defense Authorization Act. Rep. Mike Rogers, R-Ala., and Rep. Jim Cooper, D-Tenn., senior members of the House Armed Services Committee, included language that would have mandated the Air Force to create a United States Space Corps.That language passed in the House but failed in the Senate, where it was opposed by Defense Secretary James Mattis, Air Force Secretary Heather Wilson and senators on both sides of the aisle. But the final version of the act did include concessions to Rogers and Cooper, with management and procedural changes meant to streamline the existing space programs and language calling for a study on the creation of a separate branch.
Related: NASA chief on Space Force, Mars and extraterrestrial life >>>
Mattis has reversed his initial opposition; he introduced the vice president's speech. Pence declared that the plan was to establish a Space Force by 2020. Although the White House can alter some policy via the Department of Defense, the establishment of the Space Force will require legislative action."What the Vice President unveiled today is a set of interim steps the Department of Defense will begin to take immediately to start building the foundations for a Space Force," said Todd Harrison, a director and aerospace expert at the Center for Strategic and International Studies. "Ultimately, Congress will need to create the Space Force in legislation, so this is what the administration can do on its own in the meantime."
Vice President Mike Pence (Photo: Saul Loeb/AFP/Getty Images)Pence said that the Space Force would serve as the sixth branch of the military, comparing it to how the Air Force grew out of the Army Air Corps following World War II. The Trump team went into campaign mode shortly after the announcement, sending out an email to supporters asking them to 
vote on a logo
for the planned military division."We have been warning for years of the need to protect our space assets and to develop more capable space systems," said Rogers and Cooper in a joint statement following the announcement. "We are glad that the Pentagon is finally taking these steps in enhancing our space strength. This new report was required by last year's [National Defense Authorization Act] legislation and will be helpful in speeding up acquisitions of more advanced systems, as well as giving our space professionals more clout. This report is a step in a multiyear process that we think will result in a safer, stronger America. We particularly appreciate Deputy Secretary Shanahan's leadership on these issues and look forward to the establishment of a much-needed independent Space Force, as called for by President Trump."What sort of things would a Space Force — which will be independent of NASA, the civilian space agency — focus on? Mainly satellites, which are expensive and critical to the U.S. military, providing global positioning data, reconnaissance, communications and early detection of missile launches. But they're also difficult to maneuver, almost impossible to repair and would likely become key targets in any future war. A 
2000 report
 assessing the country's space capabilities warned of the danger of a potential "
Pearl Harbor in space
."Missiles — of the surface-to-space, air-to-space or space-to-space varieties — could be used to take out satellites, but there are other options. 
Intelligence officials
 have raised the possibility of jamming transmissions or using a laser to temporarily dazzle or permanently blind reconnaissance satellites, burning out sensitive optical sensors. 
Earlier this year, an anonymous Russian official
 said the country had developed a plane with a laser system on top capable of blinding enemy satellites, a potential danger described by Director of National Intelligence Dan Coats in 2017 Senate testimony.Not everyone supports the idea. Retired NASA astronaut Mark Kelly called it a "dumb idea" in a Thursday interview with MSNBC."The Air Force Space Command already does this at Peterson Air Force Base in Colorado," said Kelly. "They do this with about 20,000 people, which might sound like a lot but compared to the other branches of the military it's relatively small and it's sized the way it needs to be for the threat."Kelly agreed with Pence that there's a threat, referencing a 2007 incident in which the Chinese blew up one of their own satellites with a surface-to-space missile. (The United States shot down one of its own satellites a year later using 
a modified missile from the USS Lake Erie
 to take out an inoperative spy satellite in decaying orbit.) But he said it was redundant and would simply create more bureaucracy."I'm a Navy guy," said Kelly. "I'm not usually out there commending the Air Force for anything — they're a rival service — but they do a really good job at this and they've done it for a long time, they understand it really well and to remove this from the Air Force. First of all, I don't think they're going to like it and it's a little bit of an insult to them. It is an area where we should continue to focus on, China especially is a rising threat in space, we've got to protect our capability there, but we can do this within the U.S. Air Force, we can do it today."
Taliban blindsides U.S. forces with surprise Afghan offensive