George Bush's Funeral Is Being Trump-Proofed
Rolling Stone
President Trump will attend George H.W. Bush's funeral Wednesday at Washington National Cathedral. The family wants to keep things cordial. The Washington Postreported Monday that in inviting Trump to the funeral this summer, the Bush family gave the president assurances that the service would be devoid of anti-Trump sentiments. "The comparisons are presenting themselves; we are not heightening them," a person familiar with the preparations told Post. Another added that Bush "wouldn't want anyone there to feel uncomfortable, including the incumbent president."This was certainly not the case with the September funeral of John McCain, to which Trump was not invited. The late senator had a far more contentious relationship with the president than did the elder Bush, and though Trump was not referred to explicitly at McCain's memorial service, those who spoke didn't do much to disguise their disgust with the current state of politics. According to the Post, many in the White House, including the president, were upset about the tone of McCain's funeral. Though Wednesday's service may not be so politically charged, it isn't because of a sterling relationship between the president and the family of his two most recent Republican predecessors.Trump mocked the elder Bush as recently as July, struggling to decipher the late president's famous "thousand points of light" line used as a call for civic duty in the United States. "Thousand points of light? What the hell was that, by the way?" Trump yelled at a campaign rally in Montana. "Thousand points of light? What did that mean? Does anyone know? I know one thing: Making America great again, we understand. Putting America first, we understand. Thousand points of light! I never quite got that one. What the hell is that? Has anyone ever figure that one out? And it was put out by a Republican."
Trump has also derided Bush's family. He belittled Jeb Bush mercilessly during the 2016 campaign, and suggested that George W. Bush was responsible for 9/11. "The World Trade Center came down during your brother's reign, remember that," Trump reminded Jeb during a debate. "That's not keeping us safe." Trump has also said that it would have been "wonderful thing" if George W. Bush had been impeached, while bashing him for invading Iraq. Though Trump hitched much of his presidential candidacy to his supposed opposition to the invasion, he told Howard Stern in 2002 that he supported it.Funeral invitation now in hand, the president has gushed about Bush since he died on Friday. He even canceled a G-20 press conference "out of respect" for his family, although it's unclear how the Bushes would have been offended by the president speaking with reporters in Argentina. On Monday, he capped a morning of witness tampering by noting that he was "looking forward to being with the Bush Family." Hours later, the president and first lady visited Bush's remains at the Capitol Rotunda. As often happens whenever Trump visits the dead or families of the dead, the White House produced a sizzle reel of the Respectful President.
Donald J. Trump@realDonaldTrump#Remembering41  Though Bush's funeral isn't likely to include any underhanded jabs at the president or the corrosive state of politics he represents, it's going to be a near-Herculean task for Trump to sit still for a prolonged period of time at an event that has absolutely nothing to do with him. Maybe W can pass him some hard candy to keep him occupied.
By Amanda Becker and Ginger Gibson
WASHINGTON (Reuters) – Washington's political elite paid tribute to former U.S. President George H.W. Bush as his body lay in state in the Capitol on Monday, evoking a bygone era of bipartisan civility in American politics.
Before a grieving Bush family and with hands on hearts, members of Bush's Cabinet, lawmakers, the vice president and Supreme Court justices honored the 41st president as his flag-draped casket entered the soaring Capitol Rotunda for the first official ceremony.
Later in the evening, after the family and dignitaries had departed, President Donald Trump and first lady Melania Trump paid their respects, standing for two minutes before the casket.
Trump then saluted Bush, a gesture belying the history of antipathy between the Republican president and the Bush family.
The political dynasty, led by son and former President George W. Bush, accompanied the patriarch's body on the flight aboard the presidential plane from Texas to Joint Base Andrews outside Washington, and then on a trip down Pennsylvania Avenue to the steps of the Capitol.
Senate Majority Leader Mitch McConnell, the first official to speak in the Rotunda, described George H.W. Bush as a "humble servant" and "a principled leader."
"He kept us flying high and challenged us to fly higher still, and he did it with modesty and kindness that would've been surprising in someone one-tenth as tough and accomplished as he was," McConnell said.
The body of the one-term Republican president will lie in state at the Rotunda through Wednesday, when a state funeral is scheduled at the Washington National Cathedral.
Bush died at his Houston home on Friday night at the age of 94, seven months after the death of his wife, Barbara. His passing prompted an outpouring of praise from Republicans and Democrats for his kind manner and dedication to public service.
"He was a beautiful, lovely man, it was an honor to work with him, he was beloved," veteran Democratic leader Nancy Pelosi, expected to be the next speaker of the U.S. House of Representatives, told Reuters as she exited the Rotunda.
'A GOOD EXAMPLE'
Side by side, Democratic and Republican leaders laid floral red, white and blue wreaths around the casket of Bush, the 32nd American and the 12th president to lie in state in the Capitol Rotunda.
"His example will always inspire, and his lifetime of service will be enshrined in the hearts of the American people forever," said Vice President Mike Pence.
After the official ceremony, the public was allowed to pay its respects. Mourners lined up at the Capitol in the afternoon, many speaking with nostalgia for the comity of the Bush era, in sharp contrast to today's bitter divisions in the age of Trump.
"I think it's night and day," said Sheila Murray, 58, from Stevensville, Maryland, who came with her 14-year-old son, Thomas.
"And I would want to encourage moms to look at what good leaders are and to never lose hope that they can't raise their children with good morals and integrity."
Trump had a complicated relationship with the late president. As a candidate, Trump belittled Bush's son Jeb, a Republican rival for the presidency, and has long criticized the Iraq War launched by George W. Bush. The elder Bush told a biographer he voted for Democrat Hillary Clinton in 2016.
After services in Washington, there will be another funeral in Houston on Thursday, followed by burial at the Bush Presidential Library in College Station, Texas.
Bush served two terms as vice president under Republican President Ronald Reagan before his own stint in the Oval Office from 1989 to 1993, a time that saw the end of the Cold War as well as the U.S. routing of Iraqi President Saddam Hussein's army in the 1991 Gulf War.
He failed to win a second term after breaking a no-new-taxes pledge, losing to Democrat Bill Clinton.
Trump has ordered the federal government to close on Wednesday and both the New York Stock Exchange and Nasdaq will be closed in observance. U.S. bond and options markets were also due to be closed, with energy and foreign exchange markets expected to remain open.
Remembrances to George and Barbara Bush sprang up in the Houston neighborhood where they made their home, at a memorial to the late president at a city park and at the airport named in his honor.
Christy Smith paused over the weekend to pay her respects to Bush at a bronze statue of him at a Houston park.
"He set a good example for all of us," said Smith, 39. "He always was caring and treated people equally."
(Reporting by Amanda Becker and Ginger Gibson; Additional reporting by Makini Brice, Jeff Mason and Susan Cornwell in Washington, Gary McWilliams in Houston and Peter Szekely in New York; Writing by Mary Milliken; Editing by Kevin Drawbaugh and Peter Cooney)
The nation is looking back on Bush's leadership and moral character, as well as the economy under his stewardship and the decades of service he dedicated to the country.George W. Bush, his son and the country's 43rd president, released a statementon behalf of his siblings and the entire Bush family.
President Donald Trump and first lady Melania Trump pay their respects in the U.S. Capitol Rotunda where former President George H.W. Bush lies in state Dec. 3, 2018 in Washington, D.C. (Photo: Jim Lo Scalzo-Pool/Getty Images) "Jeb, Neil, Marvin, Doro, and I are saddened to announce that after 94 remarkable years, our dear Dad has died," he said. "George H. W. Bush was a man of the highest character and the best dad a son or daughter could ask for. The entire Bush family is deeply grateful for 41's life and love, for the compassion of those who have cared and prayed for Dad, and for the condolences of our friends and fellow citizens."President Trump and first lady Melania Trump also said they joined the nation in grieving for Bush. They said he "always found a way to set the bar higher" and guided the nation with "sound judgement, common sense, and unflappable leadership.""Through his essential authenticity, disarming wit, and unwavering commitment to faith, family, and country, President Bush inspired generations of his fellow Americans to public service — to be, in his words, 'a thousand points of light' illuminating the greatness, hope, and opportunity of America to the world," the Trumps wrote."Karen and I were saddened to learn of the passing of President George H.W. Bush and we send our deepest sympathies to the entire Bush family. President Bush loved his family, loved this country and his legacy will be a lifetime of service to the United States of America," they wrote.And the fond remembrances of Bush's strong character and selflessness were by no means limited to one side of the aisle. Barack Obama, the nation's 44th president, called Bush "a patriot and humble servant" whose death leaves Americans with heavy hearts that are filled with gratitude. In a statement, Obama said that Bush's legacy of service may never be matched but he would want everyone to try.
Sully, a yellow Labrador service dog for former President George H. W. Bush, sits near the casket of the late former President George H.W. Bush as he lies in state at the U.S. Capitol, December 4, 2018 in Washington, DC. (Photo: Drew Angerer/Getty Images)"George H.W. Bush's life is a testament to the notion that public service is a noble, joyous calling," Obama said. "And he did tremendous good along the journey. Expanding America's promise to new immigrants and people with disabilities. Reducing the scourge of nuclear weapons and building a broad international coalition to expel a dictator from Kuwait. And when democratic revolutions bloomed across Eastern Europe, it was his steady, diplomatic hand that made possible an achievement once thought anything but — ending the Cold War without firing a shot."The body of the former president was transported to the U.S. Capitol in Washington, D.C., on Monday. Mourners lined up to pay their respects. The American flag-draped casket will remain in the Capitol Rotunda until the state funeral at the Washington National Cathedral on Wednesday._See more images here:
Speaker of the United States House of Representatives Paul Ryan (R-WI) (R) shakes hands with former US President George W. Bush as the late former President George H.W. Bush lies in state inside the Rotunda of the US Capitol, December 3, 2018 in Washington, DC. (Photo: Brendan Smialowski/Pool via Reuters)
Former Vice President Dan Quayle, former Secretary of State James Baker, former Vice President Dick Cheney, and former Secretary of State Colin Powell arrive at the Capitol in Washington to attend services of former President George H.W. Bush, Monday, Dec. 3, 2018. (Photo: Pablo Martinez Monsivais/Pool via Reuters)
The casket of former President George H.W. Bush arrives to lies in state in the U.S. Capitol Rotunda on December 3, 20018 in Washington, DC. (Photo: Jonathan Ernst-Pool/Getty Images)
Iran wants to expand missile range despite U.S. opposition
Reuters
FILE PHOTO: A display featuring missiles and a portrait of Iran's Supreme Leader Ayatollah Ali Khamenei is seen at Baharestan Square in Tehran, Iran September 27, 2017. Nazanin Tabatabaee Yazdi/TIMA via REUTERSGENEVA (Reuters) – Iran wants to increase its missiles' range, a senior military official was quoted as saying on Tuesday, a move that would irk the United States which views Tehran's weapons program as a regional security threat.U.S. President Donald Trump pulled out of an international nuclear agreement in May and reimposed sanctions on the Islamic Republic, criticizing the deal for not including curbs on Iran's development of ballistic missiles."One of our most important programs is increasing the range of missiles and ammunition," said the head of the Iranian air force, Brigadier General Aziz Nasirzadeh, according to the semi-official Fars news agency."We don't see any limitations for ourselves in this field."Iran's military has cited 2,000 km (1,240 miles) as the current missile range, and said U.S. bases in Afghanistan, the United Arab Emirates and Qatar, plus U.S. aircraft carriers in the Gulf, were within range.Iranian Foreign Minister Mohammad Javad Zarif also defended the missile program in a Twitter post on Tuesday, in which he said the U.N. Security Council resolution which endorsed the nuclear agreement did not ban Tehran from working on missiles."Making a mockery of the UNSC won't obscure failure to fulfill obligations & to hold US to account over non-compliance. Esp when even US admits that UNSCR2231 does NOT prohibit Iran's deterrent capabilities. Rather than undermining 2231, better to work towards its adherence by all." Zarif wrote.Nasirzadeh did not give details on how far Iran would like to increase that range, according to the Fars report.Tehran insists its missile program is purely defensive but has threatened to disrupt oil shipments through the Strait of Hormuz in the Gulf if Washington tries to strangle its exports.At the weekend, U.S. Secretary of State Mike Pompeo condemned what he described as Iran's testing of a medium-range ballistic missile capable of carrying multiple warheads as a violation of the agreement on Tehran's nuclear program.Iran has repeatedly said its missile program is not up for negotiation.(Reporting By Babak Dehghanpisheh; Editing by Andrew Cawthorne and Gareth Jones)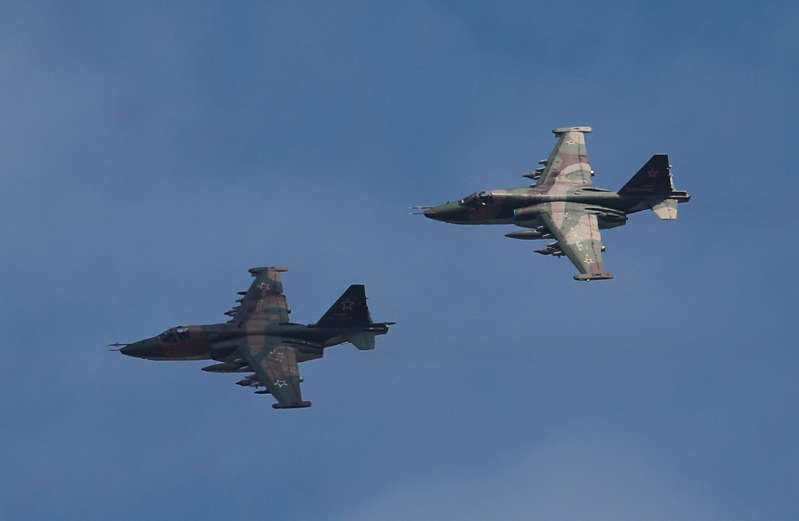 YEREVAN, Armenia — The Armenian military says that one of its combat jets has crashed, killing both pilots.Defense Ministry spokesman Artsrun Hovhannisyan said that a Su-25 two-seat aircraft crashed during a regular training mission Tuesday.It said the plane took off from Gyumri and crashed in the mountains near Maralik in Armenia's northwest. The cause of the crash wasn't immediately clear.The Su-25 is a twin-engine ground attack aircraft designed in the Soviet Union in the 1970s. It remains in service in Russia and several other ex-Soviet nations.
2 attorneys general to subpoena Trump Organization, Treasury