News 5 major US cities with the highest probability for a white Christmas
michael.kuhne,AccuWeatherWhile many people across the country are likely dreaming of a white Christmas, some cities offer a better probability than others for snow on the ground each holiday.Even if a light dusting is present on Christmas Day, in order to garner the official meteorological declaration of a white Christmas, at least 1 inch of snow must be on the ground."You need snow – on or near Christmas Day is ideal," AccuWeather Meteorologist Jim Andrews said. "Of course, if it happens well before Christmas, it needs to stay cold (near to below freezing) through Christmas to keep snow on the ground."
650x366_11271517_historical-chance-of-a-white-christmasAlso, a cold snap before the snowfall is helpful in chilling the ground, he said, adding that frozen ground holds snow much better than unfrozen ground.Areas of the interior Northeast, Upper Midwest, northern Plains, Rocky Mountains and Intermountain West offer the highest prospect of a white Christmas in the continental United States.Take a look at five of America's major cities with populations of more than 250,000 that are most likely to see a white Christmas each year based on NOAA's 30-year normal data from 1981-2010.Minneapolis
 Minneapolis takes the number one spot on our list with a 77 percent likelihood of having at least an inch of snow on the ground for the Christmas holiday. The city's December snowfall average is 11.5 inches and the snowiest Christmas on record occurred in 1945 with a snowfall total of 9.6 inches. "Minneapolis is farthest north and the coldest of the cities [on the list]," Andrews said. "By the time you get to Christmas, the normal temperature is well below freezing; if there's precipitation, the odds are that it will be snow rather than rain or ice."Denver
   Taking the number two spot on the list with a 50 percent prospect of seeing a white Christmas, Denver has an average December snowfall of 8.7 inches. The snowiest Christmas Day in the Mile-High City's recorded history occurred in 2007 with a total of 7.4 inches."Denver's climate is volatile in December," Andrews said. "It can be exceptionally warm on Christmas day with temperatures nearing 70 F, or it be near minus 20 F; those are absolute extremes."If the pattern is such that the normal, moderating westerly winds are shut off, the cold can hold its ground there and keep snow locked in, he added Milwaukee
Along with two other cities on this list, Milwaukee ties for third place with a 47 percent probability of a white Christmas. The city sees an average of 10.6 inches of snowfall in December. The snowiest Christmas in the city's recorded history occurred in 1950 with a total of 5.7 inches of snow."[The probability] has to do with the normal temperature and normal precipitation in the days and weeks leading up to Christmas," Andrews said.Detroit
  Detroit, like Milwaukee, has a 47 percent prospect of having at least 1 inch or more of snow on the ground at Christmas each year. The average snowfall for December across the Motor City is 9.7 inches.While the 2013-2014 season marked the snowiest winter in the city's history, Detroit's snowiest Christmas day occurred in 1915 with a snowfall total of 7.9 inches."While Detroit does not benefit from lake-effect snow, it is usually cold enough [in December] for precipitation to often take the form of snow, thereby giving the city a significant chance of a white Christmas," Andrews said.Buffalo
  As with Detroit and Milwaukee, there is a 47 percent likelihood that Buffalo will have a white Christmas each year. Buffalo has the highest December snowfall average on the list with 27.4 inches. The snowiest Christmas Day the city has seen in recorded history occurred in 2002 with a snowfall total of 8.4 inches."Lake-effect snow contributes to the city's near 50 percent probability of seeing a white Christmas," Andrews said.
News How Steam from Power Plants in Nebraska Caused 2 Inches of Snowfall Throughout the State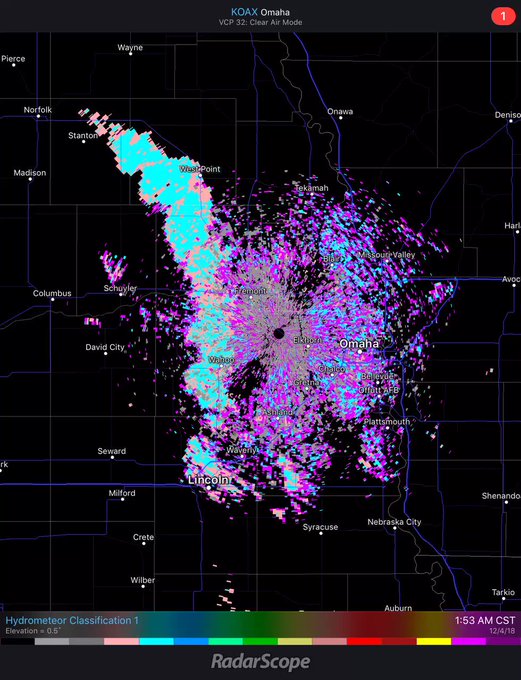 NWS Omaha@NWSOmaha Snow plume originating from steam exhaust from industrial plants east of Norfolk continues this morning. Gradual eastward drift into Omaha Metro this morning could cause bursts of light snow and patchy freezing drizzle. #newx #iawx NWS Meteorologist Brian Barjenbruch tells TIME that snowfall caused by steam from power plants are fairly rare but it does happen from time to time. Barjenbruch said over the last year he saw similar situations in Northwest Indiana and Dodge City, Kan.A power plant can cause snow, Barjenbruch says, when steam that usually goes up into the air and evaporates actually interacts with ice in the air. In the case of Norfolk, Barjenbruch says, there were perfect conditions that allowed for the snow to form.'There are a few industrial plants on the Eastside of Nebraska and they're working as they would on any other day in the past two days but with a lot of moisture and the perfect range of temperature to produce snowfall." he says. Barjenbruch says the optimal temperature to produce snow is -12 to -18 degrees celsius. He adds that snow formed under those conditions can produce bigger flakes like the ones that were seen in Norfolk.Barjenbruch says that as a meteorologist, it is a fun phenomenon to witness."Its not something we see too often, so in a way it's one of those things thats makes our job interesting." he said.
Earthquake-weary Alaskans still grappling with damage
Associated Press
Traffic outbound from Anchorage on the Glenn Highway was at a standstill after a 7.0-magnitude earthquake caused damage in the Anchorage, Alaska, on Friday, Nov. 30, 2018. Scientists say the damaging Alaska earthquake and aftershocks occurred on a type of fault in which one side moves down and away from the other side. (Marc Lester/Anchorage Daily News via AP)ANCHORAGE, Alaska (AP) — Life was beginning to return to normal Monday in Alaska following the powerful earthquake near Anchorage, but people nervous about aftershocks were still grappling with damage that closed public buildings and schools, clogged roads and knocked homes off foundations.Some residents went back to work. But state transportation officials again urged people who live north and south of Anchorage to take the day off or work from home to reduce traffic.Rockfalls were still occurring along cliff-lined Seward Highway, while major repairs were underway on hard-hit Glenn Highway, the main road leading north of the city, Department of Transportation spokeswoman Meadow Bailey said."We don't want the commute to be frustrating because people will experience delays," she said.Residents still jittery from the 7.0 quake on Friday have been rattled even further by more than 1,700 aftershocks. A dozen have had magnitudes of 4.5 or greater."Anything that moves, you're on your last nerve," said Anchorage resident Lyn Matthews, whose home sustained substantial structural damage, including a sunken foundation.Matthews, who was back at work at a chiropractor's office, and her husband have no earthquake insurance."I'm scared to death," she said.The earthquake struck 7 miles (11 kilometers) north of Anchorage, swaying buildings, disrupting power and causing heavy damage to Glenn Highway.There were no reports of deaths, serious injuries or widespread catastrophic damage in the state with strict building codes implemented after a 1964 earthquake with a magnitude of 9.2 — the second most powerful of any quake ever recorded.No outbreaks of disease or other major health problems have been reported.Still, federal officials declared a public health emergency on Monday, saying the action will ensure that Medicaid funds continue to be issued despite the temporary closure of offices. Mental health aid is also available for people being stressed by the disaster."Remember, whatever you're feeling right now is valid," Anchorage Health and Human Services director Natasha Pineda said at a weekend briefing.Earthquake forecasts cited a 4 percent chance of another earthquake with a magnitude of 7.0 or greater in the first week after the first quake."The chance is very small, but it's not impossible," U.S. Geological Survey Geophysicist Paul Caruso said.The federal courthouse in Anchorage was among structures that remained closed. Officials said the U.S. District Court and the attached federal building in Anchorage will be closed at least through Thursday following a preliminary evaluation by the General Services Administration.GSA spokesman Chad Hutson said boilers in the federal building were leaking, leaving it without heat.The nearby Historic Federal Building, where the bankruptcy court is located, also remained closed. Officials said late Monday afternoon a detailed evaluation of the building found no structural deficiencies and the building is set to reopen Tuesday.Schools in Anchorage have been closed until Dec. 10, which should also reduce traffic. An elementary school in the Anchorage suburb of Eagle River has been deemed unsafe to occupy, while multiple other campuses in the region are undergoing repairs and cleanup, according to the Anchorage School District.A middle school in the small town of Houston north of Anchorage likely will remain closed through the year.The supply chain of food and other goods delivered to the Port of Anchorage from the Lower 48 has not been disrupted.About 90 percent of all the goods sold in Alaska are delivered to the Port of Anchorage, where officials have completed a preliminary damage assessment. There were some structural issues with some trestles, but nothing that should impede operations, according to Municipal Manager Bill Falsey._Associated Press Mark Thiessen in Anchorage, Alaska, contributed to this report._Follow Rachel D'Oro at https://twitter.com/rdoro
News Katowice Notebook: More Polish coal mines 'are not an option'
Reuters
General view during the opening of COP24 UN Climate Change Conference 2018 in Katowice, Poland December 3, 2018. REUTERS/Kacper PempelKATOWICE, Poland (Reuters) – Talks billed as the most important U.N. conference since the landmark Paris 2015 deal on climate change have begun in the Polish city of Katowice, the capital of the Silesian mining district.Over the next two weeks, the aim is to make an end-of-year deadline for agreeing a rule book on how to enforce global action to limit further warming of the planet.Subscribers to Eikon can also find a Take-A-Look compendium of Reuters coverage here:Below is a flavor of the mood around the event, being held in a sprawl of temporary passageways and meeting rooms next to the "Spodek", a flying-saucer-shaped sports and concert venue.Tuesday 1700 GMT – Concerns mount that any outcome from the two weeks of talks will lack ambition because of repeated Polish statements that it plans to build more coalmines.Greta Thunberg, a 15-year-old who has been refusing to go to school in Sweden in protest at the world's climate inaction, says Poland and the rest of the world cannot continue digging for coal."We cannot go down this road of madness any more," she told Reuters. "It's just not an option."1300 GMT – Finance to help poor countries adapt is always a heated debate at U.N. talks.Brazil's chief negotiator J. Antonio Marcondes has issued a statement calling on developed nations to deliver on an existing pledge to provide $100 billion a year from 2020 to help poorer countries deal with climate change."If developed economies put off their climate payments any longer, the Paris agreement temperature goals will slip out of reach, with tragic consequences for people and planet," he said.1200 GMT – While negotiators haggle over finance, Poland and Britain joined forces to press for electric vehicles, a cause close to the heart of the Polish official presiding over the talks Michal Kurtyka – he helped to draw up a government plan to have 1 million electric cars on the roads by 2025.Polish Prime Minister Mateusz Morawiecki said "e-mobility" would help "climate quality and air quality".Critics say that in Poland electric vehicles will largely run on coal-fired power generation and Polish people often still rely on highly polluting old cars imported mainly from Germany.0800 GMT – Tuesday marks the first official day of negotiation following the ceremonial gathering of heads of state and government on Monday and the handover of the presidency from Fiji, one of the island states at the sharp end of climate change, to Poland, a land of coal.Coincidentally, it is also the day of Saint Barbara, patron saint of miners. A brass band struck up at 6 am local time and marched through the streets. Once they'd woken up the whole town, they joined miners in a central square, wearing gala uniforms and feathered hats rather than their mining helmets.Monday THE PAIN OF TRANSITION Poland's Michal Kurtyka, who is presiding over the Katowice talks, tells the conference in his opening address Katowice is the logical setting to agree the rules for a transition away from fossil fuel.Katowice, the capital of the Silesian mining region, has had "to move on many times before," he said, apparently alluding to its dark and difficult history.Coal and steel are still central to its economy, but it has also developed tourism and buildings where exhausted miners formerly slept off their shifts are now elegant restaurants and up-market flats.Within the Polish government, Kurtyka earlier this year moved on from being deputy energy minister to deputy environment minister, in time to bang his gavel at the climate talks.ARNIE IS BACK AND ON A MISSION Actor, body-builder and former governor of California, Arnold Schwarzenegger, told reporters he wished he could have used his fictional film role as The Terminator to end fossil fuels."I'd like to be a terminator in real life, and be able to travel back in time and to stop all fossil fuels when they were discovered. Just imagine! The biggest evil is fossil fuels," Schwarzenegger said."STRATEGIC" FUEL In a separate press conference, Polish President Andrzej Duda was meanwhile telling visiting reporters and environmental campaigners Polish coal reserves would last for another 200 years.He said it was Poland's strategic fuel, guaranteeing energy security and sovereignty and "it would be hard not to use it".The reality even for Poland, though, is coal does not provide all its needs and its imports from Russia, on whom it already depends for oil and gas, have been rising.LOCALS SCEPTICAL On the streets outside, local citizens are long-suffering and often cynical.Zofia Olszanska, 66, retired, wife of a former coal miner, said the climate talks had kept her awake at night because the endless police sirens accompanying the visiting dignatories ruined her sleep.She was not hopeful the outcome would change her life for the better."Everybody here uses coal or rubbish to heat their homes. In the evening, I can't open the windows because of the smell. How can they talk about ecology here? There is no ecology here or in Poland," she told Reuters.
(Reporting by the Reuters Katowice team)