More than 55,000 still without power after severe storms lash Sydney
Australian Associated PressContent is currently unavailable.More than 55,000 properties in Sydney and the Central Coast remain without power after thunderstorms savaged the NSW coast.Torrential rain, damaging wind and hailstones the size of golf balls lashed Sydney and the Hunter region on Saturday afternoon bringing down trees and taking out hundreds of power lines.Sydney's north was hardest hit with parts of the Parramatta and Campbelltown areas and the southern part of the Central Coast also damaged.The SES said they'd received more than 4600 calls, mainly for fallen trees and roof damage.Network operators Endeavour Energy and Ausgrid said more than 750 electrical hazards needed to be repaired before supply could be restored to 56,000 homes."This was a devastating storm that caused extensive damage to the electricity network," Endeavour Energy spokesman Peter Payne said on Sunday in a statement.
Wild storms have lashed Sydney. Source: 7News"Many of our customers in the worst affected areas would not have seen damage like this for years."Ausgrid's Jonathan Hall said the repairs could take a while."Unfortunately, it's taking time because that does involve in some places putting in new power poles and new power lines and unfortunately that type of repair takes some time," he told ABC.Traffic lights are also blacked out in Northmead, West Pennant Hills and Campbelltown.
Ausgrid@Ausgrid ·  Replying to @AusgridThis was taken by @HornsbySES and shows some of the damage in Cherrybrook from Saturday's storms. This is why repairs in some areas are taking time. Our crews need to make sites safe, replace poles and restring powerlines where trees have come down. Thanks for your patience.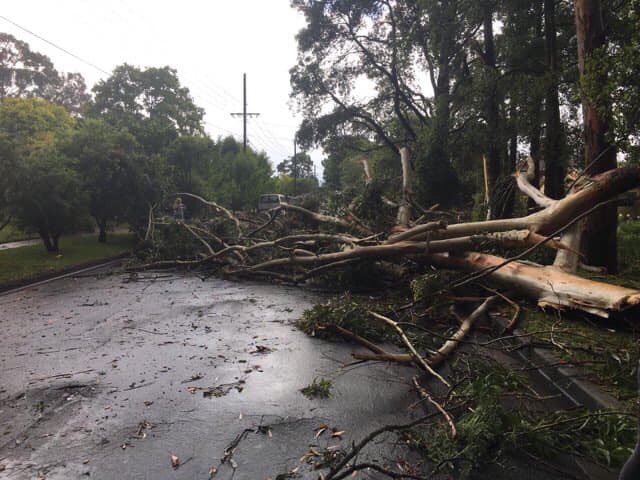 Ausgrid@Ausgrid Crews are working to restore power to 31,000 customers still without power following yesterday's severe storms. This is an example of the damage we're dealing with. This was taken in West Pennant Hills.

by Lynda Fallon courtesy @dailytelegraph pic.twitter.com/rktU2TPOfpTwitter Ads info and privacy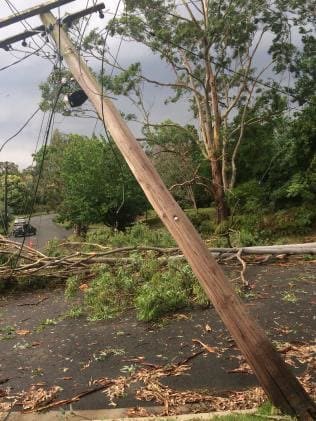 See Ausgrid's other Tweets
Twitter Ads info and privacy
Power may not be restored to some intersections until Sunday afternoon, Transport for NSW said.Trains across Sydney were back to normal service on Sunday morning after crews worked "extremely hard overnight to recover from the storm damage," a TfNSW spokeswoman said.Sunday's weather is expected to remain overcast with a high chance of further showers and a risk of an afternoon thunderstorm.
Storms lessen in Victoria
After a wild two days of heavy rain and flash flooding in Victoria, most areas had some relief overnight.However, parts of Gippsland including Morwell, Traralgon experienced downpours on Saturday evening and the Bureau of Meteorology warned thunderstorms across the state could be on the cards for Sunday.Mallacoota in Victoria's far southeast recorded 70mm of rain between 5pm and 6pm Saturday.
Flash floods in parts of outer metropolitan Melbourne caused havoc. Source: AAP Flash floods in parts of outer metropolitan Melbourne caused havoc, turning backyards, suburban streets and ponds into gushing rivers.A Christmas party at a Pakenham housing estate was called off Saturday afternoon when heavy rainfall halted celebrations.Organiser Samantha Thorpe said a little pond nearby became "like a raging river".Emergency Management Commissioner Andrew Crisp said few parts of the state had been spared the impact of the wild weather.In the 24 hours from 7am on Friday the SES received 693 requests for assistance across the state.
More wet and wild weather for Tasmania
Tasmanians on the island's east and northeast have had a wild night with heavy rain causing flash flooding.Locations expected to have been most affected include Scottsdale, Bridport, St Helens, Swansea, Bicheno and Fingal.A severe weather warning for heavy rain remains over that area of the state for Sunday with the Bureau of Meteorology expecting rainfall totals of up to 80mm."A very moist east to northeasterly airstream with embedded thunderstorms is being directed over Tasmania today until Sunday afternoon," BOM warned Saturday evening.
More than 55,000 properties in Sydney and the Central Coast remain without power after thunderstorms. Source: 7NewsSenior Meteorologist Rachel McInerney said on Saturday that significant rainfall through Bass Strait on Friday night would impact Tasmania over the next few days."We have a low pressure over South Eastern Australia that's bringing rain," she said.Police closed roads on Saturday due to flooding, these included Binalong Bay Road, Ansons Bay Road, Kennel Hill Road and Rosedale Road near Bicheno.The Tasmanian SES said via Facebook that it was hard to predict what areas would be worst hit over the weekend."While we're preparing to assist community members in need of assistance, we would ask people to prepare themselves for the hazards associated with heavy rainfall, flash flooding and thunderstorms," the SES wrote."We ask farmers on the northern river systems to move stock and farming equipment from low lying areas to high ground."Some rivers, notably the South Esk River are forecast to flood to minor or moderate levels."
The Suwannee River reached major flood stage near Benton, Florida, on Saturday morning.As the floodwaters drain downstream, the river is anticipated to rise to minor to moderate stages across northern Florida through at least next weekend.Residents living along larger streams and rivers in the Southeast are urged to monitor advice by local officials and take the necessary steps to protect their home and property from the advancing floodwaters. Heed any evacuation orders that are issued.Download the free AccuWeather app to stay aware of river flooding warnings.The rivers in the Southeast will be out of their banks despite the next few days featuring sunny, comfortable conditions.Aside from where the river flooding is closing roads and any instances of morning fog, the dry spell will prevent travelers from dealing with weather-related delays and give the ground a chance to slightly dry out.
Dry spell Dec 15 The rain-free stretch, however, will not last long enough to allow rivers to fully return to normal levels."Another round of rain, which could be potentially heavy, looks to return to the Southeast on Thursday or Friday," according to Pydynowski.If heavy rain transpires, it could once again cause area creeks, streams and rivers to rise.Hurricane Florence marked the start of an unusually wet stretch of months for the Southeast.While there is still half of the month left, December average rainfall totals have already been exceeded in many locations.This includes in Wilmington, North Carolina, which measured 100 inches of rain for the entire year on Saturday morning. A total of 57.61 inches is the city's normal annual rainfall.View image on Twitter