News Rare Washington state tornado strongest since 1986
LISA BAUMANN,Associated PressRare tornado damages homes in Washington state SEATTLE (AP) — An extremely rare tornado that touched down west of Seattle was the strongest to hit Washington state since 1986, the National Weather Service said Wednesday.A Weather Service storm team surveyed the damage just south of Port Orchard, Washington, and rated the twister an Ef2 on the Enhanced Fujita scale with top wind speeds of up to 130 mph (210 kph). The scale rates an Ef2 as "significant."In five minutes Tuesday afternoon, the twister's 1.4 mile-path (2.3 kilometers) tore roofs off homes, shattered windows and toppled large fir trees, but no injuries have been reported.John Mueller's home was among those most severely damaged.He told KOMO-TV that he was at work at a shipyard when he recognized his home in a video of the tornado on social media."If I could describe the house, it would be roofless," Mueller said. "The entire upstairs is gone. There's 2×4 and 4x4s sticking out of the walls. Glass shattered everywhere. The downstairs is just full of water and broken glass…I think (the tornado) landed on top of the house."Washington state averages 2.5 tornadoes a year, but December tornadoes average a minute fraction, the Weather Service said. Most tornadoes in Washington are rated EF-0s that cause minor damage, Weather Service hydrologist Brent Bower said.The Kitsap County Sheriff's office called the damage "catastrophic." Dozens of structures were affected. Fire officials were trying to complete an initial damage assessment by Wednesday night.Deputy Scott Wilson said the twister caused "a lot of chaos.""It's traumatic, especially as we approach the Christmas season," Wilson said.Kitsap County Search and Rescue workers with trained dogs checked for people who may have been injured or stranded but found none.Other emergency crews still inspecting homes were finding gas leaks in damaged structures, the sheriff's office said Wednesday.Power had been restored by Wednesday to much of the affected area with the exception of the most severely damaged homes, the sheriff's office said. Some roads remained closed.Port Orchard is about 15 miles (24 kilometers) west of Seattle, across Puget Sound on the Kitsap Peninsula.
News Hoping for a white Christmas? Dream on
Doyle Rice
USA TODAY
If you're still holding out hope for a white Christmas, your dreams will likely be shattered. Unless you live way up in the western mountains or in far northern portions of the Midwest or Northeast, it's unlikely that you'll see snow on the ground Christmas morning.In fact, as of Wednesday, only one of the top 50 metro areas in the U.S. had snow on the ground: Minneapolis-St. Paul with a paltry 2 inches.Even normally snowy cities such as Buffalo, New York; Chicago; Green Bay, Wisconsin;  and Denver had bare ground.One spot that's snow-covered: The small northern Maine town of Caribou (pop.: 7,000), with a depth of 21 inches as of Wednesday morning.Nationwide, only about 20 percent of the 48 contiguous U.S. states was snow-covered Wednesday – in areas across the nation's far northern tier and atop the western mountains, the National Weather Service said. After a cold and sometimes snowy November and early December, a lack of Arctic air means that most of the recent precipitation has fallen as rain, AccuWeather said.There could be a Hail Mary coming for some folks as a weak storm could provide a dusting on Christmas Eve in the Plains and Midwest. But it's far from a big snowstorm.
It need not snow Dec. 25 to fit the weather service's 
definition of a white Christmas
: There just needs to be at least 1 inch of snow on the ground.The USA's fascination with a white Christmas dates to 1942, when Bing Crosby first crooned the wistful song in the film "
Holiday Inn
." Written by Irving Berlin, the song's lyrics bring out a romanticized image of Christmases past, "just like the ones I used to know." A second movie – White Christmas, also with Crosby – came out in 1954.
Despite Crosby's wishes, only about 40 percent of the 48 contiguous states are typically snow-covered by Christmas, according to the National Oceanic and Atmospheric Administration (NOAA.)More: Polar vortex? Back in the day, we called it 'winter'The Weather Channel reported that since 2003, the percentage has varied widely from year to year, from just over 21 percent in 2003 to a whopping 63 percent of the contiguous U.S. in 2009.Looking for a near-surefire way to get a white Christmas? Head to Fairbanks, Alaska, which has seen snow on the ground practically every Christmas since weather record keeping began, according to data from NOAA.Wednesday, Fairbanks was reporting a snow depth of 10 inches. Bundle up, however: High temperatures are forecast to remain below zero for at least the next week there.In the lower 48, here's typically where you should go if you want a white Christmas: Minnesota, Maine, upstate New York, the Allegheny Mountains of Pennsylvania and West Virginia, practically anywhere in Idaho and, of course, the Rockies or the Sierra Nevada Mountains, NOAA said. Historically, much of northern Minnesota and Wisconsin, most of Michigan's Upper Peninsula and a large portion of the Western mountain areas have a 90 percent or better chance of a white Christmas. Cities such as Marquette, Michigan, or International Falls, Minnesota, have had snow on the ground almost every Christmas since weather record-keeping began, according to NOAA.Some of the biggest cities with the best probability for a white Christmas, based on historical averages, include Minneapolis, Green Bay, Buffalo, and Burlington, Vermont, according to AccuWeather.But not this year, for the most part.
News Wet Christmas: 67 million at risk of seeing floods on busiest travel days
Doyle Rice,USA TODAYIf you're one of the millions Americans traveling for Christmas, a soaking rainstorm could lead to air and road headaches across a large part of the southern and eastern U.S. on Thursday and Friday.A huge area of the eastern U.S. could see flooding: Some 67 million Americans live where flooding is possible, according to the National Weather Service.In many ways, thanks to mild temperatures, the storm looks to be quite similar to the one that drenched the eastern U.S. last weekend: Lots of rain, but little in the way of snow or ice. The storm should start to ramp up in intensity on Thursday, which is expected to be the busiest travel day of the season this year, according to AAA.  Folks traveling for the holidays will have lots of company this year: 112.5 million travelers are expected to take to the nation's runways, roads and rails, AAA said. This "represents a 4.4 percent increase over last year and the most since AAA has been tracking holiday travel," the organization said in a statement.
Heavy traffic on Interstate 190 near O'Hare International Airport in Chicago on Nov. 25, 2018. A winter storm is expected to dump snow across the Midwest, on one of the busiest travel days of the year.On Thursday, rain is likely from the Southeast to the Mid-Atlantic and Ohio Valley, weather.com said. The National Weather Service said "widespread rainfall totals are forecast to be 1 to 2 inches across the Southeast and the Appalachians eastward, with higher widespread totals of 3 inches in the Florida peninsula, eastern North Carolina, and southern New England."Flood watches have been posted for much of the Mid-Atlantic and Northeast. Strong winds could cause downed trees and power outages, AccuWeather warned. Beach erosion is also possible along the coast."Enough rain may fall to not only cause urban and poor drainage area flooding, but also lead to small stream flooding and new rises on some of the major rivers from Florida to New England as an atmospheric river sets up for a time," AccuWeather meteorologist Brett Anderson said.Some severe thunderstorms could also wallop parts of Florida, which would lead to airline delays in Tampa, Orlando and Miami. Damaging winds and tornadoes are possible, especially in eastern Florida, the Storm Prediction Center said.Soggy conditions will continue for most of the East Coast by Friday, including the Northeast and New England. On Friday, snow could mix in on the back edge of the precipitation across the Ohio Valley and into the Appalachians, the National Weather Service said.The storm will move away on Saturday, and clear sailing is expected for most of the East on Saturday.The other travel trouble spot will be in the northwestern U.S., where a series of storms should continue to pelt the region with rain and snow into the weekend. The weather service said that the higher elevations of the Cascades could see 12 to 18 inches of snow, and the Northern Rockies are expecting 6 to 10 inches of snow.Most of the central and southwestern U.S. should see dry weather this week. Temperature-wise, almost from coast-to-coast; above-average readings are likely. No big cool-down is likely in the days just before Christmas, which means chances for a white Christmas are very low for most of the nation.
This article originally appeared on USA TODAY: Wet Christmas: 67 million at risk of seeing floods on busiest travel days
News US freshwater is getting saltier, creating dangerous 'chemical cocktails'
amanda.schmidt,AccuWeatherAs winter storms roll through, salts are constantly used to deice roads, parking lots and sidewalks to keep people safe in the winter conditions.However, new research shows that these salts are contributing to a widely rising problem across the United States: Rivers and streams across the U.S. have become saltier and more alkaline over the past 50 years. Alkaline is defined as having a pH greater than 7 and is less acidic.A recent study led by a team of University of Maryland (UMD) researchers published these findings on Monday, Dec. 3, in the journal Philosophical Transactions of the Royal Society B: Biological Sciences.Road deicers are one of the contributors. Fertilizers, salt-heavy diets and other salty compounds that humans indirectly release into waterways also contribute to this condition.
Salty, alkaline freshwater can create big problems for drinking water supplies, urban infrastructure and natural ecosystems. 
road salt snow storm  David Osgood, crew leader of the public works dept., mixes road salt, Monday, March 12, 2018, in Freeport, Maine. Much of the Northeast is bracing for blizzard conditions, a foot or more of snow and high winds as the third major nor'easter in 10 days bears down on the region. (AP Photo/Robert F. Bukaty)One of the most notable examples is the water crisis in Flint, Michigan, which shed a light on the growing issue. The city switched its primary water source to the Flint River in 2014, which was highly polluted with salts.The river's high salt load combined with the chemical treatments made the water more corrosive. The interaction of the corrosive water and the water treatment caused lead to leach from the water pipes, thus creating the city's well-documented water crisis.The same UMD-led team of researchers released a related study in January 2018 that coined the term, "Freshwater Salinization Syndrome." It was the first study to assess long-term changes in freshwater salinity and pH levels at the continental scale.The study used data recorded at 232 U.S. Geological Survey (USGS) monitoring sites across the country over the past 50 years. The analysis shows significant increases in both salinization and alkalization.The study results also suggest a close link between the two properties, with different salt compounds combining to do more damage than any one salt on its own.The team created the name 'Freshwater Salinization Syndrome' because they realized it's a suite of effects on water quality, with many different salt ions linked together. They didn't know that before, said Dr. Sujay Kaushal, a professor of geology at UMD and lead author of the study."We used to think that when you put salt into a watershed that the salt would wash away and go downstream. Then about 15 years ago, we published the first paper that showed that the salts actually stuck around," Kaushal said.The salts were accumulating in soils and groundwater and increasing over time, contributing to long-term trends increasing trends downstream in rivers, lakes and reservoirs. At this time, they first proposed that this was going to be a safe drinking water issue."In our recent studies, especially this last study, it really kind of nails it home. Not only does it salinize the drinking water itself, but it also causes the release of all these mixtures of chemicals like the metals, nutrients and other elements that can cause all kinds of different water quality problems," Kaushal said."They've even found that the salt releases radium, which is radioactive, and so it's a much bigger problem than we ever anticipated 15 years ago," he said.
snow salt riverThe researchers tested the chemical levels of streams and rivers in the Mid-Atlantic region of the United States. (Kelsey Wood)The more recent study takes a closer look at the global, regional and local consequences of Freshwater Salinization Syndrome. The group found that salty, alkaline freshwater can release a variety of chemicals, including toxic metals and harmful nitrogen-containing compounds, from streambeds and soils in drainage basins.The results further suggest that many of these chemicals travel together throughout watersheds, forming "chemical cocktails" that can have more devastating effects on drinking water supplies and ecosystems when compared with individual contaminants alone.The researchers assessed previously published data from rivers in the U.S., Europe, Canada, Russia, China and Iran, substantially expanding the geographic boundaries of the researchers' previous work.Their analysis suggests that Freshwater Salinization Syndrome could be a global phenomenon, with the most conclusive support showing a steady trend of increased salt ions in both U.S. and European rivers. These trends trace back at least 50 years, with some data reaching back far enough to support a 100-year trend, according to their research."The chemistry is changing very rapidly and is becoming more widespread. It is surprising to me how widespread these changes are occurring," said study co-author Dr. Gene Likens, president emeritus of the Cary Institute of Ecosystem Studies and a distinguished research professor at the University of Connecticut. 
snow saltIn this Jan. 27, 2015 photo, a snowplow clears a street near Quincy Market in Boston. More than $1 billion was spent and 6 million tons of salt used to keep highways operating in nearly two dozen states during the recent harsh winter, according to a first-ever survey of state transportation officials. (AP Photo/Steven Senne, File)During the snowy, wintry months, states in the mid-Atlantic and Northeast apply road salts to the ground. And this is a primary cause of Freshwater Salinization Syndrome, according to the study.The team monitored the chemical consequences of road salt by performing detailed field studies in streams located near Washington, D.C., and Baltimore."Salt concentrations during the snowstorm were surprisingly high–it was like we were analyzing sea water. But we weren't expecting such a high corresponding peak in metals," Kelsey Wood, a geology graduate student at UMD and a co-author of the study said in the press release.Salt ion concentrations can stay high for months following a storm. This lengthens the amount of time that salt can draw metals from the soil, resulting in harmful cocktails of metals and salts transported far downstream."Looking at water quality data over several months in the winter, salt remains high and rarely has a chance to return to baseline before the next storm comes through and more salt is put on the roads," Kaushal said in the press release.The group's latest work highlights the need for new and more comprehensive regulation and pollution management strategies."The bottom line of our findings is that when humans add salt to waterways, that salt also releases a lot of dangerous collateral chemicals," Kaushal said in the press release. "It's clear that regulatory agencies need to find new ways to address these 'chemical cocktails' released by saltier water, rather than looking at individual freshwater pollutants one by one.Salts are not currently regulated as a primary contaminant in freshwater and the team is arguing that it should be, Likens said.
NewsMonster Waves Are Battering the West Coast. Here's Why.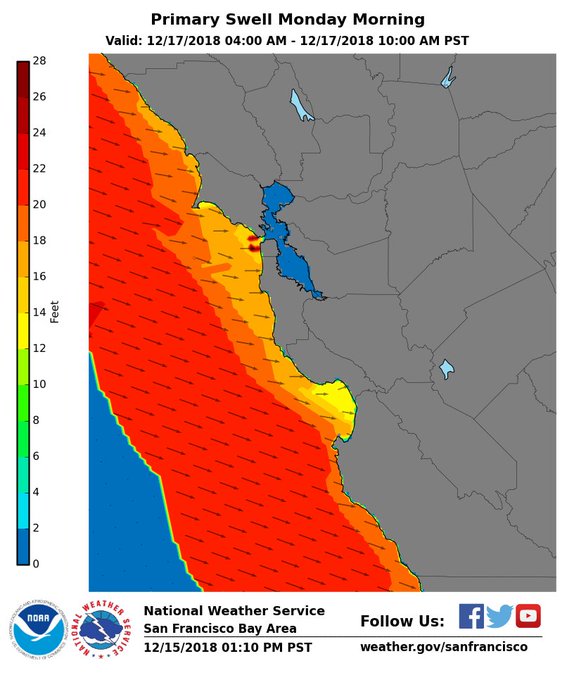 NWS Bay Area
@NWSBayArea
HIGH SURF WARNING continues in effect along the coast from Sonoma County through Monterey County 9 AM Sun to 9 PM Mon.
STAY WELL BACK FROM THE OCEAN OR RISK CERTAIN DEATH.
These winds, 
wrote Marshall Shepherd
, director of the University of Georgia's Atmospheric Sciences program and a weather-science writer for Forbes, resulted from a low-pressure system centered in the Gulf of Alaska. In the Northern Hemisphere, he explained, wind whirls counterclockwise around systems like this. Because of the location of the low pressure system, those winds can build up huge waves across hundreds of miles before ramming them into the West Coast. These wind-driven waves can grow to dozens of feet high, though they don't drive themselves inland like 
tsunami
 waves of similar height do. [
Hurricanes from Above: See Nature's Biggest Storms
]
79 people are talking about this
The worst-affected areas, according to The Washington Post, are around San Francisco, where waves have reached 30 to 40 feet (9 to 12 meters), but the water has been dangerous as far north as places in Washington state and as far south as Los Angeles.
232 people are talking about this
Those dangers, Shepherd wrote, extend to activities beyond actually playing in or surfing these monster waves. Simply going near the water, playing on rocks, jetties or beaches, would put people at risk of being swept into the turbulent sea by an especially large wave, Shepherd wrote. And that cold, rough water, he wrote, can trigger "cardiac arrest and involuntary gasp reflexes that lead to drowning."
Online Shopping Was Supposed to Keep People Out of Traffic. It Only Made Things Worse