U.S. National Christmas Tree to Stay Dark During Holiday Due to Government Shutdown
The tree, which is located on the Ellipse just south of the White House, sustained some damage on Friday when a man climbed it.Local station NBC4 TV reported that U.S. Park Police had to negotiate with the man to get him down and believed he was in emotional distress.Following the incident, the National Park Service announced over the weekend that the tree would stay dark during the holiday. According to The Hill, the shutdown has "complicated" repairs."During the federal government shutdown, the White House Visitor Center and National Christmas Tree site will be closed," the National Park Service posted on Sunday.The partial government shutdown started early Saturday when Democrats refused President Trump's request for $5 billion to fund a southern border wall. White House Budget Director and incoming acting Chief of Staff Mick Mulvaney said it is "very possible" the shutdown may continue into the new year.
Donald Trump Turns Grinch On Christmas Eve, Questions Child's Belief In Santa
Nellie Andreeva,Deadline
After claiming that he had saved 'Merry Christmas' from "assault" last Christmas Eve, Donald Trump may have ruined the holiday for a child a year later.Mired in Washington scandals, Trump spent Dec. 24 airing his grievances on Twitter, pinning the blame at others for everything, from the latest exodus of top officials to the government shutdown to the plunging stock market.Things seemingly took a turn for the better on Christmas eve as Trump tweeted photos of him and First Lady Melania Trump in front of a crackling White House fireplace under a portrait of President Abraham Lincoln as the two engaged in what the President called "one of my favorite traditions" — speaking to children who call the North American Aerospace Defense Command to track Santa Claus' flight across the globe.While Mrs. Trump is seen in an accompanying video giving young callers nurturing and encouraging messages, including "I want to wish you a Merry Christmas" and  "I hope your dreams come true," her husband decided to use one child's call to try and debunk the magic of Christmas."Are you still a believer in Santa Claus," the President is seen asking the child. (Because) at seven, it's marginal, right?"Watch the video, followed by Trimp's tweet: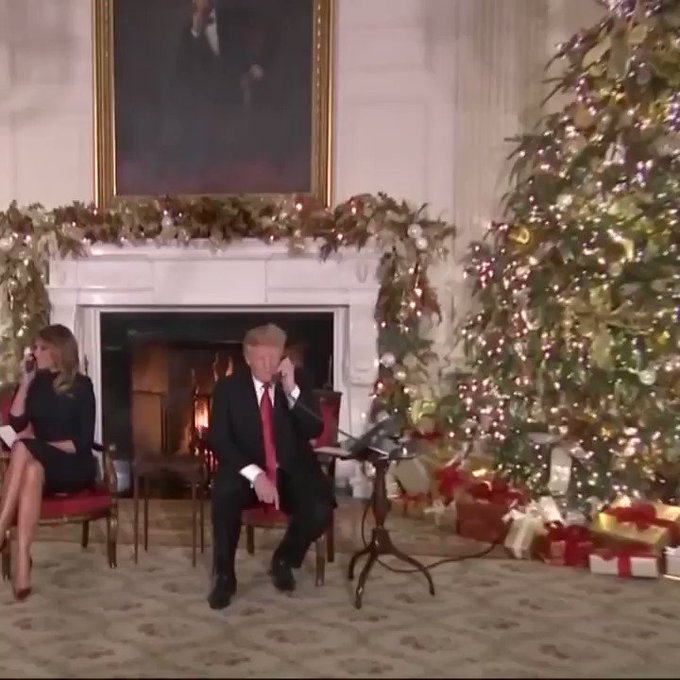 The Daily Beast
@thedailybeast
Donald Trump, answering phone call from 7-year-old on Christmas Eve: "Are you still a believer in Santa? Because at seven it's marginal, right?"
Business
NORAD will still track Santa, despite the government shutdown
Johnny Lieu
Mashable
Even though the U.S. government's shutdown has forced agencies to run with a skeleton staff, it won't be affecting a long-running holiday tradition.The North American Aerospace Defense Command (NORAD) confirmed that it'll still be 
tracking Santa's journey
 on Christmas Eve, which it has done so for the last 63 years.SEE ALSO: 
40 easy (and free) ways to feel festive this holiday season
Every year, around 1,500 volunteers take calls and answer emails from kids around the world about the whereabouts of Santa Claus with the help of satellite systems, high-powered radars and jet fighters.In 2018, NORAD will also be publishing Santa's location on social media, however, an estimated 140,000 calls are still expected to be made to the hotline, with volunteers taking two-hour shifts to answer enquiries.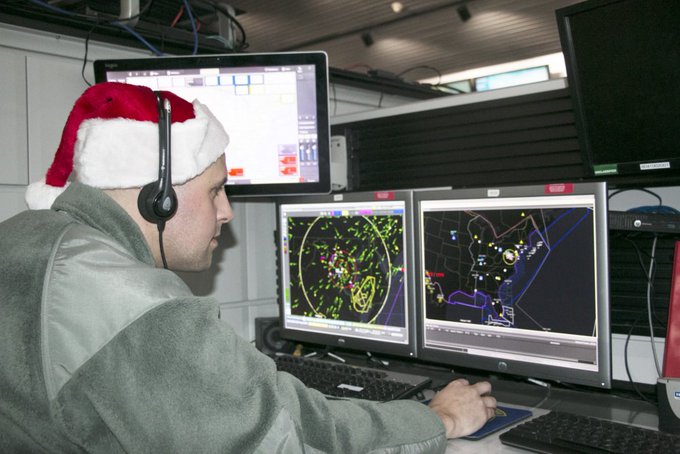 NORAD & USNORTHCOM
@Norad_Northcom
In the event of a government shutdown, NORAD will continue with its 63-year tradition of NORAD Tracks Santa on Dec. 24. Military personnel who conduct NORAD Tracks Santa are supported by approximately 1,500 volunteers who make the program possible each and every year.
NORAD Tracks Santa wouldn't have started 
if not for a typo
 appearing on a newspaper ad back in 1955. The ad was placed on behalf of Sears, purporting to be from Santa himself. "HEY KIDDIES! Call me on my private phone and I will talk to you personally any time day or night," the ad read.The ad published the wrong phone number, which directed to a top-secret CONAD (the predecessor to NORAD) line reserved for reporting a crisis. On duty was Colonel Harry Shoup, who received a call from a child looking for Santa Claus.Shoup, initially thinking it was a prank, was incensed. But after realising it was indeed from a child, Shoup decided to play along as Santa.Then, more calls from children came in, thus beginning a long holiday tradition that's persevered to this day. Even if all in the White House is not well.
Politics
Trump takes parting shot at Mattis and his view of U.S. allies
By David Morgan and Lesley Wroughton
Reuters
Trump takes parting shot at Mattis and his view of U.S. allies By David Morgan and Lesley Wroughton WASHINGTON (Reuters) – U.S. President Donald Trump on Monday criticized departing Defense Secretary James Mattis and his view of alliances, saying the Pentagon chief failed to recognize the true costs of America's military support around the world.A day after Trump announced he would replace Mattis two months earlier than expected, the president took a parting shot at the Pentagon chief, who resigned last week over policy differences with Trump."We are substantially subsidizing the Militaries of many VERY rich countries all over the world, while at the same time these countries take total advantage of the U.S., and our TAXPAYERS, on Trade," Trump wrote in a series of tweets."General Mattis did not see this as a problem. I DO, and it is being fixed!" he wrote.Administration officials said Trump was annoyed by Mattis' resignation letter, which included an implicit criticism of Trump's disregard for allies.Despite the falling out, the Pentagon said on Monday that Mattis authorized Trump's withdrawal of U.S forces from Syria, one of the decisions that helped trigger his resignation.The exit of Mattis, highly regarded by Republicans and Democrats alike, added to concerns over what many see as Trump's unpredictable, go-it-alone approach to global security."To those few Senators who think I don't like or appreciate being allied with other countries, they are wrong, I DO," Trump also tweeted."What I don't like, however, is when many of these same countries take advantage of their friendship with the United States.""AMERICA IS RESPECTED AGAIN!" Trump added.Mattis has been seen in Europe as firmly committed to the North Atlantic Treaty Organization (NATO) military alliance, while Trump warned European allies that the United States could withdraw its support unless they boost defense spending.Trump also tweeted on Monday that Saudi Arabia had agreed "to spend the necessary money needed to help rebuild Syria, instead of the United States."It was not immediately clear whether Trump was referring to new funding from Saudi Arabia, which has already pledged money to cover costs for the next two years of stabilizing areas of Syria retaken from the Islamic State militant group.The State Department was not immediately available for comment due to the partial U.S. government shutdown.Trump made the decision last week to withdraw U.S. forces from Syria and pull out about half of the 14,000 U.S. troops in Afghanistan, against the advice of his top aides and U.S. commanders. The move brought withering criticism from fellow Republicans, Democrats and international allies.Defense officials have cautioned against a timeline, but the withdrawal could begin in weeks. A senior official said a specific plan was being worked out.Mattis' abrupt resignation sparked concern among allies, who credit the retired Marine general with building trust and tempering isolationist impulses.In his resignation letter, Mattis had said he would step down at the end of February to allow for a successor to be confirmed and to attend congressional hearings and a key NATO meeting.But Trump Deputy Defense Secretary Patrick Shanahan will now take over on an acting basis beginning Jan. 1.
World Pair freed without charge in London airport drones probe