Politics President Trump Says Whomever Ordered USS John McCain Hidden During His Visit Was 'Well-Meaning'
Hillary Leung,Time
President Trump Says Whomever Ordered USS John McCain Hidden During His Visit Was 'Well-Meaning' President Donald Trump seemed to confirm reports that the White House asked the U.S. Navy to hide the USS John S. McCain during Trump's trip to military base in Japan earlier this week. The Wall Street Journal reported Wednesday that an official told U.S. Navy and Air Force officials in an email that the "USS John McCain needs to be out of sight." Abiding by the White House instructions, officials obscured the guided missiles destroyer's name––which honors the late Sen. John McCain, as well as his father and grandfather––by covering it with a tarp before the President's trip and later moving a barge closer to the watercraft to reduce its visibility, according to the Journal.Trump denied that he had made the order in remarks to reporters at the White House on Thursday morning. Trump referenced his long-running feud with the Arizona Republican, who died last August following a cancer battle, but said, "I wasn't a fan but … I didn't know a thing about it." "I would never have done that," Trump said.The President said that whoever had done so was probably "well-meaning."Earlier Thursday morning, White House Deputy Communications Director Mercedes Schlapp dismissed the reports about the John McCain as "fake news" on Fox & Friends. The Journal also reported that sailors working on the warship, who typically wear caps bearing its name, were asked to take the day off during Trump's visit. U.S. officials denied that sailors on the John McCain had been told to stay away, but said that many had departed for the long weekend.Trump tweeted earlier that he was "not informed" of the directive. The President has a history of insulting the 2008 GOP presidential nominee and war hero, who was among Trump's most vocal critics on the right.

Donald J. Trump@realDonaldTrump I was not informed about anything having to do with the Navy Ship USS John S. McCain during my recent visit to Japan. Nevertheless, @FLOTUS and I loved being with our great Military Men and Women – what a spectacular job they do! U.S. officials said that the tarp was placed on the ship for maintenance, but it was taken down for the visit. A spokesperson for U.S. 7th fleet said that the tarp had been removed before Trump's Saturday morning visit, and that all ships were in "normal configuration."The late senator, a veteran of the Vietnam War, spent five and a half years as a POW after being captured by the North Vietnamese. As the son of a top Navy admiral, McCain was given the chance to be released early, but declined out of respect for the other prisoners who lacked the privilege.His daughter, political analyst Meghan McCain, called the President "a child" who feels threatened by McCain.
Meghan McCain@MeghanMcCain Trump is a child who will always be deeply threatened by the greatness of my dads incredible life. There is a lot of criticism of how much I speak about my dad, but nine months since he passed, Trump won't let him RIP. So I have to stand up for him.It makes my grief unbearable.Rebecca Ballhaus@rebeccaballhausNEW: The White House wanted the USS John McCain "out of sight" for Trump's visit to Japan. A tarp was hung over the ship's name ahead of the trip, and sailors—who wear caps bearing the ship's name—were given the day off for Trump's visit. w/@gluboldhttps://www.wsj.com/articles/white-house-wanted-uss-john-mccain-out-of-sight-during-trump-japan-visit-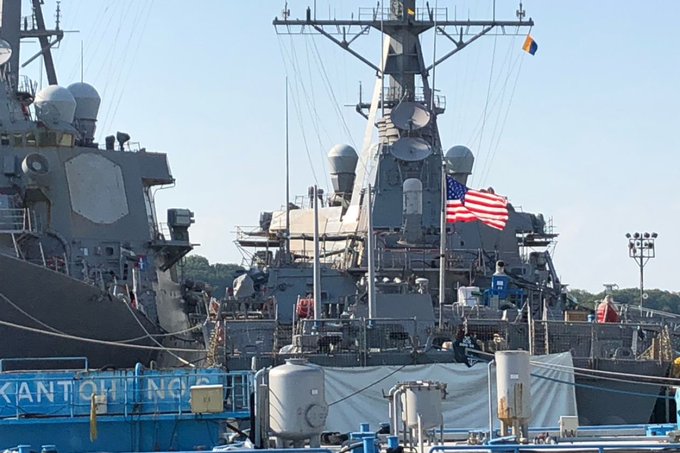 Trump has long clashed with the veteran, having reiterated throughout the years that he is "not a war hero." McCain had also on occasion called Trump out, having said that his "demeaning comments about women" and "boasts about sexual assaults" are reasons why he did not have his support. A month before his death, he called Trump's remarks at a conference with Russian President Vladimir Putin "one of the most disgraceful performances by an American President in memory."In an official statement issued after McCain's death, Trump said he respects the late senator's service to the country "despite differences on policy and politics," but did not attend his memorial service. He later complained that he was not thanked despite giving McCain "the kind of funeral that he wanted."
Trump tweets he was 'not informed' of White House request to keep USS John S. McCain out of sight during Japan visit
Trump plans to use tariffs to force Mexico to stop migrants
Record numbers of families and unaccompanied children in particular have crossed the southern border in recent months, the majority of them from Honduras, Guatemala and El Salvador, overwhelming U.S. border officials and filling immigration detention facilities beyond capacity. The U.S. Department Of Health and Human Services recently estimated that it is on track to provide care to more unaccompanied immigrant children in fiscal year 2019 than in its entire previous history.
Earlier Thursday, an official with U.S. Customs and Border Protection briefed reporters on a group of 1,036 who were apprehended after illegally crossing the border near El Paso, Texas, early Wednesday morning. The CBP official, who declined to speak on the record, said that the incident was part of a trend of 100 or more migrants crossing the border as a group, which the official described as a "highly lucrative" tactic for smuggling organizations.
Acting Homeland Security Secretary Kevin McAleenan also referenced the involvement of smuggling organizations in facilitating mass migration from Central America and noted that cracking down on such transnational criminal organizations was one of three broad steps the administration would like to see Mexico take. The other two involve stepping up security efforts at the southern border with Guatemala and working with the U.S. to "align on asylum," an apparent reference to the Trump administration's desire to enter into a "safe third country" agreement with Mexico that would allow the U.S. to deny Central Americans asylum seekers in the U.S. on the basis that Mexico is a safe alternative.
However, Mulvaney suggested that Mexico could take immediate action to prevent the tariffs from even going into effect, stating emphatically, "We do not want to do this."
"We're interested in seeing the Mexican government act tonight, tomorrow," said Mulvaney. "We're hopeful that they will."
Just hours before the White House revealed its latest effort to crack down on migration flows to the southwest border, Vice President Mike Pence met with Canadian Prime Minister Justin Trudeau in Ottawa to discuss the Trump administration's efforts to get Congress to approve the United States-Mexico-Canada Agreement (USMCA), which would replace the North American Free Trade Agreement (NAFTA). Asked whether the new tariffs on Mexican goods would make the U.S. in violation of the USMCA, Mulvaney insisted that "The two are absolutely not linked."
"These are not tariffs as part of a trade dispute, these are tariffs as part of an immigration matter," he said.
However, Republican Sen. Chuck Grassley, who is among Trump's strongest allies on immigration in Congress, expressed concern that "following through on this threat would seriously jeopardize passage of USMCA," and questioned the legality of the president's actions.
"This is a misuse of presidential tariff authority and counter to congressional intent," Grassley said.
"I support nearly every one of President Trump's immigration policies, but this is not one of them," said Grassley, according to the Washington Post's Seung Min Kim. "I urge the president to consider other options."
Republican Sen. Lindsey Graham, on the other hand, expressed his support for the president's decision to impose tariffs on Mexico, tweeting "The illegal flows from Central America must stop and Mexico needs to do more."
Modi's Victory Is America's Opportunity