Trump gets letter from North Korea, says more talks likely
Scroll back up to restore default view.WASHINGTON (AP) — President Donald Trump said Friday that he received a "beautiful" three-page letter from Kim Jong Un and predicted that the two leaders would have more talks to 
try resolving the standoff over North Korea's nuclear weapons program.
Trump has said he's not bothered by the flurry of missiles that Kim has launched in recent days, rattling U.S. allies in the region. The president said they were all short-range missiles and reiterated that North Korea has never broken its pledge to pause nuclear tests.Trump said Kim told him in the letter that he was upset about recent U.S.-South Korea military exercises, which North Korea sees as a threat.The two leaders have met three times — in Singapore, Hanoi and the Korean Demilitarized Zone late last month — but no new talks have been scheduled. At their second meeting in Vietnam in February, Trump rejected Kim's demand for widespread sanctions relief in return for dismantling the North's main nuclear complex, a partial disarmament step.Trump said he'd received the letter on Thursday. "It was hand-delivered. It wasn't touched by anybody," Trump told reporters on Friday at the White House."It was a very positive letter. I think we'll have another meeting. He really wrote a beautiful, three-page letter … a really beautiful letter."
The Trumps are called a 'heartless couple' for grinning photo op with baby orphaned in El Paso shooting
Suzy Byrne Editor, Yahoo Entertainment,Yahoo Lifestyle•Trump slammed for 'disgusting' photo op with baby orphaned in El Paso shootingThe Trumps are being slammed over their photo op with a baby orphaned during the El Paso shooting.The president and first lady visited Texas and Dayton, Ohio, on Wednesday after last weekend's mass shootings. Photos from the visits were posted to Melania's Instagram and there has been criticism over their poses in one as they stand next to the baby, whose parents died saving his life, both grinning widely. Further, the president was giving a thumbs-up.  The photo is all over social media and critics of the president have dubbed it "disgusting" while the pair has been called a "heartless couple." Actor John Cusack said "there is no bottom to the abyss," while The View's Ana Navarro-Cárdenas called the president an imbecile.
Ana Navarro-Cárdenas@ananavarroYou're telling me this is the baby whose mother and father were killed by a white supremacist triggered by Trump, who hunted them down for being Hispanic? And then, Dotard Trump sees it fit to pose doing a thumbs up. Imbecil. https://twitter.com/joshtpm/status/1159672304542126082 …Josh Marshall@joshtpmFrom the First Lady's twitter account, this appears to be the baby both of whose parents died shielding him from the El Paso shooter. The baby in question was discharged the day before and brought back for Trumps visit. Child is not id'd on @flotus account. But appears to…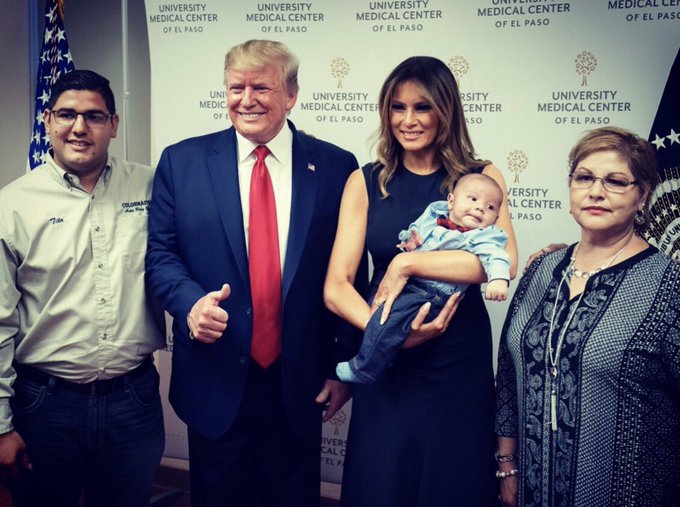 John Cusack@johncusackThere is no bottom to the abyss – just US forcing him out of office – by scaring the shit out of gop & Dems RT @TheHipsterRebbe: Trump grinning posing with a baby orphaned by his own vile rhetoric is a level of perversion I thought beneath even him. https://twitter.com/joshtpm/status/1159672304542126082 …Josh Marshall@joshtpmFrom the First Lady's twitter account, this appears to be the baby both of whose parents died shielding him from the El Paso shooter. The baby in question was discharged the day before and brought back for Trumps visit. Child is not id'd on @flotus account. But appears to…

Jon Cooper@joncoopertweetsThis truly macabre photo shows a grinning Donald Trump — with a smiling Melania at his side — giving a thumbs-up w/ a baby whose parents were shot dead in the El Paso white supremacist terror attack THAT TRUMP INSPIRED. Tells you all you need to know about this heartless couple.It has also been lost on no one that other victims of the shooting reportedly refused to meet Trump during his El Paso hospital visit. So the fact that the baby — who's unable to speak for himself — was in a photo circulated by the White House is especially bothersome to many.
Claude Taylor@TrueFactsStatedTrump had the two month old baby shielded by parents brought back to hospital for photo op…other patients refused to meet with him.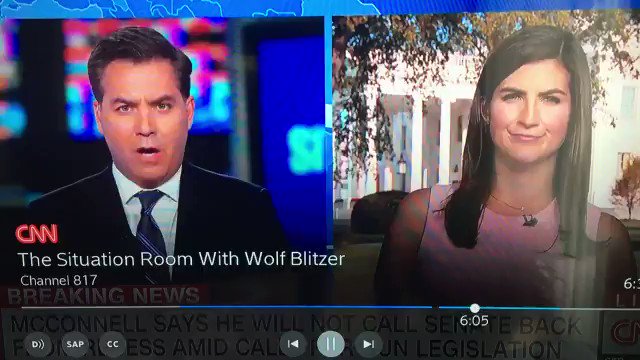 Andre and Jordan Anchondo were the parents of the child. They were shopping for party supplies for their daughter, who is turning 6, at Walmart when the shooting rampage began. Andre died protecting Jordan and she died shielding 2-month-old Paul, who was grazed by a bullet but survived.After the shooting, Andre's brother Tito told NPR that the Anchondo family has always been "Republican conservatives" and his brother "was very supportive of Trump." He added that he wanted to meet with Trump "to see if he's genuine" and "if my political views are right or wrong" as well as "see if he feels maybe some kind of remorse for statements that he's made" about immigrants. "I just want to have a human-to-human talk with him and see how he feels."In addition to the couple, 20 others were killed in the attack, which federal prosecutors are treating as an act of domestic terrorism and a potential hate crime. The shooter reportedly posted a hate-filled, anti-immigrant manifesto online just prior to the mass shooting speaking of a "Hispanic invasion of Texas" and writing that white people are being replaced by foreigners.
Trump: Congress discussing 'meaningful' gun background checks, NRA will have input
WASHINGTON – President Donald Trump said Friday that congressional leaders are talking about new "
meaningful background checks
" for gun buyers – but with input from 
the National Rifle Association
 and other gun groups that oppose current legislative proposals.Trump predicted ongoing talks would produce "a very good package" for Congress to consider when it returns from summer recess in September. He also suggested there is a better "feeling" for getting something done than after a school shooting that killed 17 students and staff members in Parkland, Florida last year."We don't want guns in the hands of the wrong people," Trump told reporters before departing the White House for a pair of fundraisers in New York. Trump called for "common-sense background" checks, but did not detail what that might include. But he suggested the NRA would have input on whatever package emerges."We'll see where the NRA is … but we have to have meaningful background checks," Trump said, adding that the gun group has "good people" who want to do the right thing."I have a great relationship with the NRA," he said.
Earlier Friday, Trump said in a pair of tweets that "serious discussions are taking place between House and Senate leadership on 
meaningful Background Checks,"
 adding that "guns should not be placed in the hands of mentally ill or deranged people."Trump also acknowledged his 
talks this week with Wayne LaPierre
, executive vice president of the NRA, and other gun rights groups in the wake of last weekend's mass shootings in Texas and Ohio. Trump said "their very strong views can be fully represented and respected" during the debate over gun policy."I am the biggest Second Amendment person there is, but we all must work together for the good and safety of our Country," Trump said.
Pelosi on guns: Pelosi urges Trump to call Senate to vote on House gun background checks billsSome congressional Democrats said they are skeptical about Trump's commitment to new gun safety laws, given his support of the NRA and other gun groups."We've seen it before," tweeted Sen. Chuck Schumer, D-N.Y., the Senate's top Democrat, on Monday. "An awful shooting occurs. @realDonaldTrump expresses interest in helping. Republicans try to get him off the hook with lesser measures. Nothing happens."Trump has heard repeated objections from NRA and some of his own aides who are pushing back against new background check proposals.While LaPierre has not detailed his discussions with Trump this week, he said in a statement that "the NRA opposes any legislation that unfairly infringes upon the rights of law-abiding citizens." Gun control supporters back bills approved by House Democrats that would expand and improve the background check system. The Republican-run Senate has refused to take up the measures.Congressional action in the short term is highly unlikely. There are no apparent plans to call Congress into session during its August recess. As of mid-day Thursday, Trump had no meetings scheduled with congressional leaders.House Speaker Nancy Pelosi, D-Calif., has urged Trump or Senate Republican leader Mitch McConnell, R-Ky., to call Congress back into session immediately, breaking up the August recess to address the gun violence crisis.Trump and the NRA: Trump spoke with NRA CEO Wayne LaPierre during Dayton, El Paso trip, faces opposition on gun background checksMcConnell said Thursday he is willing to consider expanding background checks for gun buyers, telling WHAS radio that "what we can't do is fail to pass something." He also said that Senate will not take up gun safety issues until September, after the August recess."Only serious, bipartisan, bicameral efforts will enable us to continue this important work and produce further legislation that can pass the Senate, pass the House, and earn the president's signature," he said.This article originally appeared on USA TODAY: Trump: Congress discussing background checks – with NRA input
BERLIN (Reuters) – An envoy of U.S. President Donald Trump suggested on Friday that Chancellor Angela Merkel's unwillingness to boost defense spending might give the United States no choice but to move American troops stationed in Germany to Poland.
The comments by Richard Grenell, the U.S. ambassador to Germany, signal Trump's impatience with Merkel's failure to raise defense spending to 2% of economic output as mandated by the NATO military alliance.
"It is offensive to assume that the U.S. taxpayers continue to pay for more than 50,000 Americans in Germany but the Germans get to spend their (budget) surplus on domestic programs," Grenell told the dpa news agency.
Germany's fiscal plans foresee the defense budget of NATO's second-largest member rising to 1.37% of output next year before falling to 1.24% in 2023.
Eastern European countries like Poland and Latvia, fearful of Russia after it annexed Crimea from Ukraine in 2014, have raised their military spending to the 2% target, drawing praise from Trump who wants Germany to do the same.
U.S. complaints about Germany's defense spending pre-date Trump but relations with the United States have deteriorated since he became president.
The two allies do not see eye-to-eye on a range of issues, including Iran, trade tariffs and the NordStream 2 gas pipeline from Russia to Germany.
Trump said in June he would deploy 1,000 U.S. troops from Germany to Poland, which sees the measure as deterrence against possible aggression from Russia.
Georgette Mosbacher, U.S. ambassador to Poland, has made a similar criticism of Germany's reluctance to commit more financial resources to NATO.
"Poland meets its 2% of GDP spending obligation toward NATO. Germany does not. We would welcome American troops in Germany to come to Poland," she wrote on Twitter on Thursday.
The United States has more than 33,000 soldiers in Germany and an additional 17,000 U.S. civilian employees to support them. It is believed the United States also has nuclear warheads in Germany.
"President Trump is right and Georgette Mosbacher is right," Grenell told dpa. "Multiple presidents have asked Europe's largest economy to pay for its own defense. This request has been made over many years and by many presidents."
Grenell added that the United States must react if Germany continues to ignore Trump's demand to boost defense spending.
Trump travels to France this month for the G7 summit where Iran will be a major topic. Trump will also visit Poland and Denmark.
Grenell earlier this month criticized Germany for showing reluctance to join a planned U.S. naval mission in the Strait of Hormuz, close to Iran.
(Reporting by Joseph Nasr; Editing by Catherine Evans)
China continued Iran oil imports in July in teeth of U.S. sanctions: analysts
GRAPHIC: Asia's Iran oil imports 2016-2019 – http://tmsnrt.rs/2cNidjY
JINZHOU RESERVES DOUBLED
Similar to June imports, it's unclear how much of the July shipments has been sold to buyers or stored in bonded storage tanks and yet to clear customs. Some 20 million barrels of Iranian oil appeared stranded at the northeastern port of Dalian after moved into bonded tanks since late last year.While the customs department does not disclose details of port entries, oil analytics firms track where tankers arrive.According to research by data provider Refinitiv, July saw five vessels operated by the National Iranian Tanker Company (NITC) discharge 958,000 tonnes of Iranian crude into Chinese port Jinzhou in the northeast, Huizhou in the south and Tianjin in the north.
NITC didn't immediately respond to a request for comment.
Jinzhou, Tianjin and Huizhou are locations for refineries and commercial storage owned by Chinese state oil firms China Petrochemical Corp (Sinopec Group) and China National Petroleum Company (CNPC). Some of the country's tanks holding Strategic Petroleum Reserves (SPR) – kept by many countries as stockpiles for emergency situations – are also located in these cities.
Asked if it was among buyers of Iranian oil, Sinopec declined comment. CNPC did not respond to a request for comment.
In a report dated July 29, London-based energy data firm Kpler said inventories at the Jinzhou underground SPR rose to 6 million barrels from 3.2 million in mid-June "as a result of Iranian crude flows…The increase is fully the result of Iranian barrels discharged into the facility."
The firm estimated 360,000 bpd of Iranian crude had been delivered to China last month.
Vortexa, another London-based energy market intelligence firm, pegged the July deliveries into China at 4.4 million barrels and identified similar port destinations.
'DESTABILIZING ACTIVITIES'
Asked if U.S. sanctions apply in the case of Beijing storing Iranian oil in SPR facilities, a State Department official told Reuters Washington does not preview sanctions activities as it seeks to force Tehran to accept stricter limits on its nuclear activity and policy in the Gulf.
"But we will continue to look for ways to impose costs on Iran in an effort to convince the Iranian regime that its campaign of destabilizing activities will entail significant costs," said the spokesman.
In July, Washington sanctioned state-run Chinese oil trader Zhuhai Zhenrong Co for allegedly violating restrictions imposed on Iran's oil sector.
Elizabeth Rosenberg, an expert on sanctions with Center for a New American Security, a Washington-based think-tank, said if oil changes hands and even if it is then put in storage, the buyer would then be violating sanctions.
China has repeatedly criticized the unilateral U.S. sanctions on Iran and opposed Washington's "long-arm" jurisdictions.
"Strictly speaking, from the perspective of international law, China or other countries don't have an obligation to obey unilateral sanctions from the U.S.," said Zha Daojiong, Peking University professor of International Political Economy.
(Reporting by Chen Aizhu, Shu Zhang and Florence Tan in SINGAPORE, Muyu Xu in BEIJING, Timothy Gardner and Jeff Mason in WASHINGTON; Additional reporting by Parisa Hafezi in DUBAI; Editing by Florence Tan and Kenneth Maxwell)
Can Canadian imports lower U.S. drug prices?
Mike BebernesEditor
,
Yahoo News 360
•The 360 is a feature designed to show you diverse perspectives on the day's top stories.
Should Americans be able to import drugs from Canada?
What's happening:Last week, Sen. Bernie Sanders joined a caravan of people with diabetes crossing the border to Canada to buy insulin to highlight the drastic price difference of the medicine — which can be one-tenth of what it costs in the United States.A new proposal from the Trump administration could make trips like these unnecessary in the near future. The plan would allow states, pharmacies and drug manufacturers in the United States to import prescription drugs from Canada.
Why there's debate:Proponents of the idea say access to cheaper Canadian drugs would save the lives of patients who struggle to afford the medicine they need from American sellers. Drug companies in the United States would ultimately be forced to lower their prices to compete with less expensive imports, they argue.The U.S. plan sparked significant concerns from Canadians worried that demand from the massive American market would lead to drug shortages or price increases in their country, despite Prime Minister Justin Trudeau's pledge to maintain a "steady and solid supply" of drugs in Canada. Others point out that the plan may not apply to some of the most expensive drugs, including insulin.Skeptics on both sides of the border argue that the plan doesn't address the underlying issues with the American health care system that lead to price differences in the first place. Canada's drugs are cheaper because its government uses price-control measures — something the United States could also do without intervening in another country's pharmaceutical market, they argue.What's next:It's unclear when Americans would be allowed to start importing medicine from Canada if the plan is put into action. The Trump administration may push other plans to lower the cost of drugs in the United States in the near future. The president has reportedly made the issue a key element of his reelection campaig.Perspectives The plan would lead to lower drug prices in the U.S."Not only would patients be able to get cheaper drugs from Canada, but adding the foreign market to the mix could force U.S. drugmakers to lower their U.S. prices to compete." — Myah Ward, Bloomberg  Importing drugs comes with significant safety concerns."Neither the safety nor efficacy of imported medications can be ensured, placing every patient who takes these medications at great risk." — Brooklyn Roberts, The HillThe plan wouldn't have much of an effect on prices in the U.S."The vast majority of drugs Americans take are generics, which cost about the same in the United States as they do in Canada. So the only potential savings from importation will be on a small number of brand-name drugs." — Sally Pipes, ForbesThe plan could result in drug shortages in Canada."If they're importing large quantities of brand-name drugs, that's where we could potentially see a problem. California's got more people than all of Canada. If California wants to import … there goes the entire drug supply, potentially, of Canada." — Joel Lexchin, York University professor to CBCDrug companies would find ways to work around lowering prices in the U.S."The stuff that is for sale in Canada at a relatively low price would cannibalize their sales in the United States. The companies will obviously devise ways to ensure that doesn't happen." — University of Toronto professor Paul Grootendorst to Global NewsAmericans need to solve their own problems."Unlike other developed countries, the U.S. government does not regulate drug pricing. Instead, they support a free market where pharmaceutical companies can charge whatever the market is willing to pay. … Ultimately, Americans need to regulate their own drug prices." — Kelly Grindrod, Toronto Star
It's official: DFW is getting a new route to Tokyo from American  Evan HoopferAmerican City Business Journals•
It's official: DFW is getting a new route to Tokyo from AmericanThe U.S. Department of Transportation officially granted American Airlines two routes to Tokyo International Airport, more commonly known as Haneda, over objections from a competitor. American Airlines Group, Inc. (Nasdaq: AAL) was granted routes to Haneda out of Dallas Fort Worth International Airport and Los Angeles International Airport. Tokyo is also the host city of the 2020 Summer Olympics.
inance
First U.K. Contraction Since Wake of Crisis Raises Brexit Stakes
(Bloomberg) — Follow @Brexit, sign up to our Brexit Bulletin, and tell us your Brexit story.
Britain succumbed to its first economic contraction since the aftermath of the financial crisis, raising the stakes for Boris Johnson's government as it seeks an imminent exit from the European Union.
The unexpected 0.2% decline in gross domestic product during the second quarter — the worst performance since 2012 — provides a foretaste of the potential damage to growth that most economists are warning of if Brexit happens without any transition. The pound fell after the report, sliding to $1.2117 as of 10:17 a.m. in London.
The drop in output means the U.K. is in danger of falling into a technical recession with one more quarterly decline. It also highlights the predicament of the Bank of England, whose central forecasts see the need for gradual interest rate increases. Governor Mark Carney says the reaction to a no-deal Brexit, which would push down the pound and drive up inflation while further denting growth, could go in either direction.
"Underlying momentum remains lukewarm, choked by a combination of slower global growth and Brexit uncertainty," said Alpesh Paleja, lead economist at the Confederation of British Industry. "As a result, business sentiment is dire."
The abrupt drop came as many firms ran down inventories built up ahead of the original March 29 deadline to leave the European Union. Stock levels fell by 4.4 billion pounds ($5.3 billion), knocking 2.15 percentage points off GDP.
What Bloomberg's Economists Say
"The U.K.'s GDP figures for the second-quarter made for dismal reading. But they probably exaggerate the loss of growth momentum since the start of the year. Part of the weakness reflects one-time factors that won't be repeated. Growth is likely to return in 3Q albeit to unspectacular rates."– Dan Hanson, Bloomberg EconomicsClick here to read the full note.
The economy was also hit by auto factories bringing forward summer maintenance shutdowns to April to avoid the threat of supply disruptions around the original Brexit deadline.
Manufacturing, which enjoyed a bumper first quarter, shrank 2.3% in the following three months, the most since 2009.
The GDP figures are the first since Johnson became premier last month, vowing to take Britain out of the EU by Oct. 31, with or without a deal to cushion the blow.
In a series of television interviews after the release, new Chancellor of the Exchequer Sajid Javid sought to play down the numbers, saying they "were not a surprise in any way," and that he doesn't expect a recession "at all."
"What we saw in the first quarter was perhaps sort of higher results than otherwise because businesses were stockpiling for the Brexit that was to be, and now they're using those stockpiles, so we're seeing volatility in the figures," he said.
Johnson is pledging a fiscal boost to help the economy cope with Brexit. Investors are currently pricing in a 25-basis-point reduction in BOE interest rates for January 2020. The U.S. Federal Reserve has starting cutting rates and the European Central Bank has pledged more stimulus as soon as September.
"The global backdrop is certainly the big drag in terms of growth at the moment, and Brexit uncertainty weighing on business investment," said George Brown, an economist at Investec Bank Plc. "'There's certainly an element of inventory overhang," but surveys suggest "underlying growth is a lot weaker."
Get More:
Household spending rose a stronger-than-forecast 0.5% in the second quarter amid low unemployment and rising wage growth.Business investment resumed its downward trend with a 0.5% decline. It fell 1.6% from a year earlier. Government spending rose 0.7%, possibly boosted by spending on the health service.In June alone, services stagnated for a fourth month; construction fell 0.7% as wet weather put projects on hold; and industrial output fell 0.1%, with manufacturing slipping 0.2%The drag from stockpiling last quarter was offset by net trade, which added 3.5 percentage points to growth as the trade deficit narrowed sharply.The total deficit including services was in surplus, but still in deficit when unspecified goods including non-monetary gold are excluded.(Adds Javid comments in ninth paragraph.)
–With assistance from David Goodman and Jessica Shankleman.
To contact the reporters on this story: Andrew Atkinson in London at a.atkinson@bloomberg.net;Jill Ward in London at jward98@bloomberg.net
To contact the editors responsible for this story: Fergal O'Brien at fobrien@bloomberg.net, Brian Swint, Lucy Meakin
For more articles like this, please visit us at bloomberg.com
©2019 Bloomberg L.P.
World A floating nuclear plant in Russia features a gym, bar, and pool. An expert calls it 'Chernobyl on ice.'
Aria Bendix,Business Insider•
Russia floating power plantDmitri Lovetsky/AP Photo
A floating nuclear power plant in Russia will soon begin a 4,000-mile journey across the Arctic Ocean.
Construction of the plant started more than a decade ago. This month, it's expected to arrive in the port of Pevek, where it will supply power to a remote region of Russia.
Environmental activists worry about the perils of floating nuclear reactors, since they could be vulnerable to climate-related disasters such as tsunamis.
A nuclear-energy expert at Greenpeace likened the floating station to "Chernobyl on ice."
For more than a decade, the Russian town of Pevek has anticipated the arrival of a floating nuclear-power plant.This month, it is finally slated to arrive, but first the plant must complete a 4,000-mile ocean voyage.The plant, called Akademik Lomonosov, is expected to supply electricity to an estimated 100,000 homes in a remote, far-east region of Russia — Pevek is an Arctic port and the nation's northernmost town. It's currently in the city of Murmansk, following several years at the St. Petersburg shipyard, where it was loaded with two nuclear reactors and outfitted with a pool, gym, and booze-free bar.But some environmentalists are concerned that the floating plant could fall victim to a disaster like a tsunami, resulting in a possible nuclear catastrophe."It's riskier than running an ordinary nuclear-power station, and Russia has a checkered past when it comes to ordinary power stations," Jan Haverkamp, a nuclear-energy expert at the environmental nonprofit Greenpeace, told Business Insider.
Last year, Haverkamp published a blog post that referred to the floating plant as "Chernobyl on ice." Haverkamp said he borrowed the phrase from an article published in the Finnish newspaper YLE, because he thinks Russia may be ignoring safety concerns about the plant.The floating plant will journey 4,000 miles across the Arctic Ocean Dmitri Lovetsky/AP Photo
Russia eventually hopes to mass-produce similar floating power plants for other nations.
But nuclear plants have faced increased scrutiny since the Chernobyl accident in 1986 forced the evacuation of an entire city and caused widespread contamination across Europe.
Read more: Russia still has 10 Chernobyl-style reactors that scientists say aren't necessarily safeMany environmentalists still worry that the safety risks of nuclear reactors might outweigh the benefits of renewable nuclear power. Nuclear energy generation creates less air pollution and carbon emissions than its fossil-fuel counterparts, and releases more energy using less fuel. Nuclear plants are also cheaper to operate than coal or natural gas plants.
However, Haverkamp's biggest concern about the floating plant is the upcoming 4,000-mile trek required to transport the barge to Pevek. The journey, he said, is "potentially hazardous" due to the rocky coastline that borders the Arctic Ocean.
In 2012, a violent storm in the Arctic Ocean caused a Shell drilling rig to break free of its tow ship and run aground off the coast of Alaska. The rig avoided a fuel spill, but the incident incited questions about the safety of towing a fuel-laden vessel across ocean waters.
Haverkamp said that event shows what could go wrong with Akademik Lomonosov.If the floating nuclear power plant were to crash into coastal rocks, he added, its fuel could melt and trigger an explosion once it hits the water. From there, radioactive material could spew into the atmosphere.A 'nuclear Titanic' Russia's nuclear energy company, Rosatom, has previously claimed that the floating plant is "invulnerable to tsunamis."
The plant's deputy director recently told CNN that the station comes equipped with a backup system that can cool the reactors without electricity for 24 hours.But environmentalists worry that it could take longer than a day for emergency-response teams to reach the barge. Because of that, Haverkamp said, a Greenpeace colleague of his likened the station to a "nuclear Titanic.""They've literally said it's unsinkable and those are the very words that were used for the Titanic," Haverkamp said. "For me, that is an alarm light flashing very brightly. It's overconfidence, and overconfidence is not good for ultra-hazardous activities."
Iceburg arctic oceanMikhail Varentsov/Shutterstock Haverkamp is also concerned about the stockpiling of spent nuclear fuel onboard the vessel. The floating station intends to keep its spent fuel for up to 12 years, since it won't have easy access to a nuclear-waste storage facility. That could raise the risk of more damage in the event of an accident or natural disaster.Rosatom has pushed back on these claims, though."Greenpeace has not presented any meaningful scientific evidence to support any unaddressed risks or shortcomings of the plant's design, which is based on tried and tested technology," a Rosatom representative said in a statement.Haverkamp said he doesn't foresee another disaster on the scale of Chernobyl, but added that sees lingering similarities between Russia's behavior then and now.
"You cannot compare the force that came out of Chernobyl with what could come out here, but what you can compare is the attitude that was shown during the construction of this floating nuclear power station," he said. "Rosatom has done its very best to keep independent oversight at arm's length during the entire construction phase. That is a recipe for catastrophe."
Haverkamp said there haven't been enough independent inspections to make him feel confident about the plant's safety. And plant's planned remote location could make future oversight even more lax, he added.
"Chernobyl went wrong because they tried out something that they hadn't pulled off properly beforehand," Haverkamp said. "I don't know what's going to happen here."
Actualités Emmanuel Macron : ce geste élégant pendant ses vacances à Brégançon
 Gala.fr jeu. 8 août 12:07 UTC+3 
À Brégançon, Emmanuel et Brigitte Macron ont un seul mot d'ordre : la discrétion. Il n'empêche que certaines informations fuitent au sujet de leur séjour. Après s'être octroyé une visite privée à l'Abbaye du Thoronet, le couple présidentiel a profité de plaisirs simples dans le Var. Des sorties en mer, une initiation au jet-ski pour le chef de l'État, farniente pour la Première dame ou encore dîner dans une pizzeria du Lavandou… Une visite que le propriétaire des lieux n'est d'ailleurs pas près d'oublier : « Le Président est très bienveillant et agréable. Il a salué chacun des membres du personnel, ce qui nous a beaucoup touchés. C'est une visite dont on se souviendra », a assuré le restaurateur dans les pages de Nice Matin. Là-bas, Emmanuel et Brigitte Macron se sentent comme chez eux (il se murmure que la chambre du couple serait particulièrement au goût de la Première dame).Emmanuel Macron profite ainsi de son séjour varois pour montrer qu'il est « proche du peuple » et pas totalement déconnecté. Ce lundi 5 août, une commune du Var justement, a été touchée de près par un drame, comme le rapporte Le Parisien. Jean-Mathieu Michel, le maire de Signes a été renversé par une fourgonnette. Il est mort dans « l'exercice de ses fonctions ». « Même si seul le conducteur est mis en examen, et ce pour « homicide involontaire », ministres et élus ont tous tenu à rendre hommage au métier de maire, à ses grandeurs et ses servitudes », ont précisé nos confrères.Un décès brutal qui a bouleversé
Pèlerinage à la Mecque : en quoi consiste le Hajj ?
Lucile Descamps,
Yahoo Actualités
il y a 12 heures
Le pèlerinage à La Mecque a démarré ce vendredi 9 août. Parmi les rituels, celui de faire 7 fois le tour de la Kaaba.
Le Hajj, pèlerinage annuel à La Mecque, a débuté ce 9 août. Plus de deux millions de musulmans sont attendus dans cette ville d'Arabie Saoudite. Mais en quoi consiste ce pilier de l'islam ?
Ce 9 août, plus de deux millions de musulmans se rendent à La Mecque, en Arabie Saoudite, pour 
démarrer un pèlerinage
 qui durera jusqu'au 14 août. Ce moment "d'union spirituelle" trouve ses origines bien avant la création de l'islam. "C'est une pratique ancestrale", précise Tarek Oubrou, recteur de la mosquée de Bordeaux. "La Kaaba (la maison cubique qui se trouve à l'intérieure de la mosquée de La Mecque, ndlr) accueillait à l'époque des centaines d'idoles". Selon le Coran, c'est après une révélation de Dieu que le prophète Mahomet ne s'est plus tourné vers Jérusalem pour prier mais vers La Mecque, et plus particulièrement vers la pierre noire de la Kaaba. Les idoles ont alors été retirées, et l'endroit est devenu la première mosquée sacrée de l'islam.
Plus de deux millions de musulmans sont attendus à La Mecque pour le pèlerinage annuel
Un pilier de l'islam
Le pèlerinage est l'un des cinq piliers de l'islam et doit, à ce titre, être accompli au moins une fois par les musulmans, si leurs capacités mentales, physiques et financières le leur permettent. Il se déroule entre le 6 et le 13 du Dhoul Hijja, le dernier mois du calendrier lunaire.Le pèlerinage démarre à l'arrivée en Arabie Saoudite. Les croyants doivent se rendre, selon leur provenance, dans l'un des six points de passage obligatoires du pays, appelés Miqat. À partir de là, les hommes portent l'Ihram, un ensemble de deux pagnes blancs. "Une tenue simple, sans couture", indique le recteur de la mosquée de Bordeaux. Les femmes doivent quant à elles avoir la tête et les mains couvertes.
DIAPO – 
Les plus belles images du pèlerinage à La Mecque
Les musulmans prononcent ensuite des paroles sacrées qui lancent symboliquement leur pèlerinage. Plusieurs rituels ont ensuite lieu dans les jours suivants, selon le type de Hajj choisi. Il en existe trois : Tamattou, Al Qiran et Al Ifrâd.Des rituels obligatoiresParmi les rites obligatoires : la circumambulation, qui consiste à effectuer sept tours autour de la Kaaba en touchant la pierre, après la prière de midi. Comme l'explique Tarek Oubrou, "le sept représente l'infini, et les tours ont une symbolique cosmique".Les pèlerins doivent aussi faire sept allers-retours entre Al-Safa et Al-Marwah, des lieux proches de la grande mosquée de La Mecque. Comme le précise Tarek Oubrou, "c'est en hommage à Hajar, qui cherchait de l'eau pour son fils Ismaïl en courant entre ces deux endroits".Autre obligation, les rituels autour du Mont Arafat et la lapidation d'une stèle, "pour commémorer la mémoire d'Abraham"
.La situation géopolitique complique la tâche
Réaliser le pèlerinage à La Mecque n'est pas une mince affaire. Outre l'aspect financier, la géopolitique entre en jeu. Le nombre de visas délivrés par l'Arabie Saoudite est désormais limité. Et 
les conflits internationaux
 peuvent rendre la tâche encore plus ardue. Des restrictions imposées par le pays d'accueil ont par exemple 
empêché les Qataris
 d'effectuer leur pèlerinage pendant deux ans.  D'autre part, comme le précise le ministère du Hajj d'Arabie Saoudite, il est nécessaire de passer par une agence de voyage accréditée pour être en droit d'effectuer son pèlerinage. Faute de quoi, l'accès peut être refusé.
World
Damascus rejects Turkey-US plan, Kurds give guarded welcome
1 / 4
US and Turkish troops launched joint patrols in the Manbij area of northern Syria in November last year in a similar bid to allay tensions between Ankara and the Kurds
US and Turkish troops launched joint patrols in the Manbij area of northern Syria in November last year in a similar bid to allay tensions between Ankara and the Kurds (AFP Photo/TURKISH DEFENCE MINISTRY PRESS OFFICE)
Damascus (AFP) – Damascus said Thursday it strongly rejects a proposed US-Turkish buffer zone for northern Syria, blaming the "aggressive" project on Syria's Kurds, who gave the proposal a guarded welcome.
Turkish and US officials agreed on Wednesday to establish a joint operations centre to oversee the creation of a safe zone to manage tensions between Ankara and US-backed Kurdish forces in Syria.
No details were provided on the size or nature of the safe zone, but the deal appeared to provide some breathing room after Turkey had threatened an imminent attack on the Kurdish People's Protection Units (YPG), which control a large swathe of northern Syria.
"Syria categorically and clearly rejects the agreement between the American and Turkish occupiers on the establishment of a so-called safe zone" in northern Syria, a foreign ministry source told state news agency SANA.
"Syria's Kurds who have accepted to become a tool in this aggressive US-Turkish project bear a historical responsibility," the source added, urging Kurdish groups to return to the fold.
Turkey has already carried out two cross-border offensives into Syria in 2016 and 2018, the second of which saw it and allied Syrian rebels overrun the Kurdish enclave of Afrin in the northwest.
The deployment of Turkish troops and their proxies in Afrin has drawn accusations of a Turkish military occupation.
Damascus said the planned buffer zone further east serves "Turkey's expansionist ambitions," accusing both Ankara and Washington of violating its sovereignty.
– 'New approach' –
A senior Syrian Kurdish official gave the Turkish-US agreement a guarded welcome.
"This deal may mark the start of a new approach but we still need more details," Aldar Khalil told AFP on Thursday.
"We will evaluate the agreement based on details and facts, not headlines."
Turkey's foreign minister on Thursday said the deal was "a very good start".
But Mevlut Cavusoglu said his country would not allow the agreement to turn into a "delaying manoeuvre".
"The accord must be implemented," he said at a press conference in Ankara, without giving a specific timeline.
Wednesday's deal describes the planned safe zone as a "peace corridor" that can "ensure that our Syrian brothers will be able to return to their country".
Turkey has the highest number of Syrian refugees in the world at more than 3.6 million, and has faced increasing pressure domestically to speed up repatriations to peaceful parts of Syria.
While the Kurds have largely stayed out of the conflict between various rebel groups and the Damascus government, they have taken advantage of the war to set up an autonomous region in the northeast.
Across the border, Turkey has eyed this push for increased independence with suspicion, regarding its Kurdish leaders as "terrorists".
Ankara views the YPG as an offshoot of the Kurdistan Workers Party (PKK), which has fought a bloody insurgency inside Turkey for the past 35 years.
– Turkish troops –
But the YPG has been a key US ally in the fight against the Islamic State group.
As the fight against IS winds down in northeastern Syria, the prospect of a US military withdrawal has stoked Kurdish fears of a long threatened Turkish attack.
To allay these fears, Washington earlier this year proposed setting up a 30-kilometre (18-mile) "safe zone" on the Syrian side of the border.
The Kurds have agreed to a buffer zone, but disagree with the Turks on how wide it should be, or who should control it.
Earlier this week, Khalil said the Kurds had agreed to a buffer zone around five kilometres wide, but Turkey rejected the proposal.
He also said the Kurds had opened channels with the Russia-backed government, but it had not yet "made its true position clear despite the urgency of the situation".
Wednesday's deal comes at a delicate moment between Turkey and the US, who have grown increasingly estranged over a number of issues, including American support for the Kurds and Turkey's decision to buy a Russian S-400 missile defence system.
It is also a tricky moment for Erdogan domestically after his party lost control of Istanbul and Ankara in municipal elections this year, and has seen high-profile defections.
In recent weeks, Turkish media have repeatedly shown images of military convoys heading for the border area, carrying equipment and fighting units.
Pro-democracy activists kicked off three days of rallies at Hong Kong's airport on Friday, hoping to win international support from arriving passengers as the protests that have rocked the city enter a third month.
The rallies, promoted on social media with a mock boarding pass reading "HK to freedom" and "warm pick-up to guests to HK", will be the second time protesters have brought their message to the international travel hub.
The gatherings, expected to run over three days, have not been authorised, but the last demonstration at the airport passed off peacefully without causing flight disruptions.
The protests that began in opposition to a plan to allow extradition to mainland China have morphed into a broader movement seeking to reverse a slide in freedoms in the city.
Demonstrators have staged protests throughout Hong Kong and held rallies for families, older people, lawyers and civil servants, in a bid to show their demands have broad and enduring support.
They have announced a series of marches and protests across the city over the weekend, including a "families' rally".
Extra security measures have been put in place at the airport ahead of the rallies, with authorities preventing anyone without a boarding pass from entering the check-in area. The protesters are expected to congregate in the arrivals area.
Hong Kong's Airport Authority said Thursday it was aware of the planned rallies but "the airport will operate normally."
Thousands of Hong Kongers, including flight attendants, rallied at the airport on July 26 to "educate" visitors about the protests that have gripped the international finance hub.
Visitors were greeted by a sea of black-clad protesters chanting anti-government slogans, holding banners and handing out flyers — the information desk plastered in a tapestry of colourful sticky notes.
The weeks of demonstrations pose the biggest threat to Beijing's authority since Hong Kong's handover from the British in 1997.
And as protests have become increasingly violent, several countries have upgraded their travel warnings for Hong Kong, with Washington this week urging its citizens to "exercise increased caution."
Asia stocks climb but tensions linger
Asian markets rose Thursday on bargain-hunting by investors following a week of heavy losses due to anxiety over the deepening US-China trade war.
But tensions remained high, prompting a rush on safe-haven assets such as bonds, gold and the Japanese yen.
Bond yields plunged on Wednesday, with the benchmark US government 10-year note dropping to multi-year lows, while French and German yields, already in negative territory, set new record lows.
In Tokyo, the Nikkei gained 0.4 percent, after shedding more than 1,000 points in a four-day losing streak.
But investors stayed away from active buying with the yen remaining strong, raising worries for Japanese exporters' earnings and the impact on their repatriated profits.
Shanghai also climbed 0.9 percent, enjoying a boost after global index compiler MSCI announced it would increase the weighting of Chinese shares in its indices from 10 to 15 percent from late August.
Hong Kong rose 0.5 percent while Seoul added 0.6 percent. Sydney gained 0.8 percent but Singapore dropped 0.6 percent.
European stocks joined the rally as well, with London edging up 0.2 percent Thursday morning. Frankfurt added 0.8 percent while Paris jumped 1.1 percent.
– Yuan fix –
Equities had tumbled Monday after Beijing allowed the yuan to slide sharply against the dollar following US President Donald Trump's announcement that he would impose 10 percent tariffs on another $300 billion in Chinese goods starting September 1.
But Beijing's move to stabilise the yuan after both onshore and offshore rates dropped below the key 7.0 per dollar threshold helped to ease investor fears.
Even though the central bank set the currency's central parity rate above 7.0 for the first time in 11 years on Thursday, analysts were unruffled, saying the yuan fix was stronger than expected.
"The fact that it's only gone through 7 today and it didn't on Tuesday really tells you that they are signalling to the market that we don't want the currency to depreciate too quickly", said Julian Evans-Pritchard, senior China economist at Capital Economics.
"They don't want a very sharp, sudden move weaker that could result in a big jump in capital outflow. So they are trying to effectively manage the process and engineer a gradual depreciation," he told AFP.
Multiple rounds of tit-for-tat tariffs between the United States and China have hammered trade and raised concern for the health of the global economy.
Negotiators are set to reconvene in Washington in early September for another round of talks after last week's discussions in Shanghai, but hopes for an agreement are low.
– Rate cuts expected –
Interest rate cuts by central banks in India, Thailand and New Zealand and weak German industrial data underscored fears about economic growth being at risk around the world.
Markets now believe that key central banks will cut interest rates further to stave off, or at least alleviate, any coming recession, analysts said, warning however that they had limited opportunity to act.
"Lower rates have been a factor in the bull market, but at this point there is not a lot of room to cut from central banks," said Alfonso Esparza, senior market analyst at OANDA.
"Central banks around the globe have turned dovish and the moves by three central banks on Wednesday was a reminder of how limited the runway for easing is around the globe," he added.
– Key figures around 0800 GMT –
Tokyo – Nikkei 225: UP 0.4 percent at 20,593.35 (close)
Hong Kong – Hang Seng: UP 0.5 percent at 26,120.77 (close)
Shanghai – Composite: UP 0.9 percent at 2,794.55 (close)
London – FTSE 100: UP 0.2 percent at 7,215.29
Pound/dollar: UP at $1.2171 from $1.2140 around 2100 GMT
Euro/pound: DOWN at 92.16 pence from 92.26 pence
Euro/dollar: UP at $1.1216 from $1.1203
Dollar/yen: DOWN at 106.09 yen from 106.23 yen
Brent North Sea crude: UP $1.29 at $57.52 per barrel
West Texas Intermediate: UP $1.48 at $52.57 per barrel
New York – Dow: DOWN 0.1 percent at 26,007.07 (close)
World
The phone and internet blackout in Kashmir is so total that locals reportedly don't know India rewrote their constitution
Mukesh Gupta/Reuters
India has shut off internet and phone services in the disputed region of Kashmir since the start of the week, and imposed severe travel restrictions.
The blackout came as India changes its constitution to revoke the Kashmir region's substantial autonomy from India's central government.
While blackouts are common in Kashmir, reports say this is the most crippling yet.
Local journalists are unable to report, and many residents are so shut off that they don't know about the constitutional changes behind the blackout, local journalist Fahad Shah wrote in TIME.
Sick people are also struggling to call ambulances, which are in turn having trouble traveling to hospitals, Shah said.
The communications blackout in Kashmir is so total that some people there don't even know that India rewrote its constitution to strip the region of its political autonomy, local reporters said.
Indian authorities shut off the internet, cellphone, and landline services in the disputed region on Monday, and have yet to restore them.
Security services have also blocked off many parts of the region and banned public gatherings.
Authorities have also detained at least 300 local politicians and pro-independence activists to prevent protests, Reuters reported, citing local police, and media.
Channi Anand/AP
The blackout was imposed as India's parliament annulled the two articles in its 72-year-old constitution allowing the state of Jammu and Kashmir to make its own laws and prevent outsiders from living and working freely in the region.
Critics believe that by allowing Indians to buy property in the mostly-Muslim region, Indian Prime Minister Narendra Modi is altering the state's demographic makeup to bolster Indian influence.
In Kashmir many residents yearn for independence, or rule by neighboring Pakistan, which is Muslim-majority.
Read more: India shut off the internet and ordered tourists to leave the hotly contested Kashmir region, in a risky bid to end its quasi-independence
Caren Firouz/Reuters; Altaf Hussain/Reuters
Blackouts are relatively common in Kashmir — India cut off the state's internet 134 times last year. The blackouts are a tool to stop people from organizing protests, and to control the spread of information that Indian authorities deem unsavory.
Some have been able to bypass the internet ban: India's state-owned BSNL telcom provider sold satellite phones to journalists on the ground for 100,000 rupees (around $1,400) so they could continue reporting. However, most people remain unable to communicate with the outside word.
Security services have placed checkpoints all around the region, and there is no way to get past them, said Muzamil Jaleel, an Indian Express editor who was in Kashmir at the time of the blackout.
But according to local journalists, the blackout this time is the most severe they have known.
Danish Ismail/Reuters
Because most Kashmiris can't access the internet or their phones, and therefore the news, many do not know about the changes to their constitution which are behind the blackout, Kashmiri journalist Fahad Shah wrote in a dispatch for TIME.
Many local outlets don't have the means to report the news, and some news sites are either not updated or completely blank.
Police are also restricting journalists' movements in the region by occupying their offices and blocking key roads, Al Jazeera reported.
Greater Kashmir
Because phones don't work, locals are also unable to call ambulances when they're sick, Shah said.
Those who are able to find ambulances have also had their journeys to the hospital disrupted due to the roadblocks, he said.
"Kashmir has been turned invisible even inside Kashmir," Muzamil Jaleel, an Indian Express editor who was in Kashmir at the time of the blackout, wrote on Tuesday.
Sagarika Ghose, a consulting editor with The Times of India, said: "Other than blocking journalists' access, the government has humiliated the people of Kashmir by shutting down their entire state."
Danish Ismail/Reuters
Some residents have defied the informal curfews to stage protests against India, with many of them erupting into violence.
Reuters, citing an anonymous police source, reported Tuesday that at least 30 protests involved stones or bricks being thrown, though details were scarce.
KM Chaudary/AP
Pakistan on Wednesday cut off all trade and downgraded bilateral ties in response to its actions in Kashmir, and has turned to US President Donald Trump and the United Nations for help.
However, India insists that the Kashmir issue is between India and Pakistan only, and refuses to resolve the crisis with third-party members.
On Wednesday, Indian diplomats accused Pakistan of trying to "present an alarming picture to the world" of the situation in Kashmir.
Read more: 2 weeks ago Trump casually offered to mediate the Kashmir dispute between India and Pakistan. Now the situation is blowing up, he's nowhere to be seen.
NOW WATCH: What El Chapo is really like, according to the wife of one his closest henchman