Politics Reports: Secretary of State Mike Pompeo was on the Trump-Ukraine phone call
Read: The full declassified text of the Trump whistleblower complaint
As part of their formal impeachment inquiry, House Democrats issued a subpoena to Pompeo on Friday to obtain any documents related to the State Department's role in arranging conversations between Trump's personal lawyer Rudy Giuliani and Ukraine officials.
Giuliani posted a screenshot of a text message on Twitter last week that appeared to come from the now-resigned State Department special envoy to Ukraine, Kurt Volker. That message and allegations in the whistleblower complaint suggest that the State Department had a hand in Giuliani's role with Ukraine.
"I never talked to a Ukrainian official until the State Department called me and asked me to do it," Giuliani told Fox News last week. "And then I reported to every conversation back to them."
Giuliani was subpoenaed on Monday, and the House has also planned depositions with five State Department officials for the next two weeks as the impeachment probe progresses.
The whistleblower complaint lists another top State Department official, T. Ulrich Brechbuhl, as being on the call.
"Here's what I'll say this morning about the engagement of the State Department," Pompeo told reporters last week, before he says he read the full complaint. "To the best of my knowledge, so from what I've seen so far, each of the actions that were undertaken by State Department officials was entirely appropriate and consistent with the objective that we've had certainly since this new government has come into office."
Updates on impeachment: Whistleblower to testify, lawyers' safety concerns and Trump tweets
Contributing: Deirdre Shesgreen
This article originally appeared on USA TODAY: Ukraine: Secretary of State Mike Pompeo was on the Trump phone call
Rudy Giuliani Laughs At Subpoena On Fox News: 'They Seem To Forget That I'm A Lawyer'  Nick Visser,HuffPostWhat's Going On With Rudy Giuliani?Just hours after being issued a subpoena from top congressional Democrats, Rudy Giuliani appeared on Fox News to defend his involvement with Ukraine, actions that have become central to an impeachment inquiry of President Donald Trump. Trump's personal attorney appeared on Sean Hannity's program as part of his latest effort to distance himself from the political whirlwind surrounding Trump's July 25 call with the Ukrainian president.During the "Hannity" segment, Giuliani appeared to question the motives behind the subpoenas while defending his communications with officials in Ukraine about investigating former Vice President Joe Biden, a top Trump rival in the 2020 presidential campaign. He also reminded viewers that he was a professional lawyer as he pushed unfounded conspiracy theories targeting a spate of his boss's political rivals."These people are such intellectual heavyweights, I don't know if I could handle Schiff," Giuliani said Monday, appearing to joke about Rep. Adam Schiff (D-Calif.), the chair of the House Intelligence Committee who recently sent him a subpoena.Giuliani went on to push unfounded claims about the Biden family, Trump's 2016 political rival Hillary Clinton and former President Barack Obama."Wake up, Democrats. You are covering up corruption, and by the time this is over, you're going to be the party of corruption," Giuliani said. Earlier in the show, he noted that lawmakers "seem to forget that I'm a lawyer. If I were defending a terrorist, they'd be going crazy that I was called before a committee."

Aaron Rupar@atrupar Giuliani begins his Hannity interview by pushing a conspiracy theory about Obama and Hillary Clinton colluding with Ukraine to dig up dirt on Trump in January 2017 — which doesn't make much sense since the presidential election had come and gone by then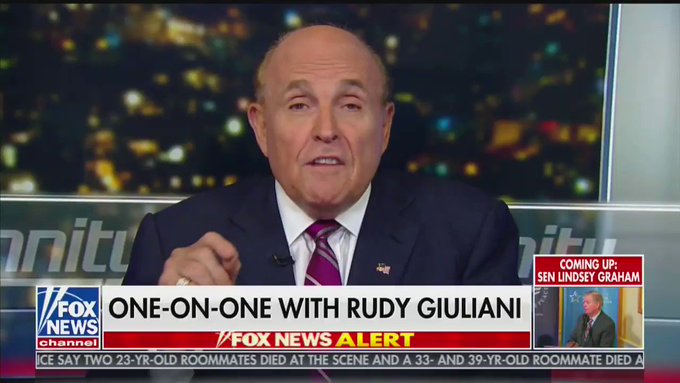 The chairs of multiple House committees subpoenaed Giuliani and three of his associates Monday as part of the inquiry, demanding he produce communications and other documents related to his work for the president. The subpoena pertains to material from Jan. 20, 2017, the day before Trump's inauguration, to the present."Our inquiry includes an investigation of credible allegations that you acted as an agent of the president in a scheme to advance his personal political interests by abusing the power of the office of the president," said the letter, signed by Schiff and two other Democratic congressmen: Eliot Engel (N.Y.), chair of the House Foreign Affairs Committee, and Elijah Cummings (Md.), chair of the House Oversight and Reform Committee.Giuliani must comply with the subpoena by Oct. 15, although the former New York City mayor has already pushed back on its merits, claiming on Twitter that it raised "significant issues concerning legitimacy."
I have received a subpoena signed only by Democrat Chairs who have prejudged this case. It raises significant issues concerning legitimacy and constitutional and legal issues including,inter alia, attorney client and other privileges. It will be given appropriate consideration.
16.3K people are talking about this
House Democrats are investigating Giuliani's role in the unfolding scandal over Trump's call with Ukrainian President Volodymyr Zelensky as part of their impeachment inquiry.
During the July conversation, Trump repeatedly pressured Zelensky to investigate Biden and his son Hunter Biden, who served on the board of a Ukrainian energy company for five years. A reconstruction of the call released last week showed Trump asking Zelensky for a "favor" shorty after Zelensky brought up millions in military aid the U.S. had appropriated for Ukraine.
Neither Biden has been accused of any wrongdoing, despite Giuliani's claims.
Giuliani appears to be one of the central figures related to that favor, which Democrats have called an unprecedented quid pro quo for political dirt. The attorney is mentioned multiple times in a formal whistleblower complaint about the call, and he has admitted in television interviews that he met with Ukrainian operatives. But Giuliani has recently said he did so at the behest of the State Department. Trump has also denied any impropriety and moved to discredit the unnamed whistleblower.
Secretary of State Mike Pompeo has also been issued a subpoena by House Democrats.
Giuliani's whirlwind media appearances have prompted frustration from Democrats in recent days, including from the Biden campaign. The former vice president's staff recently asked news executives to stop booking Giuliani on their shows, saying he was using the appearance to spread "false, debunked conspiracy theories."
"Giuliani is not enlightening your viewers in any way. He's not offering a unique or informed perspective," the Biden camp wrote in the letter last week. "He's certainly not introducing new facts, since his relationship with the truth is casual at best."
House Democrats have, however, pointed to the lawyer's own statements on CNN to back up their request for the subpoena.
"You stated more recently that you are in possession of evidence ― in the form of text messages, phone records, and other communications ― indicating that you were not acting alone and that other Trump Administration officials may have been involved in this scheme," they wrote.
Politics Giuliani says he will cooperate with Trump impeachment inquiry — only if the president gives him the green light
As Senate Democrats came out in support of the inquiry, Illinois Sen. Dick Durbin said Tuesday there's an expectation that the "Trump White House will stonewall" congressional investigators.
Russia: Our approval is needed to publish Trump-Putin calls
MOSCOW (AP) — The Kremlin said Monday that transcripts of calls between U.S. President Donald Trump and Russian President Vladimir Putin can only be published by mutual agreement.
The White House has severely restricted the distribution of memos detailing Trump's calls with foreign leaders, including Putin.
Asked about Congress' push for the publication of Putin-Trump calls, Kremlin spokesman Dmitry Peskov responded that "the publication is possible only on mutual accord."
"If we receive some signals from the U.S., we will consider it," he said in a conference call with reporters.
Peskov noted that the "diplomatic practice doesn't envisage such publications," adding that the issue is U.S. internal business.
The rough transcript of Trump's call with Ukrainian President Volodymyr Zelenskiy, which was released by the White House, is now the focus of a U.S. impeachment probe. It showed Trump urging Ukraine to "look into" his Democratic political rival Joe Biden.
The publication of the call, in which the presidents made critical comments about German Chancellor Angela Merkel and French President Emmanuel Macron, has hurt Ukraine's efforts to forge closer ties with the European Union and drawn acerbic comments from other Russian officials and lawmakers.
Speaking Sunday on state television, Russian Foreign Ministry spokeswoman Maria Zakharova said that the release of Trump-Zelenskiy call by the White House should put other heads of states on guard in conversations with the American president.
"Everyone understands after this scandal that it's dangerous to make calls and conduct talks with Washington," she said.
The Democrats' push for the publications of Trump-Putin calls comes amid a bitter strain over Russia's meddling into the U.S. 2016 presidential election, which the Kremlin has squarely denied and Trump has sought to play down.
Putin and his lieutenants derided U.S. special counsel Robert Mueller's investigation of Kremlin interference in the 2016 presidential election, casting it as a failure and shrugging off Mueller's exposure of evidence of Russian meddling in the vote.
Mueller found that there wasn't enough evidence to establish a conspiracy between Trump's campaign and Russia, but he charged 12 Russian military intelligence officers with breaking into Democratic Party computers and the email accounts of officials with Hillary Clinton's campaign.
North Korea complains at UN about US 'provocations' Associated PressUN General Assembly North Korea Kim Song, chair of the delegation of North Korea, addresses the 74th session of the United Nations General Assembly, Monday, Sept. 30, 2019. (AP Photo/Richard Drew)UNITED NATIONS (AP) — North Korea decried the stalled state of its nuclear standoff with the United States and told the international community Monday that the fault lies with Washington's "political and military provocations.""It depends on the U.S.," North Korean Ambassador Kim Song said, whether the negotiations "will become a window of opportunity or an occasion that will hasten the crisis."Speaking at the U.N. General Assembly's major annual gathering, he complained that the U.S. and South Korea are failing to follow through on separate summit pledges."The situation on the Korean peninsula has not come out of the vicious cycle of increased tension, which is entirely attributable to the political and military provocations perpetrated by the U.S.," the ambassador said.Negotiations between Washington and Pyongyang have apparently been frozen since a summit between Trump and leader Kim Jong Un broke down in February, though Trump and Kim met in June at the Korean border in an effort to push things forward. Trump became the first U.S. president to set foot in North Korea.Trump said last week that another summit meeting with Kim "could happen soon" but didn't elaborate.
Pyongyang wants relief from crushing sanctions imposed over its push for nuclear-armed missiles that can viably target the U.S. mainland, but Washington wants stronger nuclear disarmament steps first.
Perhaps hoping for a thaw, both nations have struck more harmonious tones on the world stage than at the General Assembly two years ago, when Trump belittled Kim as "Rocket Man" and threatened to "totally destroy" his country. In response, North Korea issued a rare direct statement from Kim, vowing to "tame the mentally deranged U. S. dotard with fire."
In advance of Monday's speech, North Korea's foreign ministry said Friday that the U.S. had failed to follow through on summit agreements but that the North was placing hope in the U.S. president's "wise option and bold decision."
North Korea complains that the U.S. has boosted sanctions and resumed U.S.-South Korean military drills that Pyongyang has long decried. The North's U.N. ambassador called on Seoul on Monday to "put an end to the big- power worship and the policy of dependence on foreign forces."
Guess Who Might Want to Purchase Russia's Powerful Armata Tank?
Key point: Russia is always looking for buyers of its advanced military technology.
While Russia's next generation Armata has not yet officially entered service, buzz has already been created on what countries other than Russia might field it.
In 2018, Russians are no stranger to cooperative weapons development (as seen in the Brahmos missile) and even offering to export products before they are finished (as seen with the Su-57).
What countries might field the Armata in the future? Here is a few ideas:
1. India:
India is looking to be the primary export partner for the T-14 Armata, with the Armata fulfilling the requirements for India's FRCV open contract.
Other tanks that could compete against the Armata within the FRCV contract requirements are the Korean K2 Black Panther and Ukrainian BM Oplot. Most current Western tanks like the Leopard 2A7 and M1A2 Abrams are too heavy for Indian terrain.
The Armata also faces domestic opposition in the Arjun Mk. 2, but it's unsure if the latest version of the Arjun can overcome the poor reputation and controversies of its predecessor.
2. China:
Despite its own burgeoning arms industry, China continues to acquire advanced Russian military equipment such as the Su-35S and the S-400.
In doing so, it's continuing a relationship that began in the 1990s in which China buys expensive and close to cutting edge equipment from Russia then incorporates its features into its own products, as it has done with the J-11B and HQ-9.
As such, China will likely try to buy Armatas, if only in limited numbers to evaluate them, adopt what technology they think is good, and perhaps produce their competing version of the Armata for export.
3. Algeria:
Algeria has a long standing defense relationship with Russia and fields some of the most advanced Russian weapons in its military. They operate T-90s, S-50, and Su-30MKAs, which are an advanced variant of the Su-30.
They even have bought more recent Russian developments such as versions of the BMPT infantry support tank and Yak-130 fighter trainer.
Russia appears to trust them as a partner in advanced weapons development programs, and has asked them to be partners in the PAK FA (Su-57) project and appears to be willing to export the advanced fighter to them.
Algeria acquiring Armatas would ensure their supremacy as one of the most powerful militaries in their region and the Maghreb, and even Africa. However, given the large number of already advanced (for the region) T-90s they field, it's unlikely Algeria will acquire more than a handful of Armatas due to the expensive cost.
4. Egypt:
Similar to Algeria, Egypt has gravitated towards purchasing Russian equipment recently, including T-90s and MiG-35s. Interestingly, both Egypt and Iraq have shifted from using U.S.-made export versions of the Abrams back to Russian-manufactured armor in their recent T-90 purchases.
For Egypt, this ends an almost thirty year relationship with the United States, in which they first bought M60 Pattons and then M1A1 export Abrams. Despite the recent pivot towards Russian products, Russia appears to trust Egypt and has offered the Su-57 to export to them as well.
As such, Egypt is a likely Armata export customer. That being said, they're unlikely to procure them in the near future. The Egyptian Army placed an order for T-90s to augment their Abrams fleet in 2017, so they are unlikely to make another order for modern tanks for quite some time.
5. United Arab Emirates:
Similar to Algeria and Egypt, the United Arab Emirates has been cited as a potential export customer for the advanced Su-57 fighter, indicating a Russian willingness to cooperate on military and technical affairs.
Russia has been attempting to align the UAE's armament procurement towards it more recently, offering it access to the Russian GLONASS GPS-equivalent satellite network.
With regards to armor, the UAE fields both Russian BMP-3 tracked infantry fighting vehicles and Ukrainian BTR-3 wheeled armored personnel carriers. Its entire tank fleet is comprised of French LeClerc Main Battle Tanks, which are of a fairly advanced type and which have been receiving considerable upgrades since being adopted.
According to this French blog, the type has performed satisfactorily in Yemen, suffering minimal losses.
Despite the strategic successes of the LeClerc, it was noted that the tank was penetrated on the frontal arc by an old Konkurs anti-tank guided missile. The projectile killed the driver and wounded the tank commander.
As a result, the UAE looked into upgrade kits for the LeClerc, including soft and hard-kill systems. However if France is unable to deliver or if the Armata's solution to these problems is evaluated to be superior, the UAE might find itself procuring the Armata in the near future.
Charlie Gao studied political and computer science at Grinnell College and is a frequent commentator on defense and national security issues. This first appeared in November 2018.
Image: Reuters
Ali Soufan became famous in the aftermath of the 9/11 attacks as an FBI agent who was tasked with, among other things, running down the attackers of the USS Cole, and who later discovered that the CIA had withheld evidence from him that might've tipped the Bureau prior to them. (Tahar Rahim played him in the Hulu miniseries about the attacks drawn from Lawrence Wright's The Looming Tower.) He left the Bureau and now runs his own anti-terrorism, emerging threats research and policy shop called The Soufan Group. The Group now has released a report about the rising threat of white-supremacist fighters who are taking on the characteristics of the ISIS fighters in the Middle East. From the Voice of America:
According to a report released Monday by New York-based nonprofit research group The Soufan Center, more than 17,000 people from 50 countries, including the United States, have traveled to Ukraine in recent years to fight both for pro-Ukrainian and pro-Russian forces.The vast majority, about 15,000, have come from Russia. But the remaining 2,200, researchers warn, bear watching.
"A very significant number are white extremists," said Jason Blazakis, a senior researcher at The Soufan Center and a professor at the Middlebury Institute of International Studies (MIIS). "The bulk of those foreign fighters are coming from the near region," he added, pointing to 800 fighters from Belarus and hundreds more coming from Germany, Georgia, Serbia and dozens of other countries across Europe. "That's, in some ways, not too different than what you saw with ISIS," Blazakis said, using an acronym for the Islamic State terror group.
This is not the most important thing about this alarming development, but the low-intensity war between Ukraine and Russia is probably not a great context in which the president* should be extorting a head of state for the purposes of ratfcking the 2020 election. There are all kinds of volatile elements swirling around that fractious part of the world.
And what Syria did for jihadists, Ukraine is doing for white supremacists. "It's had a galvanizing effect," Blazakis said. "It's given them, for lack of a better word, a playground in which there is turmoil and chaos, a kind of playground that doesn't exist in a conventional sense in places like the United States."
One of the most prominent destinations for these fighters is the Azov Battalion, a pro-Ukrainian force that analysts say has embraced neo-Nazi views while targeting right-wing or white supremacist groups around the world for recruitment. But pro-Russian forces have also found fertile ground for recruiting.
"Serbs from Serbia and Bosnia's Republika Srpska have mainly joined pro-Russian separatist militias fighting in Eastern Ukrainian," said Adrian Shtuni, a foreign policy and security analyst who focuses on the Balkans. "Some are affiliated with Serbian ultranationalist paramilitary organizations," he said. "Some of them were allegedly hired as mercenaries by the Russian Wagner Private Military Company." Shtuni said official estimates suggest up to 300 Serbs have fought in Ukraine since 2014 and that about 30 individuals have already been convicted in Serbian courts.
There's a lot of stirring in various perilous places right now. The president* and his people think they can toy with them, but they're toddlers in a powder magazine. This is also not a great time in this country for the president* to be talking about traitors and civil wars, either. Not all of those folks in the Soufan report are Serbs.
Respond to this post on the Esquire Politics Facebook Page here.
Key point: China still buys Russian anti-air defenses but is also working on its own version for export.
The HQ-9 is China's primary long-range domestic surface-to-air missile. Outwardly, it seems similar to the S-300, using large flat face radars and a large missile that vertically launches out of a canister. But since the Sino-Soviet split in the 1950s, China didn't receive that much assistance in surface-to-air missile development from the Soviet Union. Is the HQ-9 just a parallel evolution that reached a similar end state?
At the time of the Sino-Soviet split, China's only true long range SAM was the S-75 (SA-2). Work proceeded on various medium and short range SAMs such as the HQ-61 and HQ-6. However, as China began modernizing its military fully in the 1990s there was a lack of a true mobile long-range SAM such as the Patriot or S-300, both of which entered service in the United States and Russia in the 1980s.
The Chinese research and development complex took two approaches to this. Domestic prototypes of the HQ-9 began development in the 1980s, and continued slowly through the 1990s. During the 1990s, China probably saw the opportunity to buy the then-advanced S-300PMU-1 from the Russian Federation and took the offer, acquiring some sets in 1993.
According to Russian sources, these missiles underwent significant reverse engineering and solutions from them were applied to the domestic HQ-9 missile. Chinese sources credit Chinese engineers with developing the HQ-9 on their own. While this may have been true for the earlier period, the procurement of the S-300 prior to the first IOC of the HQ-9 suggests otherwise. Western sources tend to support the Russian point of view, stating that "The HQ-9 family of missiles are clearly derived from the Russian S-300PMU."
The HQ-9 reached initial operational capability some time later (Chinese sources state 1995), and has been continually modernized since. The acquisition of S-300PMU-2 missiles in 2004 provided further resources for China to develop the HQ-9. The current acquisition of S-400s in 2018 probably will contribute further towards the development of the HQ-9.
As a result of these developments, a myriad of variants of the HQ-9 have been developed. The HQ-9A was the first major deployed upgrade, which added additional anti-ballistic capability though improved electronics. The HQ-9B is said to improve range, possibly out to around 250 or even 300 kilometers.
Operationally, the HQ-9 is said to have been deployed to islands on the South China Sea. What's more worrying though is China's willingness to export the HQ-9, which is a fairly capable missile. The price is estimated to be cheaper than what export S-300s are going for, and China's relationship with Pakistan may result in the interesting situation with India fielding S-400s and Pakistan fielding HQ-9s.
Overall, the trend of the HQ-9's development appears to follow the same general trend of the Chinese variants of the Flankers. China saw an opportunity to procure some of the best Soviet designed systems in the 1990s, then proceeded to domestically produce them, incrementally procuring more advanced versions from Russia to keep up to date with them. China has also attempted to integrate more advanced technology like active radar seekers or home-on-emission into the HQ-9, however the status of these advanced developments is uncertain.
What's surprising is that Russia continues exporting the near latest missiles such as S-400 to China, when it's likely that China will pump out an updated version of the HQ-9 for export with the same features within a few years, potentially cutting into Russia's market share. Unlike with China's Flankers, Chinese industry doesn't really have a "bottleneck" or a specific part that is known to be inferior relative to the Russian product. However, Russia's seeming lack of worry may suggest that the HQ-9 is less capable enough relative to original S-400s or S-300PMUs to not really have much competition.
Charlie Gao studied political and computer science at Grinnell College and is a frequent commentator on defense and national-security issues. This first appeared in November 2018.
Image: PLA.
By Collin Eaton
HOUSTON (Reuters) – Oil prices fell on Monday on fading concerns of supply shortfalls and conflicts in the Middle East after the Sept. 14 attack on Saudi Arabia, but global benchmark Brent posted its biggest quarterly loss this year on demand fears due to the escalating U.S.-China trade war.
Brent crude <LCOc1> futures settled at $60.78, down $1.13, or 1.8%. U.S. West Texas Intermediate (WTI) crude <CLc1> futures, the U.S. benchmark, fell $1.84, or 3.3%, to $54.07.
Brent gained 0.6% while WTI fell 1.9% in September after volatile month where prices spike nearly 20% after the attacks halved Saudi Arabia's output, but have pared nearly all those gains as output has been quickly restored.
For the quarter, however, global benchmark Brent fell 8.7%, the worst quarterly drop since the fourth quarter of 2018, when prices dropped 35%.
WTI also dropped 7.5% in the third quarter, as concerns that the trade war between the United States and China has plunged global economic growth to its lowest levels in a decade weighed on oil demand growth.
China's official Purchasing Managers' Index (PMI) was slightly improved this month, increasing from 49.5 in August to 49.8 in September, but remained below the 50-point mark that separates expansion from contraction on a monthly basis, data from the National Bureau of Statistics showed.
China, the world's largest crude importer, warned of instability in international markets from any "decoupling" of China and the United States, after sources said U.S. President Donald Trump's administration was considering delisting Chinese companies from U.S. stock exchanges.
"The U.S. and China are still far from any type of agreement. The concern is oil demand is not going to be there," said Kyle Cooper, an oil analyst at IAF Advisors.
Saudi Aramco last week restored full capacity to the level before the attacks on its oil facilities, Ibrahim Al-Buainain, chief executive officer of its trading arm, said on Monday at a conference in the United Arab Emirates.
Aramco's oil output capacity was restored to 11.3 million barrels per day (bpd) after the attack knocked out 5.7 million bpd of the kingdom's output, sources told Reuters last week. Saudi officials said Aramco will reach 12 million bpd of capacity by November.
The "much quicker than expected return of Saudi oil (supply) as we go into refinery maintenance season" was weighing on prices, said Andy Lipow, president of Lipow Oil Associates in Houston.
After the attacks, OPEC's oil output fell to an eight-year low in September, a Reuters survey found. Output was 29.8 million bpd in September, down 750,000 bpd from August.
Market fears of broader escalating tensions in the Middle East after Saudi Arabia and the United States blamed the attacks on Iran, have also faded somewhat, easing upward pressure on prices, analysts said.
Saudi Arabia's Crown Prince Mohammed bin Salman, often referred to as MBS, said in an interview broadcast on Sunday he would prefer a political solution to a military one in response to attacks.
But he warned oil prices could spike to "unimaginably high numbers" if the world does not come together to deter Iran.
Money managers cut their net long U.S. crude futures and options positions in the week to Sept. 24, the U.S. Commodity Futures Trading Commission (CFTC) said on Friday.
"As long as peace breaks out in the Middle East, we'll see oil continue to trade lower," said Robert Yawger, director of energy futures in New York.
Oil prices are likely to remain steady this year, a Reuters survey showed, with supply shocks such as the attack on Saudi Arabia countering flagging demand.
Analysts forecast that Brent crude would average $65.19 a barrel in 2019 and WTI $57.96.
U.S. oil production fell 276,000 bpd in July to 11.81 million bpd, a third monthly decline since its record at 12.1 million bpd in April, government data showed.
(Additional reporting by Noah Browning in LONDON`, Florence Tan in SINGAPORE and Colin Packham in SYDNEY; Editing by Marguerita Choy and David Goodman)