Graham on 'BS' impeachment inquiry: Testimony won't change my mind, because I won't read it by Dylan Stableford Senior Writer,Yahoo NewsLindsey Graham's evolving view on quid pro quo
Scroll back up to restore default view. Republican Sen. Lindsey Graham, who two weeks ago said additional evidence of a quid pro quo in President Trump's dealings with Ukraine would be "very disturbing," told reporters Tuesday that he's not interested in seeing it.His comments to reporters came after House Democrats released transcripts of testimony by witnesses in the impeachment inquiry that supported the central allegation that the White House tied military and political support to a "favor" Trump sought from Ukrainian President Volodymyr Zelensky."I've written the whole process off," said Graham of South Carolina, the chair of the Senate Judiciary Committee. "I think this is a bunch of BS."Testimony released Tuesday included a revised statement by Gordon Sondland, U.S. ambassador to the European Union, acknowledging that he "spoke individually" with a top Ukrainian official and conveyed what Trump was demanding from Kiev in exchange for military and other aid already approved by Congress.In transcripts made public so far this week, Sondland; Kurt Volker, the former special envoy to Ukraine; former U.S. Ambassador to Ukraine Marie Yovanovitch; and former high-ranking State Department official Michael McKinley all tended to confirm that Trump was seeking Zelensky's help in pursuing a conspiracy theory advanced by Trump's lawyer Rudy Giuliani about the 2016 election, and in investigating former Vice President Joe Biden, a potential rival in 2020.  
Sen. Lindsey Graham, R-S.C., and President Trump. (Photos: Andrew Harnik/AP, Nicholas Kamm/AFP via Getty Images)In an interview with Axios in late October, Graham said he was open to hearing evidence beyond the already reported July 25 phone call in which Trump asked Zelensky for "a favor.""Sure, I mean … if you could show me that, you know, Trump actually was engaging in a quid pro quo, outside the phone call, that would be very disturbing," Graham said.At the time, Graham's openness to impeachment was a shift from his comments the month before."If you're looking for a circumstance where the president of the United States was threatening the Ukraine with cutting off aid unless they investigated his political opponent, you'd be very disappointed," he told reporters in late September. "That does not exist."

The Hill@thehill Sen. Lindsey Graham: "If you're looking for a circumstance where the President of the United States was threatening the Ukraine with cutting off aid unless they investigated his political opponent, you'd be very disappointed. That does not exist."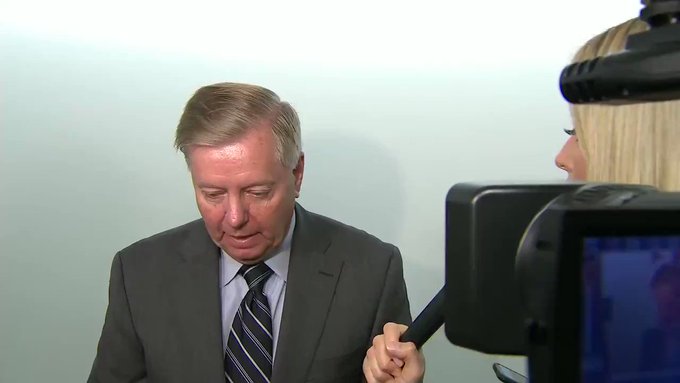 On Oct. 17, acting White House chief of staff Mick Mulvaney told reporters during a press briefing that Trump withheld military aid to Ukraine until it looked into the debunked conspiracy theory that Ukrainian nationals were in possession of a computer server belonging to the Democratic National Committee."Did he also mention to me in the past the corruption related to the DNC server?" Mulvaney responded when asked about the president's public call to investigate Biden and his son Hunter. "Absolutely. No question about that. But that's it. That's why we held up the money."When a reporter pointed out that withholding aid to Ukraine until an investigation into the DNC server was launched was the very definition of a quid pro quo, Mulvaney responded, "We do that all the time with foreign policy."Mulvaney later walked back those comments, and claimed the "media has decided to misconstrue my comments to advance a biased and political witch hunt against President Trump."
Federal Judge Blocks Trump Administration's 'Denial Of Care' Rule bySanjana Karanth,HuffPost
Federal Judge Blocks Trump Administration's 'Denial Of Care' RuleA federal judge struck down the Trump administration's faith-based rule on Wednesday that would have allowed health care workers to refuse to treat patients based on moral and religious beliefs.The Southern District of New York ruled that the U.S. Department of Health and Human Services went beyond the agency's rulemaking authority in trying to implement what critics called the "denial of care" rule. The rule would have affected more than 600,000 health care facilities that risked losing federal family planning funds if they did not comply."HHS's characterization of the Rule as solely ministerial cannot be taken seriously," U.S. District Judge Paul Engelmayer wrote in his opinion. "Whether or not the Rule was properly adopted … the Rule unavoidably would shape the primary conduct of participants throughout the health care industry. It would upend the legal status quo with respect to the circumstances and manner in which conscience objections must be accommodated."Today we won our court battle against the Trump administration's discriminatory rule that would have allowed health care workers' personal beliefs to dictate patient care. Today we celebrate, but our fight to #PutPatientsFirst isn't over.
Read more: https://t.co/MsoqO6O2P0 pic.twitter.com/ejzhiecU40— National Women's Law Center (@nwlc) November 6, 2019The rule would have expanded and enforced existing laws that allow what religious conservatives call "conscience protections," such as the Church, Coats-Snowe and Weldon amendments to the Public Health Service Act. The rule also details specific services that health care workers, patients and families of patients could refuse to provide or pay for based on their beliefs. Health care workers under the proposed HHS rule included physicians, nurses, receptionists, emergency medical technicians and call center staff ― a huge expansion from what previous laws considered health care workers.Some of the services that could be refused included abortion, gender-affirming surgery and physician-assisted death. Health care workers would have been able to deny treatment or preventative care for HIV or AIDS, object to providing hormone therapy treatment and transition-related care, and refuse to help with in vitro fertilization for women who are single or in an interfaith or non-heteronormative relationship."In a case involving economic consequences and political dynamics on such a scale, the Supreme Court teaches that '[w]e expect Congress to speak clearly' were it to delegate rulemaking authority," the court opinion stated. "Far from speaking clearly here, in none of the three statutes at issue did Congress give any indication that it intended to subcontract the process of legal standard-setting to an administrative agency in general, or HHS in particular."A spokesperson for HHS told HuffPost on Wednesday that the agency is reviewing the court's opinion with the Justice Department and will "not comment on the pending litigation at this time."The rule was finalized in May and set to go in effect Nov. 22, but it faced a wave of legal challenges from groups that said the rule encouraged discrimination against women, low-income people, the LGBTQ community and people of color by allowing health care workers to block access to legal, and sometimes lifesaving, medical procedures.New York Attorney General Letitia James led a coalition of 19 states, the District of Columbia and three local governments in filing a lawsuit in May almost immediately after Trump announced the rule.BREAKING: We won our case to BLOCK the Trump Admin's "health care refusal" rule.Health care is a right, not a privilege, and we will continue to fight to protect access to health care for our vulnerable communities. https://t.co/UC8m6wpV89— NY AG James (@NewYorkStateAG) November 6, 2019The National Family Planning & Reproductive Health Association and Public Health Solutions also filed a lawsuit on June 11 challenging the rule. That same day, the Planned Parenthood Federation of America, the National Women's Law Center and Democracy Forward filed a separate lawsuit to block the rule."As the federal district court made clear, the administration acted outside its authority and made false claims to try to justify this rule," Alexis McGill Johnson, acting president and CEO of PPFA, said Wednesday. "This rule put patients' needs last and threatened their ability to access potentially lifesaving health care. Everyone deserves to access the health care they need."The court ruling came just days after HHS proposed another rule, this time allowing faith-based foster care and adoption agencies to exclude LGBTQ families from their services while continuing to receive taxpayer funding. That rule, also based on religious beliefs, builds upon President Donald Trump's push to appeal to evangelical Christian supporters.
Giuliani floats new explanation for pressuring Ukraine to investigate Biden
President Trump's lawyer Rudy Giuliani offered a new defense on Wednesday of his efforts to secure a Ukrainian investigation into former Vice President Joe Biden and his son Hunter, saying he had done so to defend Trump "against false charges."
That differed from what Giuliani told Fox News host Laura Ingraham in a Sept. 24 interview.
"You know who I did at the request of? The State Department," Giuliani said of his entreaties for an investigation into the Bidens."I never talked to a Ukrainian official until the State Department called me and asked me to do it. And then I reported every conversation back to them. Laura, I'm a pretty good lawyer, just a country lawyer, but it's all right here, right here. The first call from the State Department."
The investigation I conducted concerning 2016 Ukrainian collusion and corruption, was done solely as a defense attorney to defend my client against false charges, that kept changing as one after another were disproven.
12.2K people are talking about this
Further calling Giuliani's latest explanation into question, the former New York mayor began pressuring officials in Kiev in the spring, months before Trump held a July 25 call with Ukrainian President Volodymyr Zelensky. A partial summary of the call released by the White House showed that Trump himself requested that Zelensky look into the Bidens. It remains unclear what "false charges" Giuliani meant, given that his efforts to obtain dirt on the Bidens predated Trump's call with Zelensky.
Attorney George Conway, an ardent Trump critic and the husband of Trump adviser Kellyanne Conway, took issue with Giuliani's latest defense.
This tweet by itself establishes that @realDonaldTrump committed an impeachable offense. To say that Giuliani's and Trump's pursuit of "Ukrainian … corruption" was "done solely" to protect Trump's interests establishes that Trump was not acting for the country. https://twitter.com/rudygiuliani/status/1192180680391843841 …

Rudy Giuliani

✔@RudyGiuliani

The investigation I conducted concerning 2016 Ukrainian collusion and corruption, was done solely as a defense attorney to defend my client against false charges, that kept changing as one after another were disproven.
8,400 people are talking about this
It is not the first time that Giuliani has given mixed signals on his role in the Ukraine matter that now threatens Trump's presidency. In a Sept. 19 interview with CNN's Chris Cuomo, Giuliani asserted that he had never asked Ukrainian officials to investigate Biden, one of Trump's possible political rivals in 2020, only to directly contradict that statement 30 seconds later.
Florida school's resource officer arrested after video shows him slamming 15-year-old girl to ground, police say by ABC NewsSchool resource officer charged with abusing studentFlorida school's resource officer arrested after video shows him slamming 15-year-old girl to ground, police say originally appeared on abcnews.go.comA Florida officer was arrested on Tuesday after video appeared to show him slamming a female student to the ground at a school for children with emotional and behavioral disabilities.Surveillance footage released by the Broward Sheriff's Office shows Deputy Willard Miller, who was working as a school resource officer at Cross Creek School in Pompano Beach, grabbing a 15-year-old student by the neck and throwing her to the ground.Miller, 38, turned himself in on Tuesday and was charged with one count of child abuse without great bodily harm, a felony, according to the sheriff's office, which released video of the Sept. 25 incident on Tuesday.
PHOTO: Deputy Willard Miller, from the Broward Sheriff's Office in Florida, has been charged with child abuse after video surfaced of him slamming a student to the ground at the school where he worked as a resource officer. (Broward Sheriff's Office)The office's Internal Affairs Division launched an investigation "upon immediate review of the video" on Sept. 27 and placed Miller on restricted administrative assignment, the office said in a statement.After further investigation, detectives formally presented the case to the State Attorney's Office on Oct. 23. He was suspended without pay on Oct. 28.(MORE: Texas family says police dislocated black teen's shoulder in rough arrest)Broward County Sheriff Gregory Tony said it was unclear what may have led to the physical encounter, but there was no excuse for the officer's "deplorable" behavior."Whatever type of verbal dialogue was going on, it makes no sense and it wasn't necessary," Tony told reporters Tuesday.
PHOTO: Broward County Sheriff's Office Deputy Willard Miller was arrested on Tuesday, Nov. 5, 2019, for allegedly slamming a 15-year-old girl. (Broward County Sheriff's Office)He said school district officials uncovered the video by chance while investigating an unrelated matter. It's unclear if witnesses reported the incident."Totally not even looking for it," Tony said. "Looking at some other school matter issues and it popped up on the screen and they said we need to get this over to BSO."
PHOTO: Broward County Sheriff's Office Deputy Willard Miller was arrested on Tuesday, Nov. 5, 2019, for allegedly slamming a 15-year-old girl. (Broward County Sheriff's Office)Broward County Public Schools said it is still investigating the incident to ensure that "policies and procedures were followed.""Upon becoming aware of the incident involving the Broward Sheriff's Office School Resource Officer at Cross Creek School, the District's Special Investigative Unit immediately contacted the Broward Sheriff's Office," a district spokesperson said. "We are also investigating the circumstances surrounding this incident to ensure all proper District policies and procedures were followed."(MORE: 13-year-old murder suspect escapes from North Carolina juvenile courthouse: Authorities)Tony also acknowledged previous accusations of excessive force by deputies and promised to improve its internal investigation process."I don't want to spend time standing here about disciplinary action for a very small population of people who break out side of what they're supposed to be doing," Tony said. "What needs to happen from our standpoint is to make sure that we hold them accountable and we do look at what's occurring as a cultural standpoint and changing that and I think we're on the right track."
1 / 4
AP Analysis Iran Nuclear
This Nov. 1, 2019, satellite image provided by provided by Maxar Technologies shows the Fordo nuclear facility, just north of the holy city of Qom in Iran. The resumption of activity at Fordo pushes the risk of a wider confrontation involving Iran even higher after months of attacks across the Middle East that the U.S. blames on Tehran. (Satellite image ©2019 Maxar Technologies via AP)
DUBAI, United Arab Emirates (AP) — Ten years ago while flanked by the leaders of Britain and France, then-President Barack Obama revealed to the world that Iran had built a "covert uranium enrichment facility" amid tensions with the Islamic Republic over its nuclear program.
A decade later, Iran's Fordo facility is back in the news as Iran prepared Wednesday to inject uranium gas into the more than 1,000 centrifuges there to pressure the world after President Donald Trump withdrew the U.S. from Tehran's nuclear deal.
The resumption of nuclear activity at Fordo pushes the risk of a wider confrontation involving Iran even higher after months of attacks across the Middle East that the U.S. blames on Tehran. Israel, which has carried out pre-emptive airstrikes on its adversaries' nuclear programs in the past, also is repeating a warning that it will not allow Iran to have atomic weapons.
Tehran, which maintains its program is peaceful, is gambling that its own maximum pressure campaign will be enough to push Europe to offer it a way to sell Iranian crude oil abroad despite U.S. sanctions
Activity at Fordo, just north of the Shiite holy city of Qom, remains a major concern for nuclear nonproliferation experts. Buried under a mountain and protected by anti-aircraft batteries, Fordo appears designed to withstand airstrikes. Its construction began at least in 2007, according to the International Atomic Energy Agency, although Iran only informed the U.N. nuclear watchdog about the facility in 2009.
"As a result of the augmentation of the threats of military attacks against Iran, the Islamic Republic of Iran decided to establish contingency centers for various organizations and activities," Iran wrote in a letter to the IAEA.
Satellite images, however, suggest construction at the Fordo site as early as between 2002 and 2004, the IAEA said. In August 2002, Western intelligence services and an Iranian opposition group had revealed another covert nuclear site at the central city of Natanz. Iran also "carried out activities relevant to the development of a nuclear explosive device" in a "structured program" through the end of 2003, the IAEA has said.
While Natanz is large enough for industrial-scale enrichment, Fordo is smaller and can hold only 3,000 centrifuges. That led analysts to suspect Fordo could be used as a facility to divert and rapidly enrich low-grade uranium, although the highest reported enrichment reached there went to 20%.
"The size and configuration of this facility is inconsistent with a peaceful program," Obama said at a 2009 Group of 20 meeting held in Pittsburgh in announcing the facility to the world.
Iran's 2015 nuclear deal with world powers saw the country agree to stop enrichment at Fordo and convert it to a research facility. However, President Hassan Rouhani's announcement Tuesday that uranium gas would be injected into centrifuges there again makes it an active nuclear site.
The IAEA continues to monitor Iran's nuclear program through surveillance cameras and site visits. Tehran also insists it will keep enriching up to 4.5%, which remains far below weapons-grade levels of 90%.
Resuming work at Fordo has worried Israel, Iran's regional archenemy.
"We will never let Iran develop nuclear weapons," Israeli Prime Minister Benjamin Netanyahu said in a speech Tuesday night. "This is not only for our security and our future; it's for the future of the Middle East and the world."
Israel, which has its own undeclared nuclear weapons program, has struck first in the past to stop its enemies from obtaining atomic weapons. In 1981, Israeli warplanes bombed a nuclear reactor being built by Irai dictator Saddam Hussein. An Israeli airstrike similarly destroyed a secret Syrian nuclear reactor in 2007.
The Obama administration convinced Israel before the 2015 nuclear deal to hold off on conducting such a strike on Iran. It remains unclear how Trump would respond to such an Israeli plan, though he has roundly supported Netanyahu in the past.
Any potential strike also faces the challenge of actually reaching the facility. Fordo sits an estimated 80 meters (260 feet) under rock and soil. That would require a weapon like a U.S. "bunker-buster" bomb, a 30,000-pound explosive known as the Massive Ordnance Penetrator. Israel is not known to have a similarly powerful conventional weapon.
There's also the possibility the U.S. and Israel could reach the facility another way. The Stuxnet computer virus, widely believed to be a joint U.S.-Israeli creation, caused thousands of Iranian centrifuges to destroy themselves in the late 2000s.
The one route that doesn't seem likely at the moment to resolve the growing crisis over Fordo is diplomacy. Europe so far has been unable to offer Iran any way around U.S. sanctions, despite a planned trade mechanism and a floated French offer of a $15 billion line of credit. Meanwhile, the Trump administration continues its sanctions campaign against Tehran, which on Monday saw it add members of Supreme Leader Ayatollah Ali Khamenei's inner circle. Iran already says it will take further steps away from the deal in January.
"The decision to expand nuclear activities at Fordo is Iran's most serious violation of the nuclear deal to date," the Eurasia Group said. ""If it does not sense meaningful pushback from the international community, there is little reason to doubt it will continue to push the envelope further in January."
___
Associated Press writer Josef Federman in Jerusalem contributed.
___
EDITOR'S NOTE — Jon Gambrell, the news director for the Gulf and Iran for The Associated Press, has reported from each of the Gulf Cooperation Council countries, Iran and other locations across the world since joining the AP in 2006. Follow him on Twitter at www.twitter.com/jongambrellAP .
ΔΗΜΟΣΙΕΥΘΗΚΕ:

 06.11.2019 | 20:00
NEWSIT NEWSROOM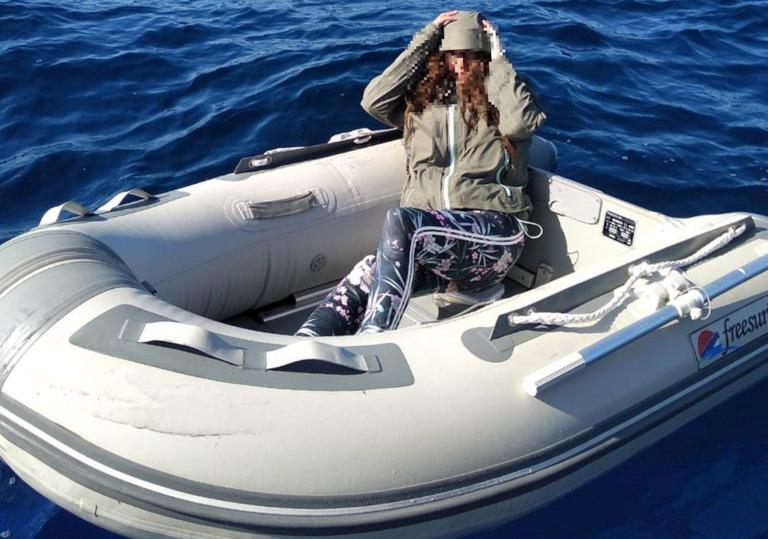 Πρώτο θέμα στα ΜΜΕ της χώρας της, έχει γίνει η περιπέτεια τουρίστριας από τη Νέα Ζηλανδία, που κατάφερε να επιβιώσει για σχεδόν δύο ημέρες στα ανοιχτά της Φολεγάνδρου, μέσα σε μια φουσκωτή βάρκα.
Σύμφωνα με όσα έγιναν γνωστά η 47χρονη Νεοζηλανδή προηγουμένως είχε χάσει το κουπί και παρασύρθηκε σε απόσταση πάνω από 110 χιλιόμετρα μακριά από την ακτή.
Η μητέρα της, μιλώντας στην New Zealand Herald, είπε πως η κόρη της είναι έμπειρη ναυτικός που έχει εκπαιδεύσει κι άλλα άτομα ώστε να επιβιώνουν στη θάλασσα, γι' αυτό και γνώριζε τι έπρεπε να κάνει για να μείνει η ίδια ζωντανή.
Μετά την πρώτη της νύχτα στην θάλασσα, η 47χρονη έβγαλε τις κάλτσες της και τις άπλωσε επάνω στην φουσκωτή βάρκα για να στεγνώσουν ώστε να μπορέσει να τις φορέσει και πάλι το βράδυ όταν η θερμοκρασία θα έπεφτε.
Δεν είχε μαζί της νερό, αλλά ψάχνοντας μέσα στην τσάντα της, βρήκε μερικές καραμέλες. Επίσης, χρησιμοποίησε τις τρεις τσάντες από τα ψώνια της για να τυλίξει τα χέρια και άλλα μέρη του σώματός της, ώστε να μείνει ζεστή κατά την διάρκεια της νύχτας ενώ την ημέρα φορούσε μια κόκκινη σακούλα στο κεφάλι της στην προσπάθειά της να τραβήξει την προσοχή, τυχόν περαστικών ψαράδων.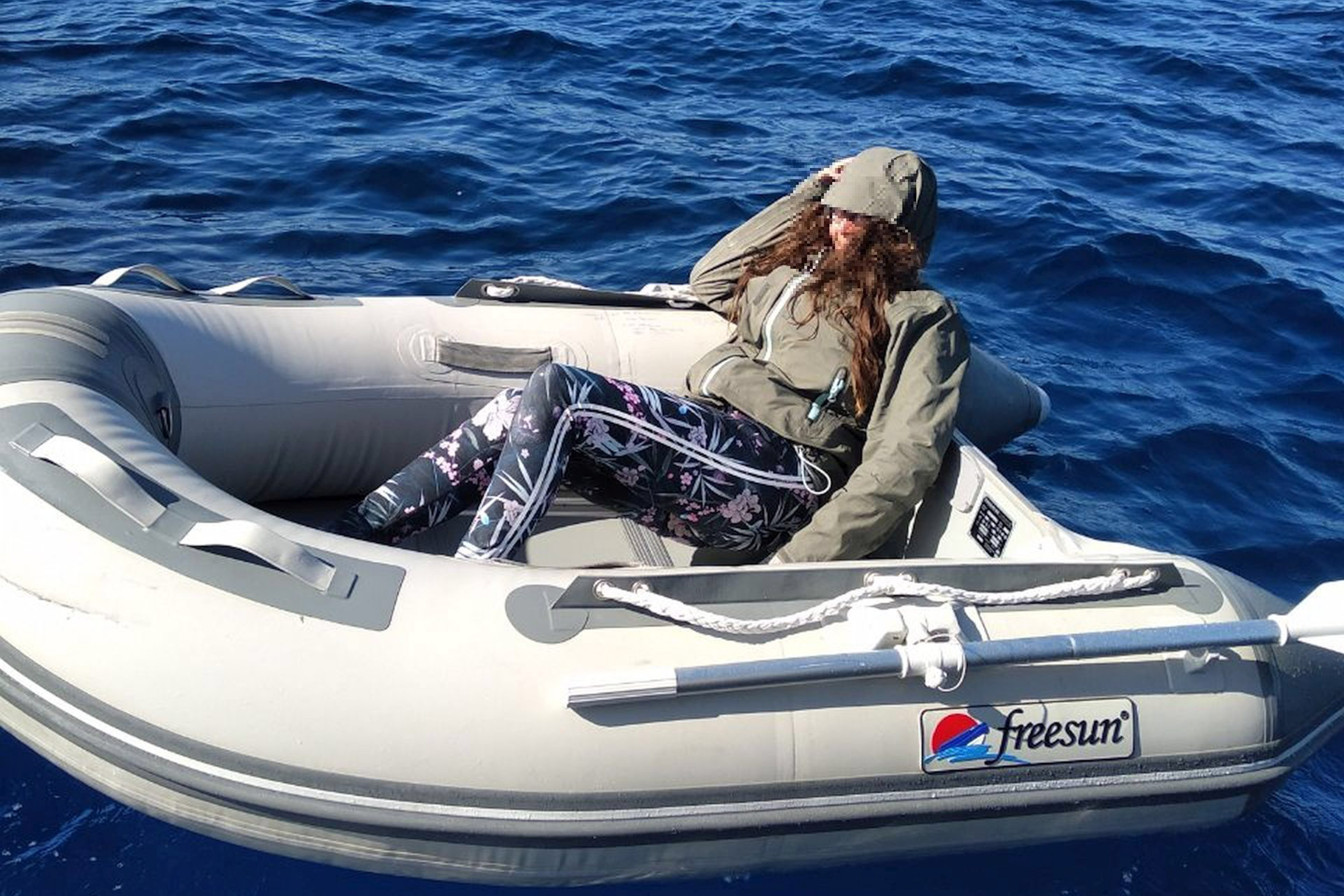 Άλλη μια σακούλα την έδεσε στο εναπομείναν κουπί για να μπορεί να την κουνά στα περαστικά αεροπλάνα σαν σημαία. Χρησιμοποίησε επίσης, έναν μικρό καθρέφτη που είχε στο σακίδιό της για να κάνει αντανάκλαση με τον ήλιο, όταν έβλεπε κάποιο αεροπλάνο να περνά από πάνω της.
Πάντως ακόμα και στην περίπτωση που δεν βρισκόταν ζωντανή είχε μεριμνήσει και είχε γράψει το όνομα της μητέρας της και το τηλέφωνό της, στην μία πλευρά της φουσκωτής βάρκας.
Η γυναίκα, που ήταν έμπειρη ναυτικός, είχε τυλιχτεί με τις πλαστικές σακούλες (από τα ψώνια) για να παραμένει ζεστή και επέζησε χωρίς να πιει νερό, τρώγοντας μερικές καραμέλες κατά την διάρκεια αυτών των σχεδόν δύο ημερών που έμεινε μέσα στην θάλασσα.
Φολέγανδρος: Το χρονικό της απίστευτης περιπέτειας
Η τουρίστρια βρισκόταν σε ένα γιοτ με έναν Βρετανό όταν αποφάσισε να βγει από το σκάφος για να ξεμουδιάσει, όπως δήλωσε η μητέρα της, Wendy Stein στην New Zealand Herald. Ο Βρετανός, με το όνομα Μάικ, μετέφερε το σκάφος από την νότια Τουρκία στην Αθήνα, με την βοήθεια της 45χρονης.
Βρισκόταν ήδη τρεις εβδομάδες στο ταξίδι, όπως αναφέρει η New Zealand Herald, όταν αγκυροβόλησαν κοντά στο νησί της Φολεγάνδρου και αποφάσισε να βγει μια βόλτα. Του έστειλε μήνυμα στις 16:30 το απόγευμα να του πει πως η μπαταρία του κινητού της ήταν χαμηλή και πως επέστρεφε, αλλά στην επιστροφή της έχασε ένα κουπί και οι άνεμοι παρέσυραν την φουσκωτή βάρκα μακριά από το ιστιοφόρο με το όνομα «Rival 34».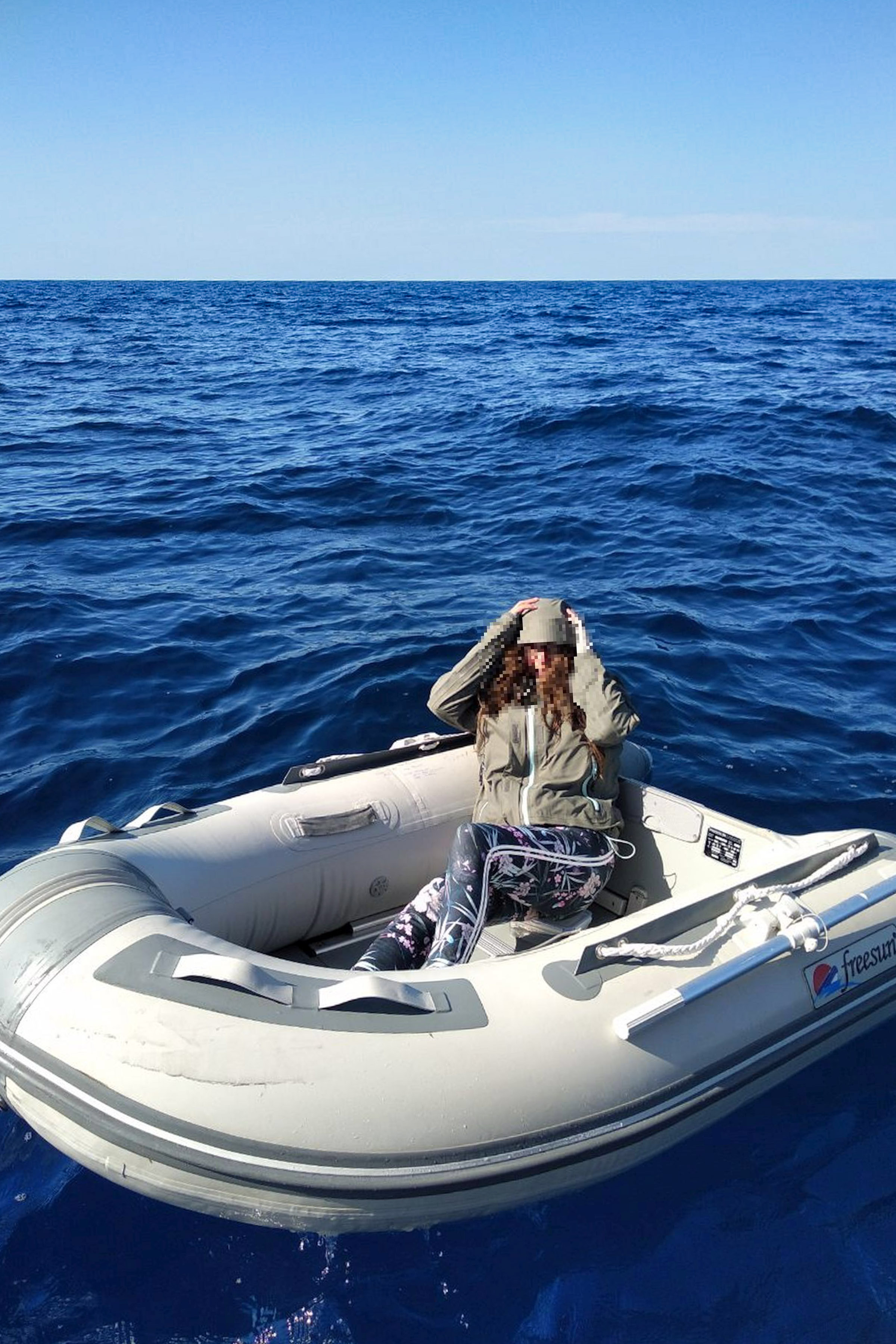 Όπως δήλωσε ο λιμενάρχης Ηρακλείου Ευθύμης Δουβής, από την πρώτη στιγμή της εξαφάνισης στις έρευνες υπό τον συντονισμό του Ενιαίου Κέντρου Συντονισμού Έρευνας και Διάσωσης του Αρχηγείου του Λιμενικού Σώματος- Ελληνικής Ακτοφυλακής, συμμετείχαν τέσσερα περιπολικά σκάφη του Λιμενικού Σώματος και χερσαίες δυνάμεις από την Θήρα, την Ίο, τη Νάξο, τη Φολέγανδρο και τη Μήλο, τρία ιδιωτικά σκάφη καθώς και ελικόπτερο του Πολεμικού Ναυτικού, ενώ με το πρώτο φως της ημέρας, σήμερα η τεράστια επιχείρηση εντάθηκε περαιτέρω με την συμμετοχή και σκαφών από τα Χανιά, το Ρέθυμνο και το Ηράκλειο.
«Τα σκάφη έσπευσαν σε συγκεκριμένες περιοχές έρευνας σύμφωνα με τη συστηματικότητα και τη μεθοδολογία που ακολουθείται από τα έμπειρα στελέχη του Κέντρου Επιχειρήσεων του Λιμενικού Σώματος και μετά από ώρες ερευνών εντοπίστηκε από το πλωτό του Λ.Σ 119 του Κεντρικού Λιμεναρχείου Ηρακλείου η αγνοούμενη η οποία επέβαινε στο μικρό φουσκωτό, σε απόσταση 55 ναυτικά μίλα βορειοδυτικά του Ηρακλείου, μια τεράστια απόσταση που δείχνει την ένταση της επιχείρησης έρευνας.
Υπάρχει αίσια έκβαση στην επιχείρηση και αυτό δείχνει και την κατάρτιση και την εμπειρία που διαθέτουν τα πληρώματα του Λιμενικού Σώματος στα σκάφη, τα πλωτά και τα εναέρια. Ελπίζουμε πάντα όλες οι επιχειρήσεις να έχουν το ίδιο αίσιο τέλος» είπε ο κ. Δουβής.
Πηγή: cretalive.gr
Iraq Protests
Army soldiers try to prevent anti-government protesters from crossing the al- Shuhada (Martyrs) bridge in central Baghdad, Iraq, Wednesday, Nov. 6, 2019. (AP Photo/Khalid Mohammed)BAGHDAD (AP) — Anti-government protesters in Iraq stormed a bridge Wednesday in central Baghdad, where security forces pushed them back with batons and tear gas, wounding dozens. A medic was killed while aiding demonstrators.The military called on the protesters to stop blocking roads and ports, saying they had cost Iraq $6 billion, and it vowed to arrest those responsible. The U.S. Embassy urged the government to "engage seriously and urgently" with the demonstrators and condemned attacks on them.Tens of thousands of people have taken to the streets in recent weeks in the capital and across the Shiite south to demand sweeping political change. The protesters complain of widespread corruption, a lack of job opportunities and poor basic services, including regular power cuts despite Iraq's vast oil reserves.The protesters have focused their anger on Shiite political parties and militias, many of which have 
close ties to Iran
 . Across the south, they have attacked party and militia headquarters, setting some of them ablaze.In the Shiite holy city of Karbala, protesters attacked the Iranian Consulate earlier this week, hurling firebombs over its walls. Security forces killed at least three people as they dispersed the protest. Days earlier, 
masked men
 suspected of links to the security forces opened fire on a demonstration there, killing at least 18 people.Overnight, at least two protesters were killed in clashes with security forces near the provincial headquarters in the city, according to a protester and a medic who spoke on condition of anonymity for fear of repercussions.In Baghdad, protesters clashed with security forces on a fourth bridge over the Tigris River after previous clashes forced the closure of three other spans, paralyzing much of the city. The protests have been centered in Tahrir Square, on the eastern bank of the Tigris, and the demonstrators have been trying to reach the Green Zone, which houses government offices and foreign embassies on the other side of the river.As protesters moved toward the Martyrs' Bridge, north of the other three, they passed near the central bank. Iraqi security forces were deployed in large numbers around the bank and evacuated employees, but the protesters did not target the building.Security and medical officials said at least 29 people were wounded after being hit with batons or exposed to tear gas on or near Martyrs' Bridge. They said a medic was killed near the Al-Ahrar Bridge, which has seen heavy clashes in recent days, and another was wounded. They spoke on condition of anonymity in line with regulations.In Tahrir Square, family and friends called for the release of Siba al-Mahdawi, a 37-year-old activist and volunteer medic who was abducted over the weekend. Her brother, Ahmed al-Mahdawi, said she was taken by masked men dressed in black as she returned home from a protest Saturday. He said the family has received no word of her whereabouts since she vanished four days ago."She assumed responsibility for the family after our father died," he said, adding that she had taken care of her mother and four younger siblings as they struggled to find steady work.The U.S. Embassy in Baghdad called on the government to "engage seriously and urgently with Iraqi citizens who are demanding reform.""We deplore the killing and kidnapping of unarmed protesters, threats to freedom of expression, and the cycle of violence taking place," it said. "Iraqis must be free to make their own choices about the future of their nation."Maj. Gen. Abdul-Karim Khalaf, a spokesman for the armed forces, said the roadblocks and the protesters' blockade of the key port of Umm Qasr on the Persian Gulf had cost the country $6 billion. He said security forces are not using live ammunition but would arrest anyone trying to block roads or bridges.Umm Qasr, which houses a vital oil terminal and also is an entry point for food and basic goods, has been blocked for five days. Clashes broke out when security forces tried to reopen it Tuesday, with one protester killed and eight wounded.Security forces have killed at least 273 protesters in two major waves of demonstrations since early October, including four who died Wednesday of injuries suffered earlier. Iraq's leaders have promised reforms and early elections, but the process they laid out could take months, and the protests have only grown in recent days.Iraq has held regular elections since the overthrow of Saddam Hussein following the U.S.-led invasion of 2003, but they have been dominated by Shiite Islamist parties that have failed to deliver on promises to improve daily life. The protests pose the biggest challenge to the government since it declared victory over militants from the Islamic State group nearly two years ago.Internet access remained limited Wednesday after the government shut it down earlier this week. Netblocks, a civil society group that tracks internet restrictions, said usage dropped to 19% of normal levels overnight Tuesday before being partially restored.Netblocks said Wednesday that Iraq "remains largely offline." It said an earlier series of internet outages during protests last month had cost the country more than $1 billion._Krauss reported from Beirut.Three Protestors Have Been Killed in Clashes as Authorities Try to Reopen Iraq's Main Port
US navy prepares allies to 'protect navigation' in Gulf
by AFP
The US held a three-week-long International Maritime Exercise with 50 countries in strategic Gulf waterways (AFP Photo/KARIM SAHIB)On board the RFA Cardigan Bay in the Gulf (AFP) – The United States is training Gulf allies to "protect navigation" in the region's troubled waterways, as Washington seeks to build an alliance of friendly nations to contain Iran.The US' three-week-long International Maritime Exercise (IMX) that began on October 21 comes after a number of commercial vessels were attacked in the Gulf from May, ratcheting up regional tensions.Washington and other Western powers blamed the incidents on Iran, but Tehran has denied any involvement.The IMX is the second largest maritime exercise of its kind, with 5,000 personnel, 40 vessels and 17 aircrafts from 50 countries deployed to the strategic waterway that separates Iran from the pro-US Arab Gulf monarchies."This is the first time we are taking part in the IMX," the head of a Saudi naval de-mining team, Ali Bin Shreidi, told AFP aboard the Cardigan Bay, a British Royal Fleet Auxillary landing ship dock, 40 miles (65 kilometres) off the Bahrain coast.The officer and his three-member team were participating in the day's exercises dedicated to de-mining."We are here… to increase our capabilities and share our expertise in fighting mines, in order to protect navigation."In June, the US Navy alleged that a mine resembling Iranian weaponry was used in an attack on the Japanese-owned Kokuka Courageous tanker that was targeted as it passed through the Gulf of Oman.Then in July, Iranian Revolutionary Guards seized a British-flagged oil tanker, holding it for more than two months before releasing the vessel.In response to the incidents, the US formed a naval coalition to protect navigation in a waterway that is critical to global oil supplies.Bahrain, which hosts the US Navy's Fifth Fleet, joined the US-led naval coalition in August. Saudi Arabia and the United Arab Emirates followed suit in September.The United Kingdom and Australia are the principal Western partners to have agreed to send warships to escort commercial shipping in the Gulf.Animosity between Tehran and Washington has soared since the US unilaterally abandoned a multinational deal on curbing Iran's nuclear programme last year and reimposed heavy sanctions on the Islamic republic.Most European states have declined to participate in the naval coalition, fearful of undermining their efforts to save the nuclear accord with Iran, which was badly weakened by the US withdrawal.
Alabama warns student groups not to engage in 'disruptive behavior' during Trump visit by Sam Cooper Yahoo Sports
(Photo by Joe Robbins/Getty Images)The University of Alabama's Student Government Association sent out a letter to student groups warning of consequences if any organizations "engage in disruptive behavior" during Saturday's game between LSU and Alabama — a game that is slated to be attended by President Donald Trump. A copy of the letter has been circulating on social media and is from vice president of student affairs Jason Rothfarb, according to Al.com. The letter warns its recipients that those who engage "disruptive behavior" will be "removed from block seating instantly for the remainder of the season." Block seating at Bryant-Denny Stadium is typically reserved for student organizations like sororities, fraternities and clubs. That warning — which has not been sent prior to any other Alabama game this season, per Al.com — may fall on deaf ears considering there is only one other home game for Alabama this season: Nov. 23 vs. mighty Western Carolina. The letter reminded its recipients of the "increase in security" that will be present outside of the stadium in anticipation of the president's arrival. There will also be "additional security" present in the student section during the game, the letter says. Below is Rothfarb's letter:

Carter-William@carterwilliam_From the University of Alabama SGA, ahead of President Trump's visit to the game. Strange that in all the games in which drunken bacchanalia has been tolerated, if not celebrated and encouraged I've never once been warned to not be "disruptive"   
     Due to an increase in security outside of the stadium, we anticipate that it will take an hour or more to get into the stadium. Consequently, it is imperative to fill your sections earlier than normal. We ask that all members of your respective organizations enter the stadium no later than 12:30 p.m. for this weekend's game and, as always, refrain from entering with any illegal items. Additional security will also be in the student section during the game. Any organizations that engage in disruptive behavior during the game will be removed from block seating for the remainder of the season. 'Nothing to do with First Amendment rights'Some wondered if Rothfarb's letter was an effort to curb any potential protests that could arise from the president's presence. In a follow-up email, he claimed that was a misinterpretation and that his letter had "nothing to do with anyone's First Amendment rights."Some have misinterpreted my comment regarding "disruptive behavior." As with other games this season, Organization's Block Seating locations will be clearly marked, but at certain times, other students can and should have access to open seats. By disruptive behavior, we are asking students to be respectful to all students and staff and avoid altercations. My email has nothing do with anyone's First Amendment rights and I am sorry for any confusion. Please express yourself and especially your pride for the Tide.Later, the Alabama SGA released a statement affirming "its belief in free speech and the rights of all students to express their opinions."
#WVTM13@WVTM13 #LSUvsAlabama: Alabama SGA releases statement in response to a report saying it was warning against President Trump protests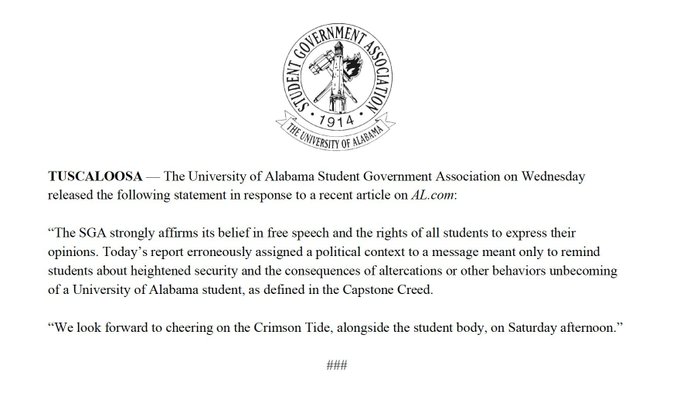 The gates at Bryant-Denny Stadium are scheduled to open at 11:30 a.m. local time — three hours before the 2:30 p.m. CT start time. Rothfarb is encouraging student groups to reach their seats two hours before the game begins due to the increased security presence.The LSU-Alabama game in Tuscaloosa will be the third sporting event attended by President Trump in recent weeks. Trump watched Game 5 of the World Series in Washington D.C. and later attended UFC 244 in New York City.Saturday's game will be the fourth college football game Trump attends during his presidency. He has twice attended the annual Army-Navy game — in 2016 and 2018 — and was also in Atlanta for the 2017 College Football Playoff title game between Alabama and Georgia.As it would with any president, Trump's presence that night caused an array of delays for fans trying to enter Mercedes-Benz Stadium on a rain-soaked night in Atlanta. One gate was even shut down for 45 minutes to accommodate the president's arrival.It would not be a surprise to see similar delays in Alabama on Saturday.
Apple will donate $2.5 billion to fight 'unsustainable' California housing crisis by Mike Snider, USA TODAY,USA TODAYApple has pledged $2.5 billion in donations to help combat California's current crisis of rising home costs, CEO Tim Cook announced Monday.The tech giant's contributions have been earmarked to help jumpstart home building, assist first-time home buyers and reduce homelessness in Silicon Valley and the San Francisco Bay Area."Affordable housing means stability and dignity, opportunity and pride. When these things fall out of reach for too many, we know the course we are on is unsustainable, and Apple is committed to being part of the solution," Cook said in the announcement.Apple's move follows earlier action by Google, which in June pledged to invest $1 billion in building affordable housing, and Facebook's October commitment of $1 billion toward fighting the housing crisis.
CEO Tim Cook greets shoppers inside the Apple store on New York's Fifth Avenue in September 2019.Housing crises: Will Google, Amazon and Facebook fix the affordable housing crisis?Tiny homes: Here's how they could help fix the affordable housing crisis.Many have found the cost of living and housing beyond their means in San Francisco, which now commands a median home price of $1.4 million, according to real estate brokerage firm Redfin. Other high costs include expensive private schools, $5 a gallon gas and pricey restaurants.Nearly 30,000 left San Francisco from April to June, and homeownership in the Bay Area is at a seven-year low, according to data Apple cited from Redfin and Census figures analyzed by the Bay Area news outlet The Mercury News.Tech companies are doing the right thing with these initiatives, as it's the industry's growth that has led to the crisis, says Derecka Mehrens, co-founder of Silicon Valley Rising, a coalition that includes labor, housing, and minority groups, as well as the Rainbow PUSH Coalition.
"The unprecedented growth of wealthy tech corporations has pushed housing costs through the roof for everyday people in large parts of California and the result has been huge increases in homelessness and housing instability," she said in a statement sent to USA TODAY."With this announcement, Apple joins a growing list of tech corporations making significant contributions to ensure that every Californian has a safe, affordable place to call home," Mehrens said. "It is a sign that the voices of everyday workers, such as teachers, janitors, firefighters and construction workers, are being heard."
BERLIN, Nov 6 (Reuters) – There is no reason for German Chancellor Angela Merkel to leave office before her planned departure in 2021, her protegee and would-be successor Annegret Kramp-Karrenbauer said as they both face criticism from fellow Christian Democrats.
Party veteran Friedrich Merz ripped into Merkel after the Christian Democratic Party (CDU) slumped in a state vote last month. He said it was "simply not on" for the ruling coalition to carry on as it is until national elections due in 2021.
Merz, an erstwhile Merkel rival, narrowly lost to Kramp-Karrenbauer in a contest for the CDU leadership last December, when Merkel stepped aside to allow her protegee to boost her profile before 2021.
But Kramp-Karrenbauer told the daily Sueddeutsche Zeitung it was clear "that with my application for the party chair, I reckoned that the chancellor would see this legislative period through to the end".
"There is no reason to change anything there," she added in an early release of an interview to run in the newspaper's Thursday edition.
After a series of gaffes and regional election setbacks this year, doubts are growing in the CDU about whether Kramp-Karrenbauer is the right person to succeed Merkel as chancellor.
(Writing by Paul Carrel; Editing by Giles Elgood)
1 / 5
CORRECTION Jordan Stabbing
CORRECTS LOCATION OF HOSPITAL TO JERAASH -Royal Court chief Yousef Issawi, right, visits one of the victims of a knife attack in Jerash, Jordan on Wednesday, Nov. 6, 2019. A young man from a Palestinian refugee camp on Wednesday stabbed eight people, including four foreign tourists and their tour guide, at a popular archaeological site in Jeraash, in northern Jordan, security officials said. The wounded included three Mexican tourists and a Swiss woman, according to Jordan's Public Security office. Along with the tour guide, three other Jordanians, including two security officers and a bus driver, were also hurt before the attacker was subdued and arrested. (AP Photo/Raad Adayleh)
AMMAN, Jordan (AP) — A young man from a Palestinian refugee camp on Wednesday stabbed eight people, including four foreign tourists and their tour guide, at a popular archaeological site in northern Jordan, security officials said.
The suspect's family identified him as Mustafa Abu Tuameh. They said the 22-year-old was not a member of an organized militant group and believed he had acted alone. But they said he had recently become very religious, was very poor and apparently planned to die during his attack.
"Today he told his mother that he has only 35 piasters (50 cents) and he was going out and might not come back," said an uncle, Younis Abu Amrah.
The incident in Jerash, one of the country's most visited destinations, threatened to cast a shadow over the vital tourism industry.
The wounded included three Mexican tourists and a Swiss woman, according to Jordan's Public Security office. Along with the tour guide, three other Jordanians, including two security officers and a bus driver, were also hurt before the attacker was subdued and arrested.
The office said two people, a Mexican woman and a Jordanian security officer, were in serious condition and airlifted to a hospital in the capital, Amman, by helicopter. Jerash is roughly 60 kilometers (40 miles) north of the capital.
Brent Pelkey, an American tourist who witnessed the stabbing, said the attack came out of nowhere on what appeared to be a normal day.
"I look ahead and I see a guy in a black suit running toward a group of tourists and he doesn't look like he has the best of intentions," Pelkey said. "Next thing I see is some tourists running around, some screaming, and the next thing I see is a few on the ground."
He said he saw a woman bleeding "profusely" from the side of her body. He moved closer and said he saw three other people bleeding on the ground "and obviously in some pretty serious pain" and then another person who looked like a park worker or guide also down.
Jordan's foreign minister, Ayman Safadi, said he called his Swiss counterpart and Mexico's deputy foreign minister to tell them the kingdom was providing medical treatment to those "injured in the horrible stabbing crime." He said he assured them that the investigation was underway.
News
Macron warns of 'profound shift' in Iran deal as new report finds Tehran is dominant power in Middle East
Iran's breach of the 2015 nuclear agreement by enriching uranium at an underground facility "marks a profound shift" which could signal the ultimate collapse of the deal, Emmanuel Macron said Wednesday.
The French president, who has worked vigorously to save the nuclear deal since Donald Trump withdrew the US last year, said he was deeply alarmed Iran's decision to resume enrichment at Fordow, a nuclear facility carved into a mountain.
"I think that for the first time, Iran has decided in an explicit and blunt manner to leave the JCPOA agreement, which marks a profound shift," Mr Macron said during a visit to China.
His comments mark the gloomiest public assessment yet by a European leader about the chances of salvaging the agreement after the US withdrawal and as Iran continues to escalate its breaches of the deal.
Meanwhile, a new report claims Iran has become the dominant power when it comes to fighting wars in the Middle East as a result of the "networks of influence" it has built throughout the region.
Mr Macron spoke shortly after Iran began injecting uranium gas into 1,044 centrifuges at Fordow, a facility that Iran hid from the world until 2009 and which Western and Israeli officials have long feared could be used for developing a nuclear weapon.
The 2015 nuclear agreement forbids any uranium enrichment at Fordow and Hassan Rouhani, Iran's president acknowledged the sensitivity of the site when he announced the move earlier this week.
Mr Rouhani insisted that the move was reversible and said Iran would return to full compliance with the agreement if European countries found a way around US sanctions to deliver the economic benefits Iran was promised in 2015.
The reopening of Fordow comes days after Iran announced it was deploying advanced new centrifuges that can enrich uranium faster.
But neither move brings Iran significantly closer to obtaining a nuclear weapon. A weapon would require uranium enriched at 90 per cent, whereas Iran is currently enriching at around 5 per cent.
Iran insists it has no intention of developing a nuclear weapon. The latest breaches have nonetheless alarmed European states and Israel.
Benjamin Netanyahu, Israel's prime minister, repeated his warning this week it would take military action to stop Iran getting a bomb.
"This is not only for our security and our future; it's for the future of the Middle East and the world," he said.
Amid the growing tensions, it emerged that Iran briefly detained an International Atomic Energy Agency (IAEA) inspector last week and seized her travel documents, the first such encounter since the nuclear deal.
Iran confirmed it had stopped the inspector from entering its Natanz nuclear site out of suspicion she was carrying "suspicious material".
Iran is believed to have begun secretly constructing the Fordow facility in the early 2000s but it was only known to the world when Barack Obama exposed it in 2009 and accused Iran of covertly working on a weapons programme.
The base is around 80 metres underground, making it difficult to destroy with an airstrike, and is protected by anti-aircraft batteries. Israel came close to bombing the site in 2011 but ultimately decided not to move ahead.
The network of alliances Iran has built with terror groups such as Hizbollah in Lebanon, as well a pro-Iranian Shia militias in Iraq, mean the balance of power in the Middle East is now in Iran's favour, according to the London-based International Institute for Strategic Studies (IISS) think tank.
Iran's ability, moreover, to fight and win wars in the Middle East without resorting to conventional military forces has been allowed to develop because there has been no effective international response to Iran's activities in the region.
According to the IISS's latest report, "Iran's Networks of Influence in the Middle East" which is published on Thursday, while the US and its allies still retain military superiority over Iran in terms of conventional forces, Tehran has proved to be more effective in waging war in what it calls the "Grey Zone" of conflict.
This means Iran is able to avoid risking a traditional "state-on-state" confrontations, which it would be likely to lose.
Instead, by building what the report calls "networks of influence" with proxies throughout the region, Tehran has succeeded in gaining a distinct advantage over rivals in the region, such as Saudi Arabia.
"Iran is fighting and winning wars 'fought amongst the people', not wars between states," the report concludes.
Serbia set to buy Russian missiles despite US sanctions hint Associated Press
Serbia Russia Military FILE – In this Friday, Oct. 25. 2019 file photo provided by the Serbian Presidential Press Service, Russian air defense system Pantsir S is displayed during joint air defense drills at the military airport Batajnica, near Belgrade, Serbia. Russia will deliver a sophisticated anti-aircraft missile system to Serbia even though the U.S. has warned of possible sanctions against the Balkan country in the event of such purchases. Russia's state TASS news agency said Wednesday Nov. 6, 2019 that the Pantsir-S system will be delivered to Serbia "in the next few months in accordance with the signed contract." (Serbian Presidential Press Service via AP, File)BELGRADE, Serbia (AP) — Russia will deliver a sophisticated anti-aircraft missile system to Serbia even though the U.S. has warned of possible sanctions against the Balkan country in the event of such purchases.Russia's state TASS news agency said Wednesday that the Pantsir-S system will be delivered to Serbia "in the next few months in accordance with the signed contract."The U.S.'s special envoy for the Western Balkans, Matthew Palmer, warned Serbia last week that the purchase of Russian weapons "poses a risk" of U.S. sanctions."We hope that our Serbian partners will be careful about any transactions of this kind," Palmer said in an interview with Macedonian television Alsat M.Serbia remains a key ally of Russia even though it wants to join the European Union. Belgrade has pledged to stay out of NATO and refused to join Western sanctions against Russia over the conflict in eastern Ukraine.Russia has been helping Serbia beef up its military with fighter jets, attack helicopters and battle tanks, raising concerns in the war-scarred Balkan region. During the bloody breakup of the former Yugoslavia in the 1990s, Serbia was at war with neighbors Croatia, Bosnia and Kosovo.Serbian President Aleksandar Vucic said in a state TV interview on Tuesday that Serbia is purchasing defensive weapons from the Russians and that he wants to avoid any U.S. sanctions "or confrontation with America.""Serbia is arming itself because it is a free country surrounded by NATO-member states with which we want to be friends," Vucic said, adding he won't allow Serbia to "be as weak as it was in the 1990s."Serbia was bombed by NATO in 1999 to stop a bloody crackdown against Kosovo Albanians, an experience that left Serbs with a deep mistrust of the Western military alliance. Kosovo declared independence from Serbia in 2008, a move Belgrade and Moscow don't recognize.Pantsir is a truck-mounted short to medium range anti-aircraft missile system that has also been deployed in Syria. It can also target drones and cruise missiles.