Trump Shrugs Off Kim Jong Un's Nuclear Testing Threat: 'He Likes Me'  by Dominique Mosbergen,HuffPostHours after North Korean leader Kim Jong Un signaled that his country is developing a "new strategic weapon" and could soon resume testing nuclear weapons and long-range ballistic missiles, President Donald Trump appeared to shrug off the potential threat — saying at a New Year's Eve party that Kim "likes me" and is a "man of his word." Kim — as reported by Korean Central News Agency, the state mouthpiece — said on Wednesday local time that he no longer felt obliged to stick to a self-imposed moratorium on nuclear and long-range missile testing, which he said Pyongyang has abided by for the past two years.The North Korean leader accused the U.S. of engaging in "gangster-like acts," such as continuing to hold joint military drills with South Korea. Under such conditions, Kim said, there is no reason for Pyongyang to remain "unilaterally bound to the commitment any longer."Kim did not go so far as to say that he was ditching nuclear negotiations with the U.S., which have stalled since 2018 when Trump and Kim made vague promises to work toward denuclearization in the Korean Peninsula during a summit in Singapore. But Kim "confirmed that the world will witness a new strategic weapon to be possessed by [North Korea] in the near future," KCNA reported, without elaborating on the type of weapon it would be.
QuickTake by Bloomberg@QuickTake "I think he's a man of his word," Trump says of North Korean leader Kim Jong Un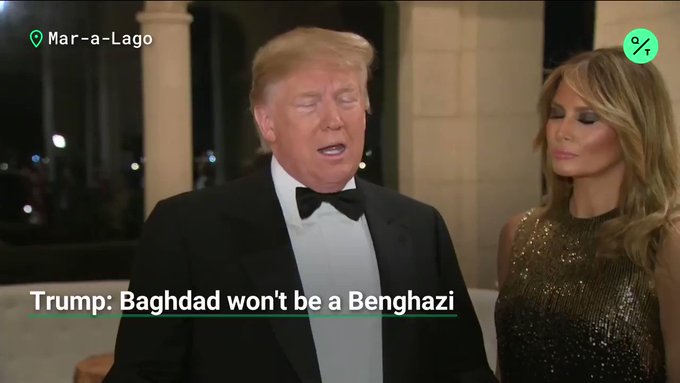 Asked about Kim's strong rhetoric at a New Year's Eve bash held at Mar-a-Lago, Trump's Palm Beach resort, on Tuesday night, the president said only that he and Kim "get along" and had come to certain agreements in Singapore."He likes me, I like him, we get along," Trump said when asked about Kim's remarks from earlier in the day. Pyongyang is 14 hours ahead of Palm Beach. "He did sign a contract, he did sign an agreement talking about denuclearization. … That was done in Singapore, and I think he's a man of his word, so we're going to find out, but I think he's a man of his word," Trump continued.
U.S. Secretary of State Mike Pompeo told CBS News earlier in the day that it would be "deeply disappointing" if Kim "reneged on the commitments he made to President Trump."
"He made those commitments to President Trump in exchange for President Trump agreeing not to conduct large-scale military exercises," Pompeo said. "We've lived up to our commitments. We continue to hold out hope that he will live up to his as well."Also on HuffPost Love HuffPost? Become a founding member of HuffPost Plus today.This article originally appeared on HuffPost.
Trump's tariffs are backfiring on the U.S., Fed finds by Adriana Belmonte Associate Editor,Yahoo Finance
'The consequences will be very bad'
Chris Rupkey, chief financial economist at MUFG, mostly shrugged off the Fed study findings, saying that it looks "increasingly like the U.S.-China trade war was all smoke and no fire." However, he did note one issue that is still at play. "The biggest risk to the economy is the uncertainty caused by the confusion about how long the trade war might last," he told Yahoo Finance. "Companies don't tend to undertake new projects or expand their businesses during uncertain times and so investment spending that drives GDP can suffer."According to the Tax Foundation, GDP has shrunk by 0.55% as a result of the trade war. But for now, "the coast is clear," Rupkey said, because of the phase one trade deal."The major hit to the economy was going to take place if the Trump administration went all in with 30% tariffs on $540 billion of goods that America imported from China in 2018," he said. "That tariff tax would have braked economic growth hard from a 2% forecast in 2020 to just 1.1 or 1.2%."Despite the first step towards a trade resolution, Barry is firm in his stance that trade relations between the U.S. and China need to resume for the good of the American economy."People who advocate decoupling the U.S. and China economies should realize that the consequences will be very bad for U.S. businesses and workers," Barry said. Adriana is an associate editor for Yahoo Finance. She can be reached at adriana@yahoofinance.com. Follow her on Twitter @adrianambells.
WASHINGTON (AP) — Charging that Iran was "fully responsible" for an attack on the U.S. Embassy in Iraq, President Donald Trump ordered about 750 U.S. soldiers deployed to the Middle East as about 3,000 more prepared for possible deployment in the next several days.
No U.S. casualties or evacuations were reported after the attack Tuesday by dozens of Iran-supported militiamen. U.S. Marines were sent from Kuwait to reinforce the compound.
Defense Secretary Mark Esper said Tuesday night that "in response to recent events" in Iraq, and at Trump's direction, he authorized the immediate deployment of the infantry battalion from the Army's 82nd Airborne Division at Fort Bragg, North Carolina. He did not specify the soldiers' destination, but a U.S. official familiar with the decision said they will go to Kuwait.
"This deployment is an appropriate and precautionary action taken in response to increased threat levels against U.S. personnel and facilities, such as we witnessed in Baghdad today," Esper said in a written statement.
Additional soldiers from the 82nd Airborne's quick-deployment brigade, known officially as its Immediate Response Force, were prepared to deploy, Esper said. The U.S. official, who provided unreleased details on condition of anonymity, said the full brigade of about 4,000 soldiers may deploy.
The 750 soldiers deploying immediately were in addition to 14,000 U.S. troops who had deployed to the Gulf region since May in response to concerns about Iranian aggression, including its alleged sabotage of commercial shipping in the Persian Gulf. At the time of the attack the U.S. had about 5,200 troops in Iraq, mainly to train Iraqi forces and help them combat Islamic State extremists.
The breach of the U.S. Embassy compound in Baghdad on Tuesday was a stark demonstration that Iran can still strike at American interests despite Trump's economic pressure campaign. It also revealed growing strains between Washington and Baghdad, raising questions about the future of the U.S. military mission there.
"They will pay a very BIG PRICE! This is not a Warning, it is a Threat. Happy New Year!" Trump tweeted Tuesday afternoon, though it was unclear whether his "threat" meant military retaliation. He thanked top Iraqi government leaders for their "rapid response upon request."
World
Russia's Hypersonic ICBM Is Operational. So What?
Russia's Avangard hypersonic ICBM system is now operational.
Russian state media sounded a triumphal tone in the December 27th announcement that the first Avangards are now ready for launch, even specifying the exact hour of combat readiness for the nuclear-armed hypersonic glider.
"The Avangard strategic missile system has been put on combat duty at 10 a.m. today," Defense Minister Sergei Shoigu told President Vladimir Putin. The weapon was deployed with a missile division in the Orenburg region 900 miles southeast of Moscow.
Avangard is a nuclear-armed boost-glide system. The glider is boosted high into the atmosphere atop a Sarmat ICBM, and then glides down to its target at what Russia claims is a speed of Mach 27. The weapon was spurred by Moscow's fears that the U.S. missile defense program will eventually be capable of intercepting and destroying conventional Russian ICBMs, and thus encourage America to launch a first strike without fear of Russian nuclear retaliation. But while conventional ICBM warheads descend from space at Mach 20-plus, they follow predictable ballistic trajectories: a winged hypersonic glider can maneuver within the atmosphere to avoid interception.
Putin "has the Avangard's ability to evade U.S. missile defense systems," noted the Moscow Times. "Russia said it showed the missile system to U.S. inspectors last month as part of a bilateral arms control treaty ahead of its deployment."
"Officials say the ICBM flies 27 times faster than the speed of sound. During the last known tests that took place in December 2018, the Avangard hit a practice target 6,000 kilometers [3,728 miles] away."
Putin recently claimed that "this weapon of the future can penetrate both existing and any future missile defense systems." Other Russian hypersonic weapons include the nuclear-armed Khinzal air-launched missile, and the Zircon anti-ship missile.
Interestingly, Putin also described Russia being the first nation to deploy hypersonic missiles as being "a unique situation in our contemporary history where they're trying to catch up." Which suggests that Putin considers it the norm for Russia to be trying to catch up in the arms race.