Politics Arab League rejects Trump administration's Middle East peace plan by Tim O'Donnell,The Week
The foreign ministers of the 22 member states of the Arab League unanimously rejected the Trump administration's proposal to end the Israeli-Palestine conflict unveiled last week.The resolution said the plan "does not satisfy the minimum of the rights and aspirations of the Palestinian people." It's considered a win for Palestinian President Mahmoud Abbas, who threatened to cut security ties with Israel and the U.S. on Saturday, and the Palestinian Liberation Organization because it means the White House can't claim to have support from neighboring Arab countries.

Khaled Elgindy@elgindy_Huge diplomatic victory for Abbas and the PLO. Even states that attended the Trump/Bibi ceremony (UAE, Oman, Bahrain) are now on record as rejecting. Anything less would've allowed the admin to claim some Arab support. That's no longer possible. https://twitter.com/joyce_karam/status/1223624426773610496 …Joyce Karam@Joyce_Karam BREAKING: Arab League Rejects #Trump plan for Israeli-Palestinian deal. League is 22 countries.
Full Statement (3 pages in AR) below calls it "US-Israeli deal of century":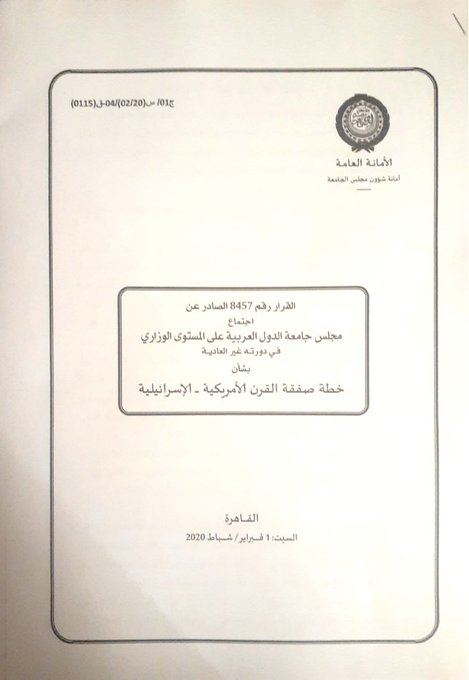 Susan Collins and Lisa Murkowski get cover to vote for witnesses in Trump's impeachment trial, but Murkowski will vote no anyways
 Analysis banner Business Insider
Sens. Susan Collins and Lisa Murkowski sit beside President Donald Trump.Kevin Lamarque/Reuters
Republican senators are poised on Friday to block witnesses from testifying in President Donald Trump's impeachment trial.
A key turning point came on Thursday night when Sen. Lamar Alexander announced he'd vote "no" on the motion to call witnesses.
Alexander's decision gave cover to two vulnerable GOP senators, Susan Collins of Maine and Lisa Murkowski of Alaska. Collins announced she'll vote "yes" on witnesses, but Murkowski voted to oppose.
Democrats need four Republican votes to reach a 51-vote majority and pass the motion, but just two Republicans have said they'll vote with them on the issue.
Republican senators are poised to block witnesses from testifying in President Donald Trump's impeachment trial in a vote on Friday that would move the trial into its final stage.A key turning point came on Thursday night when Sen. Lamar Alexander, a Tennessee Republican who was considered a possible vote for witnesses, said that while Trump's actions concerning Ukraine were "inappropriate," he'd vote "no" on the motion."Let the people decide," he concluded, referring to the 2020 presidential election.But just two Republican senators have said they'll defect from their party. Notably, that would fall two short of the four GOP votes Democrats need to reach a 51-person majority and pass the motion.Sens. Susan Collins of Maine and Mitt Romney of Utah announced on Thursday that they'd vote "yes" on the motion to call witnesses.Sen. Lisa Murkowski of Alaska, another moderate who was viewed as a possible "yes" vote, announced on Friday that she'll vote with her party to block witnesses."I believe hearing from certain witnesses would give each side the opportunity to more fully and fairly make their case, resolve any ambiguities, and provide additional clarity," Collins said in a statement Thursday night.Also on Thursday night, Murkowski asked Trump's defense team why Americans shouldn't hear more evidence, including from the former national security adviser John Bolton.
Trump administration declares coronavirus emergency, orders first quarantine in 50 years by David Jackson, USA TODAY,USA TODAYCoronavirus explained: Why tracking the deadly disease is a huge challenge
WASHINGTON – The Donald Trump administration declared the coronavirus outbreak to be a public health emergency in the United States on Friday, setting quarantines of Americans who have recently been to certain parts of China.Centers for Disease Control and Prevention officials said it was the first quarantine order issued by the federal government in over 50 years. Marty Cetron, director of CDC's Division of Global Migration and Quarantine, said the last time a quarantine was used was in the 1960s for smallpox. "The risk of infection for Americans remains low," said Alex Azar, secretary of Health and Human Services and chairman of the coronavirus task force set up by Trump. "We are working to keep the risk low."Azar described the new entry rules and quarantines as "prudent, targeted, and temporary." He said the United States is working to complement efforts by China and the World Health Organization to contain the deadly virus in China. Quarantines are imposed on people who may be exposed to an illness but are not yet sick, Cetron said.  U.S. citizens who have been in China's Hubei province during the past 14 days and are returning to the U.S. States will undergo health screenings and be monitored during mandatory quarantines of up to 14 days, officials said.Azar also announced a temporary suspension of entry into the United States of foreign nationals who pose a risk for the transmission of the coronavirus.
As a precaution, any U.S. citizen who has been anywhere else in mainland China beyond Hubei province will be screened when they return for evidence of coronavirus symptoms. They will also be subject to self-quarantines of up to 14 days and monitored by local health officials.All flights from China to the U.S. will be funneled to one of seven airports that are designated ports of entry: New York, San Francisco, Seattle, Honolulu, Los Angeles, Chicago and Atlanta.
These Airlines Halt U.S.-China Flights As Coronavirus Fears Deepen