Capitol police officer dies from injuries suffered during riots
A U.S. Capitol Police officer has died following injuries suffered in the violent siege on the building Wednesday, according to a press release from the department.
The death is the fifth connected to the riots, which saw swarms of pro-Donald Trump protesters overwhelm police barricades, surge into the Capitol and force lawmakers to go into hiding.
The officer, identified as Brian D. Sicknick, died at 9:30 p.m. Thursday evening, police said.
MORE: 4 dead after US Capitol breached by pro-Trump mob during 'failed insurrection'
"Officer Sicknick was responding to the riots on Wednesday, January 6, 2021, at the U.S. Capitol and was injured while physically engaging with protesters," USCP said in a statement. "He returned to his division office and collapsed. He was taken to a local hospital where he succumbed to his injuries. The death of Officer Sicknick will be investigated by the Metropolitan Police Department's Homicide Branch, the USCP, and our federal partners."
Sicknick had been with the department, most recently as part of the first responder unit, since 2008.
Three people died of medical emergencies, while a 35-year-old woman, Ashli Babbitt, was shot and killed by Capitol police while trying to enter a broken window into the House Chamber.
Law enforcement said more than 50 Capitol police and Metropolitan police officers suffered injuries in the rioting, and "several USCP officers have been hospitalized with serious injuries."
"These individuals actively attacked United States Capitol Police Officers and other uniformed law enforcement officers with metal pipes, discharged chemical irritants, and took up other weapons against our officers," the USCP said in a statement. "They were determined to enter into the Capitol Building by causing great damage."
MORE: 'They desecrated the center of American government': Michelle Obama
Capitol Police Chief Steven Sund resigned on Thursday afternoon in the wake of the riots. Several prominent people had called for him to step down, including House Speaker Nancy Pelosi and the head of the police union.
Capitol Police Union Chairman Gus Papathanasiou said in a statement Thursday that officers were "frustrated and demoralized by the lack of leadership."
"We have several protesters dead, multiple officers injured and the symbol of our Democracy, the U.S. Capitol, desecrated. This never should have happened," Papathanasiou said in a statement.
Capitol police officer dies from injuries suffered during riots originally appeared on abcnews.go.com
Trump finally admits defeat: 'A new administration will be inaugurated on January 20'
Two months after the 2020 presidential election, less than a day after Congress certified the Electoral College results, and facing increasing pressure to resign, Donald Trump finally admitted on Thursday that he had lost and would not serve a second term.
"Now Congress has certified the results. A new administration will be inaugurated on January 20th," Trump said in a two-minute video posted to his Twitter feed. "My focus now turns to ensuring a smooth, orderly and seamless transition of power."
He did not mention the name of the man who defeated him, President-elect Joe Biden. There has been no indication from the White House that Trump has, or intends to, call Biden to concede. But the president's remarks were a stark contrast to statements he made on Wednesday, when he encouraged tens of thousands of his followers to head to the U.S. Capitol to disrupt the joint session of Congress in which lawmakers were voting on certifying the Electoral College returns. Trump had sought to block that certification, and a mob of more than 1,000 of his supporters clashed with police, broke windows and stormed into the Capitol, halting the proceedings for hours. Four people died during the melee.
Trump began his latest video by addressing what he called the "heinous attacks" on the Capitol.
"Like all Americans, I am outraged by the violence, lawlessness and mayhem. I immediately deployed the National Guard and federal law enforcement to secure the building and expel the intruders," Trump said, though multiple news organizations reported that Vice President Mike Pence, who was presiding over the certification as the siege unfolded, made the call to mobilize the National Guard.
"The demonstrators who infiltrated the Capitol have defiled the seat of American democracy," Trump continued. "To those who engage in the acts of violence and destruction, you do not represent our country. And to those who broke the law, you will pay."
On Wednesday, in a video he posted to his social media channels that was promptly removed by Twitter, Facebook, YouTube and Instagram, Trump continued to rail about voter fraud allegations that have been debunked or dismissed in court. He claimed the election "was stolen from us," and then lavished praise on the supporters who had heeded his call to travel to Washington. "We love you," Trump said as a mob continued to ransack the Capitol. "You're very special."
Thursday's video made no mention of the bogus voter fraud claims he had spent weeks spouting. In its place, he offered an explanation that seemed crafted by a legal team who knew their client could soon face possible consequences.
"My campaign vigorously pursued every legal avenue to contest the election results," Trump said. "My only goal was to insure the integrity of the vote. In so doing, I was fighting to defend American democracy."
Trump's markedly new assessment of the standing of the election came as Democratic lawmakers pushed to oust him from office, either by application of the 25th Amendment or new impeachment proceedings. Trump's own former Cabinet members agreed that he needed to be removed and the Wall St. Journal editorial board also piled on, saying, "The best outcome would be for him to resign to spare the U.S. another impeachment fight."
With his new video, however, Trump seemed to hope that his crusade to hold on to power would simply be forgotten.
"We have just been through a tense election and emotions are high, but now tempers must be cooled and calm restored," Trump said. "We must get on with the business of America."
Cover photo: Jonathan Ernst/Reuters
A Pro-Trump Mob Stormed the Halls of Congress. Photographs From Inside the Chaos at the Capitol
A mob of pro-Trump extremists breach the Capitol during a joint session of Congress to certify the 2020 election results in Washington, on Jan. 6. Credit – Victor J. Blue—Bloomberg/Getty Images
A mob whipped up by the President stormed police lines, smashed windows and broke into the U.S. Capitol on Jan. 6 in an attempt to block lawmakers from certifying President-elect Joe Biden's electoral victory. The violent scene, which called to mind images of coups in foreign lands, was a culmination of two months of "Stop the Steal" rallies, fueled by Donald Trump's baseless allegations that widespread voter fraud had cost him the election. The President has repeatedly incited his supporters to challenge the peaceful transfer of power, the essential marker of democracy.
Two hours before the assault on the Capitol, Trump had vowed that he would "never concede," and urged them to pressure Republican lawmakers "to take back our country." When he finished, a crowd chanting, "Storm the Capitol!" proceeded to the iconic building, overwhelmed police and flooded inside. Inside the House Chamber, police officers shoved furniture to barricade the doors as Vice President Mike Pence and lawmakers scrambled to evacuate. In the Senate, intruders dressed in everything from full body armor to a horned Viking cap posed for photos at the rostrum, fists raised. A red MAGA hat was planted on the head of a bronze statue of former President Gerald Ford in the Rotunda and a Trump flag placed in his hand. Shots were heard and a woman reported killed. As it all unfolded, control of the upper chamber moved from the Republican Party to the Democratic Party as, 600 miles to the south, civil servants and citizen volunteers continued to faithfully tally ballots.—Vera Bergengruen, with reporting by Leslie Dickstein and Julia Zorthian
FBI posts photo of person who placed suspected pipe bombs outside DNC, RNC
The FBI has shared a photo of the person responsible for placing the suspected explosive devices outside the Republican National Committee and Democratic National Committee Wednesday, prior to the U.S. Capitol protests.
On Thursday night, the FBI tweeted a photo of the suspect and posted a reward of up to $50,000 "for information leading to the location, arrest, and conviction of the person(s) responsible for the placement of suspected pipe bombs in Washington, D.C. on January 6, 2021."
MORE: 'Hazardous' suspected explosive devices found outside RNC and DNC
At around 1 p.m. on Wednesday, law enforcement agencies received reports of two suspected pipe bombs with wires outside the RNC and DNC headquarters in Washington, D.C.
ABC News then obtained an exclusive photo of the suspected explosive device found outside the RNC, which is located just a couple blocks away from the Capitol.
A federal law enforcement source told ABC News that the suspected pipe bombs were indeed active, and U.S. Capitol Police confirmed that the devices could have caused "great harm."
"The USCP Hazardous Materials Response Team determined that both devices were, in fact, hazardous and could cause great harm to public safety," police said in statement.
MORE: Capitol police officer dies from injuries suffered during riots
Bomb technicians used water cannons to blast the devices to break them apart and render them harmless just as violent pro-Trump protesters broke though police lines and stormed into the Capitol.
The Capitol siege left four people — including one female protester who was shot by law enforcement officers — and one police officer dead.
The FBI is is still seeking information on those involved in the siege, and on Thursday night tweeted photos of some of the pro-MAGA protesters, asking the public for help in identifying them.
FBI Washington Field 
@FBIWFO 
#FBIWFO
is seeking the public's assistance in identifying those who made unlawful entry into U.S. Capitol Building on Jan. 6. If you witnessed unlawful violent actions contact the
#FBI
at 1-800-CALL-FBI or submit photos/videos at
fbi.gov/USCapitol
.
fbi.gov/wanted/seeking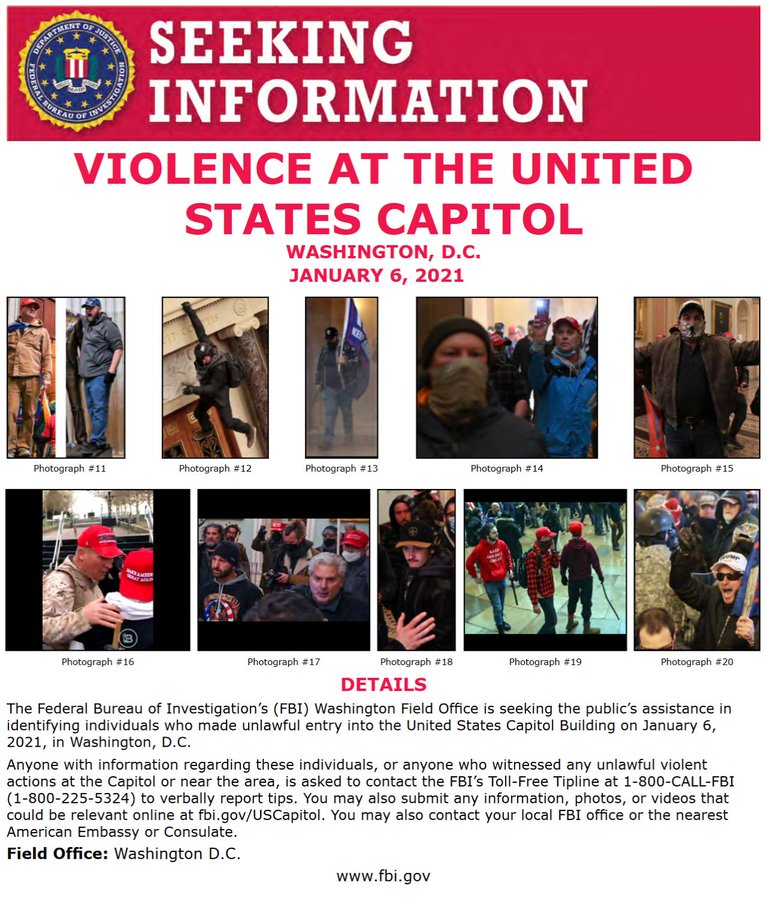 FBI Washington Field 
@FBIWFO
#FBIWFO
is seeking the public's assistance in identifying those who made unlawful entry into U.S. Capitol Building on Jan. 6. If you witnessed unlawful violent actions contact the
#FBI
at 1-800-CALL-FBI or submit photos/videos at
fbi.gov/USCapitol
.
fbi.gov/wanted/seeking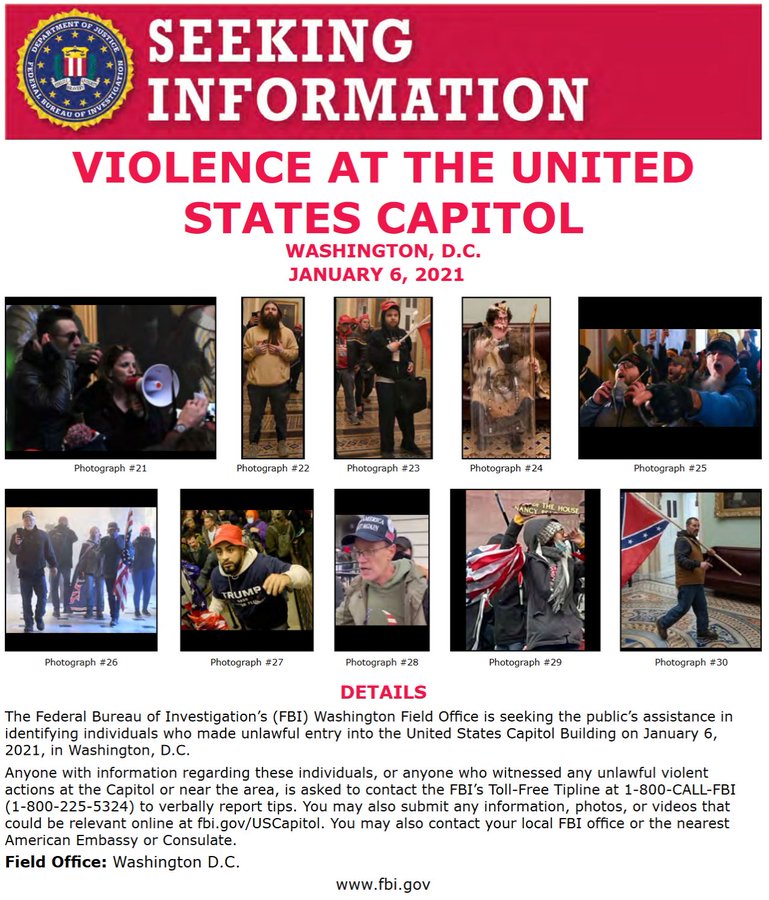 ABC News' Jack Date contributed to this report.
FBI posts photo of person who placed suspected pipe bombs outside DNC, RNC originally appeared on abcnews.go.com
Atlanta voters share their thoughts on the election: 'It's time for a change'
ATLANTA — Georgians turned out in record numbers for runoff elections on Tuesday, casting more than 4 million votes. That high-water mark came weeks after the state surpassed 5 million votes, another record, in the Nov. 3 election.
Riding that wave of turnout, Democrats turned the state blue.
The Rev. Raphael Warnock was declared the winner early Wednesday in his Georgia runoff election with GOP Sen. Kelly Loeffler, becoming the first Black senator in the state's history and only the 11th Black senator ever in the U.S.
"I am so honored by the faith that you have shown in me," Warnock said late Tuesday night. "And I promise you this, I am going to the Senate to work for Georgia, all of Georgia, no matter who you cast your vote for in this election."
Democrat Jon Ossoff, a former intern for the late civil rights titan Rep. John Lewis, is also on the cusp of taking his race against Republican Sen. David Perdue, a six-year incumbent.
On Wednesday morning, Ossoff suggested he had already won.
"It is with humility that I thank the people of Georgia for electing me to serve you in the United States Senate," Ossoff said. "This campaign has been about health and jobs and justice for the people of this state — for all the people of this state. And they will be my guiding principles."
Yahoo News talked to several voters in Fulton County, which Warnock won and Ossoff leads by a margin of 72.5 percent and 71.6 percent, respectively. They shared why it was important for them to vote in this year's runoff elections.
"I feel like it's an obligation," Tobias Brown, 56, said, who cast his vote for Ossoff and Warnock at the Dunbar Neighborhood Center in Southwest Atlanta. "So many people died. … So I know how important voting is. That's why I vote."
Bernita Banks, long frustrated by politics, said she "didn't want to vote," but cast her ballot Tuesday for the Democratic ticket in Dunbar despite her misgivings.
"I feel like my vote counts at some point," she said. "So I'm just trying to increase the numbers."
Jason McClendon, who chose not to say who he voted for, expressed frustration that so much national money was donated in the state election. But he said he understood "it will make or break Congress."
"I'm glad it's over with, and we're hoping we have a great start to a new year for our country," said McClendon, who voted at a Buckhead elementary school. "I think we can all be friends no matter what side you're on, and that would be a great start to our country — that it comes together instead of dividing and staying apart."
Kerry O'Brien, who identifies as neither Democrat nor Republican, also expressed reluctant optimism for the future.
"I really wish we could become more united as a country," she said. "I don't know that that would happen, but I did vote for the Democratic candidates today."
Cover thumbnail photo: Dustin Chambers/Bloomberg via Getty Images
Video edited by Amit Sharma @cinemamit
AP Photos: Indian army patrols border with rival Pakistan
India Pakistan Standoff Photo Gallery
Early morning light falls on Pir Panjal mountains between India-Pakistan Line of Control (LOC) of Balakot in Poonch, about 250 kilometers (156 miles) from Jammu, India, Friday, Dec. 18, 2020. From sandbagged Indian army bunkers dug deep into the Pir Panjal mountains in the Himalayas, villages on the Pakistan-controlled side of Kashmir appear precariously close, on the other side of the Line of Control that for the past 73 years has divided the region between the two nuclear-armed rivals. (AP Photo/Channi Anand)
JAMMU, India (AP) — From sandbagged Indian army bunkers dug deep into the Pir Panjal mountains in the Himalayas, villages on the Pakistan-controlled side of Kashmir appear precariously close, on the other side of the Line of Control that for the past 73 years has divided the region between the two nuclear-armed rivals.
Tens of thousands of soldiers from India and Pakistan are positioned along the two sides. The apparent calm is often broken by the boom of blazing guns, with each side accusing the other of initiating the firing.
The terrain is tough and the life of civilians living in the area is even tougher, with them often caught in the line of fire. Over the last year, troops from the two sides have traded fire almost daily along the frontier, leaving dozens of civilians and soldiers dead.
AP journalists were recently allowed to cover Indian army counterinsurgency drills in Poonch and Rajouri districts along the Line of Control. The training focused on tactical exercises, battle drills, firing practice, counterinsurgency operations and acclimatization of soldiers to the harsh weather conditions.
In the winter, when mountain passes in the high reaches are blocked by snow, Indian troops move into bunkers and carry out long-range patrols to maintain a tight vigil along the frontier.
In some places in Rajouri, local militia called Village Defense Committees have been formed to aid the Indian army in keeping a close watch.
The two sides have fought two wars over the territory. India accuses Pakistan of arming and training insurgents fighting for Indian-controlled Kashmir's independence or unification with Pakistan. Pakistan denies the charge and says it only offers diplomatic and moral support to the rebels.
Relations have been further strained since last August, when predominantly Hindu India revoked the Muslim-majority region's semi-autonomous status and divided it into the federally governed territories of Jammu- Kashmir and Ladakh, touching off anger on both sides of the frontier.